Tilapia fish is a mild-flavored and affordable fish. It is one of the most commonly consumed fresh water food in the US. It has no fishy smell and is inexpensive, so most people like to eat it. It has comparatively more fat than other fishes.
Tilapia fish is an excellent source of protein, minerals, and vitamins like – vitamin D, vitamin B12, niacin, choline, phosphorus, and selenium.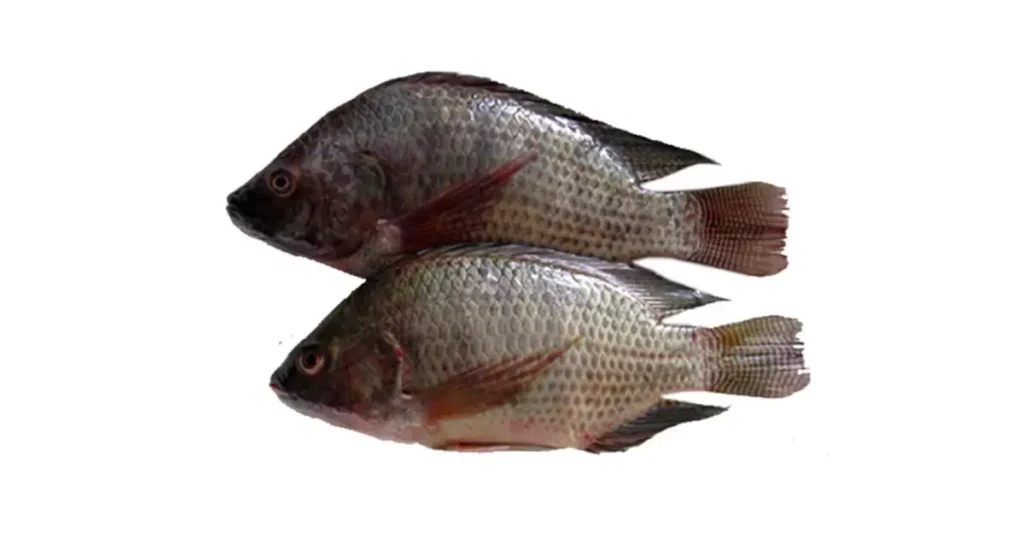 Tilapia comes under the Cichlidae family. It is native to the Middle East and Africa. Tilapias are omnivorous and they are very popular in the sector of aquaculture. They can adjust to any environment because they can adapt to various conditions.
The below post will tell you about Tilapia fish in Tamil, its nutritional value, cost, availability, benefits, recipes, and other essential data.
| | |
| --- | --- |
| English name | Tilapia fish |
| Tamil name | Kari meen or Jilebi meen |
| Scientific name | Oreochromis |
| Family | Cichlidae |
| Kingdom | Animalia |
| Phylum | Chordata |
| Class | Actinopterygii |
| Order | Cicliformes |
| Tribe | Tilapiini |
Tilapia fish in Tamil name
The name of Tilapia fish in Tamil is jalebi Meen or Kari Meen. A Tilapia is a good option for farming because of its quick growth. You can find the fish in massive quantities from the toxic Cooum river of Chennai.
GIFT (genetically improved farmed Tilapia) farming is famous among the fish farmers of South Indian states like Tamil Nadu, Kerala, and Andhra Pradesh. There is a considerable demand for Tilapia fish in South Indian people because of its taste and health benefits.
Product of tilapia fish
Click here to see products of tilapia fish on Amazon.
Health benefits of Tilapia fish
Tilapia fish has a flaky texture mild and sweet taste. The taste of Tilapia fish varies widely depending on the feed and water quality. Because of its various health benefits and affordability, Tilapia fish has become a popular fresh water food.
It is the healthiest and most excellent source of nutrients and protein. The flesh of Tilapia contains minerals ( selenium, choline, phosphorus, and niacin ) and vitamins ( vitamin D, vitamin B12 ). It is an excellent source of omega – 3 fatty acids, an essential fat for body functions.
Some Tilapia fish benefits –
1. Promotes heart health
Due to the presence of omega – 3 fatty acids, the human body can gain so many health benefits. Tilapia fish is an excellent source of omega – 3 fatty acids and a great unsaturated fat. The omega-3 fatty acids in Tilapia are more than in chicken, beef, turkey, and pork. It promotes good and healthy heart health in various ways –
It helps to bring down blood clots, cholesterol, and blood pressure. It is also helpful to reduce heart failure and stroke. Lowering the risk of arrhythmia which is an irregular heartbeat disease.
2. Beneficial for the prevention of cancer
Prevent cancer, a mineral called selenium plays an important role. Selenium also reduces thyroid disease, cognitive decline, and heart disease. The human body needs a small quantity of selenium for different body functions. Tilapia is full of the mineral selenium. You can get 88% of the daily value of selenium from a single fillet of Tilapia.
3. Helps to make bones strong
Calcium, phosphorus, magnesium, and vitamin D help to make bones strong. All these nutrients are available in Tilapia fish in sufficient amounts. Consuming Tilapia in a reasonable amount can provide all nutrients to your body and keep the bones strong and healthy.
4. Helps in the weight loss process
You can consume Tilapia fish for weight loss. Fish is high in protein and low in calories which makes your stomach full for a long time. The unsaturated fat in Tilapia promotes the burning post-meal calories or diet-induced thermogenesis.
You can replace processed meat or red meat with Tilapia fish which works against the weight gain process. The Mediterranean diet is mainly about fish which can decrease abdominal fat and obesity. You have to avoid fried Tilapia and prefer to bake, grill or light saute it.
5. Beneficial for brain health
To boost your brain health, you should consume Tilapia fish. It contains omega-3 fatty acids, which are beneficial for increasing the neurological process. Omega-3 fatty acids have neuroprotective properties.
The fish contains minerals like selenium which can protect the human brain from diseases like epilepsy, Parkinson, and Alzheimer's. Proper oxygen flow to the brain can balance the flow of fluids to the whole body. Selenium, present in Tilapia, increases the process of boosting brain health. It helps maintain mental clarity and deposits nutrients in the nervous system.
6. Slows down the aging process
Vitamin E and antioxidants help to promote good skin, which is present in Tilapia fish. It can make the human skin radiant and improve the skin complexion. It helps to reduce stress and inflammation by scavenging harmless radicals. Harmful UV rays can damage skin badly, and it is called photodamage of skin. Vitamin E can protect the skin from sun rays.
7. Helpful for thyroid patients
Selenium can help improve the hormonal function of the human body and thyroid gland regulation, and it is a great source you can find from Tilapia fish. Functioning of the thyroid gland regularly is essential to boost your metabolism and avoid weight loss, weight gain, or any other malfunctioning thyroid-related diseases.
8. Helps to cure the wound
It is scientifically proven that Nile Tilapia fish is very helpful to heal wounds and scratches of human beings and animals.
Reference – webmd.com
Types and sizes of Tilapia fish
Tilapia fish is an aquatic animal available in different sizes and types. You can find the fish in various colors, shapes, sizes, species, and characteristics. There are above 100 species of Tilapia fish present in nature. These include aquarium species, invasive species, and exotic species. But three types of Tilapias are mainly used for commercial purposes. The Nile, blue, and Mozambique Tilapia are the most common.
1. Nile Tilapia
Nile Tilapia is native to the Iberian Peninsula's eastern region and northern Africa. It is also distributed outside of its native nowadays. It was a symbol of a particular religion. Another well-known name for Tilapia is St. Peter's fish.
There are vertical stripes present on the tails of wild Tilapias. Their bodies have grayish or brownish colors. 23.5 to 25 inches can be the maximum length of their body with a maximum weight of 4.5 kg.
Eighty degrees Fahrenheit is the ideal temperature at which Nile Tilapia can live well. But lower than 75 degrees Fahrenheit is the proper water temperature for their reproduction process. The species love to live in lower temperatures and shallow water bodies. A maximum of 10 years is its lifespan.
Lakes and ponds are suitable places for Nile Tilapia fishes. But their good growth is possible on farms too. One of the most sold fish species in the United States is Nile Tilapia. Its reproduction process is also speedy and in huge numbers. At the early age of 5 to 7 months, it starts reproducing. Some aquatic organisms like algae and aquatic plants are its food.
2. Blue Tilapia
A variety of bluish-gray colored Tilapia fish is known as Blue Tilapia. The fish belongs to the region of the Middle East and North Africa. It is very similar to the Nile Tilapia. You may also confuse between them. But you can identify Blue Tilapia from its pinkish-white colored belly. There is one more difference between them: no stripes on the blue Tilapia's tail.
As compared to Nile Tilapia, blue Tilapia fishes are shorter. Eighteen inches can be the maximum length of a blue Tilapia. Its maximum weight can reach up to 2.5 kg to 2.8 kg. It contains 16 to 17 dorsal spines. Freshwater is the home of Tilapias, but compared to other kinds of Tilapias, there is more tolerance to saltwater in blue Tilapia.
The mostly farmed blue Tilapia area is the African subtropical region. Its growth in its early few months is high-speed. The body length of female blue Tilapia is less than that of males.
3. Mozambique Tilapia
Southeastern Africa is the native of Mozambique Tilapia. You can see the existence of Mozambique near the coastal waters and the southeastern countries – Zambia, Malawi, Zimbabwe, and Mozambique.
This species of Tilapias have a yellow belly and olive-gray color body. Thirteen inches to 15 inches is the ideal length of a Mozambique, and the maximum weight can be 1.2 kg. The species has a deep and compressed body like Nile Tilapia fish. It has long dorsal fins and its frontal part contains spines.
Its maximum lifespan can be 10 years or more if it lives in a natural habitat. It easily adapts to any environmental condition. It likes to live in freshwater but can survive in marine waters.
4. Genetically improved Tilapia ( red Tilapia )
The above Tilapias are naturally produced. There are some Tilapia fishes available that are genetically farmed, known as Gift. Red Tilapia is one of them.
The Tilapia species are farmed in Indonesia and found in South Africa. Redbreast Kurper is its popular name. As compared to the above three Tilapia species, red Tilapia is larger. Its economic value is high. Its body is covered with scales, and its body color is red.
Its harvesting process is quick, and it is full of nutrients. Small-scale farmers can easily farm red Tilapia because it is profitable and easy to yield and cultivate.
Reference – agricfy.com
Nutritional value of Tilapia fish
One serving of Tilapia fish provides –
| Nutrients | Amount | % daily value (2000 cal diet) |
| --- | --- | --- |
| Calories | 108 | – |
| protein | 23 gram | 46% |
| sugar | 0 gram | – |
| Trans fat | 0 gram | – |
| Dietary fiber | 0 gram | – |
| Total carbohydrate | 0 gram | – |
| potassium | 0 gram | – |
| Saturated fat | 1 gram | 5% |
| Total fat | 2 gram | 3% |
| sodium | 59 mg | 2% |
| cholesterol | 57 mg | 19% |
Tilapia fish is also rich in vitamin B12, selenium, choline, niacin, phosphorus, and omega – 3 fatty acids.
One hundred sixteen grams of Tilapia serving provides –
| Nutrients | Amount |
| --- | --- |
| Selenium | 48.5 mg |
| Phosphorus | 197.20 mg |
| Calcium | 11.60 mg |
| Vitamin B-12 | 1.83 mg |
| Potassium | 350 mg |
| Vitamin D | 3.60 mg |
| Protein | 23 grams |
Reference – healthline.com & webmd.com
Price of Tilapia fish in Tamil telling areas
Tilapia is a very inexpensive fish in India. You can get 1 kg of Tilapia by spending around Rs 150 to Rs 400 approximately. You can get 3 to 4 or 6 pieces of Tilapia fish in 1 kg depending upon the size. In Kerala and Andhra Pradesh, you can buy 1 kg of Tilapia for Rs 200. Because of its easy availability, Tilapia is very cheap in India. The white and mild-flavored fish is farmed in more than 120 territories and nations worldwide.
Availability and supply of Tilapia fish in Tamil areas
Nile Tilapia is one of the dominant fish species in various parts of Yamuna and Ganga. You can find vast catches of Tilapia in Chennai. There are so many suppliers and distributors in Andhra Pradesh, Vijayawada, to provide and supply Tilapia. The South Indian Government permitted farm Tilapia. So there is no shortage of fish there.
Famous recipes of Tilapia fish in Tamil areas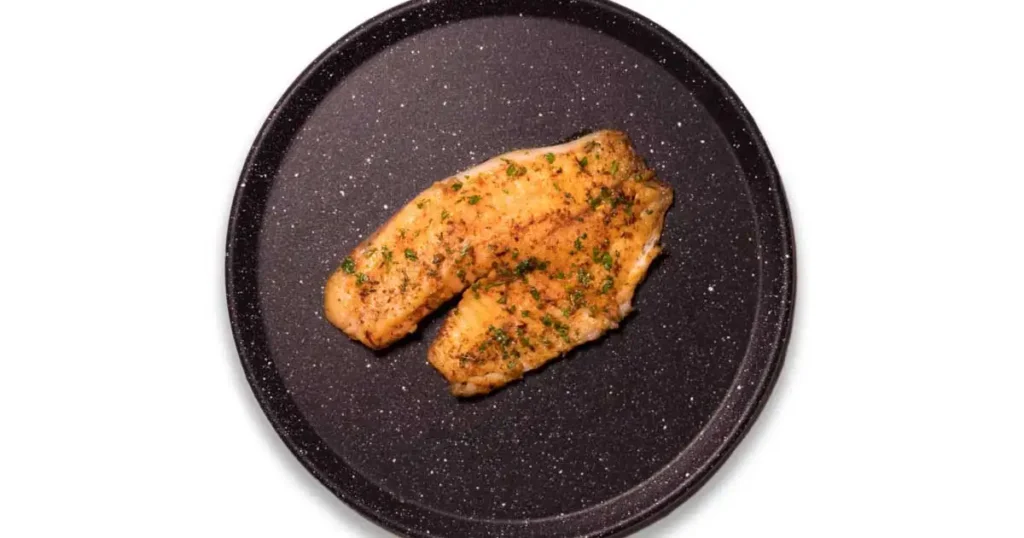 Jalebi Tawa fry, Tilapia fish curry, spicy Kari Meen, and Keralian baked tilapia are some famous recipes of Tilapia fish in Tamil telling areas that you can see on the menu of local restaurants or small hotels or in the home of local Tamil people. Tilapia fish is trendy among Tamil people because of its sweet taste, less fishy smell, smooth texture, and various health benefits.
Conclusion
The farming of Tilapia fish is so common all over the world and it is a popular consumed fresh water food that is so inexpensive. The flesh of Tilapia is excellent in vitamins, choline, minerals, niacin, selenium, omega- 3 fatty acids, and potassium and is a lean source of protein.
Tilapia is very tasty and full of nutrients. Tilapia farming can provide high profit, and the process is straightforward and effortless. You have to choose the best type of Tilapia for an excellent income. Nile Tilapia is the most farmed species.
Hope you got all the details about Tilapia fish, like the Tilapia fish in Tamil name, benefits, nutritional value, price, categories, etc.
QnA
What are the benefits of Tilapia fish?

1. Tilapia is low in carbs, calories, and fats.
2. It is full of protein, vitamins, and minerals.
3. It is very inexpensive.
4. Preparation of Tilapia is so easy.
5. Its farming procedure is effortless, and you can get a considerable profit.

What are the types of Tilapia?

Tilapia fishes vary in color, shape, size, species, and characteristics. There are 3 main species of Tilapia. Those are – blue Tilapia, nile Tilapia, and mozambique Tilapia. These are the naturally produced ones. There is a genetically improved Tilapia species available all over the world and that is the red Tilapia species.

Is it reasonable to consume Tilapia fish?

Consumption of Tilapia fish is a good option for to intake of protein. It contains minerals like niacin, choline, selenium, phosphorus, and vitamins like vitamin D and B12. It is packed with omega – 3 fatty acids, a good fat. So it is delicious to consume.

What are the health benefits of consuming Tilapia fish?

1. It makes bones strong
2. Maintain good brain and heart health
3. Creates RBC (red blood cells)
4. Helps to lose weight
5. Makes skin glow and radiant

What are the different names of Tilapia fish in India?

Here are some local names of Tilapia fish in India –
Kerala – Kari meen
Karnataka and Andhra Pradesh – Jalebi Kendai
Odisha – Olla Kau, China Kau, Kaou Macha, Telapia kau, Telapia kou

What is the taste of Tilapia fish?

Cooked Tilapia fish has a flaky texture with white color. The taste may vary according to the feed and quality of the water. You can explain the taste of good Tilapia flesh as sweet and mild.