From the below post, you will learn about the pomfret fish in Tamil name, its nutritional value, benefits, some local pomfret recipes, and many more.Pomfret is a butterfish. It mainly lives in Eastern Africa, Indo-Western Pacific, South Asia, East Asia, Southeast Asia, the middle east's coastal water, and the Indian Ocean. You can identify the fish by its long pectoral fins, forked tailfins, and flat body.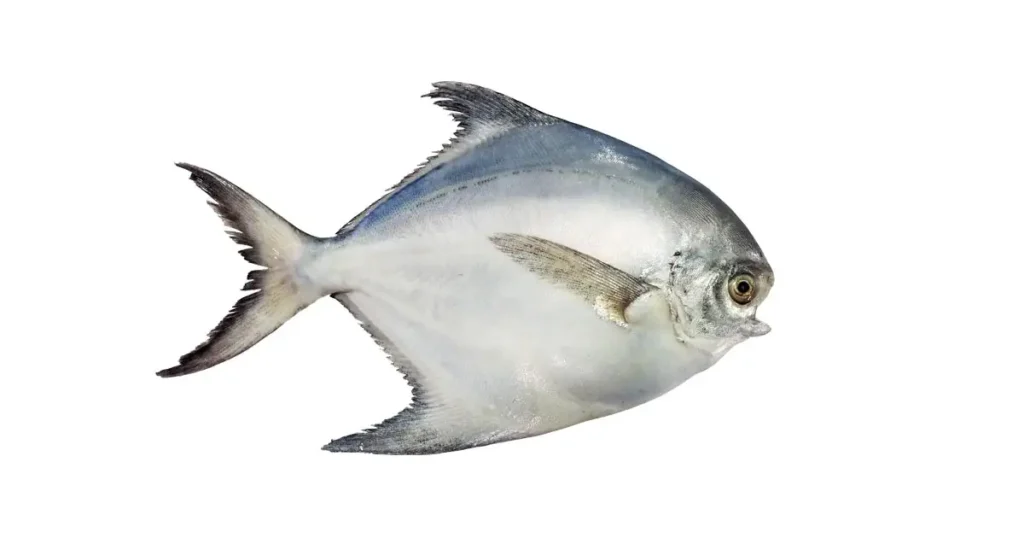 Generally, you can find them in white or silver, or black color in India. These three colors of pomfret fish are sold in India mainly. In Mumbai and Goa, pomfret is known as Manji and paaplet correspondingly. Pomfret Fish contains lots of omega-3 fatty acids and protein.
Basic information about pomfret fish
| | |
| --- | --- |
| English name | Pomfret fish |
| Tamil name | Vawal meen or vavval |
| Scientific name | Pampus Argenteus |
| Family | Bramidae |
| Class | Actinopterygii |
| Order | Perciformes |
| Kingdom | Animalia |
| Phylum | Chordata |
| Genus | Taractes |
Pomfret fish in Tamil name
Pomfret fish in Tamil name is vawal meen or vavval. Vellai vavval and karuppu are the Tamil names of white pomfret and black pomfret fish in Tamil. The root name of the pomfret fish was the pamphlet. The name comes from Portuguese. It comes under the Bramidae family and perciform fish group. Its superorder is ray-finned fish.
Product of pomfret fish
Click here to see products of pomfret fish on amazon.
9+ Benefits of pomfret fish
There are so many significant benefits you can get by consuming pomfret fish. Some of those are –
You can maintain your cardiovascular health
It helps to improve the blood clotting regulation
It helps to develop postnatal neurology and prenatal neurology
Plays a vital role in reducing depression and cardiac arrhythmia in older or adult people.
Consuming pomfret can help to alleviate rheumatoid symptoms and reduce inflammation of tissues.
It slows down digestive tract cancer, breast cancer, and oral cancer
Boosts the immune system
Improve eyesight
Avoid the risk of Anemia and stroke
Improve skin texture and rejuvenates it.
1. Develop eyesight
consuming pomfret fish in reasonable amounts can strengthen vision. Pomfret contains retinol and omega-3 fatty acid, which protect the eyes from AMD ( age-related macular degeneration ).
2. Improvement of heart health
those fishes are good for health and have lean protein. Pomfret is one of them. It is low in cholesterol and saturated fat. So it is an excellent food for making heart healthy. Saturated fish is the main reason for fat deposition in the body. Then it transfers to cholesterol, leading to blockage of blood vessels and sometimes heart attack.
Because pomfret contains non-saturated fatty acids, it helps to remove the blood clottings and systemizes the heart's abnormal rhythm.
3. Avoid the risk of cancer
if you want to reduce the risk factor related to cancer, you should start consuming fish. Fish meat contains antioxidants and nonharmful fats like omega three fatty acids, which help avoid breast cancer and prostrate risk of females and males, respectively.
4. Slows down the Autoimmune disorder risk
your body's healthy cells will be mistakenly destroyed when you have an Autoimmune disorder. This type of body problem may lead to type one diabetes. Doctors advise type-1 diabetic patients to eat fish regularly because it reduces the risk, and the primary source to minimize the issue is omega-3 fatty acids.
5. An ideal diet for students
students should be multi-talented. They need to involve in studies, arts, sports, and other extracurricular activities. They should be fit for all these reasons. Eating pomfret fish can make them all-rounder. It helps them maintain weight, grow taller, stay strong, reduce depression, and many more.
6. Helps to improve concentration and memory power
to promote good sleep, your body needs a sufficient amount of vitamin D. pomfret fish has vitamin D traces in it. It helps to develop concentration power. You can decrease the dementia risk by consuming the right amount of comfort.
7. Reduce the risk of bone-related diseases
Rachitis and Osteomalacia are some bone-related diseases that you can find in children and adults correspondingly. Consuming foods full of vitamin D can prevent the risks of bone-related disorders. To avoid the deficiency of vitamin D, you should eat pomfret fish in a reasonable amount. It provides strength to your bone. So the bones do not break very easily.
8. Develop skin health
to make your skin fresher and healthier, and you should eat pomfret fish. It helps to rejuvenate the skin and improve the texture of your skin.
9. Improves brain health
consuming pomfret fish can improve your memory power and reduce stress levels. It also helps to maintain blood insulin levels for sugar patients. As humans grow older, they lose short-term memories. The situation is called a cognitive decline due to aging. You can slow down the process by adding pomfret and another omega – 3 fatty acid and vitamin D sources in your diet. It leads to a healthy sleep cycle.
Reference: indiaagronet
Types of pomfret fish
One of the favorite seafood dishes of many Indians is pomfret. You can see more than one number of different pomfret dishes on the menu of all Indian non-veg restaurants (mainly in the Indo-Pacific areas).
Generally, There are three types of pomfret fishes found in the water of India. Those are –
Black pomfret (Parastromateus niger)
Silver promfet (Pampus argentius)
Grey pomfret (Pampus Sinesis)
1. Black pomfret
black pomfret is also known as Halwa fish. This seawater fish has a single-bone fish. You can get fish from the Pacific ocean and Atlantic ocean. It has a sharply forked tail and a flat body.
You can consume fresh, steamed, or fried pomfret, and it has no aftertaste and fishy odor, unlike other seawater fishes. You can find many popular pomfret fish dishes in many hotels and restaurants in Tamil Nadu. To enjoy the fresh taste of black pomfret, you must eat it freshly. It has low fat and calorie content.
2. Silver pomfret
among the three pomfret species, silver pomfret is the most common. You can commonly find silver pomfret on the east and west coast of India. It is also known as white pomfret and scientifically known as Pampus Argentus.
27 cm to 29 cm is the average silver or white pomfret, but the length can reach up t 34 cm. On the coast of Mumbai, it spawns till December from October, but the young silver pomfrets breed from January to march, and the place inshore areas. The elder ones are caught between April to July.
You can recognize these silver pomfrets by their special physical appearance like –
A single and long dorsal fin
Its nose is blunt
Its lower caudal lobes are highly extended and pointed.
Its shape is less or more rhomboidal.
It has long lobs with a caudal fin.
The adult ones are whitish-silver and have small silver scales on their back. With their growing age, their lobes become short. When they become 30 cm, their average weight reaches 1 kg. According to a report, there was caught a 2 kg silver pomfret with 40 cm long. It loves to live closer to the bottom but in the water's middle column.
3. Grey pomfret
compared to the silver pomfret, the grey pomfret has a heavier broader, and larger body. It has caudal lobs with a shorter size. It is available in grayish color. It is readily available in the southern region and the Kutch Gulf.
Nutritional value of pomfret fish
Pomfret fish is an excellent source of vitamin B, vitamin D, vitamin A, vitamin B12, calcium, and some essential nutrients for developing the nervous system. It also contains iodine which is very helpful for the thyroid gland. Pomfret is a portion of good brain food, beneficial for good eyesight, and makes skin and hair healthy.
Here is a chart of measurements of nutritional values of 100 grams of prepared pomfret fish –
Nutritional facts measurement (%DV)
| Nutrients | % of DV |
| --- | --- |
| Potassium | 8% |
| Iron | 3% |
| Calcium | 2% |
| Sodium | 4% |
| Protein | 34% |
| Cholestrol | 22% |
| Total fat | 10% |
| Calorie | 146 |
| Carbohydrate | 0% |
Reference : Guidetoagriculture
Price of pomfret fish in Tamil telling areas
The price of pomfret fish falls on the expensive little side. Because of its taste, delicacy, high demand, and low catch, pomfret is costly. Its demand in Indian people is very high. They include pomfret in so many cuisines. Among all three colored pomfret, silver pomfret is more expensive than the others. You can buy 1 kg white pomfret fish by spending Rs 500 toRs 1000 approximately.
In Tamil Nadu, you can buy pomfret at around Rs 600 to Rs 1200 per kg. In Kochi, Kerala, you can find the cost of 1 kilogram of pomfret fish at approximately Rs 400 to Rs 950.
Supply of pomfret fish in Tamil Telling areas
Pomfret fish are found in the pacific ocean, Indian ocean, Atlantic ocean, and various seas like – sea of Japan, the Mediterranean, and Norwegian from a global perspective.
In the case of India, you can find pomfret – the elite table fish in the Indian coastal regions. In the international markets, The pomfrets caught from these areas are always in high demand. Its main abundance areas are Maharastra (on the west coast), Gujarat, lower West Bengal (on the east coast), and Orissa.
The South region of India ( Kerala, Tamil Nadu, Andhra Pradesh) has many pomfret fish manufacturers, distributors, wholesalers, and exporters. So there is no availability issue or problem regarding the supply of pomfret fish there.
Famous Recipes of pomfret fish in Tamil telling areas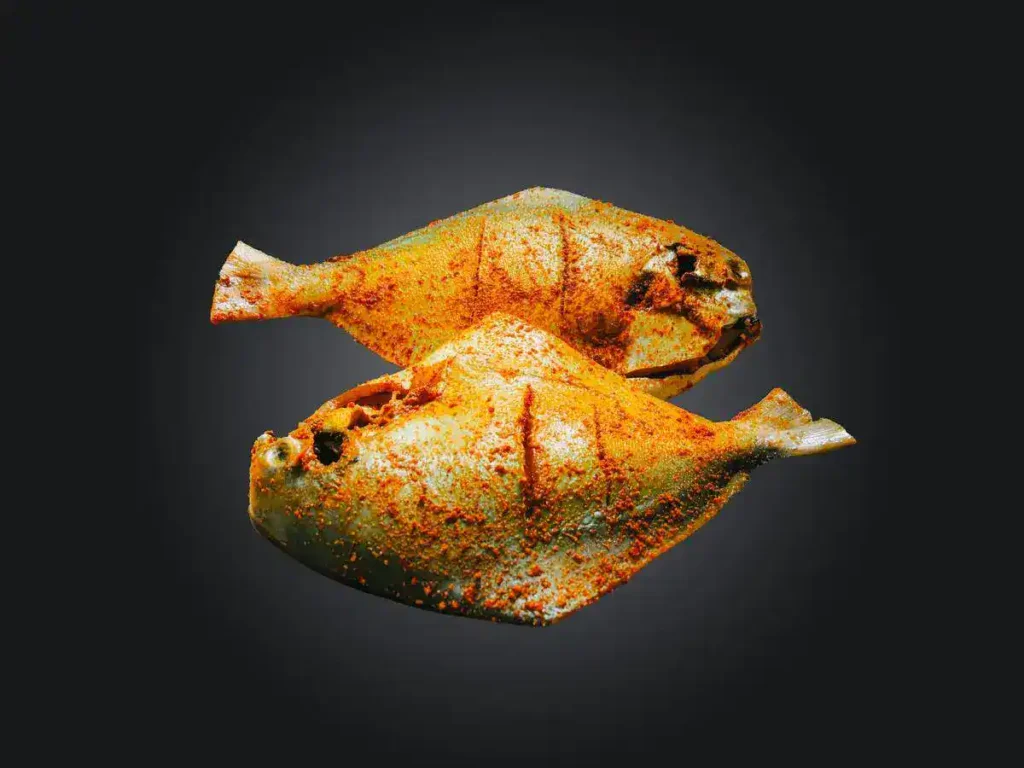 Vaval fish fry and vavval fish curry are some popular pomfret fish dishes in the local areas of Tamil Nadu. The local people believe that pomfret is one of the most delicious fish. They enjoy vavval fish fry or pomfret fry for their social gatherings or dinner parties because it is easy and quick to prepare.
It has a mild flavor and unique texture. Its irresistible taste makes pomfret famous among all Indians. It goes with Indian spices well. Some other pomfret dishes of south India are – pomfret Tawa fry, vavval meen varuval, Konkani pomfret curry with coconut milk, Mangalorian whole pomfret fry, tandoori pomfret, etc.
You can steam, bake, or Tawa fry pomfret fish if you want to get all nutritional values and protein from it because fried pomfret contains fewer beneficial elements. So avoid deep frying fish.
Final verdict
Pomfret belongs to the category of fishes called perciforms. Seawater fish is tasty, and its demand in India is very high. The demand factor makes it expensive in India. Fish is high in vitamins B12, D, and B, omega – 3 fatty acids, and many vital nutrients that are beneficial for brain development, heart health, bright eyesight, and muscle gain.
Pomfret also contains minerals like calcium, zinc, phosphorous, and potassium. Hope you got all detail about the fish, like the pomfret fish Tamil name, benefits, nutritional value, its supply, and many more from the above article.
QnA
Is it reasonable to eat pomfret fish?
Pomfret fish is widely known as butterfish. The taste of pomfret fish is delicate, exquisite, and sweet. It is one of the most desired seafood in Southeast Asia and India. It has no fishy smell. It is easy to eat because it contains few bones. It also includes vitamins, minerals, and good fat, which are helpful for health development.
Why is pomfret fish expensive in India?
The main reason for the expense of pomfret fish in India is its high demand. It is one of the most desired fish categories among Indian people. The second reason is its delicacy and its uses in many different cuisines. Silver pomfret is very costly.
How can you identify silver pomfret?
The body color of silver pomfret fish is pewter and dull silver. It comes with a diamond shape body.
What are the different types of pomfret fish?
Generally, there are three different types of pomfret fishes available in India. Those are – black pomfret, silver or white pomfret, and grey pomfret.
What are the specialties of pomfret fish?
The flesh of Pomfret fish has a very light texture with a rich and sweet flavor. It is a good source of omega-3 fatty acids, vitamins B, B12, D, and A, calcium, and good fats. It is suitable for the nervous system, eyesight, heart, brain, thyroid gland, and skin.
Does pomfret fish control cholesterol levels?
Compared to other fishes, pomfret has low-fat contents. Pomfret fish is high in omega-3 fatty acids, a saturated fat that is not harmful. Doctors advise consuming pomfret fish to adults and older people who have cholesterol-related problems.
Is pomfret fish saltwater fish or freshwater fish?
Pomfret is a saltwater fish. Pomfret is a single bone with which is a seawater fish. You can find saltwater fish in the Atlantic ocean, Indian ocean, and Pacific ocean.
What are the health benefits of consuming pomfret fish?
Pomfret has vital minerals, vitamins, protein, and good fats. Some health benefits are –
1. Develop immune system
2. Put a stop to the stroke
3. Reduce the risk of dementia
4. Develop eye power
5. Helps with skin rejuvenate
6. Avoid cardiovascular attack
7. Manage cholesterol level
8. Suitable for blood clotting regulation
9. Ideal for the nervous system
10. Contains low calories and fat
What are the special body features of pomfret?
Pomfret has –
1. Blunt nose
2. Single and sizeable dorsal fin
3. Long lobes
4. Caudal fin
5. Its body shape resembles a rhomboidal shape
6. Lower and pointed caudal lobes