Before we discuss the Vermiwash uses, advantages of Vermiwash, or the definition of Vermiwash, we should know the definition and how to prepare it?
A liquid extract product that Vermicompost produces is called Vermiwash, and earthworms are richly populated in Vermiwash. It is a vermicompost by-product that can be applied as fertilizer, and you can directly add it to the soil as a liquid spray.
You can use the Vermicompost on the plant's body to prevent pests, bacterial pathogens, and fungal diseases. It comprises a huge decomposer bacteria count, hormones, mucus, bioavailable minerals, antimicrobial peptides, vitamins, enzymes, and many more.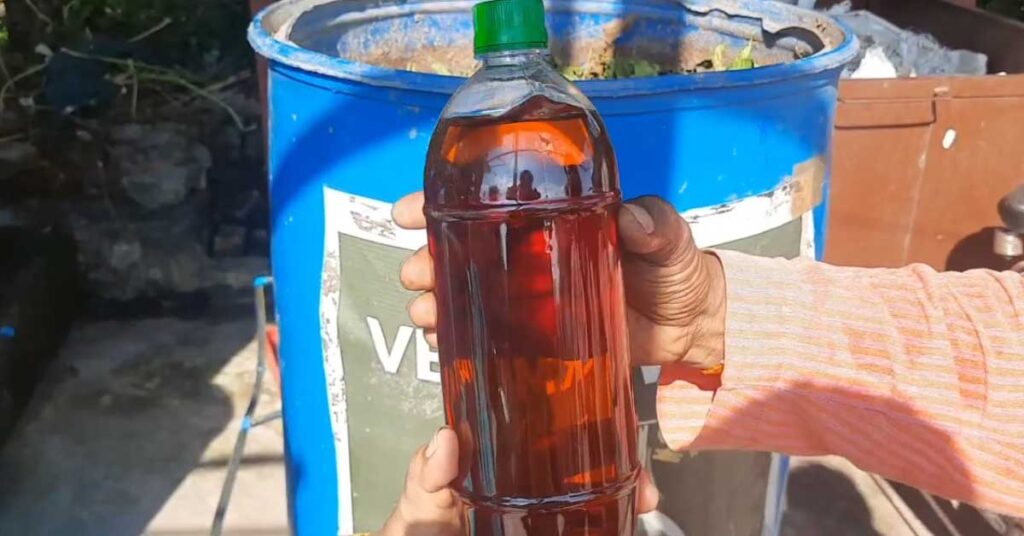 Image Credit- Run for Life(youtube)
Vermiwash can be collected from vermicomposting beds. It is a mucus secretion and excretory product of earthworms with soil micronutrients. It is a pale yellow, transparent, and precise fluid. Vermiwash price in the Indian market is so affordable.
Some Products of vermiwash
Click here to Check Some products of Vermiwash on amazon.
Vermiwash composition
| | |
| --- | --- |
| Nitrogen percentage | 0.01 ± 0.005 |
| pH | 7.48 ± 0.03 |
| Available phosphorus percentage | 1.69 ± 0.05 |
| Organic carbon percentage | 0.008 ± 0.001 |
| Potassium | 25 ± 2 |
Preparation of vermiwash
Here we are going to discuss some steps for Vermiwash preparation –
It is straightforward to prepare Vermiwash with the basic principle. The essential guide to preparing Vermiwash is to set up the Vermiwash unit in buckets and barrels, or you can use small earthen pots.
One side of the barrel should be open.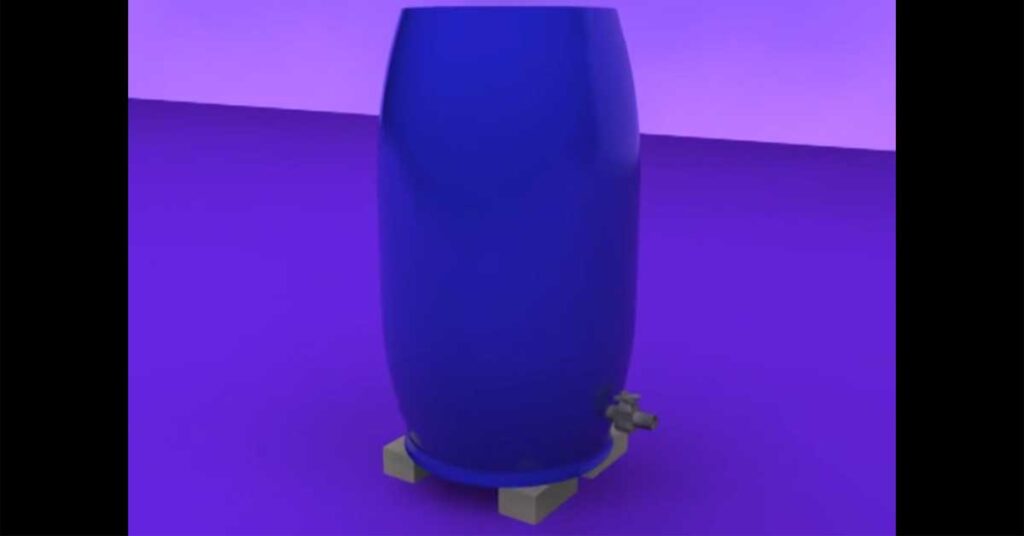 Image Credit- You tube
The Vermiwash producer can set up a large container made of plastic or concrete (minimum 200-liter capacity) and set the Vermiwash unit into it. The bottom of the container must have a hole, or you have to drill a hole and fix a tap.
The hole at the bottom of the barrel should be connected with a vertical limb of the T jointed tube. One end should be attached to the tap, and another (emergency opening) should be closed.
You can set up the whole unit on a few break made pedestals to collect Vermiwash easily.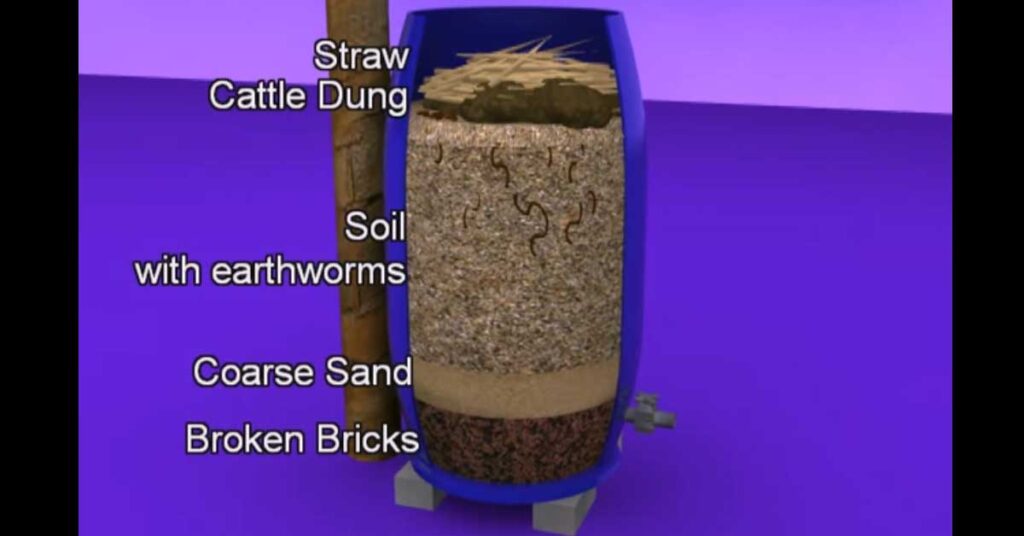 Image Credit- You tube
You have to fill the bottom layer of the container with small pieces of stones or bricks (the height should be 15 to 25 cm). The bottom layer acts as a filter. Add the exact size of coarse sand to the bottom layer. The top layer should be filled with hay.
At least 10 days old cow dung or pre decomposed organic waste should be added and moistened. After this process, you must add 1000 to 1500 adult or juvenile earthworms into the container. You have to dampen the matter every day. Put 3 to 4 liters of water into the container every day or on every alternative day to keep the Vermicompost moist. You have to make a hole in the center of the Vermiwash unit. In this way, water will flow down, and Vermiwash will be deposited on the bottom of the container.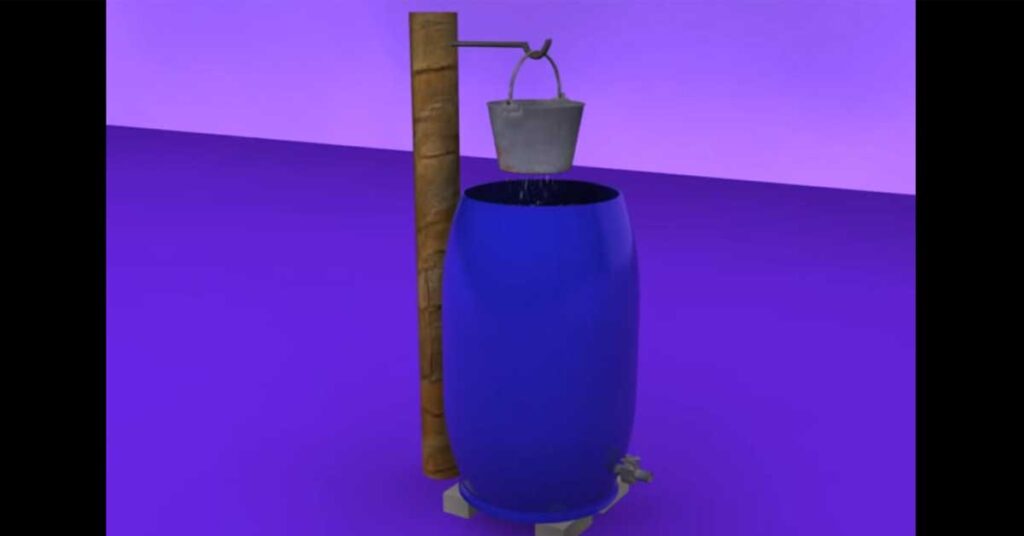 Image Credit- You tube
The Vermiwash will be collected in the container after 7 to 10 days. 37 to 40 liters of Vermiwash will be produced after 15 days. You have to collect the Vermiwash and store it in a dry and cool place. One liter diluted Vermiwash with 3 liters of water can be used as fertilizer or pesticide on the soil or plants.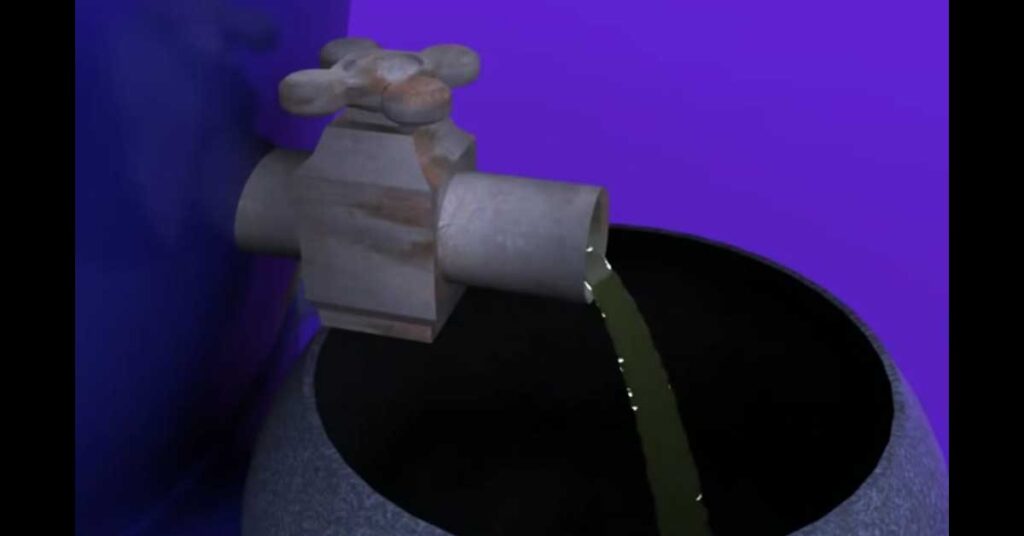 Image Credit- You tube
Vermiwash collection procedure
Water suspension to a small bucket should be continuously done to obtain Vermiwash with a hole at the center of the Vermiwash unit. To tickle down the water, you must place a bamboo stick or a cotton wick in the hole. Through the filter unit, compost nutrients and the water will be percolated gradually at the bottom of the container.
You have to take care of the bedding and not let it dry. Pour or sprinkle sufficient water into the bedding to keep it moist. After 15 days, you can collect the Vermiwash through the tap that you installed before.
Some precautions while preparing vermiwash
For a collection of Vermiwash, the tap connected to the bottom of the barrel should always be open.
Don't keep the Vermiwash in direct contact with sunlight and hot temperature.
To get good quality Vermiwash, you have to wait for at least 15 days.
You have to pour or sprinkle slowly. You can hang a pot above the Vermiwash preparation barrel with several small holes.
Remember that any un-decomposed material should not mix with organic materials.
Always buy good quality earthworms to make Vermiwash.
Elements present in vermiwash
Vermiwash contains a high amount of amino acids and enzymes.
Potash, phosphorus, and soluble nitrogen compounds are present in Vermiwash.
Vermiwash can be used as foliar spray besides micronutrients and macronutrients.
It contains hormones like auxins, gibberellins, cytokinins, and some vitamins.
Some fungi, heterotrophic bacteria, phosphate solubilizers, actinomycetes, and nitrogen fixers are present in Vermiwash.
Benefits of vermiwash
Vermiwash helps the plants to reduce several diseases. It acts as a plant tonic.
You can use Vermiwash as liquid manure or biopesticide by diluting it with water and cow urine
To increase the seedling survival rate and develop the germination rate, you can use Vermiwash as a biofertilizer.
Vermiwash helps in the growth of black gram and generates its productivity.
It is beneficial for restoring soil nutrients and enhancing soil fertility for a long time.
It is very affordable and is a very profitable business.
Vermiwash is an eco-friendly and non-toxic compound.
For the plant's growth and survival, Vermiwash creates a protective layer and reduces bacterial growth in plants.
Uses of vermiwash
You can reduce the high uses of agrochemical and conventional agriculture by increasing the Vermiwash use. In organic farming, Vermiwash is a blessing to reduce plant diseases. Vermiwash contains a high variation of rich compounds full of vitamins, beneficial microorganisms, nutrients, and growth hormones. It acts as a biocontrol agent against pests and diseases. These are the Vermiwash uses.
Vermiwash has the advantage compared to solid Vermicompost to be rich in the targeted area so quickly, including above-ground plants and the underground through the help of soil drench.
Use of Vermiwash in stem dip or root dip
you can mix water with 10 to 15% of Vermiwash to make a diluted solution. Then dip seedlings in this solution for 15 minutes before transplanting. Then transplant them. Similarly, you can dip plant cuttings or roots in answer to get better results.
Use as foliar spray
you can sprinkle or spray the diluted Vermiwash on the foliage of plants, and it protects the plant from various diseases and provides nutrients.
Use in soil application
Vermiwash is a natural fertilizer for crops. Application of Vermiwash in soil enhances the uptake of nutrients. The combination of Vermiwash and Vermicompost significantly influences the soil's biochemical characteristics. By using Vermiwash, you can see the improvement in the quality and texture of the ground.
Vermiwash can be used as a growth promoter
You can make the Vermiwash an excellent growth promoter by using it alone or mixing it with cow urine and water. For better results, you can apply it 2 to 3 times.
Vermiwash extraction
Vermiwash will be collected from the Vermiwash unit container. Too moist and wet the barrel's upper surfaces, which are full of different layers of dung, organic wastes, leaves, earthworms, and sand, you have to continuously sprinkle water. The decomposed material produced by the earthworms will pass to the lower level with the help of sprinkled water. The organic tonic, watery extract, or Vermiwash will be collected drop by drop into the container placed under the tap.
Conclusion
According to the comprehensive study, Vermiwash is an organic liquid spray that can protect the plant body from any bacterial pathogen, fungal, and pests. The skin secretion and coelomic fluid of earthworms are essential elements of Vermiwash that act against pests and pathogenic soil microbes. The pathogenic microorganisms of earthworms protect plants from infections because the earthworms have cellular defense mechanisms.
The humoral defense mechanism of earthworm includes bioactive molecules like – cytolytic Eiseniapore, Iysenin, fetidin, Lysozyme, hemolysin, Lubricin I, OEP3121.
QnA
What is the proper method of storing Vermiwash?
Ans: After collecting Vermiwash, you have to store it in a cool, dry, and shady place. Otherwise, it will lose its goodness.
What are the necessary precautions you should know while making and using Vermiwash?
Ans:
1. You should not apply Vermiwash directly to the plants. It would help if you diluted it with water and then used it. Otherwise, you can water the plants first and give them some time to absorb the water. Then apply the organic tonic or the Vermiwash because direct using Vermiwash will cause excessive absorption of salt by plants.
2. You must keep the Vermiwash preparing unit in a shady and cool palace.
3. You have to pour or sprinkle the right amount of water into the unit. Less water or excessive moisture can be harmful to the earthworms.
4. Only use decomposed cow dung. If you use fresh manure, it becomes harmful for the earthworms because new waste produces methane gas.
What are the wastes that are used in the process of making Vermiwash?
Ans: You can use various raw materials to produce Vermiwash. Those are – neem leaf, cow dung, banana peels, agri wastes, vegetable cooking water, etc.
What is the shelf-life of Vermiwash?
Ans: You can store Vermiwash for at least 6 months. After more than 6 months, it will gradually lose its goodness after a long period.
How to identify pure Vermiwash?
Ans: Originally Vermiwash was transparent and clear. It comes in soil coloured or in pale yellow.
What is the price of Vermiwash in the Indian market?
Ans: The preparation of Vermiwash comes under a straightforward process. You can purchase Vermiwash from local farmers at around Rs 50 to Rs 100 per liter. You can also buy from online sites at a cost between Rs 60 to Rs 200 per liter, and the price may vary from store to store.
What are the goodnesses of Vermiwash?
Ans: Vermiwash contains hormones that are helpful for the growth of plants (gibberellins, auxin), necessary plant nutrients, symbiotic microbes, enzymes (amylase, cocktail of protease, phosphates), micronutrients, and macronutrients.
What are the layers of the Vermiwash unit?
Ans: You have to set up several layers in the Vermiwash unit to get pure and good quality Vermiwash. You have to put medium-sized stones or brick pieces at the bottom layer of the team as a natural filter unit. The height of this layer should be at least 20 to 25 mm. Then you have to put small-sized stones of 10 mm. The third layer from the button should be filled with sand. You have to put 1500 to 2000 earthworms in the upper layer with 1 to 1.5 feet of multimedia. You can cover the upper layer with neem leaf, which will act as antifungal material.
How does Vermiwash act as plant disease suppression material?
Ans: In the vermicomposting or Vermiwash preparation process, earthworms play the leading role. Earthworms have a stress defense mechanism, and through their dorsal pores, they secrete coelomic fluid. This fluid has immunity components that can control protozoan parasite monocytes. The juice helps plants grow, seeds germinate and enhance the length of roots. The Vermiwash has insecticidal properties, and it acts as an antifungal and organic pesticide.
Do Vermiwash come under the pesticide category?
Ans: Vermiwash has pest killing properties and promotes the growth of plants. You can control pest conditions and plant diseases by spraying Vermiwash. Vermiwash is known as an eco-friendly bio-pesticide.
What are the essential uses of Vermiwash?
Ans: You can use Vermiwash as a foliar spray, and you can use it in soil applications and root dip applications.
What is the pH of Vermiwash?
Ans: The pH level of Vermiwash should be 7.48 ± 0.03. Sometimes it is high and occasionally low according to the quality of the Vermiwash.
What is the definition of Vermiwash?
Ans: A fluid collected after the flow of water between a column of warm-bed or warm action is known as Vermiwash, and it is well known as a foliar spray. It is the mixture of mucus secretion and earthworm excretory products, including soil micronutrients.