Before moving on to the uses, benefits, or selling, we have to know what is vermicompost and how to prepare vermicompost? In the biological and organic process, biodegradable wastes or organic matter is converted into manure with the help of earthworms primarily, and it is a decomposition process. In sewage treatment plants and organic farming, the produced vermicompost is widely used because it is one of the best biofertilizers and rich in nutrition. Vermicomposting project is the best process for organic farming.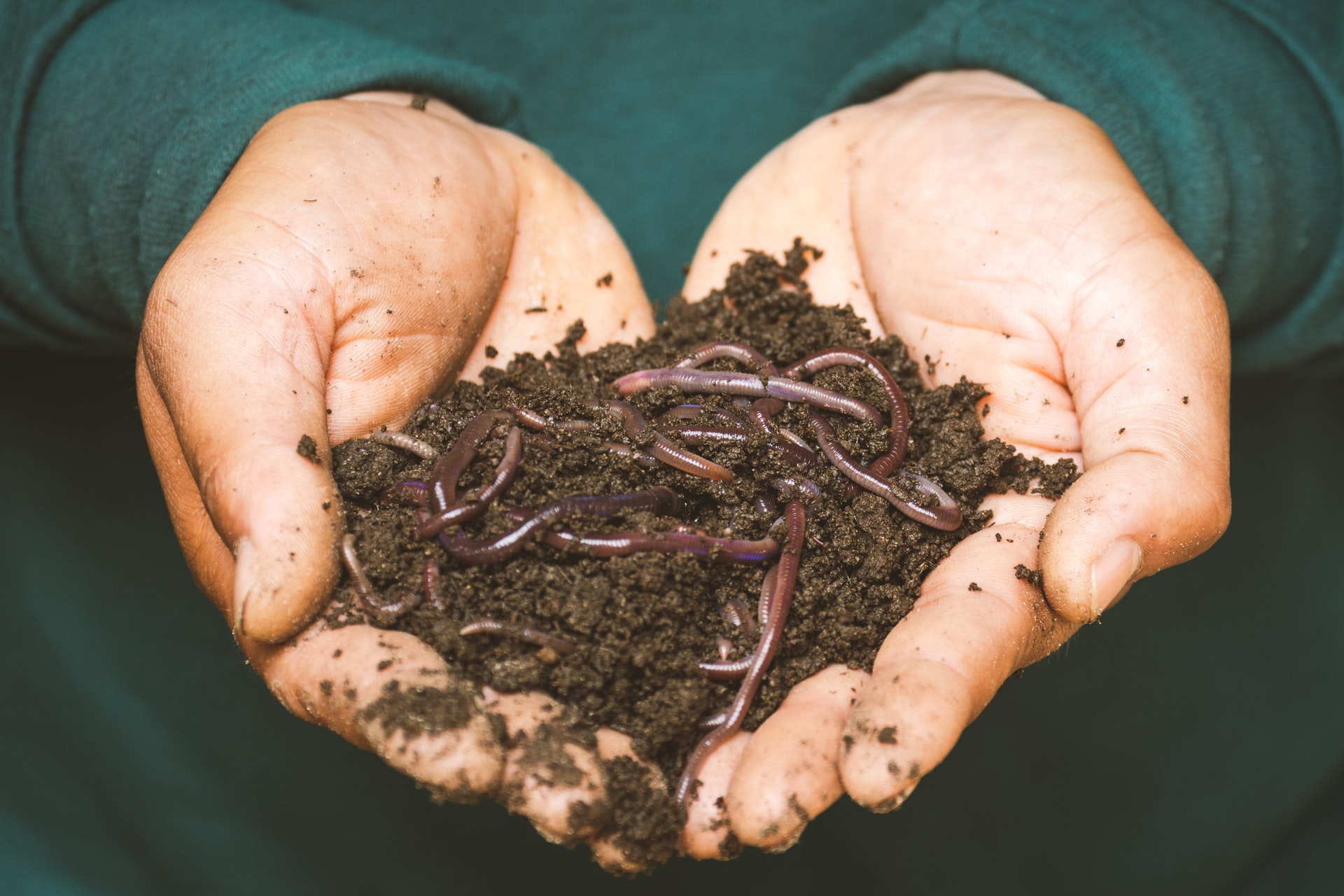 Image from (unsplash)
Benefits of vermicompost
There are so many vermicompost benefits to the soil and plants. Some of those are –
Nutrient delivery
​Compared to conventional compost, vermicompost processes higher plant-available nutrients, like phosphorus and nitrogen.
Suppression of pathogens
​pathogens in the soil are not killed by vermicompost, and it keeps the pathogens from becoming attacking and virulent to the plants.
Retention of Water
Vermicompost has an impressive water retention capability, and it is very dense. By adding worm casting or vermicompost in the soil with heavy sand or depleting water sources, you can conserve the water resources by keeping the water in the soil.
Suppression of pests
Vermicompost helps the plants stave off attacks from the pests rather than killing them. This process is similar to the suppression of pathogens.
Increase in microorganism populations
Vermicompost is full of beneficial bacteria and fungi, which can be good for the health of the soil. Vermicompost is a flourish to the microbial community. Over-farming soil can cause a decrease in organic material to 1%, but it should be around 5%. To restore the balance of organic material in soil, you can introduce or add vermicompost to the soil.
Remediation of polluted soil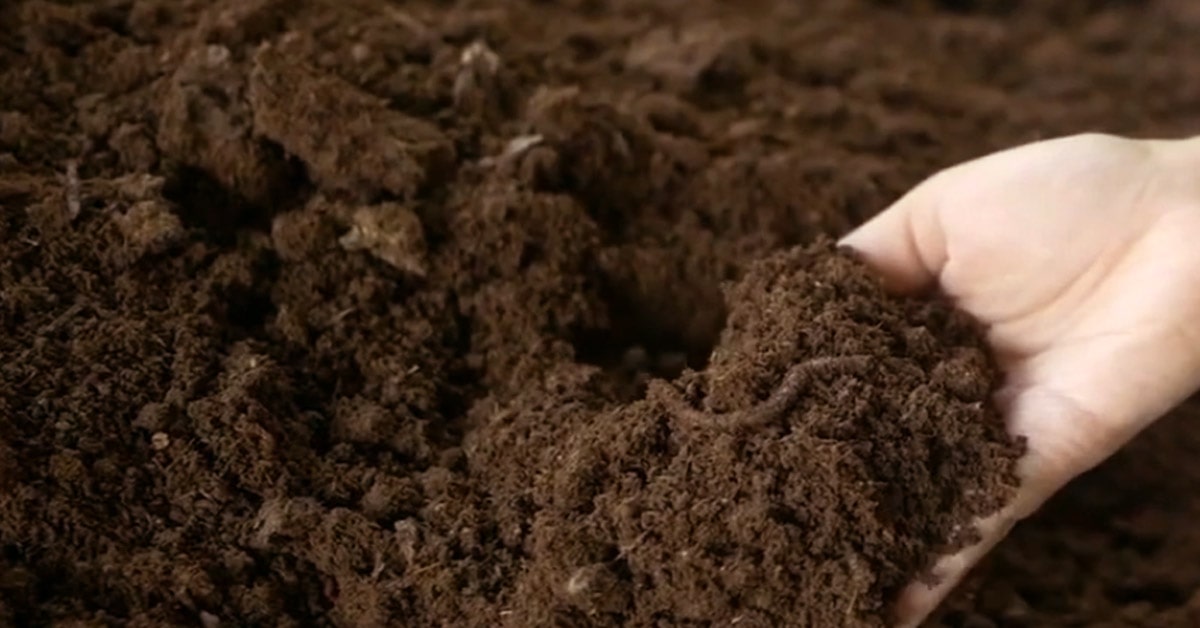 image by (Discover Agriculture)
Vermicomposting project plays a significant role in curing polluted soil of hydrocarbons, heavy metal-free radicals, agrichemical pollutants, and many more
Higher yields and plant growth regulation
The result of worm casting or vermicompost application is a higher yield. The process applies to crops ranging from tomatoes to strawberries to peppers and more. Vermicompost also helps regulate the hormones of plants and helps them grow.
It contains soil biological properties
Earthworms are like eco-biological engineers. They can produce nutrients and microbial enrichments and change the soil properties. Vermiculture increases resistance to crop pathogens and fungal diseases.
Using vermicompost can reduce the dependency and use of harmful chemicals. Using vermicompost for an extended period can enhance the fertility of the soil.
Protection of the environment and social protection
Acute poisoning and malnourishment can occur due to the use of chemical fertilizer and the inaccessibility of nutritious food correspondingly. We can solve this problem by reducing the use of excessive chemical fertilizers and promoting organic farming.
There are so many environmental benefits of using vermicompost, like waste recycling.
Using vermicompost is profitable
For both the consumer and manufacturer, and it promotes the responsibility for a healthy society. Using vermicompost provides a better benefit-cost ratio, feasible financial viability, enhanced plant growth, increased productivity, increased technical efficiency, and better net profit.
Vermicompost is helpful for soil rather than the plant. Feeding soil is helpful for the plants indirectly like a growing medium. You can't replace or copy the benefits of vermicompost synthetically. Vermicompost is a magical substance created from worms' guts, and it is non-replicable.
Some Products of vermicompost
Click here to check products of vermiwash on amazon.
Vermicomposting process step by step
If you want to discuss the vermicompost preparation process stagewise, then –
Stage 1 is setting up the worm bin
Select a suitable place to keep the worm bin
​First, you have to choose a suitable site, like a shady and cool site with high humidity. The site should not be in touch with direct sunlight, and a consistent moisture level and temperature is the best spot for worn bins. You should not place the bin near the heater, oven, vent, or air conditioner. You should place the bin away from your living areas although they don't smell much.
Buying a worm bin
​You have to take a wide container which should not be much more profound. You have to drill or punch for excess water drainage to make holes.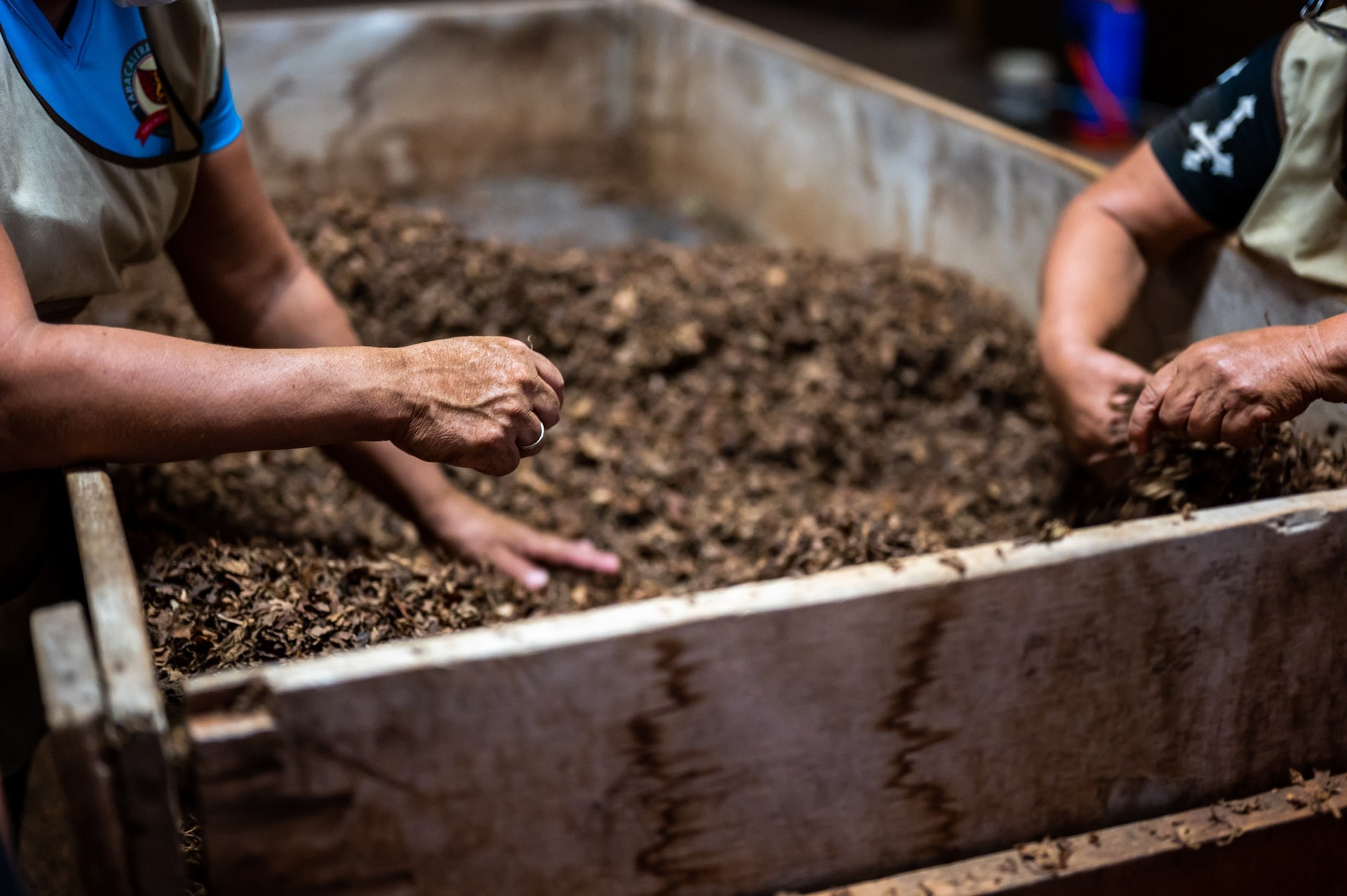 image from (unsplash)
You can get a worm bin from any organic or gardening supply store. If you don't want to invest in a worm bin, then get a storage container that should prevent light from passing through it.
For passing the air into the bin, drill holes
​if you purchase a pre-made worm bin, it has air holes already. But if you buy a storage container, you have to drill it to get at least 20 holes of ½ inch each at the sides, bottom, and lid.
Place blocks under the bin to keep it up from the ground
​to keep the worm bin up from the ground, get two wood pieces or blocks. Place a plastic sheet under the bin.
Purchase worms from garden stores or online
​you have to put 1000 worms or approximately 1kg of worms in the worm bin. Buying worms is the most critical step, and it is available on online sites, or you can buy it from any nearby garden.
Stage 2 is making the worms' habitat.
(How to make a vermi-bed) Cut soft cardboard or newspaper for bedding purposes
To start the process, you have to know what it is vermi-bed? It is the bedding for worms. To prevent the escape of earthworms, place thin mesh or stones in the container. Put bedding materials of any combination or any particular one. For holding moisture, bedding is necessary. Cardboard and newspaper are the best bedding options. Shred them in enough quantity and filled the bin about 6 to 8 inches.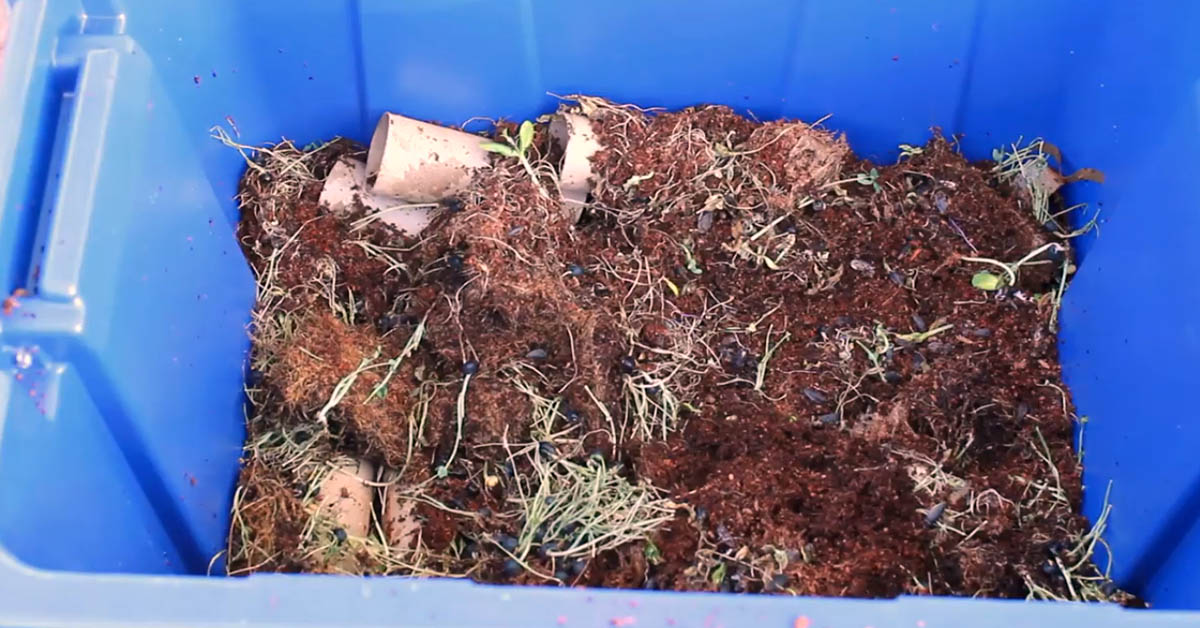 image by Daisy Creek Farms with Jag Singh
To ensure that the sunlight does not pass through the container directly, you must cover the entire bin with a gunny bag or moist straw.
Sprinkle water to soak the bedding
For breathing and living, they will need bedding with moisture. Before putting the worms into the bedding, it is essential to dampen them. You can pour or sprinkle a small amount of water on the bedding material to make it all wet.
Placing the bedding into the bin
After the bedding gets wet, you have to place it evenly on the bin's base. Worms need sufficient area to settle in, so you have to spread the bedding around 8 inches from the bottom of the bin.
You should cover the top of the bedding with some dirt
​if you put some soil in the bin, the worms feel at home in it. You can purchase a little potting soil or take some outside debris-free soil to spread it correctly on the bedding.
Spread a layer of food waste on the soil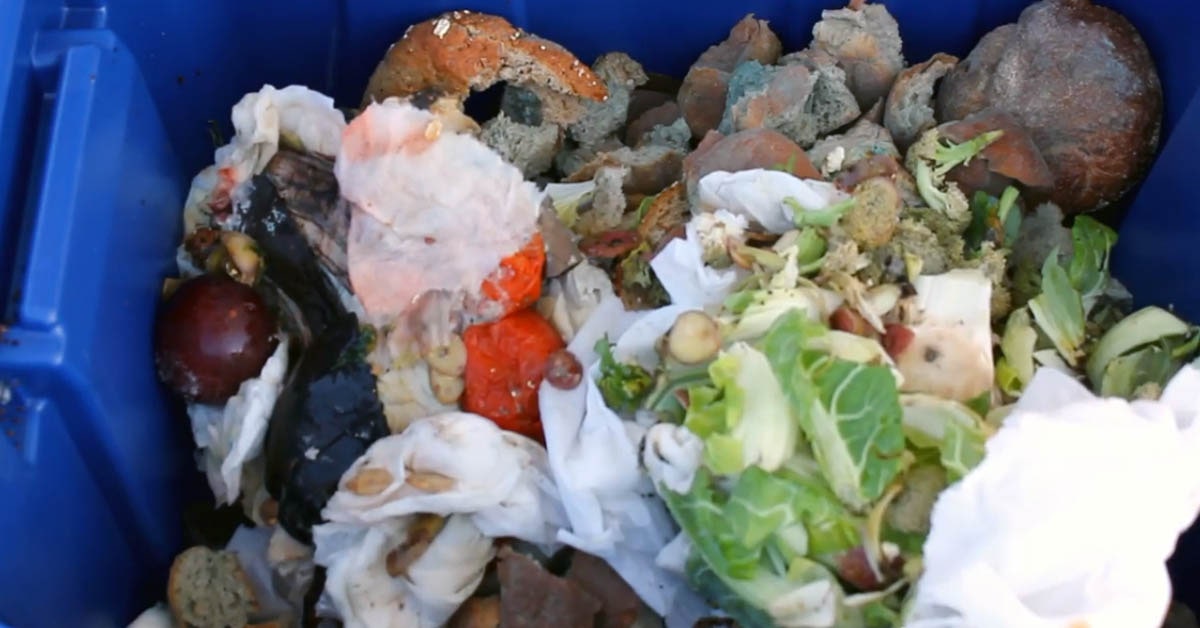 image by Daisy Creek Farms with Jag Singh
You have to put food waste or scraps across the soil evenly. Best food wastes are vegetable seeds, fruit seeds, peels, leaves, cores, and rinds. You can also add tea bags, eggshells, and coffee grounds.
You have to wait for at least two weeks
​To provide moisture to the organic matter, you must add water evenly. Then you have to close the bin's lid and wait for 1 to 2 weeks.
The above are the answers to how to make vermi-bed? 12 ft × 4 ft × 2 ft is the standard size of a vermi-bed.
Stage 3 is the starting process of vermicompost.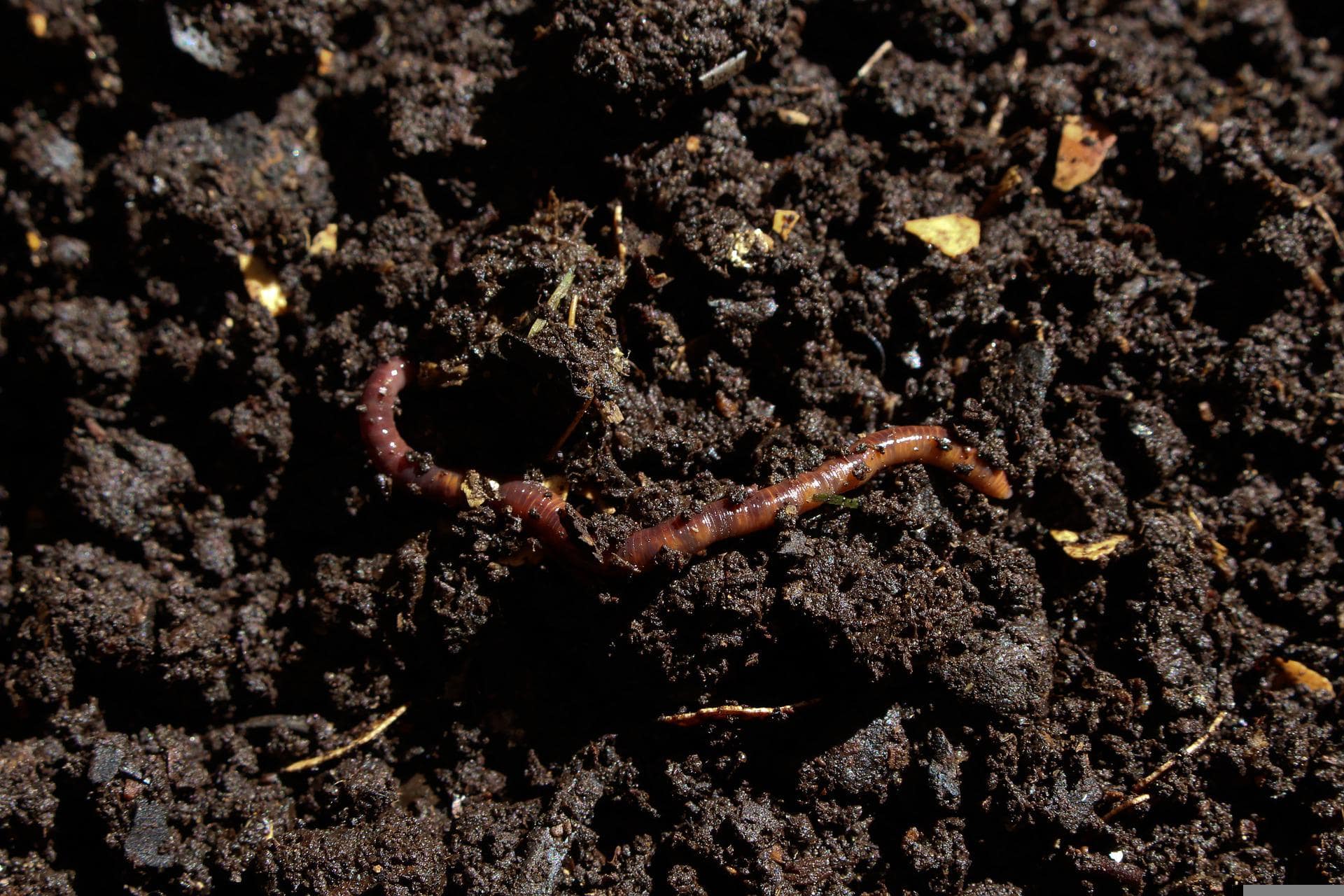 image source –pixabay
Put worms on the bedding
​after 1 to 2 weeks, you have to open the lid of the worm bit and make a hole in the bedding material. The hole should be made in the middle. Rather than putting the worms on the top of the bedding, it would help if you put them into the hole slowly. Then wait for the earthworms to get inside the matter. Because to avoid the sunlight, they go inside the organic matter.
Providing food for the worms
if you put 1000 worms as mentioned above, you have to add around 230 grams of the food daily or once on alternative days. The food quantity depends on the number of worms in the bin and the feeding rate of the worms.
To confirm proper aeration in the container, you can use a gardening fork to give a little mix and disturb the container. You can repeat this process every 10 to 15 days.
Harvesting of the vermicompost
​To know about the bedding, you have to check it every week. You can know the harvest time by seeing the bedding converted into compost. You can add new wet bedding by pushing the rest one to one side.
Within 3 to 6 months of harvesting, your vermicompost will be ready. The time duration of this process depends on the used organic matter and type of earthworm.
Before 2 to 3 days of harvesting, don't add water. After the deposition of vermicompost, you have to collect it from the top.
Types of earthworms
Eisenia Fetida
The other famous names of this species are – redworm, manure worm, panfish worm, brandling worm, red wiggler worm, tiger worm, etc. these are helpful and used to decaying organic materials. Eisenia fetida thrives in rotting compost, vegetation, and manure. The vermicomposting done by using this species is called red worm composting.
Perionyx excavatus
This earthworm is produced commercially. Some other names for this species of earthworms are Indian blues, blues, or composting worms. Creating fine worm casting very quickly is the specialty of these worms. For composting purposes, this species is mainly used in North America.
Lumbricus Rubellus
This earthworm species is related to Lumbricus Terrestris. These are reddish violet, reddish-brown, pale yellow, and iridescent dorsally color. It comes under the very active worm category to degrade organic matters.
Eudrilus Eugenie
This species has excellent pharmaceutical potential and is an excellent source of protein. It is also known as African Nightcrawler, and it belongs to tropical west Africa. This species takes around 60 days to prepare vermicompost.
Eisenia Andrei
This worm species is like a sibling species or close relative of the tiger worm or Eisenia fetida. It likes to live in leaf litter or compost compared to mineral soils. It is deeper in color and uses vermicomposting because it is ubiquitous and peregrine.
Dendrobaena Veneta
This is a nightcrawler of the European country. It is a small-medium earthworm, and 1.5 grams is the maximum weight of a fully grown worm. It comes in pink-grey and blueish color, and it helps speed up composting.
Harvesting of vermicompost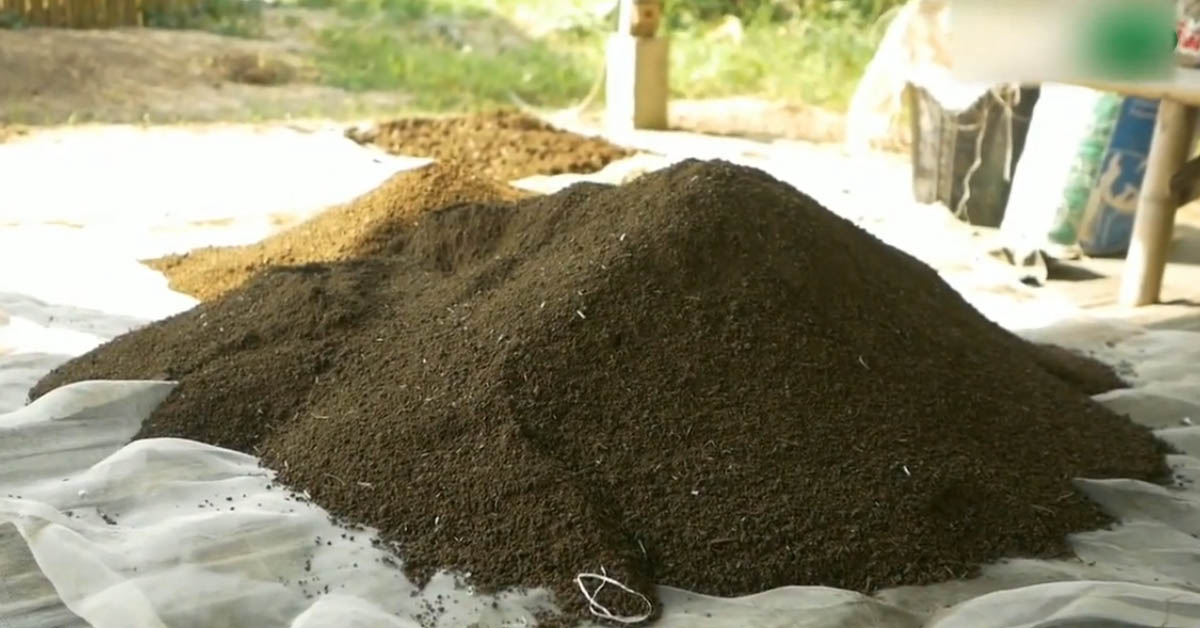 Image by Discover Agriculture
The harvesting process of vermicompost may be done in bulk or gradually, and harvesting is generally done in the daytime to ease the separation process of earthworms. When the organic materials or the food wastes are decomposed fully, you can be surety about the harvesting time.
At the end stage of the vermicompost preparing process, the ingredients might have undergone both mesophilic and thermophilic processes, parts of decomposition. The bedding would have decomposed to one-third or half of the original size during this stage. The color of vermicompost becomes darkish brown, and it becomes crumbly and smells earthy. It is difficult to identify the finishing stage of ripe compost through human sense or visual inspection.
You have to do the quality test or stability test for assurance.
Some standard vermicompost harvesting methods
Here we are going to discuss some standard vermicompost harvesting techniques or methods. You can choose one of them according to your preference.
Manual, gradual vermicompost harvesting
If you want a small quantity of vermicompost in a short time duration, the pile is stored with composting warms, and you can practice this method. The organic materials or bedding have not been wholly decomposed in this case. A thin layer of vermicast covers the top.
You can transfer earthworms gathered on the top of the bedding into another container with a trowel or by hand. If this is not possible, you can shift the vermicast to the center of the bedding and then scoop it into another container from a single heap. If you pick any individual earthworm, take it back to the bedding.
Vermicompost will be gathered at the bottom of the bedding with time, and you can collect it by hand when needed.
Sieving or screening method
You can do this method of vermicompost harvesting at any time, and it can be during the day or even at night. With the help of this process, you can separate the undecomposed substrates, earthworms, and vermicompost from each other. In this technique, you can use the same fabricated tool used in screening or separating rough sand in masonry work. The fabricated tool consists of wood framing with nailed mesh wire.
First, a small bedding material is transferred into the sieve or screener. After shaking the sieve, a container should be placed under the screener or spread on a sheet to collect the fine vermicompost. The earthworms and undecomposed substrates are manually separated.
Bulk harvesting method with the help of a Pyramidal heap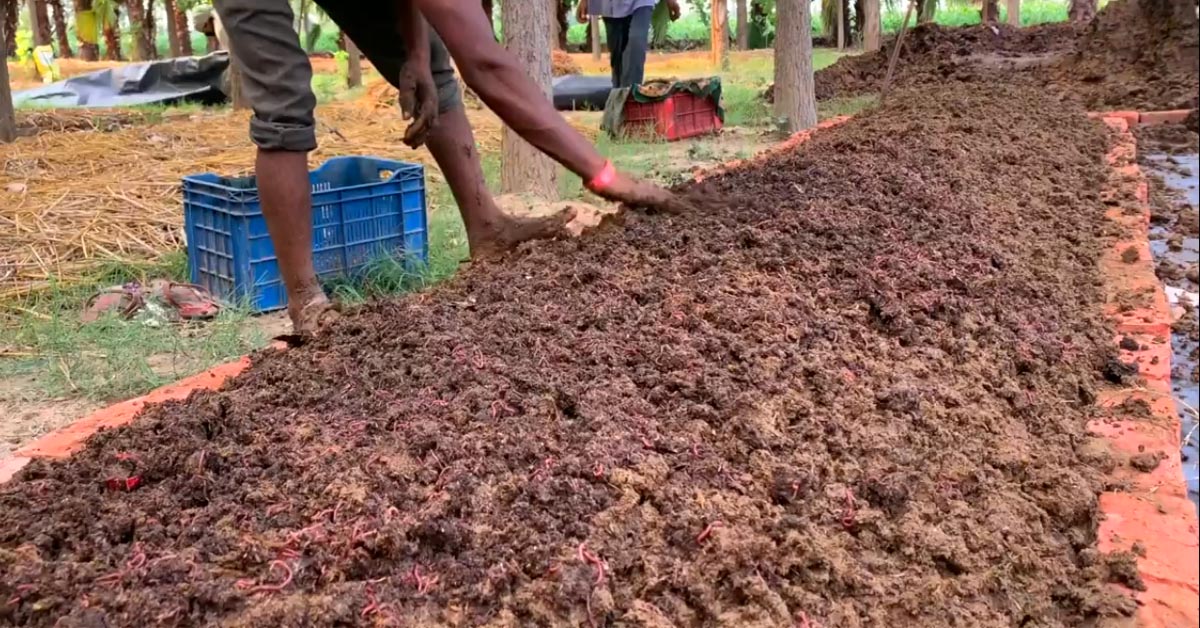 image by Sajag Organics
First of all, the vermicompost is collected to form a cone or pyramid-like heap, and the heap is in touch with light. Or you can transfer the vermicompost to a flat surface with sunlight exposure by spreading a sack or plastic sheet under it. Earthworms are sensitive to light, and this harvesting method takes advantage of this process.
The earthworms will go to the deep pyramid if it is exposed to direct sunlight. You can collect the vermicompost from the sides, top, and bottom with a trowel or by hand. After collecting the vermicompost, you must allow the rest earthworms and undecomposed materials. With cycles, you can collect them later.
You can also divide the original heap into several little pyramids for faster vermicompost harvesting. In this method, you can rotate the harvesting method among the pyramids. One pyramid can go to another cycle, and another is rested simultaneously.
Harvesting by reducing the earthworm migration
On the ability of the worms to detect the food source, this vermicompost harvesting method depends. To move towards the much palatable food source by leaving the bedding due to less food is the common habit of earthworms.
There are so many techniques available to stop the migration of earthworms from their original bedding. But the most common thing to do is provide more palatable and fresh food, which can stop them from moving to new piles from the ripe pile.
You can add a new enclosure sharing a common boundary with the ripe bedding. You can fill the new enclosure with fresh substrates of vermicompost. You can remove the blockage of the common boundary after the new enclosure is ready. It attracts the earthworms, and they migrate into the new container by searching for food. This migration process can be done in several days.
Uses of vermicompost
Vermicompost is a natural fertilizer for plants that organic farmers use.
For crop plants, vermicompost act as a natural mulch, and it is applied near the plant's crown region.
For urban garden plants, earthworm compost or vermicompost is used as potting mix.
Vermicompost is very effective in controlling the pests of various plants.
. It is enriched with biopesticides and biofertilizers.
Compared to other natural fertilizers, vermicompost is readily available at a meager cost.
It is used as a seed-starting boost.
It is used as a top dressing with high nutritional values for plants.
Act as soil conditioner – you can mix vermicompost direct to the soil or dilute it with water, then use it as liquid fertilizer.
The benefits of vermicompost to the environment are that you can use the vermicomposting technique for domestic wastewater management.
Small-scale farming, which is sustainable and organic farming, can be used.
Vermicompost helps plants give better yields and helps them grow because it is full of nutrient-rich organic fertilizer and acts as a growth regulator.
It is used as an alternative aquaculture feed because of its high protein and nutrient nature.
Selling of vermicompost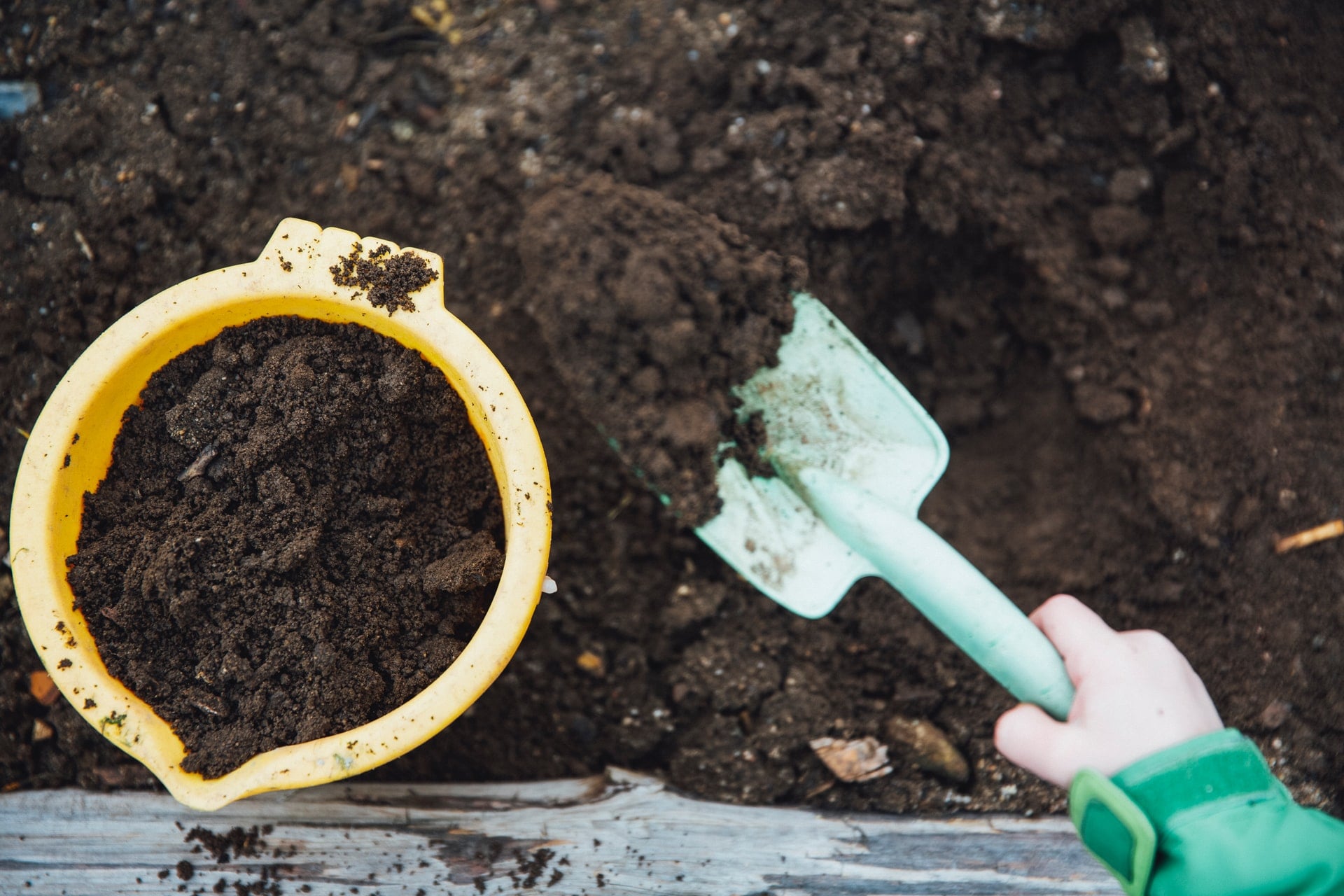 image source unsplash
If you want to do a business related to worms and vermicompost, you have to figure out the selling points. You must search some places where you can sell the worms and their wastes. Some suggestions are –
Hardware stores
Minimum, a small section of gardening is the part of most hardware stores. You have to consult with any person in the hardware store and ask them if they need a dealer of vermicompost. It is best to physically visit the store, explain your vermicompost's authenticity, and request them to buy it from you.
Garden stores
It is not so easy to sell your vermicompost to a garden store. But you can try hard to sell it by telling them the goodness of your vermicompost. They will appreciate you and buy your vermicompost for their plants if you can convince them.
Tackle shops
To fulfill every need of their customers, most tackle shops get everything and sell bait in one place. It is possible that they don't buy your vermicompost, but they will surely like to buy the worms as bait. You have to stock and supply baits as needed for tackle shops.
Sporting goods stores
You can sell your worms at a sporting goods store. But they might refuse to buy your vermicompost because they only sell fishing supplies. They prefer the fridge to keep the bait, and your worm may be perfect for them.
Online stores
Online stores are the best options for you if you don't find ways to sell your worms and vermicompost. You can start your vermicompost selling business online at a low startup. Shipping costs will automatically be added to the selling cost. You have to set a reasonable price. Otherwise, it will reduce your customer number.
Start your own business
For your freedom to sell anything you want and at your decided price, you can start your own business. You can earn a lot of money through this process. But you have to invest your capital in starting it, but once it has been done, you will realize that it is worth every penny.
Larger businesses
It is not easy to promote your vermicompost on a more significant business scale. You have to talk to larger retailers and corporations. Some may need your vermicompost for their business, and some may need worms. By catching their attention and selling them your product, you can move forward.
Near garden centers
If you don't get an opportunity to sell your vermicompost in a garden store, choose a nearby location and set up your vermicompost store there. In this way, you can attract many people who will come to the garden center and sell your worms and vermicompost. You can deal with them smoothly rather than the strict selling rule of garden centers.
Sell at a stand
you can sell your products at roadside stands. You should have to offer them your worms and vermicompost at a reasonable price. In this way, you can make more money because most people prefer to buy products from these kinds of stands. It can cut the price of intermediaries.
Nowadays, vermicompost is in high demand in the market to produce organic foods. Vermicomposting is a very profitable business, and you can earn so much money at a low investment. In this business, the profit ratio is very high compared to investment. This reputable commercial business is in high demand in India.
Future of vermicompost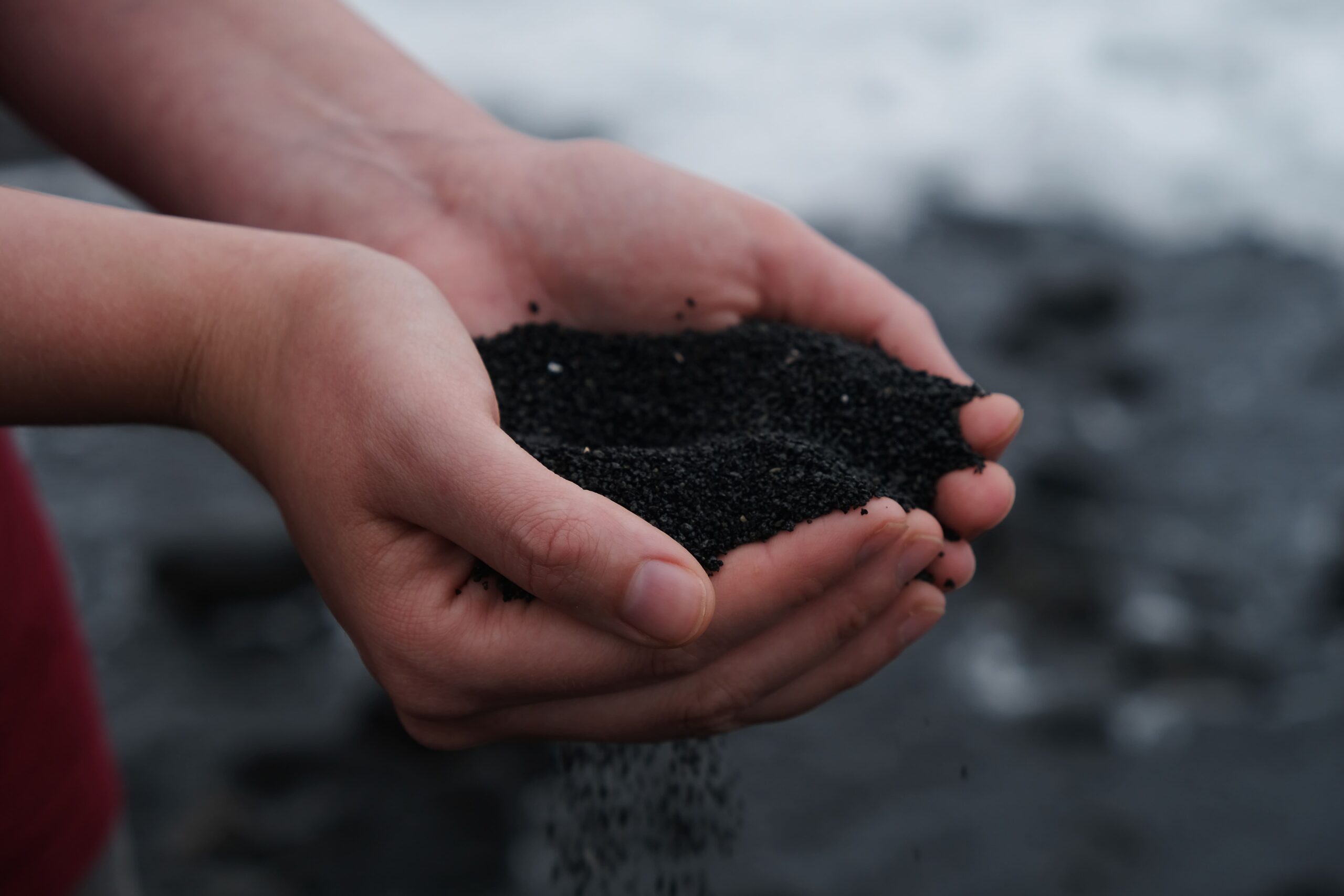 image source unsplash
Vermicompost market has been significantly growing in the global market in the past few years. Vermicompost is increasing for several purposes like home gardening, farming, landscaping, agriculture, and horticulture.
The need for research in classrooms, private laboratories, schools, and universities is also increased, Seeing the demand for vermicompost and its market growth.
Today's vermicompost market brings evaluation to the new generation. According to market research, this business will grow to another level in the upcoming days because the young generation is interested in organic farming and prefers vermicompost rather than chemical fertilizers.
Conclusion
Vermicompost is manure or converted end product, and this is the best soil conditioner and rich organic fertilizer. By adding vermicompost to the soil, you can increase the soil's water-holding capacity and improve its structure.
You can identify the real vermicompost by knowing some points –
It should look rich, dark, and deep brown.
These have a uniform texture all over.
It has a felt-like flat surface.
It contains small or medium size worms.
Real vermicompost has a slow worm reproduction process.
QnA
Where can we get the best quality of vermicompost?
Ans: To find out the excellent quality vermicompost, you have to research the source from where you want to buy. It should be an authentic source, and the vermicompost should be pure and harmless and free from harmful pathogens. You can buy it from any nearby stores or from online.
What is the use of vermicompost in vegetables?
Ans: In kitchen gardening and vegetable gardening, vermicompost brings revolution. Vermicompost is the best option as fertilizer for organic farming. You can use vermicompost as primary fertilizer for the growth of any fruit, vegetables, leafy vegetables, and underground vegetables—these vegetables, whether grown in the bedding process or in containers.
What is the proper dose of vermicompost for plants?
Ans: Vermicompost is generally used as a potting mixture. But an extra dose of vermicompost can be added to potted plants at their growing stage because it will work like a growth booster. Every 2 to 3 months, you can add a hand full of vermicompost can to a pot. The mixing stage of vermicompost at the upper surface of the potting soil indicates top dressing, and it ensures the good health of plants.
Is vermicompost only used in agriculture?
Ans: The earthworm is known as a farmers' friend. Through their routine activity, worms make the soil fertile and porous. Without mixing any external input, vermicompost is prepared in the purest form, and it should be formed naturally. You can use the pure form of vermicompost in kitchen gardening, farming, container gardening, and indoor gardening.
Note down the properties of vermicompost?
Ans: The excellent quality and pure vermicompost have a pleasant earthy smell, water-soluble nutrients, and a dark black medium. It should be moist and consistent. Magnesium, calcium, sulfur, iron, and NPK are the properties of well-balanced vermicompost. Some micro-nutrients are also present in the excellent quality vermicompost like – zink, magnesium, boron, and copper.
Which materials are used for bedding purposes in vermicompost, and what will be their cost?
Ans: To make the bedding fluffy, you can use soft cardboard and newspaper cutting or sawdust as bedding material. The bedding should be wet and soft. Based on the size and quality, the cost of bedding varies, and the cost will be Rs1000 to Rs3000 or more. Or you can make it at home to save money.
What is the cost of vermicompost per kg?
Ans: You can make vermicompost at home by using food waste and other organic matters to save some money. But if you want to buy ready-to-use vermicompost, you have to spend Rs 100 to Rs 200 per kg. The price depends on the quality and brand.
How to store vermicompost till the expiring date?
Ans: You should store vermicompost in a dry and cool place where air should flow. But the vermicompost should not dry completely. If your vermicompost becomes wet or moist, you have to spread out it to let it dry. On the other hand, sprinkle some water to make it a little moist if it becomes so dry.
How to make vermicompost best?
Ans: Using dry neem leaves and other leaf molds can make the vermicompost more good quality.
What does NPK stand for, and what does NPK value use is vermicompost?
Ans: NPK in vermicompost stands for nitrogen (N), phosphorus (P), and potassium (K). The NPK value refers to the quantity of these macronutrients in vermicompost. To know the correct quantity of plant nutrients, you have to know the NPK value.