Organic farming has four pillars, and Beejamrit is one of them. Beejamrit is liquid organic manure that is used for seed treatment. Seed treatment is essential because many diseases make up their footprints during germination.
The seeds treated with Beejamrit are more resistant to the seeds, which increases their chance of germination. It can protect young roots from fungal diseases. Beejamrit has lots of plant-beneficial microbes and is a fermented microbial solution. In this article we will provide you all kinds of information about Beejamrit – What is Beejamrit? And how to prepare it, its uses, benefits, and more.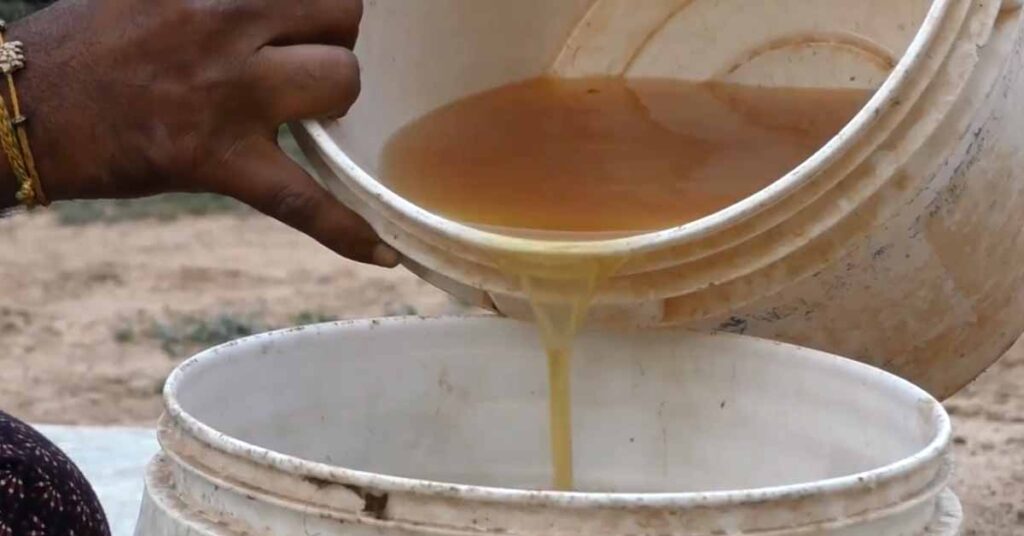 Image Credit- digitalgreenorg
Before knowing any other information, we should know what Beejamrit is and what the word stands for? Beej means seed, and Amrit means immortal nectar. It is a medicinal portion which nourishes seeds while and after germination. It is an ancient, agricultural, and sustainable technique.
Beejamrit is an indigenous technology used by organic farmers for thousands of years. You can use it to treat seedlings, seeds, or any planting material. The planting material must simply be dipped in Beejamrit, taken out and planted.
Ingredients used to prepare Beejamrit.
To treat 100 kilograms of seeds –
| ingredients | Quantity |
| --- | --- |
| water | 20 liters |
| Local cow dung | 5 kg |
| Local cow urine | 5 liters |
| Lime | 50 grams |
| soil | A handful |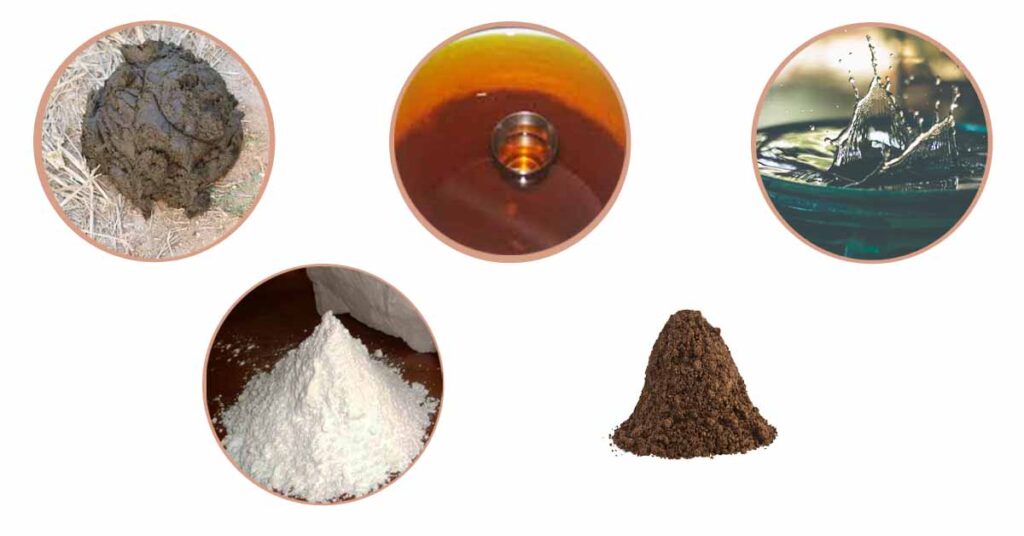 Image Credit- digitalgreenorg
Preparation of Beejamrit
The process of the Beejamrit preparation is very simple and easy.
You have to take 5 kg of local cow dung on a thin cloth. Cow dung has macronutrients, beneficial microbes, and micronutrients. Tie the cloth with the help of a rope or tape.
Pour 20 liters of water into a container (bucket or barrel). Dip the cloth with cow dung in the container. You have to leave it for at least 12 hours. Hold the cloth up with a stick for the support and hang.
Take another pot and add 50 grams of limestone and one liter of water. Leave it in stable condition overnight.
The following day, you have to squeeze the cloth that covers the cow dung dipped in the water for 12 hours in the same water container. Squeeze it properly 2 to 3 times. So that all cow dung essence will get mixed in it.
Take one handful of soil taken from under the banyan tree or use red ant hill soil and add it into the container of the water solution. Stir it well with the help of a wooden stick.
You have to take 5 liters of cow urine and add it for Beejamrit preparation. Cow urine has antifungal and antibacterial properties, and it helps to save seeds
Then, add the earlier prepared lime water in the same container and stir it. Limestone water balances out the acidic properties present in the cow urine. So it is an essential ingredient to use in this process.
Now, the preparation of Beejamrit is complete and ready to use in your farm and garden.
How to use Beejamrit?
After preparing Beejamrit, you should leave it for 24 hours. Then spread the seeds evenly on a cement floor or plastic sheet. Then spray the prepared Beejamrit solution over the seeds. You have to adequately cover the seeds with the solution for better performance. Then keep it under a shaded area for air dry.
After complete air drying, you should sow the seeds covered with the Beejamrit solution in the evening or early morning. You can also sprinkle the liquid solution on the roots of crops and vegetable saplings to treat them. Beejamrutha application is too easy and effortless.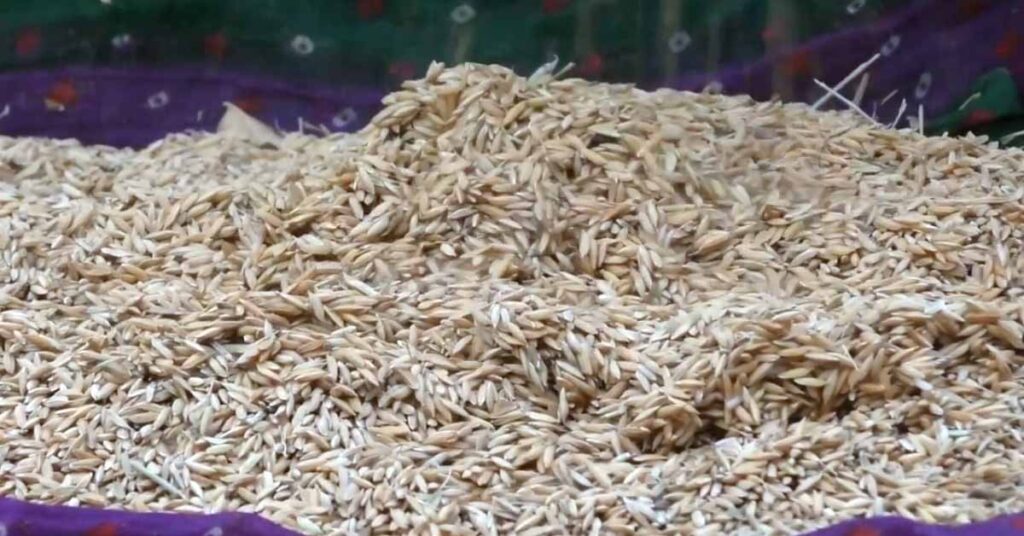 Image Credit- digitalgreenorg
You have to dip the roots of the vegetables in the Beejamrit solution for a few seconds before the transplantation process. After a few seconds, take them out from the liquid solution and then transplant them into your garden or fields.
Here we will discuss the method of using Beejamrit –
As you know, Beejamrit is used for a seed treatment; you can add it to the seeds of any crop.
Mix the seeds and Beejamrit by hand, and coat them. Then dry them well and use them for sowing.
You have to just dip them quickly and let them dry for leguminous seeds, and then the seeds are sown.
Hope you will get your answer to the question – how to use Beejamrit?
Benefits of Beejamrit
Beejamrit has so many beneficial uses.
Beejamrit contains a higher number of fungi, bacteria, P – solubilizers, N – fixers, and actinomycetes.
Due to the presence of these beneficial microbial biomass and client status in Beejamrit, it helps to improve seed germination, seed vigor, and seedling length.
It is beneficial for plant growth.
Beejamrit protects the crops from harmful seed-borne and soil-borne pathogens.
Compared to the inorganic chemicals, Beejamrit, the organic seed germination enhancer, costs significantly less.
It takes significantly less time to be prepared.
Difference between Jeevamrit and Beejamrit
| Jeevamrit | Beejamrit |
| --- | --- |
| It is a liquid fertilizer. | It is a liquid pesticide. |
| Required ingredients to prepare Jeevamrutham are cow dung, cow urine, jaggery, termite soil, oil, water, gram flour. | Required ingredients to prepare the Beejamrit are water, cow urine, cow dung, red ant hill soil or soil around old banyan tree, and limestone. |
| Its self life is 12 to 15 days. | Its self life is 6 to 7 days. |
| It takes 12 to 13 days to prepare. | It takes 2 to 3 days to prepare. |
| It helps to increase useful bacteria in the soil and microbial count to provide a boost to plant growth. | It protects the seeds, seedlings from root causing and soil causing diseases. |
Conclusion
One of the most effective pesticides is Beejamrit, which is organic and mainly used for the treatment of various crops like maize, wheat, rice, fruits, vegetables, etc. you can also use it for treating the saplings of different fruits like bananas, mango, peach, apple, lear, litchi, etc. you have to do the treatment before transplanting. You have to store the solution in a shady and cool place. Beejamrit shelf life is very short. You have to use this within a week from its manufacturing date or the end of its preparation date.
The only disadvantage of Beejamrit is that you can't store it for an extended period.
QnA
Why should you use the soil taken from under the Banyan tree while preparing Beejamrit?
Ans: Shady soil under the wild Banyan tree has a natural habitat of enormous animals and birds. Due to heavy microbial biomass, it has the remarkable ability or quality to improve the agricultural soils. This kind of soil contains many microbes: bacteria, fungus, protozoa, and molds. 
Why should we use Beejamrit?
Ans: First of all, Beejamrit is an organic pesticide. So it is suitable for plants and soil. It controls disease that comes from the seeds and soil, and it doesn't affect the crops, humans, or the environment. You can treat your seeds in organic methods by using Beejamrit.
How much time does it take to prepare Beejamrit?
Ans: It takes almost 48 to 72 hours to prepare the Beejamrit solution.
What ingredients are used for preparing Beejamrit?
Ans: We need cow dung, cow urine, water, soil from the roots of banyan trees, and limestone.
What is the shelf life of Beejamrit?
Ans: The shelf life of Beejamrit is significantly less compared to other organic pesticides. You can store it in any cool, dry, and shady place for around 6 to 7 days.
What is the cost of Beejamrit?
Ans: You can prefer to prepare it yourself at home, and it is a straightforward and quick process. Beejamrit is known as a zero-budget natural pesticide. You can get all ingredients free of cost, and you have to buy limestone, which is also very affordable.