Before we discuss the preparation, benefits, and all uses of Jeevamrut, we have to know what is Jeevamrut or what is the Jeevamrut definition? One of the most potent fertilizers is Jeevamrut, a mixture of cow urine and dung with water and mud. Jeevamrut is India's traditional organic manure and biopesticide. It is generally made by the unique fermented technique of combining cow urine, cow dung, pulses flour, water, soil, jaggery, and soil.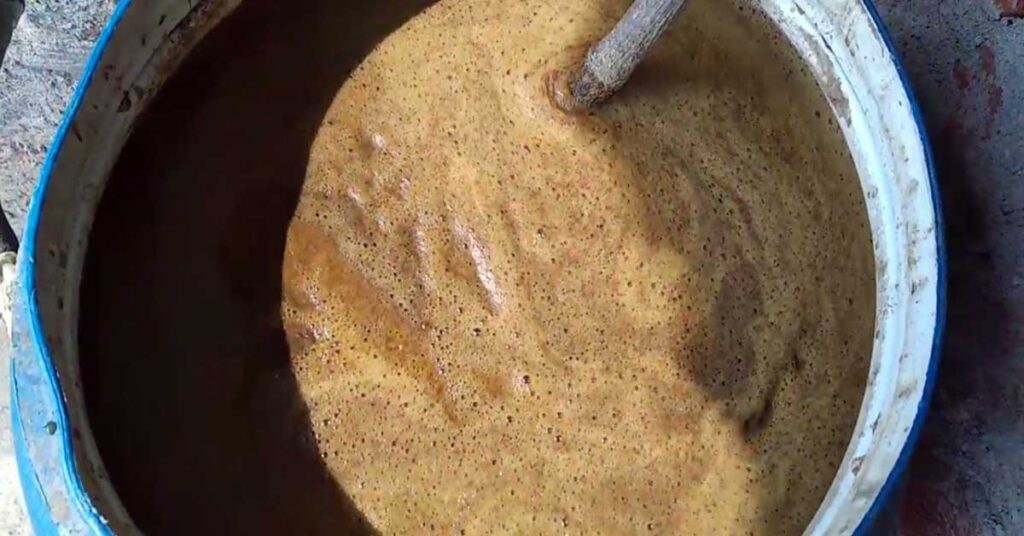 Image Credit- Farming Ideas(Youtube)
It is beneficial for both soil and plants and is also cost-effective. Short-budget farmers can use this excellent traditional plant medicine instead of spending a lot of money on chemical pesticides and fertilizers. In India, we use Jeevamrut liquid fertilizer to reintroduce the microbiology to the soil. Soil should be full of microbes found in the soil of a healthy natural forest, in the dung of herbivorous mammals.
Necessary items to prepare Jeevamrut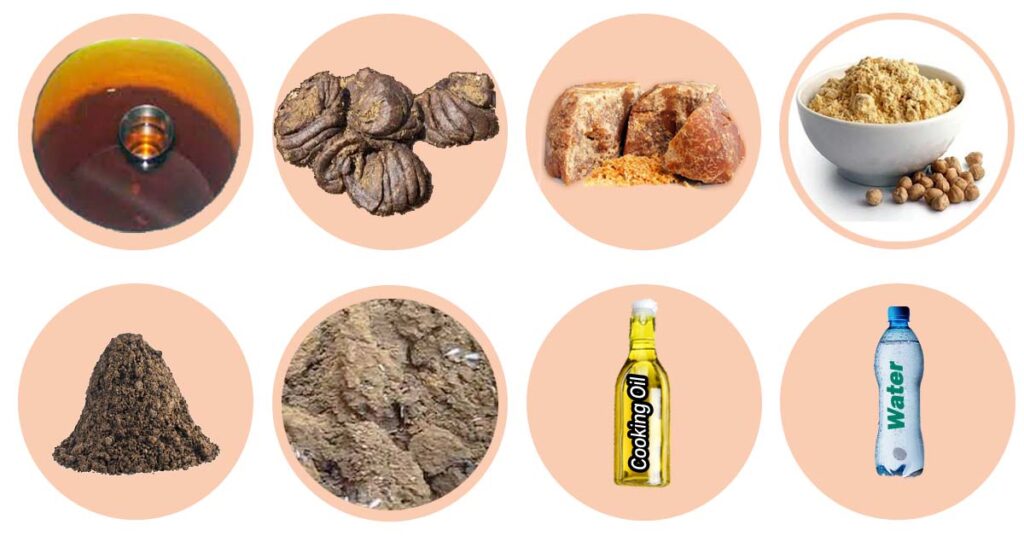 These microbes together make an ecosystem that supports the growth of our forest. To make 100 liters of Jeevamrut, we use 1kg gram flour.
1kg soil from an old tree will have the microbes and the fungi available around the roots of ancient trees.
We need a little bit of oil. After all, it forms a thin layer above the mixture, 1kg of soil from a termite hill because it will help prevent the organic liquid fertilizer-Jeevamrut from getting decayed during the process of fermentation.
You have to use 5kg of cow dung, which comes from a desi cow, for the Jeevamrut preparation. Desi cows are the cows that have humps on their back.
Use 1kg jaggery. Jaggery is there for the microbes to feed on so that they can eat and multiply. The jaggery that we use in making Jeevamrut should be old and dark. Don't use jaggery, which is processed by chemicals. So jaggery, which is lighter or reddish, is usually the jaggery processed using chemicals.
We need 5 liters of cow urine. The older the cow urine, the better it is.
So all of these microbes from the cow dung, cow urine, soil from the old tree are going to be fermented for a few days to form a concentrated solution which we will later on dilute and provide direction at the root jones of the seedlings that we are going to plant and also can sprinkle it on the mount so that the soil has colonies of all the microbes that are important for the growth of the plants.
Some Products of Jeevamrut
Click here to check products of jeevamrut on amazon.
Required materials
Preparing 100 liters of Jeevamrut
| Ingredients | Quantity |
| --- | --- |
| Cow urine | 5 liters |
| Cow dung | 5 kg |
| jaggery | 1 kg |
| Gram flour | 1 kg |
| Soil from an old tree | 1 kg |
| Termite soil | 1 kg |
| oil | 50 ml |
| water | 90 liters |
How to make Jeevamrut or the process of preparing Jeevamrut
Here we are going to discuss how to prepare Jeevamrut step by step –
Step – 1 – put 5 liters of cow urine in a plastic tub and add 1 kg of jaggery to it.
Dilute the cow urine with the other ingredients. We have to mix 1 kilogram of jaggery in 5 liters of old cow urine. Using more aged cow urine and jaggery is the best. Used jaggery should be free from any chemicals. Usually, people use sulfur and a little color to make jaggery. But we have to avoid such things. You have to break all the jaggery and make sure it turns into a solution of jaggery and cow urine with no clumps present in it.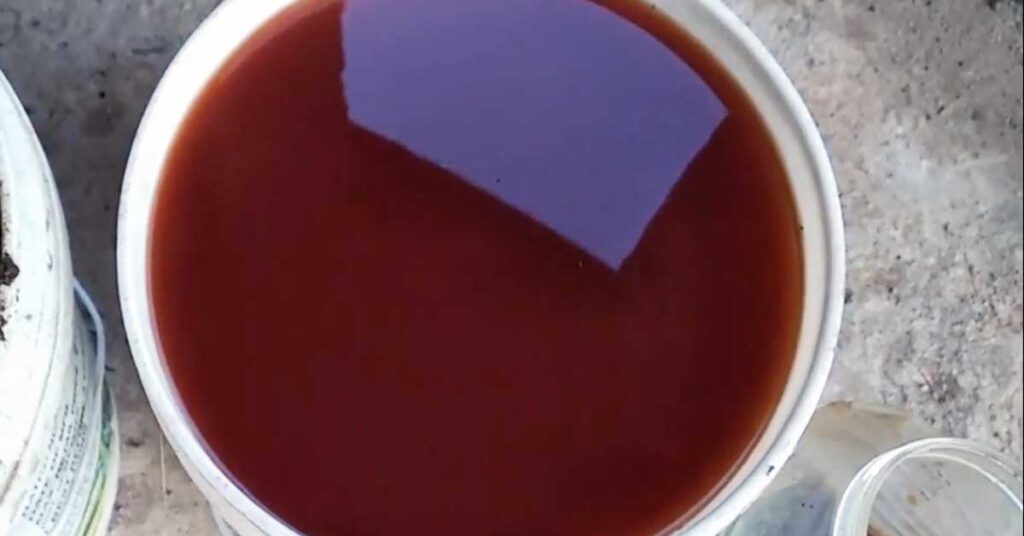 Image Credit- Farming Ideas(Youtube)
Step – 2 – add 1 kg of forest soil into the solution.
So after mixing jaggery, we have to mix 1 kg of soil from the forest floor. Forest soil contains all the microbes, fungi, and some of the nutrients present in the soil of a healthy natural forest. Once you bring this microbial colony to the Jeevamrut, they will multiply in the mixture, consume the jaggery, and multiply.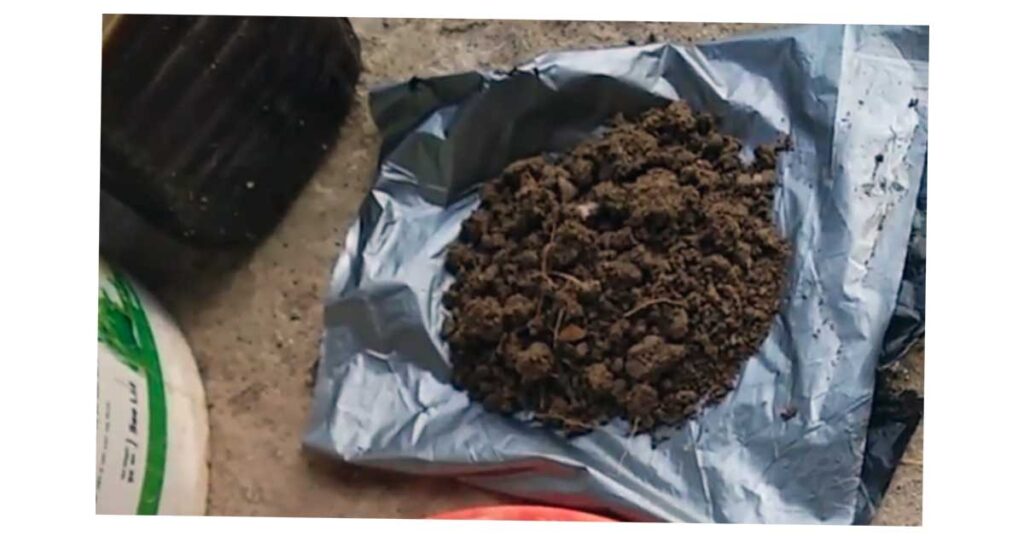 Image Credit- Farming Ideas(Youtube)
So eventually, the concentration of these microbes will increase in the Jeevamrut liquid fertilizer. Later on, when you introduce the solution to the soil, it will start to develop colonies of the same microbes that you would have collected from the natural forest soil.
Step – 3 – add a small amount of termite hill soil.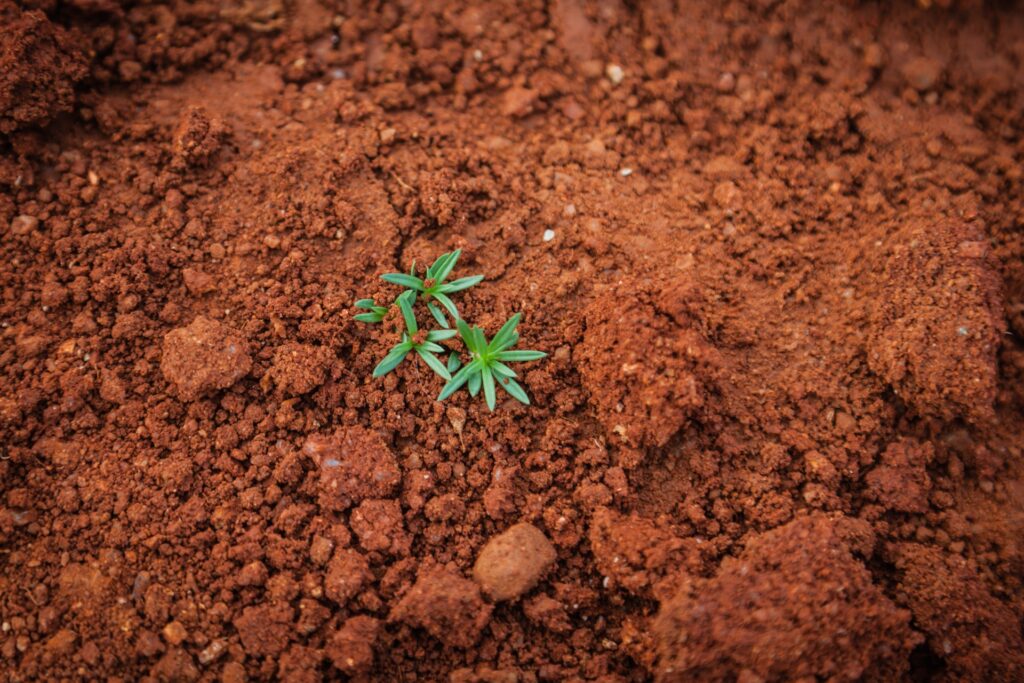 Image Credit- Unsplash
Then, you have to mix a little bit of soil from a large termite hill. It has all the enzymes preventing Jeevamrut from getting a rotten or foul smell during fermentation. It gives some longevity to Jeevamrut and improves its self-life.
Step – 4 – add 1 kg of chickpea flour to the mixture.
Here you have to use 1 kilogram of chickpea flour or gram flour for Jeevamrut preparation. This gram will be going to provide protein to all the microbes. So they will consume this protein and multiply in numbers. They are already getting the glucose and sugar from the jaggery we have mixed before.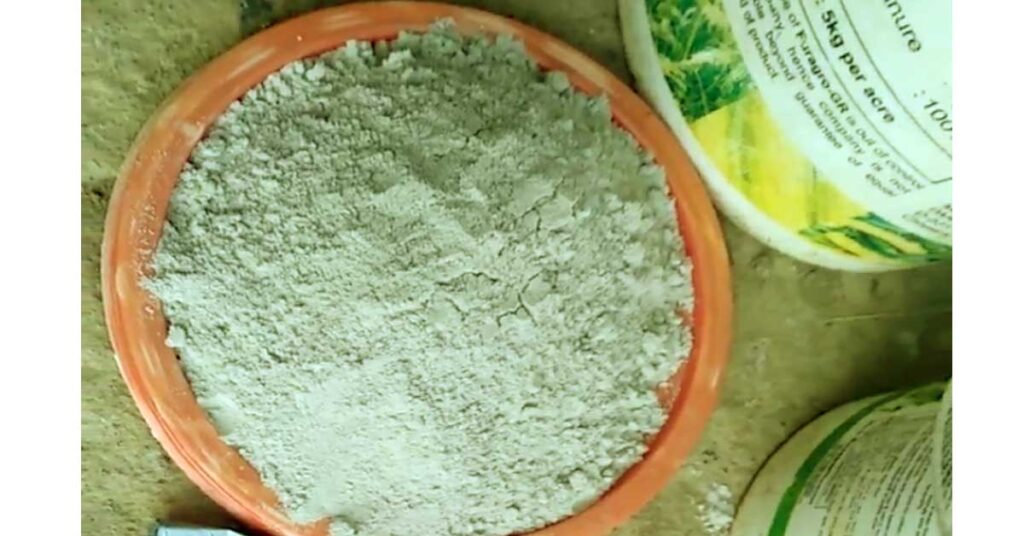 Image Credit- Farming Ideas(Youtube)
So the process is straightforward. We take the microbes from the forest floor, the core urine, and the cow dung and we provide them with an environment where they can consume protein, glucose, and sugars and multiply in numbers. Once we have this high concentrate Jeevamrut with all the microbes in it, we will dilute it and introduce all these microbes to the soil.
Step – 5 – use 5 kg of fresh cow dung
So once this liquid mixture of all the materials is ready, you have to add cow dung. Then you have to dilute the cow dung and make the mixture slurry. Once you get the pest of cow dung, other materials, and cow urine, that slurry will be diluted with 90 liters of water in a plastic drum. This process will continue until the particles are broken down into small particles.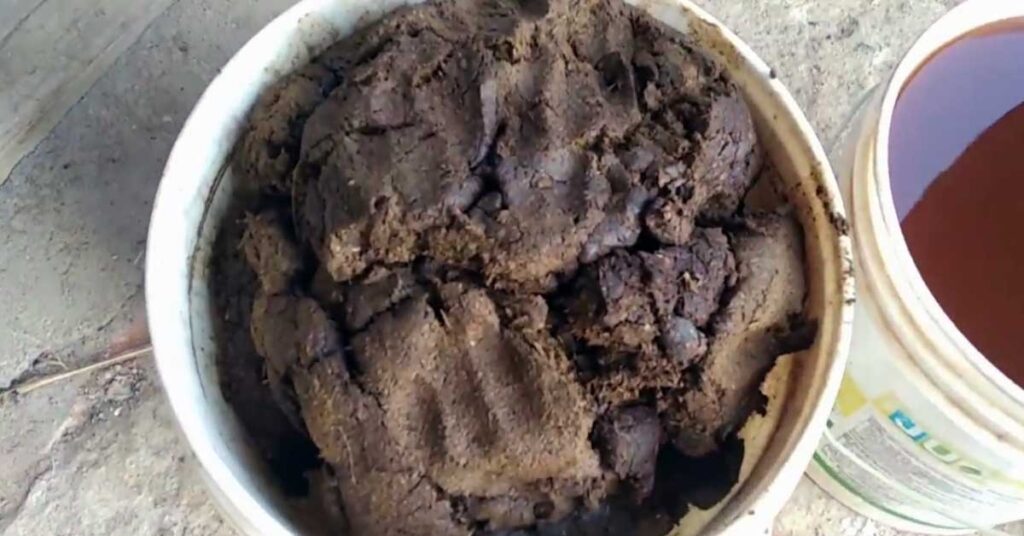 Image Credit- Farming Ideas(Youtube)
However, before we reach the dilution stage, we have to make sure that every particle of this mixture is broken down independently. So that you can mix it in water properly, and all the soils (soil of forest, soil from termite hill) that we have mixed should eventually settle down at the bottom of the drum. So that later on, we can transfer the liquid Jeevamrut to another drum and leave back the sedimented soil.
Step – 6 – add two tablespoons or 50 ml of oil into the mixture.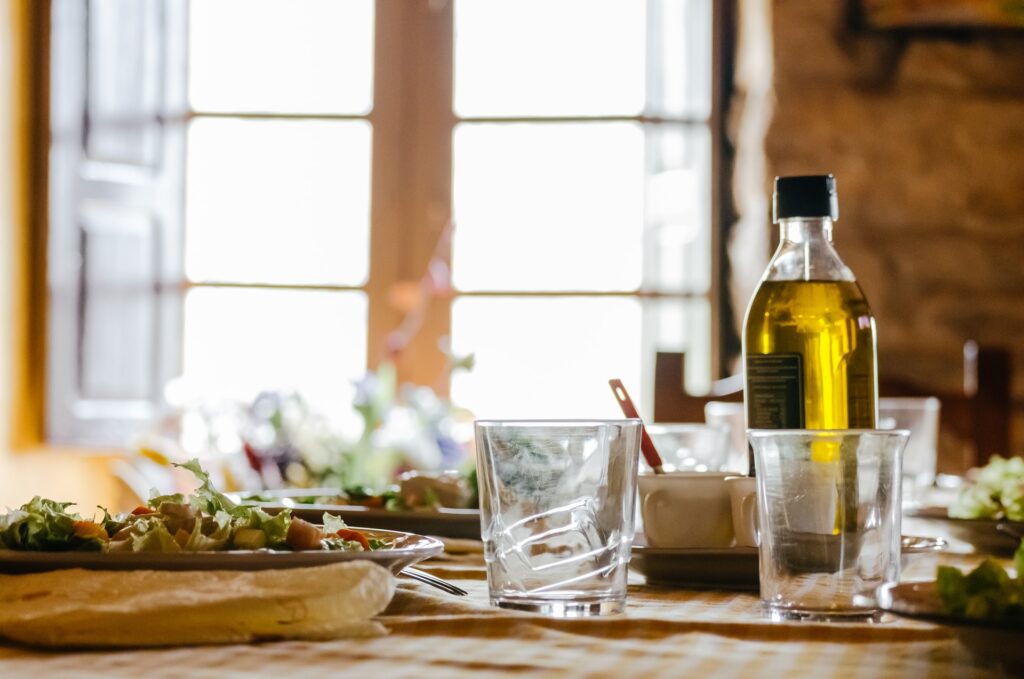 Image Credit- Unsplash
Add oil at the end to this entire mixture of Jeevamrut organic fertilizer. The oil helps to set a layer above the mixture.
Step – 7 – shift the solution into a large drum and add 90 liters of water.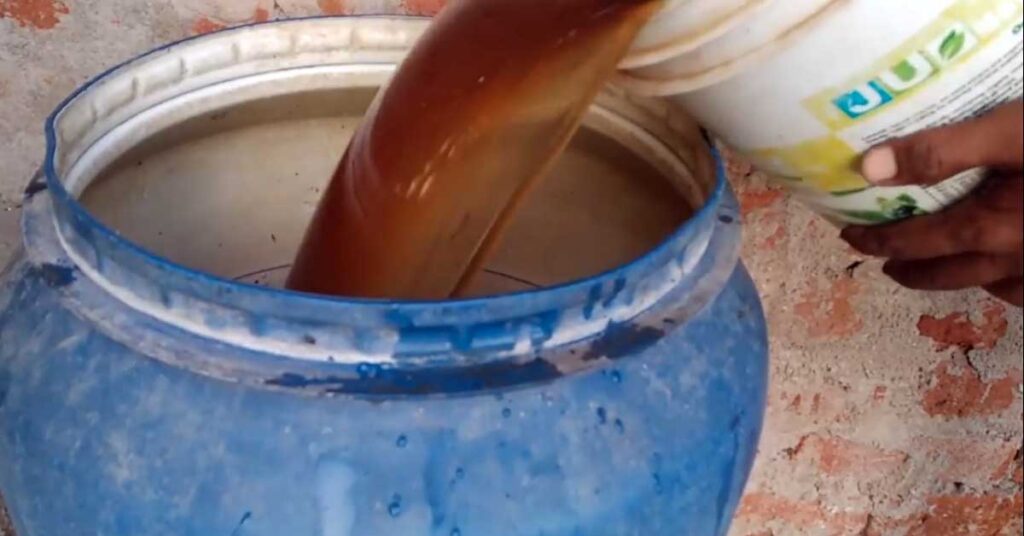 Image Credit- Farming Ideas(Youtube)
Later, we must put all the mixtures in a big drum and dilute it with 90 liters of water. Put water on the top of the mixture. It will give us a total of 100 liters of Jeevamrut. You have to keep this organic liquid fertilizer in a drum away from direct sunlight and rainwater. Keep the mixture in the shade to protect the microorganisms from the sun.
Step 8 – cover the top of the drum using a thick cloth.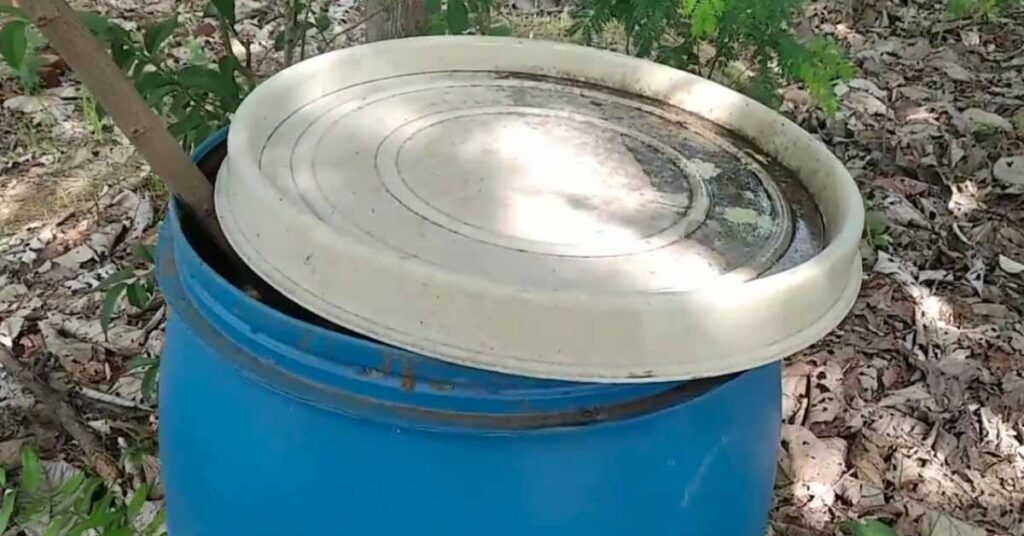 Image Credit- Farming Ideas(Youtube)
You have to cover the drum with a thick cloth, and you have first to wet the fabric and then cover it.
Step – 9 – stir the mixture with a wooden stick thrice daily.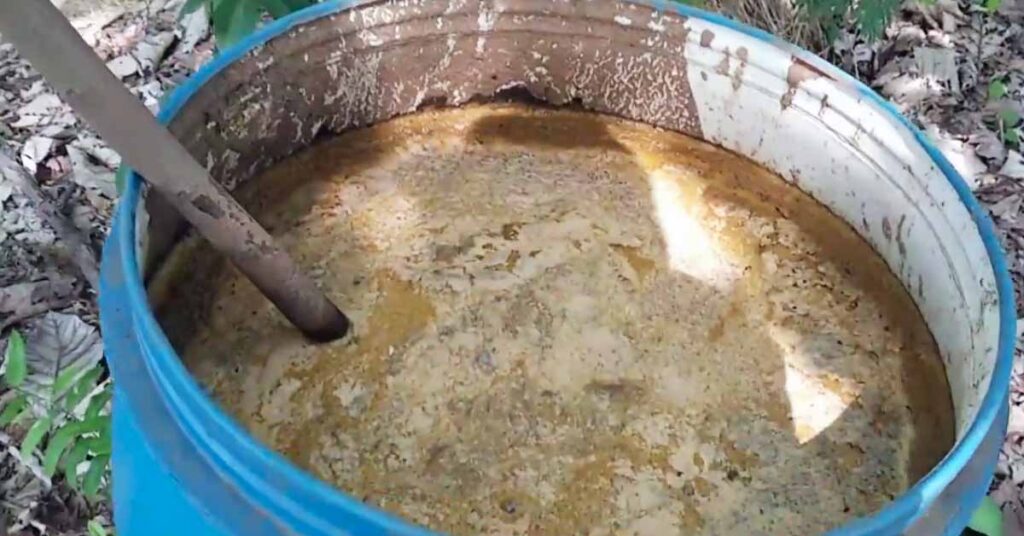 Image Credit- Farming Ideas(Youtube)
You must mix or stir the Jeevamrut with a wooden stick three times daily. You have to do the mixing process 21 times clockwise for Jeevamrut preparation. For 7 to 10 days, we will continue the same mixing method. From the end of the 8th day to the 11th day, you can prepare your Jeevamrut ready.
Later on, you must dilute the concentrated Jeevamrut in a 10:1 ratio or 20:1 ratio of water and use it in the plantation area.
Preparing solid Jeevamrut or Ghanjeevamrutam
Making dry form of Jeevamrut is very easy. It would be best if you had farmyard manure and liquid Jeevamrut. You have to thoroughly mix 20 liters of liquid Jeevamrut and 100 kg of farmyard manure. Then dry this mixture under shade restricted from direct sunlight. Cover it by using a gunny bag. You have to check the mixture and once you feel that it is dry, then beat it using your hands. Make a powder form of this mixture.
Some important tips while preparing Jeevamrut
We can do the complete mixing with our hands. Touching the cow dung or cow urine is not harmful at all. You can also use gloves to prevent the smell from staying back on the hands. The common phenomenon is that when you start to work with cow dung, you can feel the heat released from it like the decomposition process. It is usually hotter than the atmosphere around it. But here, while mixing the cow dung with cow urine, we experience the mixture becoming cooler than the surroundings. Never put an airtight lid on the drum.
During the entire process of making Jeevamrut, you will have to make sure that you do not use any metal, and you should use plastic vessels or wooden vessels and a wooden stick. The cow urine is acidic, and this acid reacts with the metal and will deteriorate the quality of the Jeevamrut.
Some benefits of Jeevamrut
Jeevamrut is a rich source of potassium, nitrogen, and phosphorus. It contains most nutrients that help in plant development and plant growth.
It is an organic liquid fertilizer that helps prevent plants from diseases and pests.
The Jeevamrut preparation takes only 7 to 10 days, unlike the other organic manure, which takes a long time to prepare.
It helps to improve aeration, maintain soil pH level, applies to all plants, and increases beneficial bacteria.
You can get all the raw materials for Jeevamrut prepared so quickly, even in farms and rural areas.
You can earn huge profits by making and using traditional organic manure.
You can do live mulching with the Jeevamrut application. It helps earthworms to do their job best.
Using methods of Jeevamrut on plants
The application of Jeevamrut can be divided into two forms – liquid and solid. 'Ghanjeevamrutam' is known as a solid form of Jeevamrut liquid fertilizer. The solid and liquid forms generally contain nearly the same components.
You can use Jeevamrut for any plants. Depending upon the size of the plant, you have to decide the amount of Jeevamrut and water. You should dilute 1-liter Jeevamrut in 10 liters of water to use this on a new seedling. You should use 1 liter Jeevamrut+5 to 6 liters of water on a grown plant.
Using Jeevamrut in liquid form
​you can make a Jeevamrut spray by adding 5% to 10% of Jeevamrut in water. You need 200 liters of liquid Jeevamrut for one acre of land, and you have to spray the liquid every 7 to 15 days at intervals to get a better result.
Using Jeevamrut in solid form
​you can apply the solid Jeevamrut 'Ghanjeevamrutam' directly in the land. It is in powder form, and you can spread it like vermicompost spreading on your farm. You can store the solid, liquid organic fertilizer for 7 to 8 months.
Advantages
Improve the soil pH level
It increases the soil friendly bacterial and microbial count of the soil
It takes 7 to 10 days to prepare. So you can use it frequently and effectively
It helps to increase the yield
Appropriate for all kinds of crops and plants
It is cost-effective
Increase the earthworm count in the soil
Help to improve the aeration process
Conclusion
If you want to know the actual definition of Jeevamrut, then it is a 100% organic solution with no harmful effect on the environment and the health of the soil. If we break the "Jeevamrut" word into two segments, it becomes – Jeevan+Amrit. He even refers to life or living organisms, and Amrut represents additional potion or nectar.
One significant input cost was cow manure. On one acre of land, people used 3 to 4 trollies of cow manure in older times to build the fertility of the land. You can reduce the input cost by using Jeevamrut. It is the organic alternative to improve yield and quality, making the ground soft and porous. It would help if you used Jeevamrut instead of any chemical fertilizers because using chemicals is not the solution.
Some other organic liquid fertilizer
Shivansh fertilizer
It is a no-cost organic fertilizer that can transform unproductive land into a productive farm. You can utilize vegetable wastes, dried plant materials, fresh grass, garbage, crop residues, animal manure, and waste foods to prepare Shivansh fertilizer.
Vermiwash
It is an eco-friendly and non-toxic compound rich in dissolved amino acids and nutrients. It creates a protective layer for plants' growth and survival, and it encounters harmful worms and supports pathogenic fungi. This brown-colored organic liquid fertilizer is collected by passing water through the worm culture column.
Cow dung liquid fertilizer
​cattle manure or cow dung liquid fertilizer prepared from grains and digested grass. It is rich in nutrients and high in organic materials. It contains 3% nitrogen, 2% phosphorous, and 1% potassium.
QnA
How to use Jeevamrut for plants?
Ans: The method of using Jeevamrut for the plant is –
1. On each use, give a good shake to the bottle.
2. Take 1 liter of plain water and 100 ml of Jeevamrut solution and mix them thoroughly.
3. Pour or sprinkle the diluted liquid solution into the soil.
4. Repeat the method every 10 to 15 days to get a better result.
What is the shelf life of Jeevamrut?
Ans: You should apply the liquid Jeevamrut within 12 to 15 days of its manufacturing. If you store it for an extended period, its microorganisms will degrade slowly.
What is the composition of Jeevamrut?
Ans: You can prepare 100-liter Jeevamrut by using –
5-liter cow urine
5 kg cow dung
1 kg gram flour
1 kg soil from an old tree
1 kg jaggery
1 kg termite soil
90-liter water
A little oil
What are the benefits of Jeevamrut?
Ans: It is a 100%pure organic liquid fertilizer, and it helps improve the pH level of the soil. Jeevamrut is a fantastic source of Phosphorous, Nitrogen, Potassium, carbon, and other essential micronutrients. You can increase the count of beneficial bacterias and microbials in soil by using Jeevamrut.
Is there any disadvantages of Jeevamrut?
Ans: It doesn't affect the soil or plan, boosts yield and plant growth, and protects the plant from harmful diseases and pests.
In which plants can you use Jeevamrut?
Ans: You can use the organic liquid fertilizer 'Jeevamrut' for indoor plants, agriculture farms, vegetables, crops, and plants.
7. What is the nutrient content in Jeevamrut?
Ans: Jeevamrut contains –
Nitrogen – 1.96
Phosphrous – 0.173
Potassium – 0.28
Mg – 46ppm
Cu – 51ppm
pH – 4.92
What is the expiry date of Jeevamrut?
Ans: You can frequently use the diluted organic liquid fertilizer 'Jeevamrut' for seven days from when it is ready. After that period, the microorganisms present in Jeevamrut begin to decay. Please don't use the diluted liquid on dry soil, and water the soil before applying it.