Other well-known names of urad dal are black gram, Urid bean, Urad bean, Ulundu Paruppu, Uzhunnu Parippu, mash Kalai, Uddu, black Matpe, etc. urad is an annual plant, and it is bushy and hairy. It has a taproot that is elaborate. India is its origin and one of the most popular pulses among the Indian people. It is the most cultivated pulse in India from the ancient period. It is black in its complete form, and when you split it, it is white.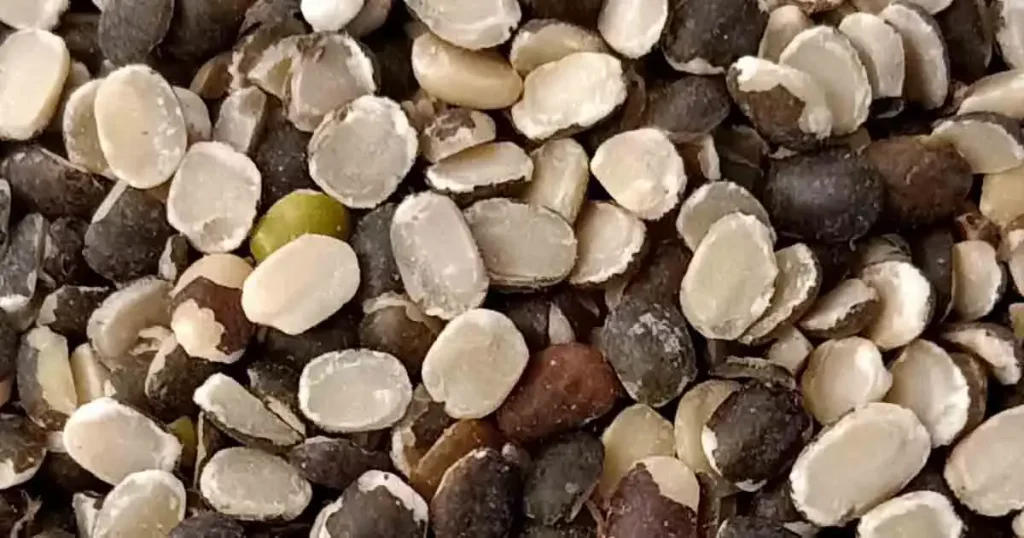 You can consider urad dal as the most nutritious pulse of all. It has so many health benefits, low in calories and fat. It helps to boost energy, improve the process of digestion, and keep the bone more robust. It contains a considerable amount of vitamins and protein. It is a typical and staple food of South Asia. You can find urad dal also in Africa and Madagascar.
From this article, you will get all the information about urad dal. Like – as Urad dal in Tamil, Urddal recipes in Tamil Nadu, Urad dal benefits, its cost, and many more.
| | |
| --- | --- |
| English name | Black gram or black lentil |
| Tamil name | Ulundham Paruppu |
| Kingdom | Plantae |
| Order | Fabales |
| Family | Fabaceae |
| Species | V. mungo |
| Genus | Vigna |
| Subfamily | Faboideae |
Urad dal in Tamil name
The name of urad dal in Tamil is Ulundham Paruppu. Urad dal is grown In Tamil Nadu and some other states of South India. The pulse is widely produced in Tirunelveli, Nagapattinam, Cuddalore, Villupuram, Thiruvaarur, and Thoothukudi districts. One of the extremely popular pulses in South India is urad dal. Most famous south indian dishes are made with urad dal. Urad dal is the most common lentil in households in South India.
Some Products of Urad dal
Click here to Check Some products of Urad dal on amazon.
Benefits of urad dal
From the below part, you will learn about the benefits of urad dal –
1. Protect the heart from various diseases
If you regularly consume a low-fat diet with urad dal, it can help balance lipid homeostasis. It can also help to decrease some heart disease risks. Urad dal has some heart-friendly properties, which depend upon some agents. Those are – low glycemic index, fiber, and some minor components like – phytosterols, oligosaccharides, and saponins. You can see the lowering effect of cholesterol in the human body because of the lipids in black gram or urad dal.
2. Beneficial for diabetic patients
Urad dal has a component that slowly increases the level of blood glucose. That component is the glycemic index. Indigestible fiber helps balance blood sugar levels in diabetic patients, which is highly present in urad dal. By consuming urad dal, you can stop insulin resistance due to type-2 diabetes.
3. Works as a prebiotic
Prebiotics help to improve gut health and boost intestinal bacteria's growth. It is an indigestible food. Urad dal contains a good amount of prebiotics. Consuming urad dal may work as a potential functional food and provides the health benefits of prebiotics.
4. Helps in weight loss and weight gain
Urad dal helps in weight gain and weight loss. Underweight people and overweight people should prepare different dishes according to their needs. According to your doctor or dietician, you should accurately consume a suitable urad dal dish. It will be helpful for your aim.
5. Works as an antioxidant
The complete form of ROS is reactive oxygen species. It can damage cells like lipids, proteins, and DNA. As a result, neurodegenerative diseases, cancer, and atherosclerosis, like serious diseases, can occur. To boost the antioxidant properties of your body, you should consume urad dal because it contains polyphenols. It can avoid damage to cells with the help of excessive ROS. It can prevent some diseases like chronic inflammation and long-term inflammation.
6. Prevent severe symptoms of kidney and liver cancer
Black gram has kidney and liver protective properties. These properties are present in urad dal due to some components like tannins, phenolics, phytic acid, and flavonoids. These components create a protective effect on the kidney and liver.
7. Responsible for good bone health
You can replace vitamin B, calcium, iron, and other bone-building doses by consuming urad dal because black gram or urad dal already has all these essential minerals. You can get good bone health, avoid osteoporosis, and get the density of bone minerals by adding urad dal to your diet.
8. Taking care of the nervous system
You should intake urad dal every day because it provides soothing and strengthens nerves. People should consume lentils if they suffer from schizophrenia, hysteria, nervous frailty, facial paralysis, and weak memory. It improves cognitive functions.
9. Beneficial for skin
Urad dal has plenty of nutrients like iron which is super helpful for the skin. Urad dal helps to increase the supply of blood and oxygen to the skin. So skin gets a fresh glow and is naturally radiant. Besides consuming urad dal, you can also make a paste and apply it directly on your face or any body part. It reduces acne, tanning, and sunburn also.
10. Keeps the male reproductive system healthy
Urad dal helps to increase the motility and count of sperm in males. It is also helpful in the case of premature ejaculation and prevents impotence.
Types of urad dal
There are generally two types of urad dal you can find in India. Those are – the whole urad dal and split it with a white urad dal. But there is also a third type of urad dal you can see, but it has fewer uses. That is a split black urad dal with skin.
1. Whole urad dal
you should soak the whole urad dal for at least 3 to 4 hours. This way, you can eliminate the robust earthy flavor of urad dal, which comes from its black outer skin. The whole urad dal has a whitish-creamy interior and is covered with black skin.
2. Split white urad dal
It is in the form of split or whole but without the outer black skin. It has a mild flavor as compared to the whole urad dal. Its color is whitish-creamy. It is full of protein and very nutritious. You can make urad dal very easily and quickly with different Tadkas.
Nutritional values of urad dal
One hundred grams of urad dal provides –
| | |
| --- | --- |
| | % daily value |
| Protein 25.21 gram | 45% |
| Carbohydrates 58.99 grams | 45% |
| Zinc 3.35 mg | 30% |
| Phosphorus 379 mg | 54% |
| Total fat 1.64 grams | 8% |
| Magnesium 267 mg | 67% |
| Iron 7.55 mg | 95% |
| Copper 0.982 mg | 109% |
| Calcium 138 mg | 14% |
| Potasium 983 mg | 21% |
| Sodium 38mg | 3% |
| Vitamin A 23 IU | 1% |
| Thiamin 0.273 mg | 23% |
| Riboflavin 0.254 mg | 20% |
| Pyridoxine 0.281 mg | 22% |
| Niacin 1.445 mg | 9% |
| Pantothenic acid 0.906 mg | 18% |
| Energy 341 Kcal | 17% |
| Folates 216 ug | 54% |
| Cholesterol omg | 48% |
| vitamins | – |
| Vitamin C 0mg | – |
| Dietary fibers 18.3 gram | 48% |
pharmeasy.in
Urad dal, or split black gram, is a very common lentil in India. It is a rich source of vitamin B, fat, protein, and carbohydrates. Urad dal contains calcium, iron, potassium, magnesium, folic acid, and calcium. So it is beneficial for pregnant women during their pregnancy. So many Ayurvedic medicines contain urad dal because of their nutritional value.
Availability and popularity of urad dal in Tamil areas
Urad dal, or black gram, is the most popular lentil in South India. To prepare many South Indian dishes, you may need urad dal. The cause of its popularity is its nutritional value, protein, mineral, and vitamin content. It provides many health benefits, including boosting immunity and improved skin and digestion.
The highest pulse-producing state is Tamil Nadu in all of India. India's major urad dal-producing states are Andhra Pradesh, Karnataka, Uttar Pradesh, West Bengal, Maharastra, and Punjab. So availability of urad dal in South India is so precise.
Price of urad dal in Tamil areas
You can get 1 kg of urad dal at Rs 120 to Rs 200 in India. It is a perfect pulse of India with so many benefits. Poor to rich, anyone can purchase urad dal effortlessly, although this pocket-friendly lentil has iron, protein, mineral, lipids, calcium, and carbohydrate. In chennai and Tamil Nadu, urad dal prices are Rs99 per kg. The price may vary depending on its type ( whole or split, with or without skin ), seller, quality, and place.
You can also order urad dal from online stores. They may provide some discounts.
Famous recipes of urad dal in Tamil areas
Ulundu vada, spicy urad dal tadka, idli, dosa, Ulundhorai, urad dal, and vegetable Appe, medu vada are some famous urad dal recipes of South India. South Indian people use urad dal to prepare delightful snacks like crispy Appe, paper dosa, spongy uttapam, etc. if you don't recognize the Tamil name of urad dal in any area of South India, then it's ok. Prominent people know the name urad dal, whether you are in a rural area or a city.
Some photos of urad dal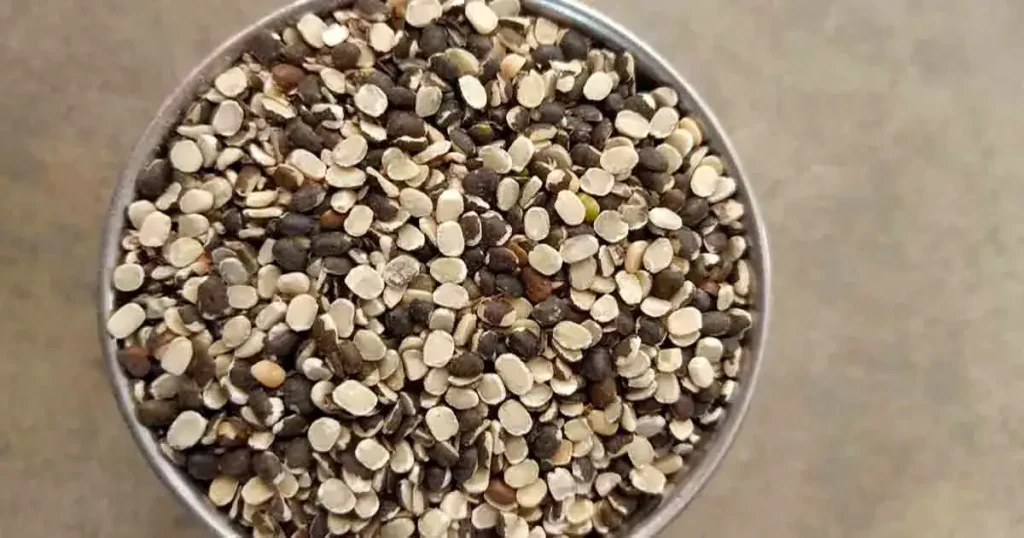 Final verdict
Urad dal, or black gram, is very famous in the Southern part of Asia. The popular lentil is an essential cuisine in many parts of India. It provides uncountable health benefits being rich in fats, protein, and carbohydrates. The positive health benefits of urad dal include good bone health, help for heart patients and diabetic people, improved digestion, and provide strength to the nervous system.
All Indian kitchens have this staple ingredient, indeed. Although black gram is very useful, excessive intake may give you some problems. So you should consult with your dietician before adding it to your diet. He could provide you the accurate information and write the quantity.
Hope the above article provides you with all the information about urad dals, like – urad dal in Tamil, its health benefits, nutritional value, cost, popularity in the local area, and many more.
Questions and answers
What are the properties of urad dal?
There are so many different phytochemicals on the seed coat of urad dal, and it contains many properties. Some properties among them are –
Urad dal has a remarkable potential for antioxidant, which is because of 1. the vitamin E component present in it.
2. It has the potential of anti-diabetic.
3. It has the properties of antimicrobial.
4. It has the potential for antiallergic properties.
5. Urad dal, or black gram, is a rich source of amino acids and protein.
Can diabetic people consume urad dal?
A diabetic patient can intake urad dal. It is an excellent incorporation into his diet. Urad dal or black gramis rich in fibre and nutritions. These components can control the level range of blood glucose in the human body.
Does urad dal have any side effects?
Urad dal benefits the skin, hair, heart, nervous system, kidney, and many more. This natural magical ingredient can stop kidney stones, high cholesterol levels, constipation, osteoporosis, etc.
But you may face some cons of urad dal. Consuming excess urad dal may lead to gallstones, kidney stones, or gout because too much of it can increase uric acid in your body, which is a serious thing. Consuming urad dal without washing it can cause some severe stomach diseases.
What are the uses of urad dal?
You can use urad dal in several ways. Some of those are –
1. You can use urad dal as the main ingredient to prepare dosa, idli, uthappam, etc. these dishes are fermented dishes prepared by mixing urad dal and rice.
2. You can make dal or soup from urad dal.
3. You can grind urad dal into powder form and prepare bread or roti.
4. You can also use the powder form of urad dal as a face pack or body pack for skin smoothening and brightening.
How to store urad dal for a long time?
After you buy urad dal from the market, you should store it in a dry and cool place in a metal or plastic container, which should be air-tightened. You should keep your pulse away from humidity and high temperature.
What are the benefits of urad dal or black gram?
Urad dal has o many health benefits. Some are –
1. Urad dal is rich in vitamin B complex, fats, potassium, and calcium.
2. It is also high in folic acid, iron, minerals, and magnesium.
3. Beneficial for the reproductive health of men.
4. Heals tissues that are swollen.
5. Improves reproductive and gut health.
6. Lows down blood sugar level.
7. Controls blood pressure.
8. Provide strength to bone and nervous system.
9. Helpful for weight loss and weight gain also.