The popular name of Toor dal is pigeon pea which comes under the Fabaceae family. This perennial legume is cultivated in semi-tropical and tropical areas of the world. It is one of the most commonly consumed dals in Africa, Southeast Asia, South Asia, the Caribbean, and Latin America. Toor dal contains a high amount of fiber and proteins. The split and dried Toor dal are the seeds of the pigeon pea plant.
The different names of toor dal in India are – Thuvaram Paruppu or Paruppu Kadaiyal, Tuvara Parippu, Kandipappu, Thogari Bele, Arhar ki dal, and Arhar dal in Tamil, Malayalam, Telugu, Kannada, Hindi, and Gujarati respectively.
The below article is all about Toor dal. Like – Toor dal in Tamil, its cost, nutritional value of Toor dal, health benefits, types, and many more.
| | |
| --- | --- |
| English name | Pigeon pea |
| Tamil name | Paruppu Kadaiyal |
| Scientific name | Cajanus cajan |
| Kingdom | Plantae |
| Genus | Cajanus |
| Family | Fabaceae |
| Order | Fabales |
| Subfamily | Faboideae |
Toor dal in Tamil name
Paruppu Kadaiyal is known as Toor dal in Tamil. Toor dal, or pigeon pea, is a Kharif crop sown in India's different agro-climate zones, and the sown time is June to July. This native Indian crop has drought tolerance. This crop generally grows in Madhya Pradesh, Uttar Pradesh, Karnataka, Gujarat, Tamil Nadu, and Bihar. Kalaburagi, a place in Karnataka, produces major Toor dal, known as Karnataka's Toor dal bowl.
Nutritional value of toor dal
Development and growth are the basic processes that are needed by the human body. The body needs carbs, protein, and dietary fiber for these activities. Toor dal contains all of these. It is also a good calcium, iron, and folic acid source. It helps to prevent defects in the fetus, avert congenital birth, and promote the growth of the fetus. Toor dal is a vast reserve of minerals ( magnesium, potassium, phosphorus, manganese, zinc, and sodium ) and vitamins.
One hundred grams of toor dal contains –
| Nutrients | Amount | % daily value |
| --- | --- | --- |
| Energy or calories | 343 kcal | – |
| Sugar | 2.86 grams | – |
| Protein | 22.86 grams | 44% |
| Iron | 3.09 mg | – |
| Sodium | 86 mg | 0% |
| Carbohydrate | 62.86 grams | 21% |
| Calcium | 57 mg | – |
| Fat | 1.43 grams | 2% |
| Saturated fat | 0.3 gram | 1% |
| Total dietary, fiber | 17.1 grams | 60% |
| Potassium | 1.392 mg | 39% |
| Calcium | – | 13% |
| Iron | – | 28% |
| Magnesium | – | 45% |
| Vitamin B6 | – | 155 |
References- pharmeasy.in & netmeds.com
Health benefits of toor dal
1. Works as an immune system booster
toor dal contains immense magnesium. It helps to keep away infections and build the immune system robust. Magnesium helps to uplift both mental and physical health. This key mineral helps more than 300 body processes their functioning.
2. Helps to maintain bone health
toor dal is an excellent source of phosphorus, magnesium, and calcium. In growing children, it helps to keep the bones strong. In older people, it helps to maintain the density of bones. You can avoid the high osteoporosis risks by adding toor dal to your diet.
3. Keep the heart healthy
people suffering from heart problems can include toor dal in their diet because the no saturated fat content makes toor dal the best option for heart patients and provides a good amount of protein.
Niacin and dietary fibers present in toor dal help to decrease the levels of bad LDL cholesterol and increase the levels of good HDL cholesterol. It can promote good heart health, avoid plaque deposition in the vessels of the heart, and ease out the functions of cardiac muscle.
4. Helpful for diabetic patients
diabetic patients should consume toor dal daily. The glycemic index of these must-add lentils is 29. Toor dal can provide a steady energy sully to your body and works as a booster of metabolism because it is a good source of dietary fiber and complex carbs. Toor dal is low in GI. This factor helps to decrease the spikes of blood sugar, delay the process of digestion, and maintain your satiate.
5. Promotes good gut health
good gut health is very important for the human body. It is an indicator of a healthy human body. Problems in the digestive system are the main regions of constipation, indigestion, and bloating. It is the cause of depleting nutrients and irritating the digestive system.
This lentil can reduce gastrointestinal woes and promotes a healthy digestive system. It works as a strong digestive stimulant.
6. Controls blood pressure
toor dal works as a potent vasodilator because it contains a good amount of potassium. It helps to control high blood pressure, decrease blood constriction, and keep improving blood flow. Hypertensive patients may benefit from adding toor dal to their diet. It can be valuable for them because it controls the high cardiovascular risks.
7. Helps to maintain weight
if you want to lose weight, you should add foods full of protein like toor dal in your meal. Because toor dal is full of protein, it helps to keep you feeling full and can control your hunger. Pigeonpea has a low glycemic index and is full of dietary fiber goodness. These facts help to lose weight by triggering metabolism, reducing appetite, and lowering the overall calorie intake. It makes toor dal a wholesome weight-reducing food because it has little saturated fat.
8. Provides iron content
if the human body has a low hemoglobin level, it may lead to irregular heartbeat, fatigue, hair loss, and shortness of breath. If you are dame care about this, it can be the cause of some other health complications. Pigeon pea is a great source of folic acid and plant-based iron. It helps to increase the levels of iron in the human body.
9. Great source of vitamin B
vitamin B complex very essential for the process of metabolism. Toor dal contains a great number of B complexes. In the carbohydrate metabolism process, Riboflavin Plays an important role. This metabolism process boosts the level of energy and prevents the storage of fat. The antioxidant effect of niacin brings skin to glow, enhances skin's radiance skin, and protects skin from sunburn.
10. Contains folic acid
folic acid plays an important role in a child's development during pregnancy. Toor is known as a reserver of folic acid. You can fulfill the deficiency of folic acid in pregnant women by regularly providing them with toor dal. It protects the baby from birth defects of the spinal cord and brain. It can also avoid anemia, preterm delivery, and miscarriage.
11. Provides a Huge amount of protein
toor dal is loaded with the best quality protein. It promotes the body's overall growth and helps build the body's block. The cereals or blended form of toor dal contains complete protein, which delivers essential amino acids. It helps with tissue repair and muscle mass strengthening. To fulfill your child's protein needs, you should incorporate pigeon peas into the diet.
References- pharmeasy.in
Side Effects of Toor dal
There are no side effects of toor dal you can see in daily life. But in some cases, you can rectify the side effects. Those are –
Bloating, allergic reactions like – illness in the respiratory system, hives or scratching, and inflammation in the gastrointestinal tract.
If you see any of these symptoms, you should consult a doctor. He can provide you the effective treatment. Before adding it to your diet to get any benefits, consult your dietician or doctor for safety. Wash toor dal properly before cooking. Purchase good quality of toor dal.
Cost of toor dal in Tamil areas
The cost of toor dal varies according to the quality, brand, and place to place. You have to spend around Rs 80 to Rs 150 per kg approximately. In Karnataka, the cost of one quintal toor dal is around Rs 10500. You can also buy from online stores at a discounted price. In Andhra Pradesh, Rs 75 to Rs 105 per kg is the average cost of toor dal. Toor dal price today in Tamil Nadu is approximately between Rs 120 to Rs 180 per kg.
It is an inexpensive pulse that anyone can afford. But it contains high and good quality protein, minerals, and vitamins.
Availability and popularity of toor dal in Tamil telling areas ( Andhra Pradesh, Kerala, Tamil Nadu, etc.)
Karnataka is one of the highest toor dal producer states of India. Approximately 70% lands of Karnataka cultivates toor dal every year. Kalaburagi is a district of Karnataka and is known as the major pigeon pea producer. The second highest toor dal producer state in Maharashtra.
The people of Tamil Nadu, Kerala, and Andhra Pradesh love to eat toor dal or pigeon peas. As all know, the love of sambar among South Indian people and sambar can prepare by using toor dal. High fibers, rich in protein, so many health benefits, and reasonable price make the lentil more famous.
Famous Recipes of toor dal in Tamil areas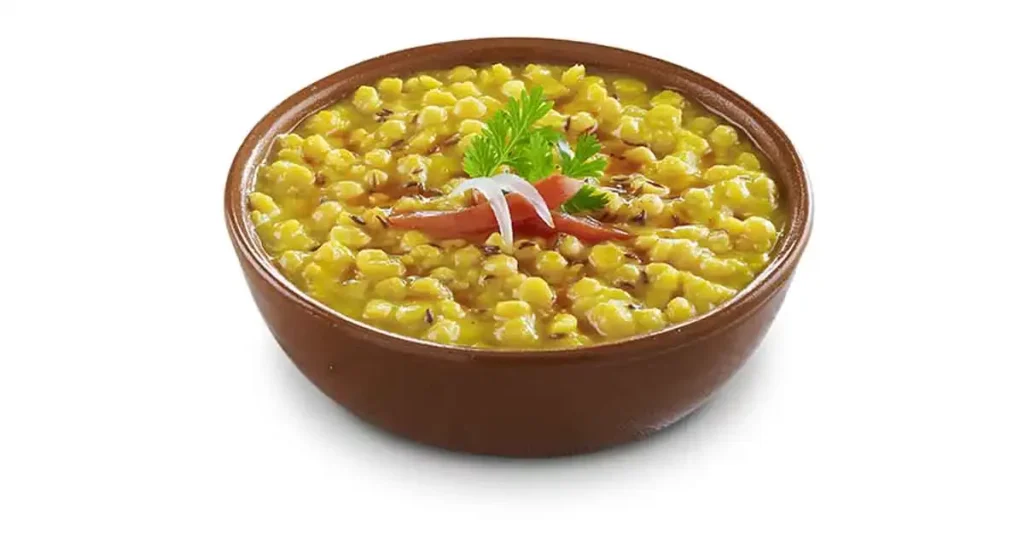 Some famous south indian toor dal recipes are – south indian Paruppu Kadaiyal, dal rasam, toor dal with spinach, toor dal fry, Paruppu Kadaiyal with south indian tadka, etc. people in South India love spicy food. So they first prepare dal, then do a tadka of onion, garlic, and red chili and pour it over the dal to make it delicious and spicy. Sambar is their favorite food. They eat it with vada, idli, dosa, and whatnot. You can also make some desserts by using toor dal.
Processing of toor dal
From ancient times, Indian people used an age-old practice to process lentils known as dehull. There are two types – the dry method and the wet method.
1. Dry method
in this method, you have to apply water and oil to the toor seeds. Then dry them in the sun and remove the seed coats. This process is known as dehulling. If you have a large number of seeds, you can go for a commercial dehull and go to the mill, which has mechanical functions. The mill can split and deskin the lentils.
2. Wet method
in this method, you can compose seeds in water. Then you can leave it for sun-drying and then dehulling.
Some photos of toor dal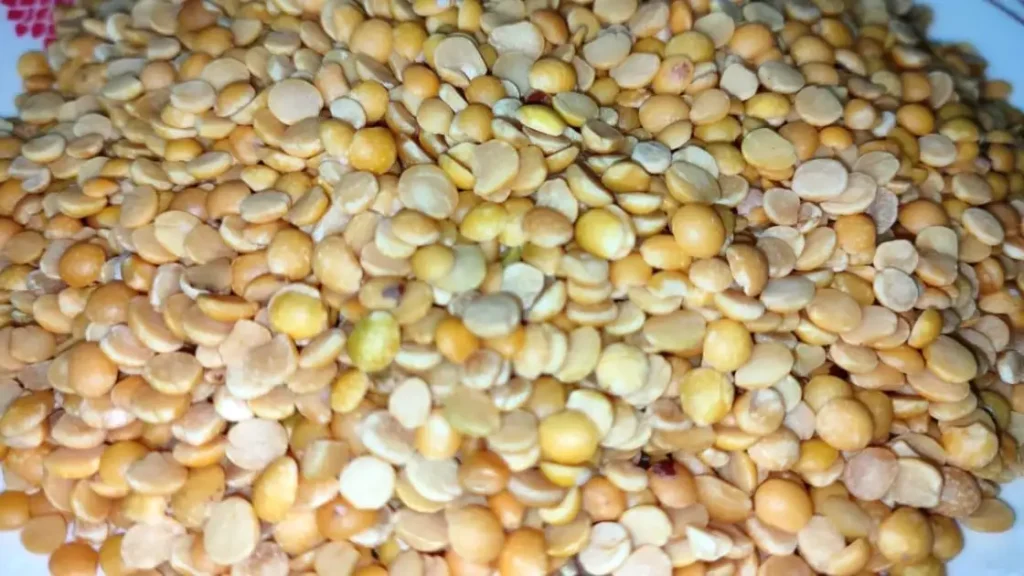 Final verdict
In every Indian kitchen, you can find any or some legumes or pulses. Without any dal recipe, there is no wholesome meal. Dal provides lots of mental and physical benefits with good plant protein. Arhar dal or toor dal is one of the most nutritious lentils. This Indian staple food can be eaten in many forms and combinations, like sambar Sadam, dal chawal, or rice Pappu.
Hope you got all kinds of information about toor dal. Like – toor dal in Tamil, its nutritional value, health benefits of toor dal, cost, availability, and many more.
Frequently asked questions
What are the properties of toor dal?
1. It has an anti-obesity capacity.
2. Shows the activity of antimicrobials.
3. It has hypolipidemic activity.
4. It contains anti-diabetic properties.
5. Its nature is anti-hypertensive.
6. It has anti-inflammatory and antioxidant properties
What are the potential uses of toor dal?
1. Helps in healing wounds.
2. Good for diabetic patients.
3. Controls cholesterol and obesity
4. It provides anti-malaria benefits.
5. Cure anemia, ulcers, infection in the urinary tract, cough, and fever.
Is soaking toor dal necessary before cooking?
Yes, you should soak toor dal for at least 1 to 2 hours and 10 to 24 hours maximum. The soaking procedure reduces the cooking time. It is also helpful to clean the dal properly.