Tomatoes are a widely consumed fruit worldwide, and with over 15,000 distinct types known globally, there is no shortage of variety. India, in particular, produces and cultivates over 1,000 of these varieties, with Karnataka being renowned for its tomato cultivation, particularly in the Kolar district.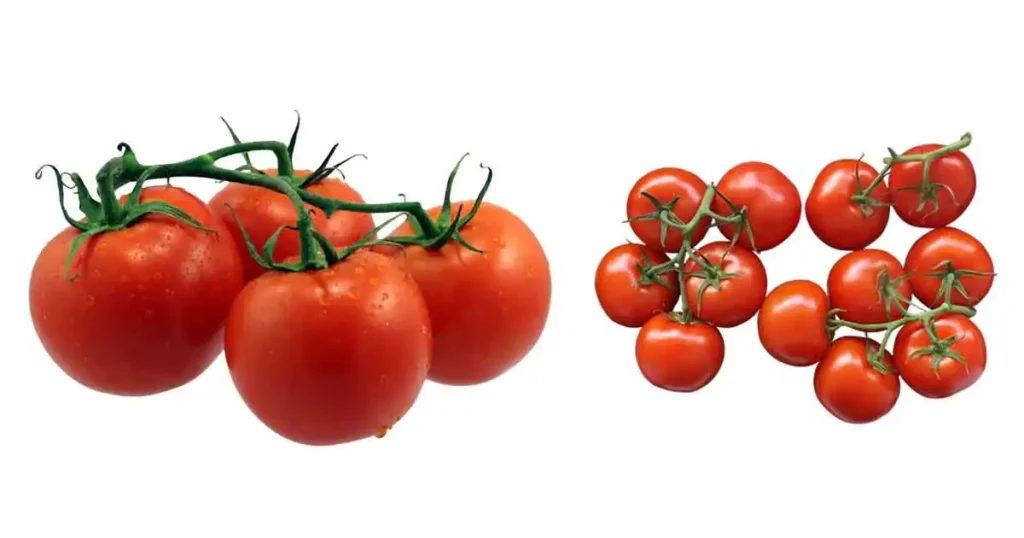 The tomato plant is a self-pollinating crop that produces red or yellow fruits surrounded by pale white blooms. Despite the abundance of tomato varieties, only a select few are available for sale in the market, with many others being consumed locally.
In this way, the tomato is not only a diverse and versatile food source but also a reflection of the cultural and regional diversity of consumers.
Hope you will get all the information about Tomato from the below article, Like – Tomato in Kannada, Tomato recipes in kannada, Tomato benefits, types, nutritional value,its cost, and many more.
| | |
| --- | --- |
| English name | Tomato |
| Kannada name | Tometo (ಟೊಮೆಟೊ) |
| Kingdom | Plantae(Plants) |
| Subkingdom | Tracheophyta(Vascular plants) |
| Superdivision | Spermatophyta(Seed plants) |
| Division | Angiosperms(Flowering plants |
| Order | Solanales |
| Family | Solanaceae(Nightshades) |
| Class | Magnoliopsida(Dicotyledons) |
| Subclass | Asteridae(Astrids) |
| Genus | Solanum |
wiki
Tomato in Kannada name
Tometo (ಟೊಮೆಟೊ) is the kannada name of tomato. In some places people call this Tamtekayi,Tomyato and Gore hannu. These are a well-liked vegetable in Indian cooking. These are nutritious fruits have a pleasantly tart-taste and are commonly utilized in both meat and vegetarian preparations.
Tomatoes are a widely grown and consumed crop in Karnataka, with the Kolar district being particularly famous for its tomato cultivation. With approximately 9000 acres of land dedicated to tomato farming, the district produces an average of 4 lakh tons of tomatoes annually, adding a delicious flavor to our meals.
It is considered one of the most essential "protective foods" due to its high nutritional value. Tomatoes are a rich source of minerals, vitamins, organic acids, essential amino acids, and dietary fiber. They are known for their high content of vitamin A and C, the minerals like iron, and phosphorous. Tomatoes also contain pigments such as Lycopene and Beta- carotene, which have been linked to various benefits.
Some Tomato Photos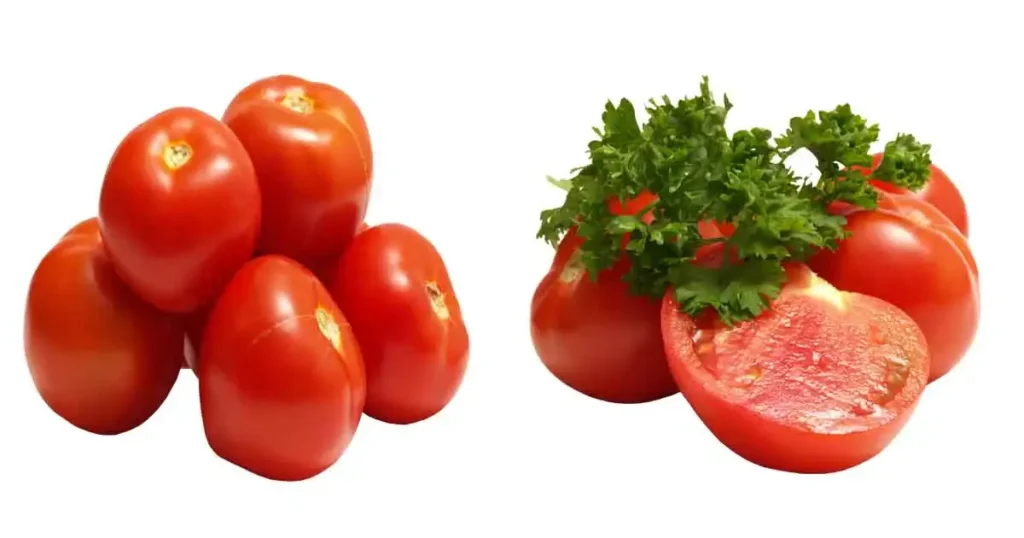 Nutritional facts
| | |
| --- | --- |
| Calories | 18 grams |
| Water | 95% |
| Protein | 0.9 grams |
| Carbs | 3.9 grams |
| Sugar | 2.6 grams |
| Fiber | 1.2 grams |
| Fat | 0.2 grams |
A single serving of raw tomato that has been either chopped or sliced is equivalent to one cup
170.14 g of water
1.58 g of protein
2.2 g of fiber
5.8 g of carbohydrate
32 calorie (kcal)
0 g cholesterol
9+ Health Benefits of Tomato
Tomatoes are a popular vegetable widely consumed across the globe, with a range of benefits. In this article, we will explore in detail how tomatoes contribute to various aspects of human benefits.
1. Cancer
Tomatoes contain several beneficial compounds, including beta-carotene, lycopene, flavonoids, and coumaric acid, that may help prevent cancer. Numerous studies have shown that including tomatoes and tomato-based products in the diet may reduce the risk of various types of cancer, such as lung, breast, and pancreatic cancer.
Lycopene, in particular, has been shown to have potent anti-cancer properties. It is a powerful antioxidant that can neutralize free radicals, unstable molecules that can damage cells and lead to cancer.
Some studies have also suggested that the high vitamin C content in tomatoes may help reduce the risk of certain types of cancer, such as stomach cancer. While further research is necessary to confirm these findings, it is clear that including tomatoes in the diet can positively impact cancer prevention.
2. Blood pressure
Potassium is an essential mineral that plays a critical role in regarding blood pressure and maintaining cardiovascular health. Tomatoes are an excellent source of potassium, with one medium-sized tomato providing around 237 mg of this mineral. Studies have suggested that a potassium-rich diet can help decrease blood and reduce the risk of stroke.
Additionally, the magnesium and calcium content in tomatoes has been associated with better blood pressure control. It is important to note that consuming too much sodium can counteract the beneficial effects of potassium, so individuals looking to reduce their blood pressure should aim to limit their sodium intake and increase their intake of potassium-rich food like tomatoes.
3. Heart health
Tomatoes are a good source of dietary fiber, with one medium-sized tomato providing around 1.5 grams of fiber. A diet rich in fiber has been linked to Improved heart health, as It can help reduce cholesterol levels and lower the risk of heart disease.
Furthermore, the presence of antioxidants like lycopene and vitamin C in tomatoes may help decrease inflammation and oxidative stress, both of which are linked to heart disease. Several studies have suggested that consuming tomatoes or tomato-based products can positively impact cardiovascular health.
4. Diabetes
Diabetes is a condition where the metabolism of the body is affected, leading to an increase in sugar in the blood. People with diabetes must carefully monitor their carbohydrate and sugar intake to manage their condition. Tomatoes are a great food choice for people with diabetes, as they are low in carbohydrates and sugars while being high in fiber.
Fiber can help regulate blood sugar levels and improve insulin sensitivity and reduce the risk of diabetes-related complications. However, it is important to note that consuming large amounts of tomato-based products like ketchup, which often contain added sugars, can counteract the positive effects of tomatoes on blood sugar control.
5. Constipation
Tomatoes are high in water and fiber, making them a beneficial food for promoting digestive health. The fiber in tomatoes can aid in softening stool and promoting regular bowel movements, decreasing the likelihood of constipation.
However, it is important to note that excessive tomato consumption may cause gastrointestinal discomfort in some individuals with a history of digestive issues should consult with a healthcare provider to determine the optimal amount of tomatoes to consume.
6. Bone health
Tomatoes are a good source of essential nutrients like vitamin K, calcium, and potassium. Vitamin K plays a critical role in bone health by aiding in the absorption of calcium, a mineral that is essential for strong bones. Potassium, on the other hand, helps prevent the loss of calcium from the body.
This is important because when the body loses too much calcium, it can weaken bones, leading to osteoporosis and other bone-related disorders. Therefore, consuming tomatoes regularly can help support healthy bones and prevent bone loss.
7. Skin health
Tomatoes are a great source of vitamin C, a powerful antioxidant that plays a vital role in collagen production. Collagen is a protein that gives skin its strength, elasticity, and youthful appearance.
With age, collagen production naturally declines, leading to wrinkles and sagging skin. However, consuming vitamin C- rich foods like tomatoes can help boost collagen production and maintain skin firmness and elasticity.
Additionally, tomatoes contain lycopene, a carotenoid pigment that acts as a natural sunscreen. Lycopene helps protect the skin from harmful UV damage, which can cause premature aging, wrinkles, and skin cancer.
8. Weight management
The fiber content in tomatoes promotes satiety, which helps reduce overall calorie intake. Additionally, fiber-rich diets have been associated with weight loss and improved weight management. Therefore, incorporating tomatoes into a balanced diet can help support healthy weight loss goals.
9. Digestive health
Tomatoes are an excellent source of both soluble and insoluble fiber, which are important for supporting digestive health. Soluble fiber dissolves in water and forms a gel-like substance, which helps regulate blood sugar and cholesterol levels.
Both types of fiber also help nourish beneficial gut bacteria, which play a critical role in overall digestive health. Therefore, consuming tomatoes regularly can help support healthy digestion and reduce the risk of digestive disorders.
In conclusion, incorporating tomatoes into your diet can provide a range of health benefits for your body. From promoting skin health to supporting digestive health, tomatoes are a versatile and nutrient–rich fruit that can help improve health and reduce the risk of chronic disease.
So next time you're planning a meal, consider adding some delicious and nutritious tomatoes in the menu
Price of tomato in Kannada areas
Tomatoes are one of the most widely used vegetables in the Indian subcontinent are an essential in many dishes. In the kolar market of Karnataka, tomatoes are readily available throughout the year, but their price may vary based on the season.
The cost of tomatoes in the kolar market usually ranges from Rs 18 – 30 per kg. The price range may fluctuate based on various factors such as supply, demand. Weather conditions and transportation costs.
In some seasons, the prices may result higher due to low production and high demand, while others, the prices may be relatively lower due to abundant supply.
It is important to note that the prices of tomatoes in the Kolar market are highly influenced by external factors such as weather conditions, transportation costs, and other market dynamics. Farther may have to bear additional costs in case of unfavorable weather conditions that affect the production of tomatoes, which are often reflected in the market price.
Supply of tomato in Kannada areas
Karnataka, one of the Indian states, is known for its significant tomato production, particularly in the Kolar district. This district is well-known for its fertile soil and favorable weather, which makes it an ideal location for growing tomatoes; these versatile and highly nutritious fruits offer a range of health benefits and are commonly used in various cuisines, which is why they are widely available in the local markets and grocery stores. In addition, many areas have local tomato farms, providing a fresh and readily available supply of tomatoes
When purchasing tomatoes, it is crucial to choose ripe and firm ones that are free from any signs of damage or bruising. You can keep unripe tomatoes at room temperature until they are ready, after which they should be refrigerated to maintain their freshness and flavor.
With their numerous health benefits and versatility in the kitchen, it's no wonder that tomatoes are a popular essential ingredient in many dishes.
Famous local dishes of Tomato in Kannada areas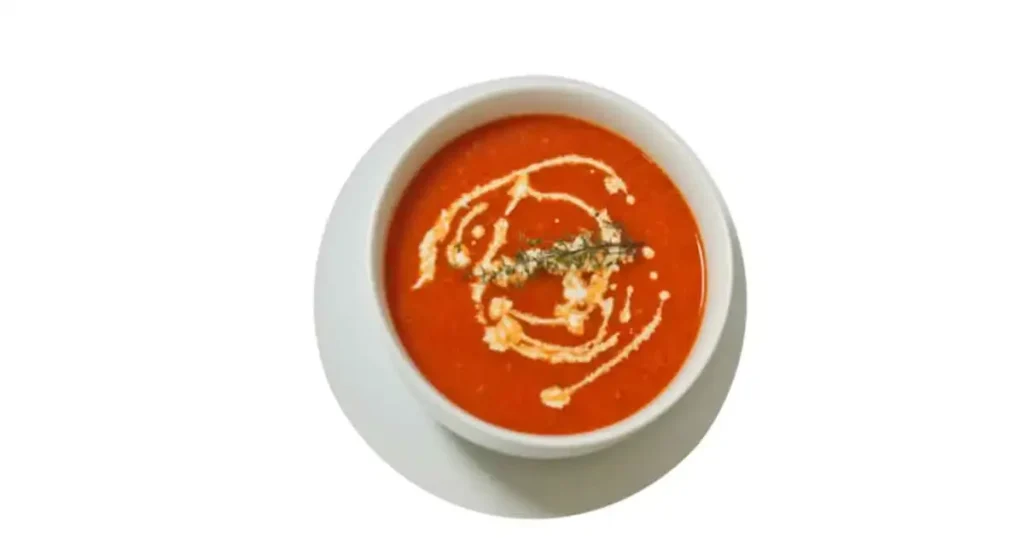 The state of Karnataka boasts a wide array of cuisine that incorporates different ingredients, including tomatoes. Among the famous tomato- bases dishes in Karnataka are:
1. Tomato Saaru recipe
A soup-like dish that is both tangy and spicy. It is made using lentils, ripe tomatoes, and various spices. This dish is commonly served with Indian bread or rice.
2. Tomato Gojju recipe
A sweet and sour tomato–based curry made with spices, jaggery,
and tamarind. This dish is often paired with lentil dishes and rice,
3. Tomato chakli recipe
Also known as tomato murukku, is a popular Indian snack made from a combination of rice flour, gram flour, and tomato paste. The flours and spices are mixed together with tomato paste, water and some oil to form a smooth and pliable dough
4. Tomato Rasam recipe
A thin and spicy soup made using tomatoes, lentils, tamarind, and spices. It is a common accompaniment for rice or can be enjoyed as a soup.
5. Tomato Rice Recipe
A flavorful dish that uses tomatoes, herbs, and spices to add taste and aroma to the rice. It is commonly served with a side of salad or raita
Conclusion
In conclusion, we have explored the various aspects of tomatoes, including their varieties, structure, and benefits. Additionally, we have highlighted some of the famous tomato-based dishes from Karnataka, which showcase the versatility and importance of this fruit in the region's cuisine.
From its nutritional value to its culinary uses, it is clear that tomatoes play a significant role in both the local market and the culture of Karnataka, but it is important to note that excessive consumption can have negative effects on some individuals.
Possible side effects include acid reflux or heartburn, allergies, and infections, kidney problems, irritable bowel syndrome, diarrhea, urinary issues, and respiratory problems. Therefore, it is recommended to consume tomatoes in moderation and consult with a healthcare professional if any adverse reactions occur.
Frequently asked questions
1. Does India hold the position of being the top tomato producer globally?
  India has established itself as the second-largest global contributor to tomato production, underscoring its substantial involvement in meeting the worldwide demand for this versatile fruit. The nation's tomato cultivation techniques and favorable weather conditions have played a pivotal role in its impressive output, highlighting its importance in the global tomato industry.
2. What is the economic significance of tomatoes in india?
  Tomatoes play a vital role in the Indian economy, making a substantial economic contribution. The cultivation, processing, and distribution of tomatoes generate significant revenue and employment opportunities across various sectors.
The tomato industry in india not only supports the livelihoods of farmers but also contributes to the growth of related industries such as food processing, transportation, and exports. Additionally, the domestic and international demand for Indian tomatoes further enhances their economic significance.
3. Which district in Karnataka is renowned for its tomato cultivation?
  One district in Karnataka stands out for its notable tomato cultivation. Known for its thriving tomato farms, this district has gained recognition as a hub for tomato production in the state. The favorable climatic conditions and fertile soil of this region contribute to its reputation as a prime location for tomato cultivation.
The district's framer has honed their expertise in farming, employing advanced techniques to maximize yield and quality. This has not only boosted the agricultural economy of the district but also positioned it as a key contributor to the overall tomato production in Karnataka
4. Does tomato consumption have positive effects on skin health?
  Incorporating tomatoes into your diet can have beneficial impacts on skin health. Consuming tomatoes is known to offer positive effects on the overall health and appearance of the skin.
The high content of antioxidants, vitamins, and minerals found in tomatoes helps in nourishing the skin and promoting a healthy complexion. These nutrients aid in protecting the skin from damage caused by free radicals, UV radiation, and environmental factors.
Regular consumption of tomatoes may contribute to improved skin texture, hydration, and a reduction in the signs of ageing. The inclusion of tomatoes in skin care routines and diets has gained popularity due to their potential skin-enhancing properties.
5. During which season are tomatoes cultivated in Karnataka?
  Tomatoes are cultivated in Karnataka during a specific season. Farmers in Karnataka predominantly grow tomatoes during a particular period, taking advantage of the favorable climatic conditions during that time. This season offers optimal temperatures, suitable moisture levels, and adequate sunlight, all of which are essential for successful tomato cultivation.
By aligning their farming practices with this specific season, farmers in Karnataka can ensure healthy plant growth, high yield, and quality tomatoes. This strategic cultivation approach contributes to Karnataka's reputation as a significant tomato-producing region in india.