Winter melon and white gourd are alternative names used to refer to ash gourd, which is a highly versatile and nutritious vegetable belonging to the Cucurbitaceae family. It is a vine plant that produces oblong-shaped fruit with a smooth and waxy texture.
It is a large oval-shaped gourd with a smooth green or white exterior and a spongy flesh inside. In Maharashtra, it is commonly used to prepare a variety of dishes, including curries, stews, and sweets.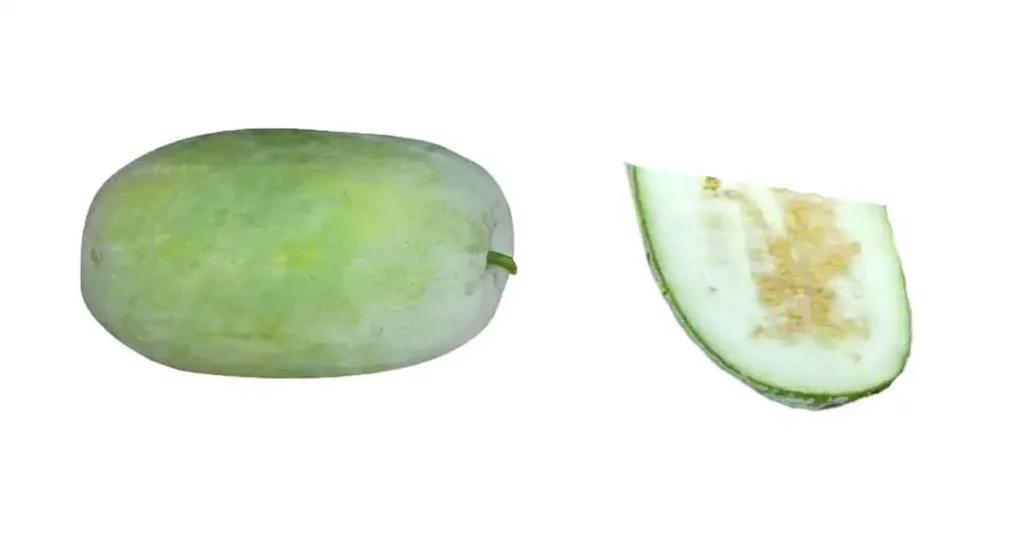 The article provides abundant information on Ash gourd in Marathi name, including its price, nutritional content, health advantages, application, popularity, local availability, and much more.
| | |
| --- | --- |
| Marathi name | "Kohala" |
| Kingdom | Plantae (Planta, Vegetal, plants) |
| Subkingdom | Viridiplantae (green plants) |
| Infrakingdom | Streptophyta (land plants) |
| Superdivision | Embryophyta |
| Division | Tracheophyta (vascular plants, tracheophytes) |
| Subdivisions | Spermatophytina (spermatophytes, seeds plants, phanerogames) |
| Class | Magnoliopsida |
| Superorder | Rosanae |
| Family | Benincasa Savi |
| Order | Cucurbitales |
| Species | Benincasa hispida (Thunb) Cogn. |
wiki
Ash gourd in Marathi name
"Kohala" is the Marathi name of ash gourd, and it is a commonly found vegetable in Maharashtra, India, and it is widely cultivated in various regions. It is a popular vegetable in Maharashtra and can be found in markets, grocery stores, and vegetable vendors throughout the state, including major cities like Mumbai, Pune, Nagpur, Aurangabad, Nashik, and Kolhapur.
Ash Gourd Health Benefits
Ash gourd is a nutritious and low-calorie vegetable that can be incorporated into the diet of individuals who are committed to a weight loss program, especially in the case of those with diabetes.
Firstly, ash gourd is a low-calorie vegetable that is rich in fiber, which makes it an ideal food for weight management. Consuming ash gourd can make you feel fuller for longer periods, and thus prevent overeating.
Secondly, ash gourd is a good source of antioxidants and vitamins, particularly vitamin C. Antioxidants help to protect your cells against damage from harmful molecules called free radicals, which can lead to chronic diseases such as heart disease and cancer.
1. Detoxifies the Kidneys
Ash gourd has been found to possess diuretic properties, which means that it can increase urine production and promote the elimination of waste and toxins from the body. This makes it an effective remedy for kidney-related problems.
Ash gourd is also rich in water, which helps to keep the kidneys hydrated and flush out toxins from the body.
2. Enhances Digestive System
Ash gourd is known for its significant fiber content, which can aid in preventing constipation, bloating, and stomach cramps, especially after consuming a large meal.
Side effect of ash gourd
While ash gourd is generally considered safe for consumption, there are some side effects and precautions to consider:
1. Allergies
People who are allergic to other members of the gourd family, such as pumpkin, cucumber, or melon, may also be allergic to ash gourd.
2. Hypoglycemia
Ash gourd may lower blood sugar levels, which can be dangerous for people taking medications for diabetes or those with hypoglycemia.
3. Medication Interactions
Ash gourd may interact with certain medications, such as insulin and other diabetes medications, and diuretics. People taking these medications should consult their medical practitioner before consuming ash gourd.
4. High in Oxalates
Ash gourds are high in oxalates, which can contribute to the formation of kidney stones in people who are prone to them.
5. Toxicity
The seeds and rind of ash gourd contain a toxic compound called cucurbitacin, which can cause nausea, vomiting, and diarrhea if consumed in large amounts.
6. Pesticide Residues
Ash gourd may contain pesticide residues if not grown organically or if harvested from contaminated soil. It is recommended to wash and peel the skin before consuming.
Nutritional value of Ash gourd Juice
The essential nutrients of ash gourd fruit are proteins, flavonoids, vitamins, minerals, volatile oils, etc. Ash gourd fruit is majorly composed of 96% water; the remaining nutrients are as follows:
Nutrient Components
Value/100 grams
Carbohydrate 3.96 g
Protein 12 g
Fiber 2.9 g
Zinc 0.6 mg
Calcium 30 mg
Iron 11.8 mg
Vitamins B1 0.04 mg
Vitamin B3 0.528 mg
Vitamin B2 0.145 mg
Vitamin C 17.2 mg
Vitamin B6 0.046 mg
Vitamin B5 0.176 mg
It is important to note that while ash gourd juice has several nutritional benefits, excessive intake or consumption without proper consultation can result in severe health problems. Therefore, it is highly recommended that people suffering from any medical condition should consult their doctor before consuming ash gourd or its juice.
Ash Gourd Uses For Skin and Hair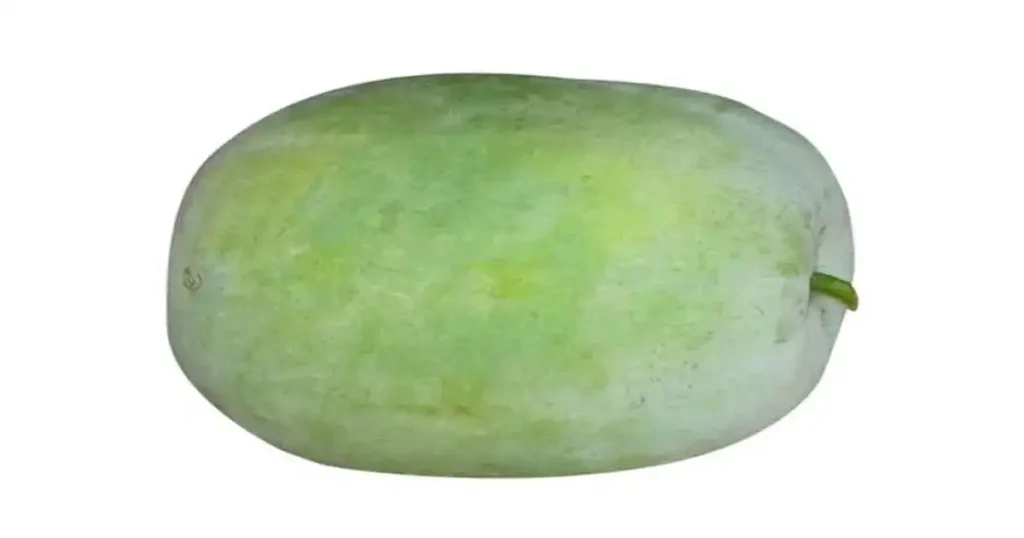 1. Naturally Moisturizes Skin
The presence of emollient Vitamin E with antioxidant properties in ash gourd makes it a valuable vegetable. Its gel extract, when topically applied on sunburns and rashes, can soothe the irritated and dry skin areas, leaving it moisturized and supple.
2. Promotes Hair Growth
Ash gourd is rich in vitamins and minerals that are essential for healthy hair growth. For instance, it is a good source of vitamin C, which is a powerful antioxidant that helps to protect hair follicles against damage caused by free radicals. Vitamin C helps to boost collagen gelatin, which is essential for maintaining hair strength and elasticity. Ash gourd is an perfect option if you are looking to gain long and strong hair.
3. Manages persistent Dandruff
There are several ways to use ash gourd to tackle excessive dandruff. For instance, ash gourd juice can be applied topically to the scalp to reduce inflammation and itching dandruff. Regular application of ash gourd gel on a dry and itchy scalp and hair can significantly improve the appearance of lackluster hair by adding a noticeable shine to it.
Ash Gourd Healing Potential In Ayurveda
1. Battles Fevers
The use of ash gourd leaves has been known to provide immediate relief to individuals suffering from high fever by reducing body temperature and alleviating symptoms of fatigue. In addition to this, ash gourd leaves can help regulate and maintain ideal electrolyte balance.
2. Fights Jaundice
There are several ways to consume ash gourd to fight jaundice. For instance, ash gourd juice can be consumed daily to support liver health and improve digestion. Additionally, ash gourd can be cooked and consumed as a vegetable to add variety to the diet and provide essential nutrients that support overall health. Ash gourd is a beneficial vegetable that can help to fight jaundice due to its ability to support liver health. Its hepatoprotective, hydrating, and detoxifying properties make it an effective natural remedy for preventing and treating jaundice. However, it is important to consult a clinician before using ash gourd for any medical purpose, especially if you have any underlying medical conditions or allergies.
3. Remedies Heart Ailments
Ash gourd extract is highly regarded for its therapeutic properties in treating various cardiac ailments such as irregular heartbeats palpitations, chest pain, high blood pressure, Atherosclerosis and coronary heart disease. In ancient Indian medicine, a recommended dosage of two cups of ash gourd extract is prescribed to individuals with heart issues, as it helps improve blood circulation and alleviate related symptoms.
4. Treats Alopecia
The application of ash gourd gel in instances of severe hair fall. can stimulate blood circulation and nerve function in the scalp, leading to accelerated hair growth.
5. Recovers Joint Illnesses
Due to its potent anti-inflammatory properties, ash gourd juice is capable of alleviating bone, muscle pain and heals joints disorders such as arthritis, osteoporosis, gout and fractures. Additionally, ash gourd juice contains abundant amounts of essential bone-strengthening minerals including calcium, magnesium and phosphorus, which facilitate increased bone density and improved mobility in muscles and joints.
6. Uplifts immunity
Ash gourd is a rich source of vitamin C, flavonoids, and carotenes that have been found to possess potent immune-boosting properties. During times of illness, when the body's organs may not be functioning at their best, consuming ash gourd can infuse the blood cells with vitamin C, which is then distributed to the organs to help restore optimal function. In addition, ash gourds can help in combating fatigue and promoting overall recovery.
7. Regulates Thyroid
Hyperthyroidism is a condition in which the thyroid hormone levels rise above the normal range, and ash gourds can be beneficial in reducing these elevated levels. This is because ash gourds are rich in iodine, which is essential for regulating thyroid hormone production, as well as zinc, which helps to optimize enzyme function to further improve thyroid health.
8. Uplifts Kidney Functions
Owing to its high water content, ash gourd has a cooling effect on the body, which helps to balance the liver and kidney tissues. In addition, it is effective in treating urinary tract infections (UTIs). It can help eliminate kidney stones, relieve diarrhea and constipation, regulate renal function, and promote smooth bowel and bladder movements.
Ash gourd is a vegetable that contains significant amounts of soluble dietary fibers and a high water content, which can help accelerate weight loss and prevent obesity by reducing excess body fat. It is a perfect addition to a daily diet as the abundant water content assists in the efficient breakdown of food into energy and enhances the absorption of vital nutrients, ultimately boosting metabolism.
Price of ash gourd in Marathi areas
The price of ash gourd varies depending on the location, season, and the availability in different market across India. On average the price of ash gourd ranges from Rs. 15 to 30 per kilogram in cities like Mumbai, Pune, and Nashik. Purchasing ash gourd from online stores provides several benefits such as convenience, affordability and quality assurance, making it a preferred option for many buyers.
Supply of ash gourd in Marathi areas
India is one of the prominent producers of ash gourd in the world, with several states including the Maharashtra, Karnataka, Andhra Pradesh, among the top ash gourd producing states. Over all the supply of ash gourd is available widely in the local markets and grocery stores. Many local farmers grow supply and suppliers provide fresh high-quality ash gourd.
Famous local dishes of Ash Gourd in Marathi areas
One of the most beloved dishes is petha, a sweet candy-like dessert typically enjoyed during festivals like Diwali and Holi. Another popular dish known as Kalya vatanychi bhaji, a traditional Maharashtrian dish made with ash gourd and black gram.
Conclusion
In this article we have covered various classifications of ash gourd in Marathi name, its nutritional values, and numerous health benefits. We have also explored the different ways in which it can be consumed and the approximate price range in which it is available. By integrating ash gourd into our diets, we can boost our immunity, improve digestion, and promote overall health and well-being. We hope this article has provided valuable insights and guidance on how to incorporate this amazing vegetable into your daily diet.
Frequently asked questions
1. What is ash gourd, and where is it commonly found?
Ash gourd (Benincasa hispida), also known as winter melon or white gourd, is a vine plant belonging to the gourd family. It is a popular vegetable widely cultivated in various regions of Asia, including China, India, Southeast Asia, and parts of the Middle East.
The ash gourd plant has large, heart-shaped leaves and can grow up to a length of one meter. The fruit of the ash gourd is oblong or round, with a smooth, waxy green or white skin that is covered with a layer of fine white hairs. The flesh of the ash gourd is soft, white, and spongy, and it contains many tiny seeds.
2. What are the nutritional benefits of consuming ash gourd?
● Low in Calories: Ash gourd is a low-calorie vegetable, with only 13 calories per 100 grams of serving, making it an excellent choice for weight loss diets.
● High in Fiber: Ash gourd is high in fiber, which helps to improve digestion, prevent constipation, and promote a feeling of fullness, thus reducing the risk of overeating.
● Rich in Vitamins: Ash gourd is a good source of vitamins C, B1, B2, and B3. Vitamin C acts as an antioxidant, while vitamins B1, B2, and B3 help in energy metabolism.
● Rich in Minerals: Ash gourd is a good source of minerals such as calcium, iron, and phosphorus, which are essential for maintaining bone health and overall health.
● Antioxidant Properties: Ash gourd is rich in antioxidants such as flavonoids, carotenoids, and phenolic compounds that help to prevent oxidative stress and cellular damage in the body.
3. How does ash gourd compare to other vegetables in terms of nutritional value and health benefits?
Ash gourd is a highly nutritious vegetable that offers several health benefits. When compared to other vegetables, ash gourd stands out in some aspects, while in others, it may have similar or lower nutritional value.
Ash gourd is an excellent source of vitamins and minerals, including vitamin C, vitamin B complex, calcium, iron, and phosphorus. However, compared to other vegetables like spinach, broccoli, and kale, ash gourd may have lower levels of some vitamins and minerals.
Ash gourds are rich in antioxidants, which can protect the body against oxidative stress and reduce the risk of chronic diseases. It also has anti-inflammatory and diuretic properties, making it beneficial for people with inflammatory conditions and urinary tract problems.
4. Where can I purchase ash gourd, and what should I look for when selecting it at a grocery store or market?
Firstly, it is important to note that ash gourd is a seasonal vegetable and most commonly found during the winter months, from November to February. When selecting ash gourd, there are a few things you should look for to ensure that you're getting a fresh and good quality vegetable. Firstly, search for ash gourd that is sturdy and weighty relative to its size. The exterior should be smooth and free from cuts or bruises. The color of the skin should be light green or pale white, and it should have a slight shine to it. Avoid any ash gourds that have soft spots as this is a sign that may be overripe or spoiled.
5. Can ash gourd be used in beauty products and what benefits does it offer for skin and hair?
Yes, ash gourd can be used in beauty products as it contains high amount of nutrients that are beneficial for the skin and hair. The extract of ash gourd is commonly used in cosmetics and personal care products due to its hydrating and nourishing properties.