The family Salmonidae includes a very common fish which name is salmon. Char, whitefish, and trout are other fishes of the same family. Tributaries of the Pacific Ocean and North Atlantic Ocean are the native of salmon fish.
The cycle of hatch, migration, and reproduction of salmon is generally done in freshwater. It migrates to the ocean, and when its reproduction period comes, it will return to the same spot of the freshwater where it hatched to spawn. So it is well known as anadromous.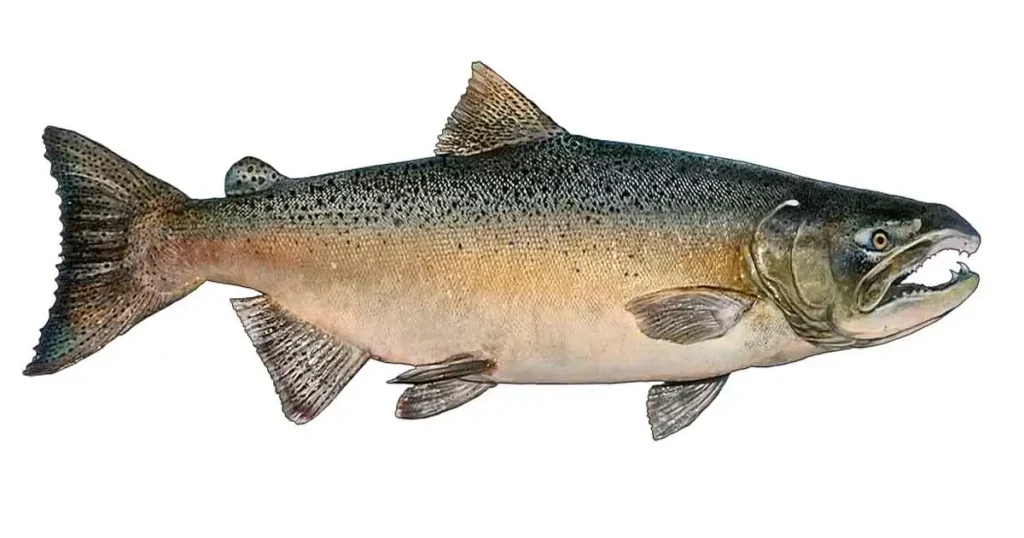 A silver-colored and large fish salmon can survive in both marine and freshwater. Nonvegetarian people can consume it to fulfill their protein requirements.
From the below article, you will learn most of the information about salmon fish, like – salmon fish in Telugu, its cost, health benefits, nutritional value of salmon fish, types, availability, and popularity in the local area, recipes, etc.
| | |
| --- | --- |
| English name | Salmon fish |
| Telugu name | Maga or Budatha maga |
| Kingdom | Animalia |
| Family | Salmonidae |
| Subfamily | Salmonidae |
| Phylum | Chordata |
| Order | Salmoniformes |
| Class | Actinopterygii |
wikipedia
Salmon fish in Telugu name
True salmons can be found in the Pacific and Atlantic oceans (specifically in North America but not in other places). There are six species of Pacific and Atlantic salmon. These six salmon species do not belong to Indian regions.
You don't get the mentioned species near the Indian ocean or nearby Indian water sources. But you can see indistinguishable salmon species in India. These are popular as Indian salmons. They are recognized as Indian salmon or Solomon fish.
Maga or Budatha Maga is the Telugu name of salmon fish. Telugu is the native language of Telangana and some places in Puducherry and Andhra Pradesh. Telugu people also live in the Partial parts of Odisha, Tamil Nadu, Jharkhand, and Karnataka. In Andhra Pradesh and Tamil Nadu, salmon is known as Pozhakada, PeruVanjaram, Kaala, Seenakaala, and Thiravalai. Rohi macha is the Odia name of salmon fish.
Health benefits of salmon fish
Salmon fish provides a huge range of health benefits. But some of them are –
1. Salmon helps to boost cardiovascular health
Good fats like DHA and EPA ( omega – 3 fatty acids ) and potassium are very important contents of salmon fish. When omega – 6 and omega – 3 fatty acids mix with potassium, it works like magic and positively contributes to heart health. It helps to control the cholesterol level, maintain the blood pressure level, and reduce inflammation in the artery. The potassium content helps to avoid excessive fluid retention and always checks the blood pressure level. Regularly consuming salmon helps decrease the seriousness of heart-related diseases like arrhythmia, heart stroke, heart attack, high triglycerides, and high blood pressure.
2. Salmon helps cure damaged tissues
Salmon fish contains a good amount of good-quality protein. Except for essential nutrients, protein is required in the human body. Protein helps to build blocks for cartilage, muscles, bones, blood, and skin. If you face any injury, protein is essential to repair and rebuild tissues. It helps to maintain muscle mass if you are into weight loss and works as a protector of bones. The protein present in salmon fish helps to improve the strength and density of bone and boosts the rate of metabolism.
3. Salmon is full of vitamin B complex
The entire group of vitamin B (vitamins B12, B9, B6, B7, B5, and B3 ) is present in salmon fish. Vitamin B complex is vital in maintaining the balance of body function. The whole vitamin B group helps to create energy from consumed food, decrease inflammation, and repair and create DNA. salmon fish has a rich amount of niacin or vitamin B3 and vitamin B6. B6 helps to boost the health of the brain, and vitamin B3 decreases the level of cholesterol. Vitamin B12 helps to maintain the nervous system and brain functions, some functions related to metabolism, and the balance of hormones. Salmon also provides vitamin B12.
4. Salmon helps in the functioning of the thyroid gland
Proper maintenance of the thyroid function is one of the main works of selenium. You can get the required amount of selenium from a decent quantity of salmon. Thyroid hormone synthesis is responsible for oxidative damage. Selenium is a vital mineral that helps to fight against oxidative damage and protects the thyroid gland. Thyroid hormone can be made by hydrogen peroxide, produced by the thyroid gland.
5. Salmon boosts brain health
To improve and boost the brain's functioning, the absorption of vitamins A, D, and selenium with a high level of DHA is very necessary. All the mentioned elements are present in salmon fish. Parkinson's disease and Alzheimer's are Some psychological disorders the supplements can treat of omega – 3 fatty acids in salmon fish. If you are pregnant, then you should consume salmon fish. Because it helps improve the health and develops the fetal brain.
Some Products of Salmon fish
Click here to Check Some products of salmon fish on amazon.
Types of salmon fish
Before you jump to gain knowledge about the types of salmons, you must know some facts. There are 6 important types of salmon fishes you should know about. Five are known as Pacific salmon because they belong to the Pacific ocean. The other one, known as Atlantic salmon, comes from the Atlantic ocean.
| Name of the salmon | Scientific name | Other popular names |
| --- | --- | --- |
| Chinook salmon | Oncorhynchus Tshawytscha | King salmon, tyee salmon, chrome hog, spring salmon, Blackmouth salmon |
| Coho salmon | Oncorhynchus Kisutch | Silver salmon, Hooknose salmon |
| Chum salmon | Oncorhynchus Keta | Dog salmon |
| Sockeye salmon | Oncorhynchus Nerka | Red salmon |
| Pink salmon | Oncorhynchus Gorbuscha | Humpback salmon or Humpies |
| Atlantic salmon | Salmo Salar | – |
1. Chinook salmon
You can identify a chinook salmon by its white belly, the top part of the head with silver sides, and blue, green back. You can see random black spots on both lobes of its tail fin and body's upper half. It is famous as a blackmouth because its entire inside mouth is black, including the gum line. This species starts spawning in the freshwater, and its body color is red, purplish, or brown.
You can easily identify female chinooks by their blunt nose, robust mid-section, and torpedo-like body. Males can be identified by their hooked upper jaw.
According to their large size, this anadromous species is popular as king salmon. It is the largest Pacific salmon. Its length and weight can correspond to approximately 5 feet and 57 kilograms. But on average, it can grow up to 3 feet. After their spawning process, chinooks generally die. They feed on amphipods and aquatic and terrestrial insects.
2. Coho salmon
You can find cohos from Alaska, Northwest Pacific, and California. Silver salmon is the other popular name for coho salmon. Its belly is light-colored, its sides are silverish, and the back is greenish or dark metallic blue. When it lives in the ocean, it has little black marks on the upper part of its tail and back. You can see light pigments in the lower jaw's gumline compared to chinook salmon. When cohos are in freshwater, their body color becomes dark, and ideas are reddish-maroon. During their spawning male cohos develop large teeth and strongly hooked snouts.
This anadromous fish generally hatch in the source of fresh water. After spending around 1 year in rivers and streams, it moves to the ocean, a saltwater environment. Around 25 to 30 inches is the average length of an adult coho and it can weigh up to 4 to 5 kg.
3. Chum salmon
Chum salmon is the second largest Pacific salmon species in size after Chinook salmon. When it lives in the ocean, the color of its back is metallic bluish-green with black speckles similar to coho and sockeye salmon. It can change its appearance dramatically after entering the freshwater. You can see the development of a pattern like a tiger stripe ( black and bold red ) on the body of both male and female chum. There are no fangs on the spawning females.
It is also an anadromous species that hatch in freshwater and migrate to the ocean, a saltwater source. Unlike sockeye, chinook, and coho salmon, chums don't live for long in freshwater. The average length of a chum can be up to 3.5 feet approximately and its weight can be around 4 to 6 kilograms.
4. Sockeye salmon
This Pacific salmon is one of the small varieties of salmon which can grow up to 1.6 to 2.5 feet, and its weight can be 1.8 to 7 kilograms. When it is ready to go to the sea, the color of its belly is white, the top is greenish-blue, and it has silver flanks with iridescenticity. It is also known as blueback salmon. You can also see some well-defined black speckling on its back. But there are no typical large spots, unlike other salmon species. There are no marks on the tail or fins. When it returns to the freshwater, its body becomes bright red, and its head becomes green. It is also known as red salmon.
This anadromous salmon hatch in lakes, rivers, or freshwater streams. It lives in freshwater lakes for almost 1 to 3 years and then moves towards the ocean to grow and feed. After its maturation (2 to 3 years ), it returns to freshwater. But some of them return before time and live in the sea. The early returned males are called jacks.
5. Pink salmon
You can find this Pacific salmon generally in North America. 20 to 25 inches is its average length and it can weigh up to 1.5 to 2.3 kilograms. You can easily distinguish pink salmon from other varieties of salmon by its back and tail with dark and large oval spots on their general color. When pink salmon lives in the sea, the color of its back is blue to bluish-green, its belly is white, and the sides are silver. You can see a development of hump on the back of male salmons. So it is called a humpback.
This salmon species also hatch in the river and freshwater sources and then migrate to the ocean to grow and feed. After the finishing of the spawning process, pink salmon will die. It starts spawning in its second year after birth. Its foods are zooplankton, small fish, squid, and small crustaceans.
6. Atlantic salmon
This salmon species has a broad and rounded middle body, and its end body part is tapered. The body shape of Atlantic salmon is like a spindle. The shape of its sides is flattened. The ratio of its head and body is 1:5, which indicates that its head is very small according to its length. Dark bronze is the color of spawning adult Atlantic salmons. After spawning, it becomes black. It turns silverish after returning to the sea.
Redds is the gravel nest where the female Atlantic salmon lays eggs. The average laying egg quantity is around 7500. The growth speed of this salmon species is faster in saltwater than in freshwater. 25 to 30 inches is its maximum length.
Nutritional value of salmon fish
You can get the nutritional value from A 100-gram serving of healthy salmon fish –
| | |
| --- | --- |
| Calories | 208 kcal |
| Potassium | 363 grams |
| Total fats | 13 grams |
| Saturated fat | 3.2 grams |
| Cholesterol | 59 mg |
| Fiber | 0 grams |
| Sodium | 59 mg |
| Protein | 20 grams |
healthline
There is little difference in nutritional value among the different varieties of salmons. Wild-caught salmon has a lower calorie and healthy fat content than farmed salmon. But there is more protein content available in wild-caught salmon than farmed salmon.
But both wild and farmed salmon provide nutrients, including vitamin B, phosphorus, and selenium. Selenium is essential for reproductive health, the metabolism of thyroid hormones, and the synthesis of DNA.
Cost of salmon fish in Telugu areas
Because of high demand and less availability in India, it is quite expensive in most of India's states, including the import charges. Salmon needs cold water for its survival and growth. But most of the Indian water sources have warm water. So there is little chance of salmon farming in Indian states.
The pricing of salmon fish may vary according to the quality, variety, state ( fresh or frozen), and the place where you buy from. In India, you must spend approximately Rs 500 to Rs 3000 to buy 1 kg of salmon fish. You have to spend around Rs 500 to Rs 1300 to buy 1 kg of salmon in Kerala. In Andhra Pradesh, 1 kg of salmon costs around Rs 1250.
Availability and popularity of salmon fish in Telugu-telling areas ( Kerala, Andhra Pradesh, Puducherry, Telangana, etc.)
Basa fish is a mild-flavored and sweet fish found in freshwater and cold water sources. You can find basa fish in some regions of India, including Odisha, Andhra Pradesh, Maharashtra, and West Bengal. Also, many manufacturers, E-Commercial logistics, wholesalers, traders, and suppliers in the local area import Salmon because of its high demand. So you can avoid any insufficiency of salmon fish in India.
Because of its delicious taste and easy cooking process, people, including Telugu regions, love to consume salmon.
Popular recipes of salmon fish in Telugu areas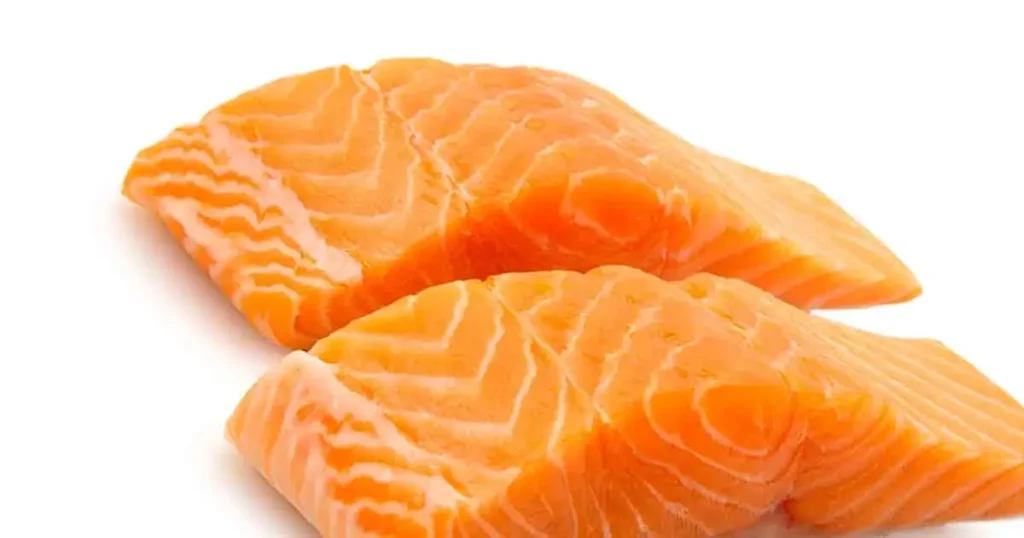 Indian salmon curry with coconut milk, salmon fried with Indian spices, tandoori salmon, baked salmon, salmon pan-fried, and salmon sweet and sour curry with tamarind and jaggery are some mouthwatering salmon recipes. Indian people love to eat all the above recipes. Salmon is one of the effortlessly cooked fish, and its cooking time is also much shorter.
Conclusion
Salmon consists of vitamins, minerals, protein, and omega – 3 fatty acids. It provides a lot of health benefits, including heart health, brain health, bone health, and mental health. So it would be best if you consumed salmon fish atleast once a week. You should consult with your dietician and doctor before adding it to your diet, especially in case you are a patient or pregnant.
Hope you got all questions solved about salmon fish from the above article. Like – salmon fish in Telugu, its cost, nutritional values, recipes, and heath benefits of salmon fish, many more.
Frequently asked questions
1. What points prove the difference between wild salmon and farmed salmon?
| Wild salmon | Farmed salmon |
| --- | --- |
| You can find it from natural water sources like rivers, lakes, and oceans. | aquaculture is the process for cultivating farmed salmons. |
| You can catch it in the natural circumstances | Its growth is in unnatural and unhealthy environment like lakes, ponds, and pens. |
| Contains more minerals. | It has more vitamin C, calories, and saturated fat. |
| Less concentrations of contaninants | Higher concentrations of contamination |
| Goes on expensive side | Little expensive compared to wild salmon |
| Its color of flesh is deep red | Its flesh look like synthetic pink color |
2. What are the different types of salmon fish?
There are five types of Pacific salmons are available in worldwide and there is only one type of Atlantic salmon.
Pacific salmon –
Sockeye salmon or Red Salmon
King salmon or Chinook salmon
Silverbrite salmon, Dog Salmon, or Chum salmon or keta salmon
Silver salmon or Coho salmon
Humpback Salmon or Humpies or Pink Salmon
3. What are the health benefits of salmon fish?
Salmon helps to boost cardiovascular health.
It may help cure cancer.
Salmon is full of the vitamin B complex.
Salmon helps to cure damaged tissues.
Salmon helps to reduce joint inflammation.
Salmon helps in the functioning of the thyroid gland.
In the case of children, salmon helps in cognitive intelligence building.
Salmon boosts brain health.
Salmon is full of antioxidant properties.