Different species of euryhaline ray-finned fish, which are very important for commercial purposes, are known as salmon fish. They come under the Salmonidae family. North Pacific and North Atlantic basins are the natives of salmon fish. Some other Salmonidae family-related fishes closely related to salmon are char, Lenok, grayling, taimen, whitefish, and trout.
Anadromous can be the perfect word for salmon fish. Salmon generally hatches in the freshwater streams' gravel beds. In its adult period, it migrates to the ocean and becomes a sea fish. It returns to the freshwater when it is ready to reproduce.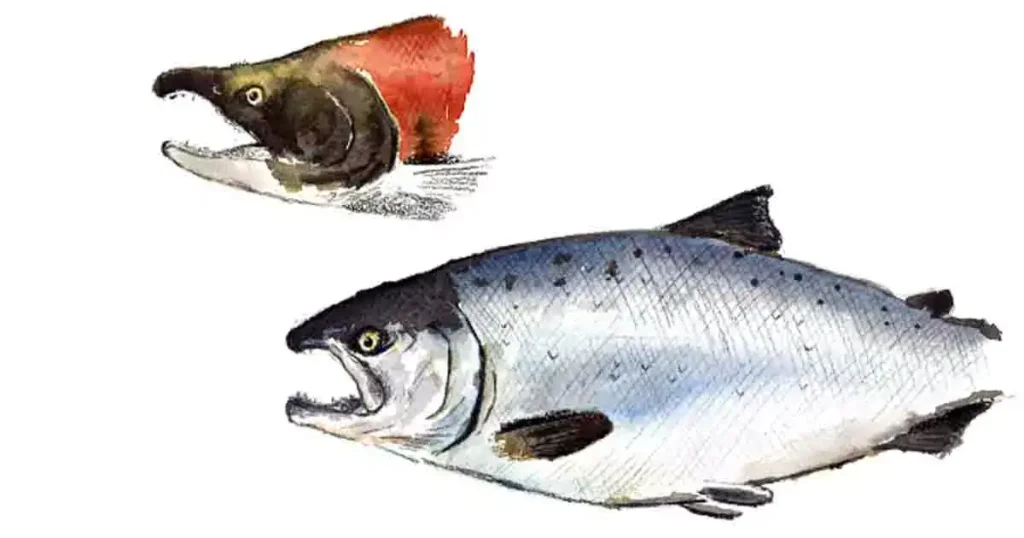 Salmons are farmers all over the world intensively as a vital sea fish. The largest farmed salmon producer country in the world is Norway. Nowadays, different salmon species are naturalized and introduced into non-native environments for salmon fish, such as – The great lakes of Patagonia and North America in South America and New Zealand.
| | |
| --- | --- |
| English name | Salmon fish |
| Tamil name | Kaala Meen |
| Kingdom | Animalia |
| Family | Salmonidae |
| Subfamily | Salmoninae |
| Order | Salmoniformes |
| Class | Actinopterygii |
| Phylum | Chordata |
en.wikipedia.org
Salmon fish in Tamil name
You can find true salmons from the Atlantic and Pacific oceans ( only from North America and not from other places ). the Atlantic and Pacific salmons have six species. India is not the native place of these six salmon species.
You can't find them near the Indian ocean or in any Indian water sources. But you can find similar salmon species in India, known as Indian salmons. They are called Solomon fish or Indian salmon.
Kaala Meen is the Tamil name for salmon fish. The local name used for Indian salmon in Tamil-telling areas is Kaala Meen. It is available in huge quantities on the East and West coasts of India. Another Tamil name for Atlantic or true salmon is Kilangaan.
But most Tamil people use the name Kaala Meen for Indian salmons. Some other names of salmon fish used in local Tamil ( Andhra Pradesh, Tamil Nadu, Kerala, etc.) are Seenakaala, PeruVanjaram, Pozhakada, Kaala, and Thiravalai.
Some Products of Salmon fish
Click here to Check Some products of salmon fish on amazon.
Health benefits of salmon fish
1. It helps to low down blood pressure
Omega-3 fatty acid, a good fat which helps to decrease the level of harmful or unwanted or unhealthy cholesterol in the human body. Salmon fish helps to boost omega-3 fatty acid production in the body. A generous amount of Selenium with EPA and DHA ( eicosapentaenoic acid and docosahexaenoic acid ) helps to balance blood flow in arteries.
2. It helps to decrease many heart disease risks and boosts heart health
The flesh of salmon fish contains a massive amount of DHA, EPA, and long-chain omega – 3 fatty acids. The essential fat the human body needs is non-other than omega – 3 fatty acids. It is not possible for the human body to produce omega – 3 fatty acids. So you have to intake it as any food source.
DHA, EPA, and omega-3 fatty acids provide:
Many health benefits.
Including – it helps to decrease inflammation.
Boosting the functions of cells in the arteries.
Lowering high blood pressure.
3. It helps to keep the skin healthy
The human body needs vitamin D and different types of antioxidants to keep the skin healthy. Generally, the work of antioxidants is to fight against cancerous or dead cells in the skin. This procedure helps to create healthy and new skin cells.
One of the essential elements for maintaining healthy skin is vitamin D which is present in salmon fish. Vitamin D helps decrease some skin-related risks and keeps the skin cells healthy.
4. Salmon is helpful for diabetic patients
Omega – 3 fatty acids and omega – 6fatty acids are known as good fats, which help to decrease the risks of coronary diseases and slow down inflammation. Inflammation and coronary risk are two top dangers for diabetes patients. Salmon fish has omega-3, omega – 6, EPA, and DHA, which are essential for those suffering from diabetes.
5. It helps in your weight loss journey
You can count protein as a critical element, like vitamins and minerals, for developing the human body's cells. The high-quality protein source is an essential element present in salmon fish.
The flesh of salmon fish has healthy fats ( omega – 3 and omega – 6 fatty acids ) and high-quality proteins in heavy amounts. These elements help to develop body muscles and lead to weight loss.
6. It helps to improve memory power and works as a stress reliever
As always, omega – 3 fatty acid has a fantastic role in boosting the brain's functions and decreasing the level of stress.
According to a study of NCBI, omega – 3 fatty acid in salmon fish helps to gain knowledge about new things, improve remembering ability, and help in decision making. It also helps to decrease mental disorders and keep out of stress.
7. It helps to boost the immunity power
Minerals like calcium, selenium, zinc, potassium, and iron and vitamins like vitamin B12 help to keep the human body healthy. They also help create energy in the body to fight against internal or external diseases or obstacles. All these above elements are present in the flesh of salmon fish.
8. Salmon is versatile and delicious to eat
Because of the lean flesh of salmon, it has incredible value commercially. The lean meat of salmon is very healthy and delicious. Its demand and popularity are very high all over the world. Its excellent nutritional value makes it more famous. Because of its versatility, you can use it as grilled, fried, baked, and in many other ways.
Side effects of salmon fish
Click here to see all side effects of salmon.
Types of salmon fish
Before you know about all the types of salmon, you have to have an explicit basic knowledge. You can find six salmon categories in North America. Among them, five salmons are from the Pacific Ocean, known as Pacific salmons. The rest comes from the Atlantic coast, known as Atlantic salmon.
1. Chinook salmon
Its popular name is king salmon because of its heavy weight and size. Compared to other salmons from all over the world, chinook or king salmon is the heaviest and biggest. It can reach up to 5 feet, and its average weight can go up to 45 to 50 kg. In North America, king salmon is known as the most widespread species. You can find it from southern California's Pacific waters to the cold rivers of Alaska.
You can quickly identify king salmon from its mouth. It's all inside mouth, and the gums are black. So it is also called Blackmouth Salmon. Its tail ( both lower and upper halves ) has round and small spots. While king salmon grows, its mouth and head grow longer. Its tail and body become maroon or olive brown. But its marks on the tail and back remain the same.
2. Coho salmon
Compared to chinook salmon, coho is smaller. But cohos are known for their fighter character. The head of this tricky salmon is tough. It is not the most favorite salmon, but it is called Silver salmon for its great survival spirit. It is common in Washington.
You can identify coho salmon with the help of its mouth, like most Pacific salmons. It has white gums but a black internal mouth like king salmon. It has also spots on its back and top of the tail.
You don't have to confuse with other sea fishes when coho is ready to spawn. It becomes maroon or bright red with a dark tail, head, and back. Male cohos have hooked noses which help to fight against other fishes. So it is also called Hooknose salmon.
3. Sockeye salmon
Among all North American salmons, sockeye salmon, takes the top place in the department of taste. Its meat is fatty and dark. It is also called Red salmon. You can find sockeye salmon from Washington to Alaska's Western seaboard.
The name sockeye is sufficient to identify this species. It has golden, bright, and bigger eyes compared to other salmon types. Its inside mouth is white with white gums. Sockeye salmon has no spots on its tail or back. It has the same jaw and hooked nose as coho salmon. The back of Male sockeyes develops bumps. When it's time for their spawning, they become red with a contrast of green tail and head.
4. Pink salmon
It is known as the smallest salmon species. It can grow up to 0.5 meters on average and a maximum of 0.8 meters to 1 kg. It is one of the most delicious salmon from the Pacific Ocean after chinook and sockeye salmon. Only every other year, pink salmon spawn. You can find this small and unique salmon in BC and Washington in the odd years of spawn. In the even years, it has been found in Alaska.
You can identify pink salmon by a slightly pink tinge, dark flecks on its body, and oval, large spots on the halves of its tail. If you can't see all these indications, you must check its mouth for identification. It has a white mouth with dark gums, unlike coho salmon.
In its spawning time, you can see the growth of a large hump on its back. So it is also known as Humpback salmon or Humpies. Its bottom half becomes cream or whitish, and the top becomes dull gray.
5. Chum salmon
It is the least popular salmon species because of its not-so-good taste, unlike other salmons. Chum is not treated as a prize but as a pest. But its Roe is tastier and more extensive compared to others. It is served on top of the sushi. You can find this Pacific salmon from the northwestern US mainland to Canada's Pacific coast.
There is a chance of confusion between chum salmon and sockeye salmon. Both sockeye and chum have no spots and a completely white mouth. Both have running light color bands towards the lower part. Both have big teeth. Cum salmon is famous as Dog Salmon.
6. Atlantic salmon
It is different from all Pacific salmons. The native place of Atlantic salmon is the continent's other side. Its length is almost the same as chinook salmon, and it can fight like Coho salmon. You can find Atlantic salmon from Quebec to Connecticut and Great Lakes in the West.
There is no chance of confusion between Atlantic salmon and other salmon species. The main point is it lives in a different water source or ocean. You can easily identify it by its spots. Atlantic salmons have dark and large spots on gill covers. It has y or x-like spots on the upper part of the body.
The nutritional value of salmon fish
Because of salmon's high nutritional value and great taste, it is counted as one of the most consumed and popular seafood worldwide. The meat of salmon fish has a high protein percentage. So it is known as lean meat. The human body needs different nutrients like selenium, omega – 3 fatty acids, vitamin B12, and essential elements in salmon fish.
A serving of 100 grams of healthy salmon fish can provide –
| | |
| --- | --- |
| Calories | 208 kcal |
| Fiber | 0 grams |
| Total fats | 13 grams |
| Saturated fat | 3.2 grams |
| Proteins | 20 grams |
| Potassium | 363 mg |
| Sodium | 59 mg |
| Cholesterol | 59 mg |
The Cost of salmon fish in Tamil areas
It is not possible or hard to find fresh or raw Atlantic salmon in South India, including Tamil Nadu and Andhra Pradesh. But you can pre-order salmon in case you want to buy it. But you can find Indian salmon ( Solomon ) in some cities of Tamil Nadu, including Chennai. You have to spend approximately Rs 500 to Rs 1500 to buy 1 kg of salmon.
In Andhra Pradesh, you can buy 1 kg of salmon fish by spending around Rs 300 to Rs 450 approximately.
Popularity and availability of salmon fish in Tamil-telling areas ( Andhra Pradesh, Tamil Nadu, Kerala, etc.)
Indian subcontinents are not the native places of salmon fish. So it is hard to find Pacific or Atlantic salmon in India. But you can get Indian salmon in the local market, generally known as Rawas. You can buy fresh or frozen Indian salmon from the South Indian market easily. Several suppliers and distributors are available there to supply Kaala Meen or salmon near you.
Salmon is a delicious and healthy sea fish with many nutritional value and health benefits. So it is popular among all kinds of people worldwide, including South Indian people. They prepare it with their South Indian spices and coconut milk to add a special punch.
Famous fish recipes for salmon fish in Tamil areas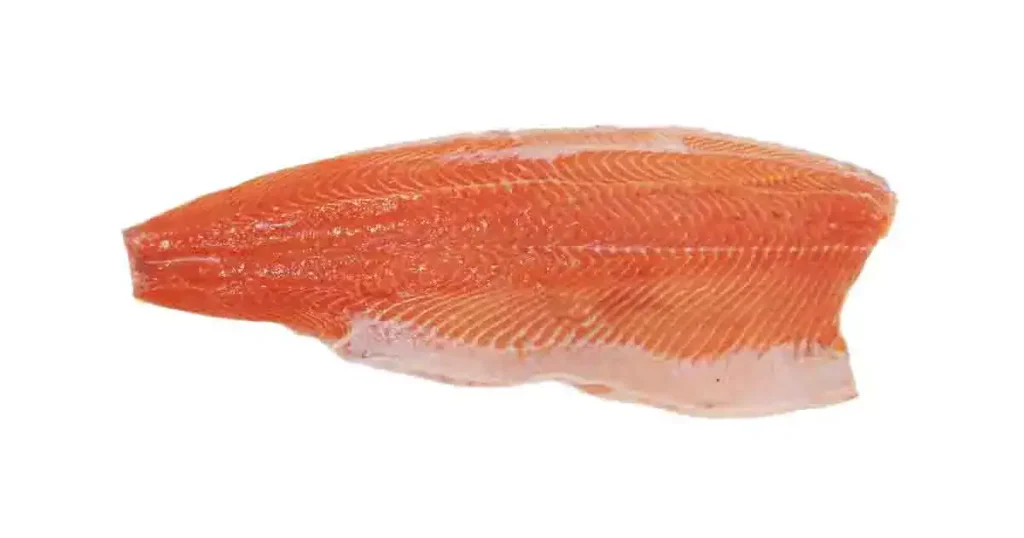 As you know already, salmon is a very versatile fish. So you can use it in any form, and it goes with many dishes. Some famous salmon fish recipes are – pan-seared salmon with lemon, grilled salmon fillet, spicy Indian salmon fish fry, baked salmon, honey garlic salmon fry, Indian salmon curry, creamy Tuscan salmon, baked salmon with garlic and lemon, salmon potato skillet, etc.
Conclusion
Salmon fish provides many health benefits and is a powerhouse of nutrients. Every food in the correct quantity can provide you with benefits. But excessive intake can lead to severe diseases.
So always consult your dietician or doctor to get all its health benefits. This versatile fish contains minerals, vitamins, and good fatty acids. So you should consume it at least twice a week as per the dietician's advice.
Hope you get all the information about salmon fish from the above article.like – salmon fish in Tamil, its health benefits, Cost, availability, and popularity in the local area, the nutritional value of salmon fish, its types, and many more.
Frequently asked questions
How can you reduce the risk of consuming salmon fish?
You can get several health benefits by consuming salmon fish. But as you know, it is a sea fish, and you must keep some points in your mind before adding them to your diet.
1. If you want to buy salmon fish, but it has a fishy or pungent smell, then kindly avoid it because it may not be fresh and older than 5 to 10 days.
2. Try to buy fresh salmon always. Generally, fresh salmon is stored at 40 degrees celsius in a refrigerator.
3. After buying salmon, you should avoid exposing it to a warm temperature before cooking.
Can a woman eat salmon during her pregnancy?
During pregnancy, women should be very careful about their diet. A pregnant woman can consume salmon fish but in a moderate amount. Because salmon contains impressive nutritional values, it is helpful for both the child and the mother. But avoid excess consumption. Otherwise, it may lead to vomiting, diarrhea, or gastric.
What are the benefits of salmon fish?
There are so many health benefits you can get from salmon. Some of them are –
1. It is an excellent source of minerals (selenium, potassium, and phosphorous).
2. Salmon is full of omega fatty acids, which is good fat and helps control cholesterol levels.
3. Salmon helps to keep teeth and bones strong because it contains vitamin D.
4. Amino acids boost and maintain the growth of muscle mass. Salmon is rich in amino acids.