Karamani, also known as cowpea or black-eyed pea, is a versatile and nutrient-rich legume that has been cherished for centuries in various cultures around the world. With its distinctive black spot resembling an eye, this fast-growing vine captivates the eyes and nourishes the body with its abundant health benefits.
From its botanical description to culinary uses and cultural significance, Karamani's presence in global cuisines and its role in enhancing nutrition makes it a fascinating subject worth exploring.
In this article, we delve into the world of Karamani, unearthing its origins, nutritional value, and cultural significance that has made it a beloved ingredient on tables far and wide. Let's embark on a journey to discover the many wonders of this little legume with the "black eye."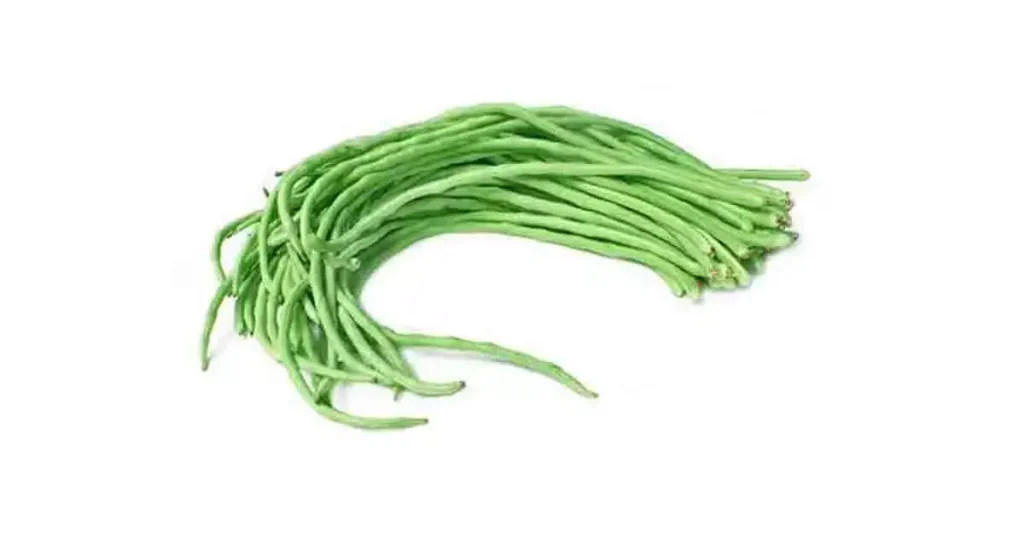 The upcoming article provides a comprehensive overview of karamani, including vital information such as the distinct name used for Karamani in English, its price, health benefits, and nutritional value.
Additionally, the article delves into exploring various karamani varieties, popular recipes featuring karamani, availability in the market, and more. The primary objective of this article is to provide readers with a comprehensive understanding of karamani and its significance in the culinary world.
| | |
| --- | --- |
| Kingdom | Plantae |
| Phylum | Tracheophyta |
| Class | Magnoliopsida |
| Order | Fabales |
| Family | Fabaceae |
| Genus | Vigna |
| Species | Vigna unguiculata |
wiki
Karamani in English name
Karamani, also known as black-eyed pea in English, or black-eyed bean, is a type of legume that belongs to the Vigna genus. It is widely farmed for its edible seeds and is a popular ingredient in various cuisines around the world. Karamani is a fast-growing, annual vine that can reach up to 2 meters in height.
It has compound leaves with three leaflets, and the flowers are white or creamy white with a distinctive black or dark spot in the centre, resembling a "black eye," which gives the bean its name.
The name "karamani" may be more commonly used in certain regions, while it is known by other names in different parts of the world. Also, as with any food, moderation is essential, and individuals with specific health conditions or allergies should consult their healthcare provider before incorporating karamani or any other new food into their diet.
Health Benefits of Karamani
Karamani is a type of legume that is widely consumed in various cuisines around the world. This nutritious and versatile legume offers several health benefits due to its rich nutrient profile.
Here are some of the health benefits of Karamani:
1. High in protein
Karamani is an excellent source of plant-based protein, making it a remarkable food choice for vegetarians and vegans. Protein is crucial for constructing and repairing tissues, help muscle health, and maintaining a strong immune system in the human body.
2. Rich in fibre
Karamani is high in dietary fibre, which promotes healthy digestion and can help prevent constipation. A high-fibre diet is also associated with a reduced risk of certain gastrointestinal disorders and may support weight management by promoting a feeling of fullness.
3. Good source of vitamins and minerals
Karamani is rich in essential vitamins and minerals such as folate (vitamin B9), iron, potassium, magnesium, and zinc. Folate is remarkably important for pregnant women as it plays an important role in fetal development.
4. Antioxidant properties
Karamani contains various antioxidants like flavonoids, polyphenols, and carotenoids. These antioxidants be of use to neutralize harmful free radicals in the body, lessen oxidative stress and lower the risk of chronic diseases.
5. Blood sugar management
The high fibre content in Karamani can slow down sugar absorption, helping stabilize blood sugar levels. This makes it beneficial for individuals with diabetes or those at risk of the emergence of the condition.
6. Heart health
Karamani may contribute to heart health because its fibre content can help lower cholesterol levels. Additionally, the presence of potassium in Karamani can aid in maintaining healthy blood pressure levels.
7. Weight management
As a low-calorie and nutrient-dense food, Karamani can be a remarkable addition to a weight loss or weight management plan. The fibre and protein content can help increase satiety and reduce overall calorie intake.
8. Bone health
Karamani is a good source of calcium and magnesium, which are necessary for maintaining strong bones and preventing conditions like osteoporosis.
9. Skin health
The antioxidants in Karamani can help protect the skin from damage created by free radicals, potentially promoting healthier and more youthful-looking skin.
Incorporating Karamani as part of a balanced and varied diet is essential to reap these health benefits fully. However, those who have specific health conditions or dietary limitations should consult with a healthcare professional or registered dietitian before making noteworthy changes to their diet.
Side Effects of Karamani
Karamani is generally safe for most people when ingested in moderate amounts as part of a balanced diet. However, like any food, it may cause side effects in certain individuals, especially when consumed in large quantities or if someone has specific health conditions.
Here are some potential side effects of Karamani:
1. Flatulence and digestive discomfort
Karamani is high in dietary fibre, which can cause gas, bloating, and digestive discomfort in some individuals, primarily if they are not used to consuming fibre-rich foods. Gradually increasing fibre intake and drinking plenty of water can help reduce these side effects.
2. Allergic reactions
Some individuals may be allergic to legumes like Karamani. Allergic reactions can range from moderate symptoms like itching, hives, and swelling to severe reactions such as difficulty breathing and anaphylaxis. If you suspect an allergy to Karamani, avoid it and seek medical attention immediately if you experience any allergic symptoms.
3. Antinutrient content
Karamani contains certain antinutrients like other legumes, such as phytic acid and lectins. These substances can restrain the absorption of minerals like iron and zinc and may cause digestive disturbances in some people. Soaking, sprouting, or cooking Karamani can help reduce the levels of antinutrients and enhance nutrient availability.
4. Purine content
Karamani is a source of purines, which are naturally occurring compounds. High purine intake may exacerbate these conditions for individuals with gout or kidney stones. If you have a history of gout or kidney stones, it's advisable to moderate your consumption of purine-rich foods like Karamani.
5. Interactions with medications
Karamani may interact with certain medications, especially those related to blood sugar management or blood thinners. If you are taking medications, it's essential to discuss your diet, including Karamani consumption, with your healthcare provider to avoid potential interactions.
6. Goitrogens
Like other members of the legume family, Karamani contains goitrogens, which are substances that can restrain thyroid function. People with thyroid disorders may want to moderate their intake of goitrogenic foods.
Remember that individual reactions to foods can differ widely, and some people may be more sensitive to certain substances found in Karamani. If you experience any adverse reactions or have concerns about incorporating Karamani into your diet, it's best to talk with a healthcare professional or a registered dietitian for personalized advice. They can help you determine if Karamani is suitable for your specific health needs and how to include it safely in your diet.
Nutritional value of Karamani
Karamani, or cowpea (Vigna unguiculata), offers a range of necessary nutrients, making it a valuable addition to a balanced diet. The nutritional values of Karamani mentioned below are approximate and may vary depending on factors such as the variety, preparation method, and serving size:
Per 100 grams of cooked cowpeas:
| Nutritions | Values |
| --- | --- |
| Calories | 106 kcal |
| Carbohydrates | 20.2 grams |
| Dietary Fiber | 4.2 grams |
| Sugars | 4.1 grams |
| Protein | 7.6 grams |
| Fat | 0.4 grams |
| Vitamins | Quantity |
| --- | --- |
| Vitamin A | 26 micrograms |
| Vitamin B1 (Thiamine) | 0.19 milligrams |
| Vitamin B2 (Riboflavin) | 0.11 milligrams |
| Vitamin B3 (Niacin) | 0.81 milligrams |
| Vitamin B6 (Pyridoxine) | 0.169 milligrams |
| Folate (Vitamin B9) | 64 micrograms |
| Vitamin C | 3.3 milligrams |
| Vitamin E | 0.15 milligrams |
| Minerals | Values |
| --- | --- |
| Calcium | 24 milligrams |
| Iron | 2.51 milligrams |
| Magnesium | 32 milligrams |
| Phosphorus | 94 milligrams |
| Potassium | 235 milligrams |
| Zinc | 0.99 milligrams |
| Copper | 0.120 milligrams |
| Manganese | 0.302 milligrams |
In addition to these nutrients, karamani contains various phytochemicals and antioxidants that contribute to their potential health benefits. Remember that the nutritional values can vary based on factors such as the variety of cowpeas and the cooking method. Incorporating karamani into a well-balanced diet can offer an array of health benefits and support overall nutrition.
Different Varieties of Karamani
Karamani comes in several different varieties, each with its unique characteristics. Here are some of the popular varieties of Karamani: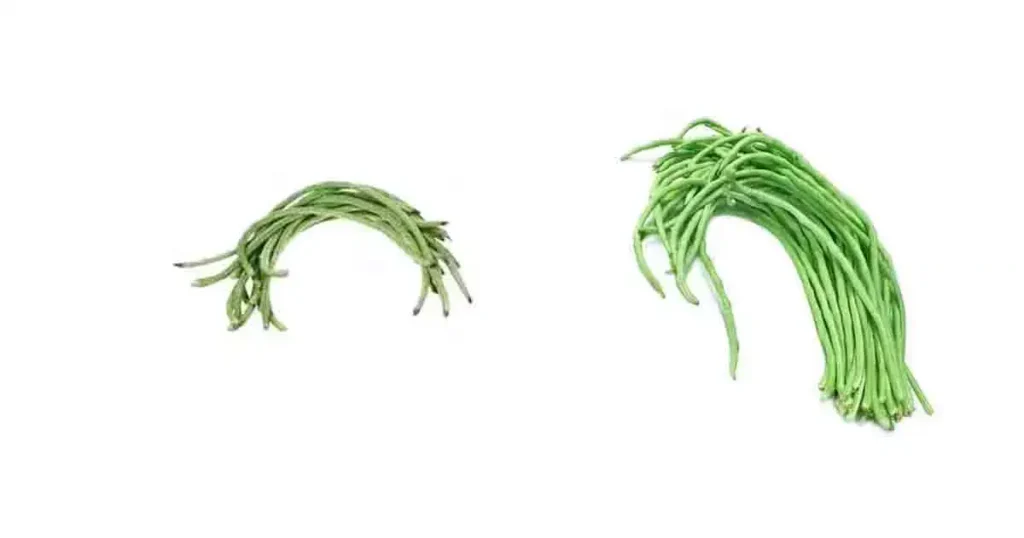 1. Black-eyed peas (Vigna unguiculata)
This is the most common and widely available variety of Karamani. It has a creamy texture and a distinct black "eye" on the beige-coloured bean. Black-eyed peas are commonly used in Southern cuisine in the United States and in African, Caribbean, and Indian dishes.
2. Brown crowder peas
This variety of Karamani is larger and brown in colour. It gets its name from the way the beans crowd against each other in the pod. Brown crowder peas are hearty and often used in stews, soups, and other savoury dishes.
3. Purple hull peas
These peas have a beautiful light purple or pinkish colour on the hull. When cooked, the peas inside are green. Purple hull peas are commonly found in Southern cuisine and are used in dishes like hoppin' john, salads, and casseroles.
4. Red cowpeas
This Karamani variety is reddish-brown and is commonly used in African and Caribbean cooking. They have a slightly nutty flavour and are often used in stews, rice dishes, and soups.
5. White acre peas
These peas are small, creamy, white in colour, and have a mild flavour. They are generally used in salads, soups, and casseroles.
6. Clay peas
Also known as clay cowpeas, this variety is reddish-brown and is often used in traditional Southern dishes like succotash and salads.
7. Yard-long beans
While not true Karamani, yard-long beans (Vigna unguiculata subsp. sesquipedalis) are related to cowpeas and are sometimes referred to as "long Karamani." These long and slender beans are used in various Asian cuisines and are particularly popular in stir-fries and curries.
It's essential to note that the availability of these varieties may vary based on the region and local food markets. Each variety has its unique flavour and culinary uses, and experimenting with different types can add variety and diversity to your meals.
Cost of Karamani in Global markets
The general overview of cowpea (Karamani) cost in different parts of the world. However, please note that these prices are approximate and can vary due to multiple factors, as mentioned earlier. Referring to current market data for the most accurate pricing information is crucial.
United States
In the USA, the price of Karamani can range from $1 to $3 per pound, depending on factors such as the variety, packaging, and region of purchase.
United Kingdom
Karamani are less commonly available in the UK, but you may find them in speciality grocery stores or online retailers. Prices can vary significantly due to import and distribution costs, but they could range from £2 to £5 per kilogram.
India
In India, Karamani is more prevalent and is commonly available in local markets. The price can differ from region to region and based on seasonal availability, but it generally ranges from ₹30 to ₹100 per kilogram.
Nigeria
Nigeria is one of the world's largest producers and consumers of Karamani. The price in Nigeria can be more affordable, typically ranging from ₦200 to ₦500 per kilogram.
Brazil
Karamani are also popular in Brazil, and the price can vary based on the region and local demand. The cost may range from R$4 to R$8 per kilogram.
Ghana
In Ghana, Karamani are a staple in the diet, and prices can be relatively low. You may find them for around 5 to 10 Ghanaian cedis per kilogram.
Please keep in mind that these prices are indicative and are based on data available up to September 2021. Prices can change due to various factors, including supply and demand, weather conditions, economic factors, and global market trends.
For the most accurate and current pricing information, referring to local markets, agricultural commodity websites, or relevant market research reports is best.
Karamani Farming in India
Karamani farming is a common agricultural practice in India. Karamani is a versatile and nutritious crop that grows well in various agro-climatic conditions, making it suitable for cultivation in different parts of the country. Here are some key points about Karamani farming in India:
Climatic Conditions
Karamani is a warm-season crop and thrives in hot and humid climates. It is commonly grown in states like Tamil Nadu, Karnataka, Andhra Pradesh, Maharashtra, and Uttar Pradesh.
Soil Requirements
Karamani can adapt to a wide range of soil types but prefers well-draining sandy loam or loamy soil. The soil should be fertile with a pH level of 6.0 to 7.0 for optimal growth.
Varieties
Several varieties of Karamani are grown in India, including local landraces and improved hybrids. Farmers may choose varieties based on their regional adaptability and yield potential.
Planting
Karamani can be sown directly in the field or transplanted as seedlings. The ideal time for planting differs depending on the region, but it is generally done at the beginning of the monsoon or after the last frost. In some regions, multiple crops of Karamani can be grown in a year.
Spacing
Proper plant spacing is essential for optimum growth and yield. The distance between rows and plants depends on the variety and the available resources.
Water Management
Karamani requires adequate moisture for germination and early growth. However, too much waterlogging should be avoided as it can lead to diseases and affect plant health.
Weed Control
Weeding is crucial in Karamani farming to prevent competition for nutrients and water. Farmers can use manual or mechanical methods or employ herbicides under proper guidance.
Pest and Disease Management
Common Karamani pests include aphids, thrips, and pod borers. Farmers can use appropriate insecticides or adopt integrated pest management practices. Regarding diseases, cowpea rust and anthracnose are significant concerns.
Harvesting
Karamani pods are harvested when they are mature but still tender. Proper timing is crucial to avoid overripening, which may lead to seed shattering.
Uses
Karamani is used for both human consumption and livestock feed. It is a wealthy source of protein, fibre, vitamins, and minerals, making it an essential component of various traditional Indian dishes.
Karamani farming plays a significant role in the livelihoods of small-scale farmers in India, providing food security, income, and opportunities for diversification. Farmers often intercrop Karamani with other crops to maximize land use and improve overall productivity.
Additionally, Karamani is considered an environmentally friendly crop because of its ability to fix nitrogen in the soil, lessen the need for chemical fertilizers and improve soil fertility. Overall, Karamani farming in India contributes to the country's agriculture and food security and promotes sustainable agricultural practices.
Availability of Karamani in Markets
Karamani is generally available in various parts of the world, especially in regions where it is a common staple crop. The availability of Karamani can vary based on factors such as seasonal variations, regional demand, and local agricultural practices.
Karamani is widely available in India, and it is a popular crop grown in many states, including Tamil Nadu, Karnataka, Andhra Pradesh, Maharashtra, and Uttar Pradesh. It is commonly found in local markets, grocery stores, and agricultural markets.
Karamani, known as black-eyed peas, is also readily available in the United States, particularly in southern states where it is a significant part of the regional cuisine. It can be found in grocery stores, supermarkets, and speciality food markets.
In the United Kingdom and other countries, the availability of Karamani may vary. It might be more accessible in speciality grocery stores catering to international cuisines or areas with a significant population of Indian, African, or Caribbean communities.
The availability of Karamani can also be influenced by international trade, as it is grown and exported to different parts of the world. Additionally, with the hike in e-commerce and online shopping, Karamani can often be purchased from various online retailers that specialize in ethnic or international foods.
However, please note that availability can change over time, and it's always best to check with local markets or grocery stores for the most up-to-date information on the availability of Karamani in your specific region.
Karamani Recipes
Karamani is a versatile ingredient that can be used in a variety of delicious recipes. Here are some popular Karamani recipes; such names are:
Karamani Sundal
Karamani Curry
Karamani Sambar
Karamani Rice
Karamani Salad
Karamani Masala Curry
Karamani Chaat
Karamani Upma
Karamani Pulao
Karamani Stir-Fry
These are just a few examples of the many delicious ways you can use Karamani in your cooking. The legume's versatility allows you to experiment and create your own recipes by incorporating them into various dishes. Enjoy the goodness and taste of Karamani in your culinary adventures!
Conclusion
In conclusion, Karamani in English, also known as black-eyed peas in English, is a nutritious and versatile legume with various health benefits. It is a popular ingredient in cuisines worldwide, particularly in India, where it is a staple crop. Karamani is rich in protein, fibre, vitamins, and minerals, making it a remarkable addition to a balanced diet.
The health benefits of Karamani include Supporting digestion, Promoting heart health, Managing blood sugar levels, Contributing to bone and skin health. Its high protein content makes it an excellent choice for vegetarians and vegans, and its fibre content aids in weight management and digestive health.
Frequently Asked Questions
1. How do I cook Karamani?
Karamani can be cooked by boiling it until tender or by pressure cooking it. It is often used in curries, salads, soups, stews, and snacks.
2. Is Karamani gluten-free?
Karamani is naturally gluten-free, making it a appropriate chice for those who have gluten sensitivity or celiac disease.
3. Can I freeze Karamani?
Yes, you can freeze cooked or uncooked Karamani. Properly stored, it can be kept in the freezer for several months.
4. How do I store Karamani?
Store dried Karamani in an airtight container in a cool, dry place. Cooked Karamani can be refrigerated for a few days or frozen for longer storage.
5. Where can I buy Karamani?
Karamani is commonly available in grocery stores, supermarkets, and speciality food markets, particularly in regions with a significant Indian, African, or Caribbean population.