Gram dal is also known as chana dal. It is the split form of black chickpeas without outer black skin. The color of this lentil is pale yellow or bright golden. One side of this split chickpea is flat, and the other is round.
Many Indian dal recipes contain chana dal or gram dal. Due to its rich aroma and great taste, you can use it in savory or sweet recipes both. This famous Indian cuisine has high nutritional value and protein content.
In India, every kitchen of East, West, South, and North contains chana dal. This handy and healthy dal is super yummy and easy to prepare. It is suitable for all categorized people like – children, adults, aged people, diabetic patients, pregnant women, blood pressure patients, and many more.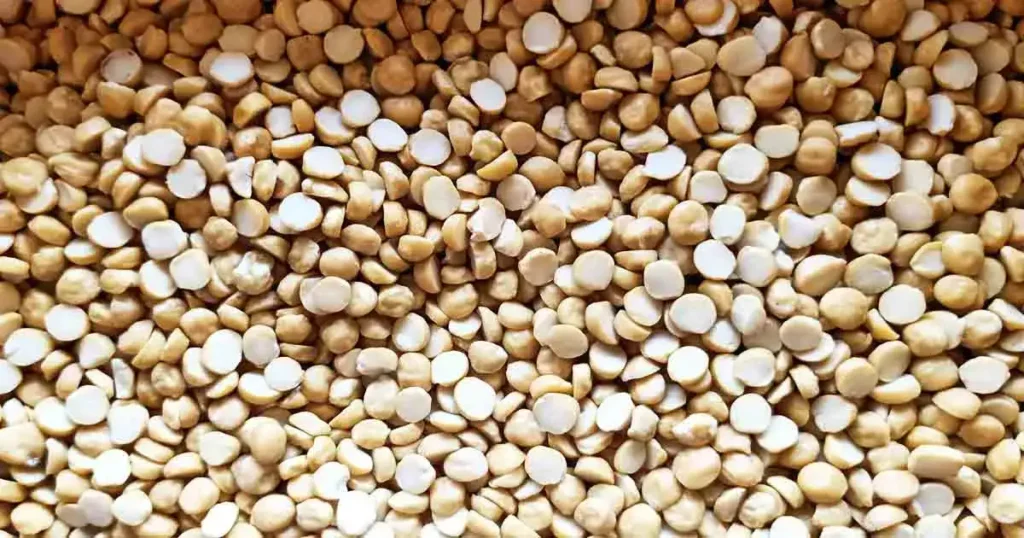 You will get so much information about chana dal or gram dal from the below article, like – gram dal in Tamil, its cost, popularity, availability in the local area, health benefits, nutritional value of gram dal, and many more.
| | |
| --- | --- |
| English name | Gram dal |
| Tamil name | Kadalai Paruppu |
| Scientific name | Cicer Arietinum |
| Kingdom | Plantae |
| Species | C. arietinm |
| Family | Fabaceae |
| Order | Fabales |
| Genus | Cicer |
Chana dal or Gram dal in Tamil name
Kadalai Paruppu is the Tamil name of gram dal. Some other famous names of gram dal are – Kadala Parippu in Malayali, Samaga Pappu in Telugu, Harbaryachi or Chanayachi dal in Marathi, Chana dal in Hindi, and Odia. South Indian people's love for chana dal is insane because they use it to make many recipes.
Some Products of Gram dal
Click here to check products of gram dal on amazon.
Health benefits of gram dal
You can get so many health benefits from gram dal. Some of them are –
1. Excellent source of fiber
gram dal is a great source of fiber. Fibre content is beneficial for maintaining the digestive system. You should add chana dal to the diet to keep the heart healthy and decrease cholesterol levels.
2. Keep skin healthy
gram dal contains a good amount of zinc which helps keep skin healthy and improves eyesight. Zinc is known as a good antioxidant that helps to improve immunity power. If you are going through dull skin or skin complexion problems, you should apply gram flour with water or curd or rose water on the skin. It helps to brighten your skin.
3. Improves eyesight
doctors and dieticians advise you to add gram dal in your diet if you have the problem of night blindness. Because zinc helps to cure or decrease the symptoms of night blindness, gram dal contains a good amount of zinc content.
Your body can able activate certain enzymes with the help of zinc. This process helps to produce vitamin A in the body. Vitamin A is very helpful in keeping your eyes healthy.
4. Controls the pH level
gram dal is full of minerals and phosphorous. It is helpful to neutralize the acid level in the body. That's how consuming chana dal or gram dal helps maintain the pH level.
5. A portion of wholesome food for Pregnant ladies
folic acid is helpful to protect the spinal cord and brain of a child when it is in the mother's womb, and it also avoids some congenital disabilities. Folic acid is a content present in gram dal. For the sound development of a child, it is essential t improve the count of red blood cells (RBC) in the body. This process is done by folic acid in any food, including gram dal.
6. Helpful for diabetic patients
gram dal is very nutritious. It is also high in fiber. These two contents are beneficial for diabetic patients. They help to regulate or boost the levels of blood sugar and help release glucose into the blood. Approximately 8 is the gram dal's glycemic index. This factor makes chana dal a diabetic superfood.
7. Prevents hair fall
if you suffer from heavy hair fall and hair damage, you should add gram dal to your diet because it contains a high amount of folic acid. It can keep the hair roots strong and nourish the scalp.
8. Works as an energy provider
you can get 100 calories from only 30 grams of gram dal or chana dal, which is also full of minerals and vitamins. It is rich in vitamins B1, B2, B3, and B9, which are examples of vitamin B-complex. These are helpful in the glucose metabolism process.
It helps to extract energy from food and modify it into adenosine triphosphate. It is a form of energy that the body stores and uses as per need.
9. Promotes healthy heart
gram dal works as an antioxidant which helps slow inflammation and decreases the effect of free radical damage on blood vessels. Folic acid in chana dal helps reduce the hardness in arteries, decreases the risk of blood clots, and lowers homocysteine levels. Gram dal contains magnesium which helps regulate the heart's actions and relax the blood vessels.
10. Provides a great response over insulin
gram dal contains a high amount of magnesium, which is responsible for improving insulin levels and slowing down insulin resistance. If your body doesn't have enough magnesium, then your pancreas can't secrete sufficient insulin. Insulin helps to control blood sugar levels.
11. Keep your teeth and bones strong
to keep teeth and bones healthy, and phosphorous plays an essential role inside the body. Gram dal is rich in phosphorous. It works combined with calcium and makes our bones strong. Magnesium is helpful in forming bones, which is also present in gram dal.
12. Helps in both weight loss and weight gain
chana dal is very beneficial for weight loss purposes. You can feel full for a long time by consuming chana dal. It doesn't provide cholesterol and fat. You can fulfill your protein need by adding chana dal to your diet.
There are different recipes available for both weight loss and weight gain. You should follow the correct quantity and recipe your doctor or dietician described for better results.
References- tarladalal.com
Nutritional value of Gram dal
Indian people can't count on a wholesome meal without dal. India is the highest lentil consumer and producer country. Dal, including gram dal – the backbone of the Indian diet is full of protein and nutrition. It can provide the needed protein to meat eaters and vegetarians. You can satisfy your daily allowance by adding any dal, including gram dal, to your diet.
You can consume dal cooked, steamed, or fried. You can also add different types of spices and vegetables to it. Gram dal contains folic acid, vitamins, necessary amino acids, dietary fibers, and complex carbohydrates (suitable for diabetic patients ). It is low in fat content.
A serving of 100 grams of chana dal provides –
| Nutrients | Amount |
| --- | --- |
| Calories | 360 kcal |
| Total carbohydrates – 64 grams | 23% of he daily value |
| Total fat – 2 grams | 3% of the DV |
| Iron – 2.15 mg | 12% of the DV |
| Dietary fiber – 32 grams | 114% of the DV |
| Calcium – 40 mg | 3% of the DV |
| Sugar – 2 grams | 23% of the DV |
| Potassium | N/A |
| Prootein – 22 grams | 44% of the DV |
One hundred grams of cooked gram dal or Bengal gram provided –
| Nutrients | Amount |
| --- | --- |
| Calories | 90.50 kcal |
| Fat | 3.25 grams |
| Protein | 4.70 grams |
| Saturated fat | 0.12 grams |
| Fiber | 3.46 grams |
| Carbohydrates | 10.20 grams |
| Zinc | 0.80 mg |
| Calcium | 13.87 mg |
| Sodium | 5.02 mg |
| Iron | 1.48 mg |
| Potassium | 220.41 mg |
| Carotenoids | 426.58 microgram |
| Vitamin D2 | 0.52 microgram |
| Vitamin B9 | 38.95 microgram |
| Vitamin B6 | 0.05 mg |
| Vitamin B2 | 0.03 mg |
References- 24mantra.com
Cost of gram dal in Tamil areas
The cost of gram dal is very reasonable. Rich to poor one can afford this lentil. You can buy 1 kg of gram dal or chana dal by spending around Rs 60 to Rs 80 approximately. The cost may vary depending upon the quality and purchase place. You can also get a discount from online stores or shopping malls rather than local stores. In Chennai, chana dal costs Rs 75 to Rs 80 per kg.
Recipes of gram dal in Tamil areas
South Indian snacks are very famous all over the world. People in that region love to make and eat masala vada and Chatni. They use gram dal or chana dal to prepare both dishes. South Indian masala vada, chana dal tadka, dal fry, chana dal idli, chana dal chutney, and South Indian cabbage dal are some famous South Indian recipes from gram dal.
It is also used in Andhra-style pulao to give a crunch to it. Tamil people use chana dal to make Rasam powder and curry powder.
You can also prepare sweet dishes by powdering chana dal. The powder form of gram dal is known as Besan or Gram flour. By using this powder, you can make Besan Ladoo and Besan Halwa.
To lose weight, you should prepare some healthy dishes using gram dal or add gram dal in some recipes. You can use gram dal in stuffings, hummus, salads, and curries. The powder form of chana dal is known as Sattu. It contains a considerable quantity of protein. People who want to lose weight can prepare chana dal sattu to shake to gain protein.
Availability and popularity of gram dal in Tamil-telling areas ( Tamil Nadu, Andhra Pradesh, Kerala, etc.)
One of the most famous lentils, which is used in various Indian foods, including cuisines of South India, is gram dal or chana dal. Chana dal is a vital lentil produced in India internationally and domestically. 80 to 90 lakh tonnes is the quantity of gram dal or chana dal made in India per annum.
India's major gram dal producers are Rajasthan, Uttar Pradesh, Madhya Pradesh, Andhra Pradesh, Karnataka, and Maharashtra. These states produce approximately 88% of gram dal of the total in the world. So you can't notice any shortage of gram dal in India, and the price is very pocket-friendly.
Chana dal is most famous among Tamil people because of its delicious taste, affordability, and health benefits. People love to use it in savior dishes and sweet recipes.
Some Images of Gram dal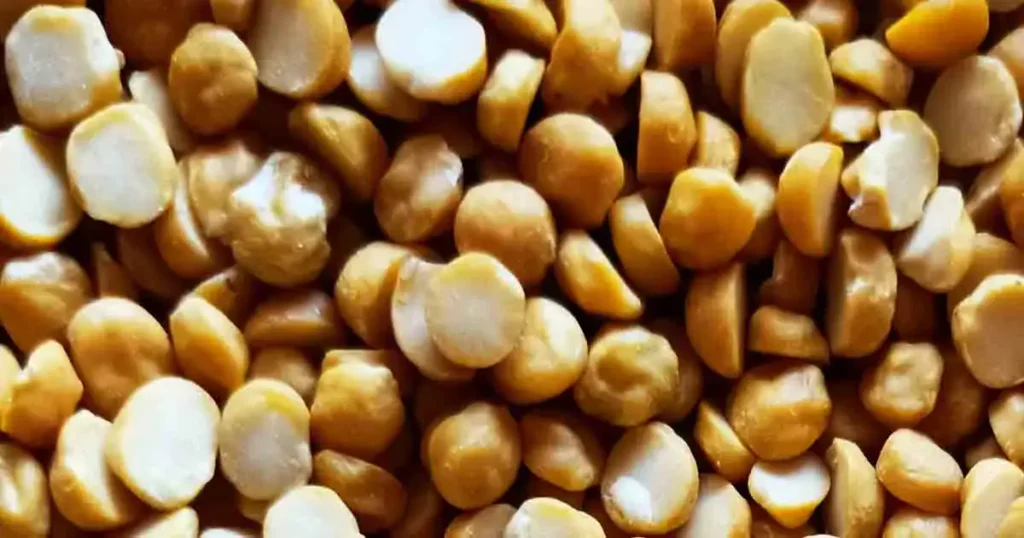 Final verdict
The other very famous name of gram dal is Bengal gram. Its flavor is nutty, and its texture is very crunchy. When you grind it, it turns into gram flour or Besan. Many Indian delicacies contain both gram dal and gram flour as essential ingredients.
The cultivation of chana dal in India has happened for a long time. But in some beliefs, the origin of gram dal is the region of the Eastern Mediterranean. Chana dal provides so many health benefits for the eye, bone, muscle, teeth, etc. it is an excellent protein source for vegan people.
Hope you got all kinds of information about gram dal from the above article. Like – gram dal in Tamil, its cost, availability, popularity in the local area, health benefits of gram dal, nutritional value, and many more.
Frequently asked questions
What are the health benefits of gram dal?
There are so many health benefits you can get by consuming gram dal or chana dal, but the major ones are –
1. Works as an immunity booster.
2. It makes your heart healthy.
3. It helps to maintain the levels of cholesterol.
4. It keeps muscles strong.
5. It helps to control blood pressure.
6. It keeps teeth and bones healthy.
7. It has the properties of anti-inflammation.
8. Lows down the levels of blood sugar.
9. Use it for weight loss purposes.
10. It can prevent so many diseases.
What is gram flour or Besan?
Gram dal is a yellow lentil. It is also famous as chana dal. When you grind it to prepare a powder form, it is known as Besan or gram flour. It can be in the roast form or raw form.
How to cook chana dal?
Before cooking, you must soak gram dal or chana dal in water for at least 10 to 12 hours. When you soak gram dal for a long time, its taste enhances, and its coking procedure takes less time. It also quickly digests.
What is the manufacturing process of gram dal?
Before putting gram dal into the market, the foreign elements and stones should be eliminated properly. Then it is graded into 2 to 3 sizes with the help of sieves. For absorption of moisture, it is soaked in water for 1 to 1.5 hours. Then dry it for 2 to 3 days under the sun till it dries properly. Then it is ready to go to the dal mill.