Spices known as cumin seeds, have a rich history and are widely used in Indian cuisine for their distinct flavor and aroma. Referred to by different names such as "jira," "sufaid jeera," or "zeera" in various Indian languages, these seeds are believed to have originated in the eastern Mediterranean and Upper Egypt regions.
Over time, their cultivation spread, and today, India stands as one of the largest producers and consumers of these flavorful seeds.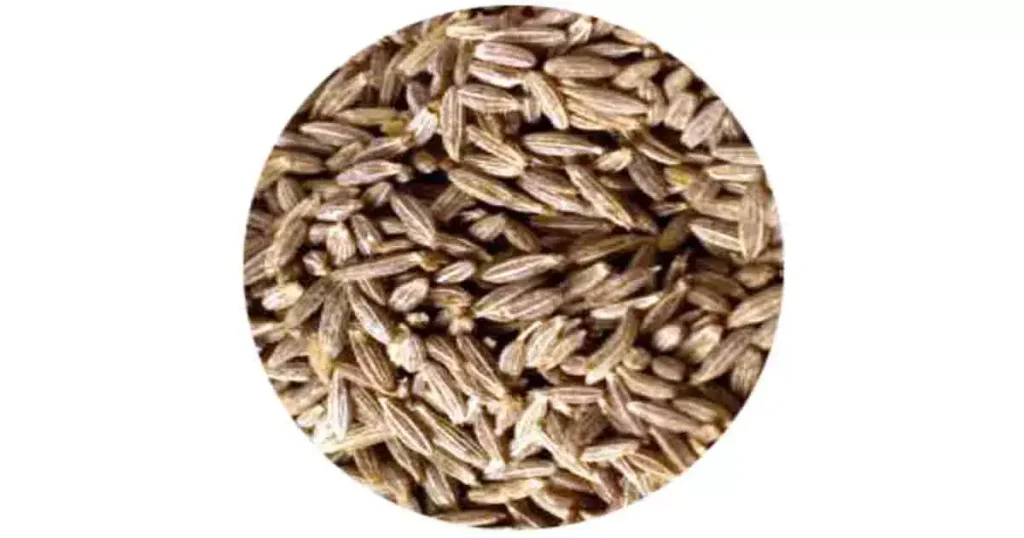 With a unique structure, cumin seeds are small, elongated, and possess an oblong shape, measuring around 4-6 mm in length. They are light brown in color and have a hard outer shell that protects their internal components.
Renowned for their warm, earthy taste with a subtle bitterness, cumin seeds are used in various forms, either whole or ground, to enhance the flavor of numerous Indian dishes. Additionally, these seeds are valued for their potential health benefits, including aiding digestion, reducing bloating, and possessing anti-inflammatory properties.
Cumin seeds contain several beneficial compounds, including essential oils, antioxidants, and phytochemicals, which contribute to their potential health benefits. The essential oils present in cumin seeds, such as cuminaldehyde and cuminol, are responsible for their distinctive aroma and may possess antimicrobial properties. These properties have been studied for their potential role in inhibiting the growth of bacteria and fungi.
The article provides abundant information on Cumin seeds in Telugu . Name, price, nutritional content, health advantages, application, popularity, local availability, and much more.
| | |
| --- | --- |
| English name | cumin seeds |
| Telugu name | జీలకర్ర (Jeelakarra) or (Jeeragam) |
| Kingdom | Plantae |
| Clade | Tracheophytes |
| Clade | Angisopersms |
| Clade | Eudicots |
| Clade | Asterids |
| Order | Apiales |
| Family | Apaiceae |
| Genus | Cuminum |
| Species | C.cyminum |
wiki
Cumin seeds in telugu
Cumin seeds, known as జీలకర్ర (Jeelakarra) or (Jeeragam) in Telugu in the Telugu language, hold a significant place in Telugu-speaking areas, reflecting the region's rich culinary traditions and cultural diversity.
They symbolize a deep appreciation for spices and culinary expertise. Whether used as a seasoning or incorporated into traditional dishes, cumin seeds play a versatile and cherished role in Telugu cuisine. These aromatic seeds are commonly added whole or ground to curries, lentil soups, and vegetable stir-fries, imparting a distinct flavor.
They also find their way into spice blends like "garam masala," a staple in many Telugu recipes.
Apart from their culinary value, cumin seeds are known for their potential health benefits, aiding digestion, promoting respiratory health, and possessing antioxidant properties. cultivation of cumin seeds in Telugu-speaking areas, such as Andhra Pradesh and Telangana, takes advantage of the favorable climate and fertile soil found in these regions.
The ideal conditions in these areas make them well-suited for the cultivation of cumin seeds. Farmers in these regions engage in the cultivation of cumin, benefiting from the optimal environment for its growth. The fertile soil and suitable climate contribute to the successful cultivation of cumin seeds in Telugu-speaking areas, ensuring a steady supply of this valuable spice.
Health benefits of Cumin seeds
1. Supports digestion
Cumin has long been recognized for its ability to promote digestion. It stimulates the activity of digestive proteins, aiding in the breakdown of food and facilitating nutrient absorption. Cumin also enhances the release of bile from the liver, which supports the digestion of fats and certain nutrients.
These properties have been supported by modern research, confirming cumin's potential to revitalize and optimize the digestive process. Furthermore, individuals with irritable bowel syndrome (IBS) have reported improved symptoms after incorporating concentrated cumin into their regimen, indicating its potential to alleviate digestive discomfort and enhance overall gut health.
2. Support individual with diabetes
Research indicates that cumin has potential benefits for blood sugar control and diabetes management. It contains compounds that can help reduce the formation of harmful AGEs related to diabetes complications.
While further studies are required to determine exact mechanisms and optimal dosage, adding cumin as a seasoning in everyday meals may offer advantages for individuals with diabetes or those susceptible to the condition.
3. Is a Rich Source of Iron
In addition to its digestive benefits, cumin seeds are an excellent source of iron. Iron deficiency is a prevalent issue worldwide, and cumin offers a natural solution to replenish iron levels. Just one teaspoon of ground cumin provides nearly 20% of the recommended daily intake of iron for adults.
This makes cumin particularly beneficial for individuals with increased iron requirements, such as growing children and women who experience iron loss during menstruation. By incorporating cumin into their diet, individuals can boost their iron intake and support essential bodily functions, including the production of red blood cells and oxygen transportation.
4. Improve blood cholesterol
Clinical studies have demonstrated that cumin can have a positive effect on blood cholesterol levels. Regular consumption of cumin has been associated with a decrease in unhealthy blood triglycerides and a reduction in oxidized LDL cholesterol, which is known as "bad" cholesterol.
Moreover, cumin has shown the ability to increase levels of HDL cholesterol, often referred to as "good" cholesterol. However, further research is required to determine the extent of these benefits when cumin is used as a seasoning in the diet and the recommended dosage to achieve optimal results.
5. Promote Weight Loss and Fat Reduction
Cumin has garnered attention for its potential role in weight loss and fat reduction. Concentrated cumin supplements have demonstrated positive effects on weight loss in several studies, with overweight individuals experiencing increased weight loss and reduced body weight compared to a placebo.
However, it is important to note that not all studies agree on the extent of these benefits, and further research is needed to determine the ideal dosage and long-term effects of cumin supplementation. Nevertheless, incorporating
6. Contains Beneficial Plant Compounds
Cumin is rich in a diverse array of plant compounds, including terpenes, phenols, flavonoids, and alkaloids. These compounds act as antioxidants, which play a crucial role in reducing oxidative stress and preventing cellular damage caused by free radicals.
By stabilizing free radicals, cumin's antioxidants help protect the body from various diseases and inflammation.
The presence of these beneficial plant compounds contributes to the overall health-promoting properties of cumin and highlights its potential as a natural remedy for maintaining optimal well-being.
7. May Prevent Food-Borne Illnesses
Cumin's antimicrobial properties make it a valuable ally in reducing the risk of food-borne infections. It contains components that inhibit the growth of food-borne bacteria and certain types of infectious fungi.
Furthermore, when cumin is digested, it releases a component called megalomicin, which exhibits antibiotic properties. These antimicrobial properties of cumin, along with the presence of megalomicin, contribute to its potential in preventing food-borne illnesses.
By restricting the growth of harmful bacteria and fungi, cumin can help safeguard against food-related infections, ensuring safer consumption and reducing the risk of food poisoning.
Incorporating cumin into food preparations not only adds flavor but also provides an added layer of protection against microbial contaminants, promoting food safety and overall well-being.
8. Fight Inflammation
Exciting research conducted in test-tube studies indicates that cumin extracts possess notable anti-inflammatory properties by effectively inhibiting the inflammatory response.
Although the precise identification of the active constituents responsible for these effects requires further exploration, several spices, including cumin, have exhibited the ability to reduce levels of NF-kappaB, a key marker of inflammation. These findings suggest that cumin may hold promise as a natural remedy for managing inflammatory conditions.
However, additional studies are necessary to fully understand the underlying mechanisms and determine the potential therapeutic applications of cumin in combating inflammation-related diseases.
9. Help With Drug Dependence
Emerging evidence suggests that cumin extracts hold potential in mitigating addictive behavior and alleviating withdrawal symptoms, as demonstrated in studies involving mice. These findings offer promising insights into the use of cumin as a possible intervention for drug dependence.
However, it is important to note that further research is needed to ascertain the translatability of these effects to humans. Additionally, extensive investigation is required to pinpoint the specific bioactive compound responsible for these therapeutic properties in cumin, paving the way for targeted treatments and interventions.
Some photos of Cumin seeds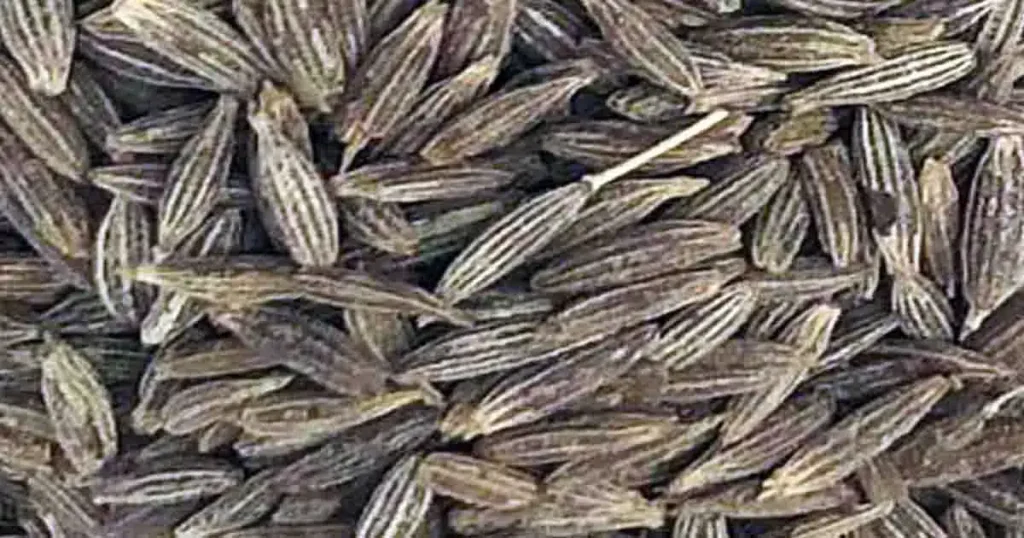 Nutritional facts of cumin seeds
Amount Per 100 grams
100 grams
Calories 375% Daily Value*
| Nutrients | value |
| --- | --- |
| Total fat | 22g |
| Saturated fat 1.5g | 7% |
| Cholesterol 0mg | 0% |
| Sodium168 mg | 7% |
| Potassium 1.788 mg | 51% |
| Total carbohydrates 44g | 14% |
| Dietary fiber 11g | 44% |
| Sugar 2.3g | – |
| Protein 18 g | 36% |
| Vitamin C | 12% |
| Calcium | 93% |
| Iron | 368% |
| Vitamin D | 0% |
| Cobslsmin | 0% |
| Msgnesium | 91% |
Price of cumin seeds in Telugu areas
In Telugu-speaking areas, the price of cumin seeds can vary based on several factors. A common packaging option available is a 200g pouch of whole cumin seeds, locally known as Jeera or Jeerige. The maximum retail price (MRP) for such a product is typically around Rs 200.
However, customers may find it available at a discounted price of Rs 132, resulting in a savings of Rs 68. It's important to note that prices may vary depending on the market, supplier, and quality of the cumin seeds. Therefore, it's advisable to explore different sources and compare prices to find the best deal.
The price of cumin seeds in Telugu-speaking areas can vary depending on various factors, including market demand, availability, and seasonal fluctuations. Cumin seeds are an essential ingredient in Telugu cuisine, and their price is influenced by factors such as local production, transportation costs, and overall supply and demand dynamics.
Popularity and availability of cumin seeds in Telugu areas (Tamilnadu, AndhraPradesh, Telangana)
Cumin seeds, also known as "Jeera" in Telugu, are widely popular and readily available in Telugu-speaking areas, including Tamil Nadu, Andhra Pradesh, and Telangana. They are an essential spice in the local cuisine and are used in a variety of dishes to add flavor and aroma.
Local farmers and spice traders contribute to the availability of cumin seeds in the region. The favorable climate and suitable soil conditions in Tamil Nadu, Andhra Pradesh, and Telangana make these areas conducive for cumin cultivation. This ensures a steady supply of fresh and locally sourced cumin seeds throughout the year.
Due to their widespread use and popularity, cumin seeds are affordable and reasonably priced in Telugu-speaking areas. They are considered a staple spice in many households, and people often buy them in bulk quantities to ensure a steady stock in their kitchens.
Famous dishes of cumin seeds in Telugu areas
Cumin seeds, known as "Jeera" or "Jira"in Telugu, hold a special place in the culinary traditions of Telugu-speaking areas, including Tamil Nadu, Andhra Pradesh, and Telangana.
They are an integral part of several famous local dishes, adding a distinctive flavor and aroma. Here are some popular Telugu dishes where cumin seeds take center stage:
1. Jeera Rice recipe
Jeera rice recipe is a fragrant and flavorful rice dish prepared by cooking basmati rice with cumin seeds and other aromatic spices. It is often served as an accompaniment to various curries and gravies.
2. Jeera Aloo recipe
Jeera aloo dish is a simple yet delicious dish featuring boiled potatoes sautéed with cumin seeds, spices, and herbs. It is a popular side dish that pairs well with Indian bread like roti or rice dishes like pulao.
3. Jeera Mirchi recipe
Jeera mirchi dish is a spicy and tangy dish made with green chilies and cumin seeds. The chilies are sautéed in oil along with cumin seeds, giving them a flavorful twist. It is often served as a side dish or used as a condiment to spice up other dishes.
4. Jeera Rasam recipe
Jeera rasam is a comforting and flavorful soup made with cumin seeds, tamarind, tomatoes, and aromatic spices. It is known for its digestive properties and is often consumed as a soup or served with steamed rice.
Conclusion
The article provides a comprehensive overview of cumin seeds in Telugu, including their Telugu name, price, nutritional value, health benefits, versatile applications, popularity, and local availability.
Cumin seeds, known as "Jeelakarra" or "Jeeragam" in Telugu, are highly regarded for their medicinal properties and have been traditionally used to aid digestion, reduce bloating, and alleviate gastrointestinal discomfort.
Rich in nutrients like iron, manganese, calcium, magnesium, and vitamins A, E, and C, cumin seeds also offer dietary fiber for improved digestion. They are widely used as a spice in Telugu cuisine, lending their distinctive flavor and aroma to various dishes such as curries, dals, rice preparations, and pickles.
Cumin powder is a common ingredient in spice blends and masalas. Available in local markets, grocery stores, and spice shops, cumin seeds play an integral role in Telugu culinary culture, offering both health benefits and versatile culinary applications.
Frequently asked questions
1. What is the use of cumin seeds in Telugu speaking areas?
In Telugu-speaking areas, cumin seeds, known as "Jeelakarra" or "Jeeragam" in Telugu, are widely used for their aromatic flavor and medicinal properties. Cumin seeds are an essential spice in Telugu cuisine and are used in various dishes to enhance their taste and aroma.
They are commonly used as a seasoning or spice in curries, dals, rice preparations, pickles, chutneys, and spice blends. Cumin seeds are known to aid digestion, improve appetite, and provide relief from digestive issues like bloating and flatulence.
They are also believed to have antimicrobial properties and may help boost the immune system. Additionally, cumin seeds are used in traditional Ayurvedic remedies for their potential health benefits
2. Where can I find cumin seeds in Telugu-speaking areas?
In Telugu-speaking areas, cumin seeds can be easily found in various places. One of the most common options is to visit the local markets, where you can find a dedicated section for spices that includes cumin seeds.
Additionally, supermarkets offer a wide range of spices, including cumin seeds, so be sure to check the spice aisle or the section dedicated to Indian or international ingredients.
Lastly, in some areas, local traders or street vendors may sell spices, including cumin seeds. It's always a good idea to inquire about the availability of cumin seeds at these various places, as it may vary depending on the location and season.
3. How can I store cumin seeds to maintain their freshness ?
1. Keep cumin seeds in a tightly sealed container, protected from heat, light, and moistureMinimize exposure to air by opening the container only when necessary.
2. Place a label on the container indicating the date of purchase or when it was stored
3. Choose whole cumin seeds for longer shelf life and grind them as needed.
4. What flavors do cumin seeds add to Telugu dishes or other dishes?
Cumin seeds, also known as jeera in Telugu, are a widely used spice in Telugu cuisine, known for their ability to enhance the flavor of various dishes.
When added to Telugu recipes, cumin seeds bring a range of distinct flavors. They offer a warm and slightly nutty taste that adds depth to the dishes, while also infusing them with an earthy undertone.
Cumin seeds contribute a mild pungency, providing a subtle kick and balancing other flavors in the process. Additionally, these seeds release a delightful aroma when heated or ground, adding aromatic notes to the dishes.
It's worth noting that cumin seeds have a slight bitterness, which, when used in moderation, can contribute to the overall flavor balance of Telugu cuisine. Cumin is also help for good digestion.  
5. How should cumin seed be used in cooking?
Cumin seeds can enhance dishes in various ways. Add them whole to hot oil to release their flavors. Dry roast and grind them for a more intense taste.
Ground cumin works well in spice blends and savory dishes. Infuse cumin seeds in oil for a flavorful base. Use them moderately and store in airtight containers for freshness. Enjoy the distinct taste of cumin to elevate your dishes.