Seer fish, also known as Spanish mackerel, is a popular saltwater fish species found in the Indian Ocean and the western Pacific Ocean. It belongs to the Scombridae family and is known for its excellent taste and culinary versatility.
Spanish mackerel typically have a streamlined, elongated body with a pointed snout. Their colouration varies, but they usually have a bluish-green back with silver sides and belly. They are predatory carnivores and have a voracious appetite. Due to their swift speed and agility, they can chase down and catch fast-swimming prey. Its succulent flesh and rich flavour make it a favourite among seafood enthusiasts.
However, overfishing has become a concern in some regions, leading to efforts to regulate fishing practices and protect seer fish populations. In many coastal communities, Spanish mackerel holds cultural and traditional importance. It features prominently in local cuisine and plays a role in various customs and rituals.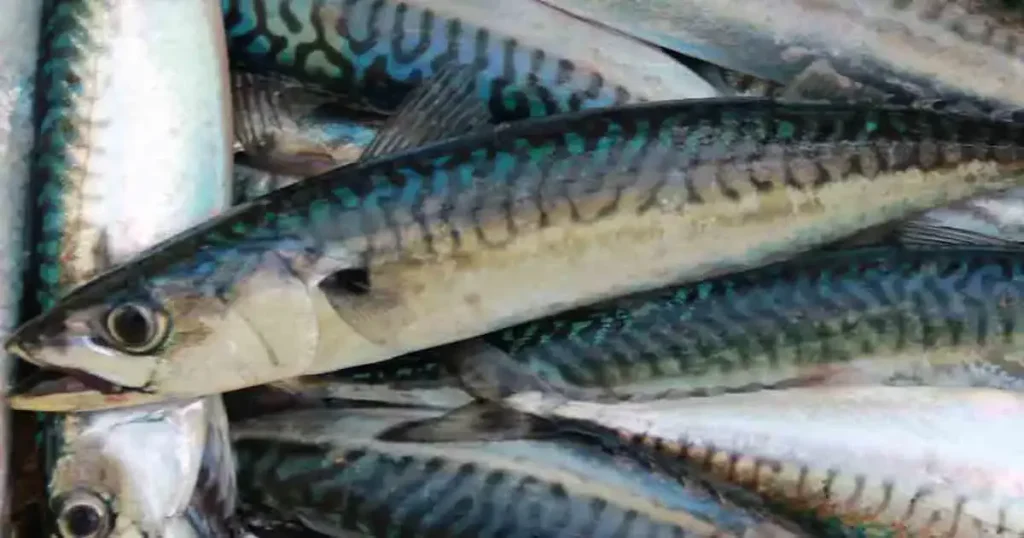 The upcoming article provides a comprehensive overview of Spanish mackerel, including vital information such as the distinct name used for seer fish in English, its price, health benefits, and nutritional value.
Additionally, the article delves into exploring various seer fish varieties, popular recipes featuring seer fish, availability in the market, and more. The primary objective of this article is to provide readers with a comprehensive understanding of Spanish mackerel and its significance in the culinary world.
| | |
| --- | --- |
| Kingdom | Animalia |
| Phylum | Chordata |
| Class | Actinopterygii |
| Order | Perciformes |
| Family | Scombridae |
| Genus | Scomberomorus |
| Species | Scomberomorus commerson |
wiki
Seer Fish in English name
The English name of seer fish is Spanish mackerel, primarily found in the warm waters of the various ocean of the world. They are commonly seen in coastal areas, near coral reefs, rocky shores, and estuaries.
Spanish mackerel are known to be migratory, moving seasonally to find optimal feeding grounds. It is highly valued in both recreational and commercial fishing. Its delicious flavour and firm white flesh make it a sought-after choice among seafood enthusiasts.
It is commonly used in various culinary preparations, such as grilling, baking, frying, and currying. Like most fish, Spanish mackerel is a good source of lean protein, omega-3 fatty acids, and minerals (such as selenium and potassium). It provides numerous health benefits, including supporting heart health and brain function.
The sustainability of Spanish mackerel fishing is a concern due to the potential for overfishing. Many regions have implemented regulations and conservation measures to protect the population and ensure its long-term viability.
Seerfish is a popular target for recreational anglers due to its intense fight and the thrill of catching this fast and powerful fish. It is often pursued from boats using various fishing techniques like trolling and casting.
Nutritional value of Seer fish
The nutritional value of Spanish mackerel (Spanish mackerel) may be slightly different depending on the specific species and the preparation method. However, here is a general overview of the nutritional composition of Spanish mackerel per 100 grams of raw fish:
| Nutrients | Quantity |
| --- | --- |
| Calories | 120-130 kcal |
| Protein | 20-25 grams |
| Total Fat | 3-5 grams |
| Saturated Fat | 1-2 grams |
| Monounsaturated Fat | 1-2 grams |
| Polyunsaturated Fat | 0.5-1 grams |
| Cholesterol | 50-80 milligrams |
| Omega-3 Fatty Acids | Approximately 0.3-0.6 grams |
| Omega-6 Fatty Acids | Approximately 0.3-0.5 grams |
| Sodium | 50-100 milligrams |
| Potassium | 300-400 milligrams |
| Vitamin D | 200-300 IU (International Units) |
| Vitamin B12 | 8-12 micrograms |
Health Benefits of Seer fish or Spanish Mackerel
Seer fish has high-quality protein essential for muscle development, tissue repair, and various physiological functions. It also contains multiple proteins which are beneficial for the human body, benefiting heart health and brain function and reducing inflammation. So here are some health benefits of Spanish mackerel pointed out below:
1. High-Quality Protein
Seer fish is an excellent source of high-quality protein, essential for building and repairing tissues, supporting muscle development, and maintaining overall health.
2. Vitamin D
Seer fish is a good vitamin D source, essential for maintaining bone health, supporting the immune system, and promoting overall well-being.
3. Minerals
Seer fish provides essential minerals like potassium, which helps regulate blood pressure and maintain proper muscle and nerve function.
4. Weight Management 
The protein content in Seer fish can help promote satiety, making it a good choice for those looking to manage their weight.
5. Heart Health
The combination of omega-3 fatty acids, protein, and other nutrients in Spanish mackerel can contribute to human heart health by reducing the risk of cardiovascular diseases.
Side effects of Seer fish or Spanish mackerel
It's important to note that while Spanish mackerel offers numerous health benefits, there are some Side effects of Spanish mackerel. It is important to consume a balanced diet that is available in the market to ensure overall nutritional adequacy.
As with any fish, it's also essential to be aware of potential mercury content and consume Spanish mackerel in moderation, especially for vulnerable groups such as pregnant women and young children. Always choose fresh, high-quality fish from reputable sources to maximize its health benefits.
1. Mercury Content
Seer fish, like many large predatory fish, may contain higher levels of mercury. Mercury can negatively impact the nervous system and pose risks, especially for pregnant women, nursing mothers, and young children. Minimizing mercury exposure, consuming Spanish mackerel in moderation, and choosing smaller, younger fish when possible are advisable.
2. Allergic Reactions
Some individuals may be allergic to fish proteins, including those found in Spanish mackerel. Allergic reactions to fish can range from mild symptoms like hives and itching to severe reactions like difficulty breathing and anaphylaxis. If you have a known fish allergy, avoiding Spanish mackerel and other fish products is essential.
3. Histamine Poisoning
Fish like seer fish can be associated with histamine poisoning if they are not stored, handled, or refrigerated properly after catching. This can occur due to bacterial histidine decarboxylation, leading to the formation of histamine in the fish flesh.
Histamine poisoning can cause symptoms such as nausea, vomiting, diarrhoea, headaches, and skin rash. To prevent histamine poisoning, handling and storing fish at appropriate temperatures is crucial.
4. Environmental Impact
The sustainability of Spanish mackerel fishing can be a concern, as overfishing can deplete fish populations and harm marine ecosystems. When choosing seer fish or any seafood, opt for sustainably sourced products to support responsible fishing practices.
Different varieties of seer fish
Seer fish, also known as Spanish mackerel, belongs to the Scombridae family, and several species of Spanish mackerel are found in different regions around the world. Here are some of the different varieties of seer fish: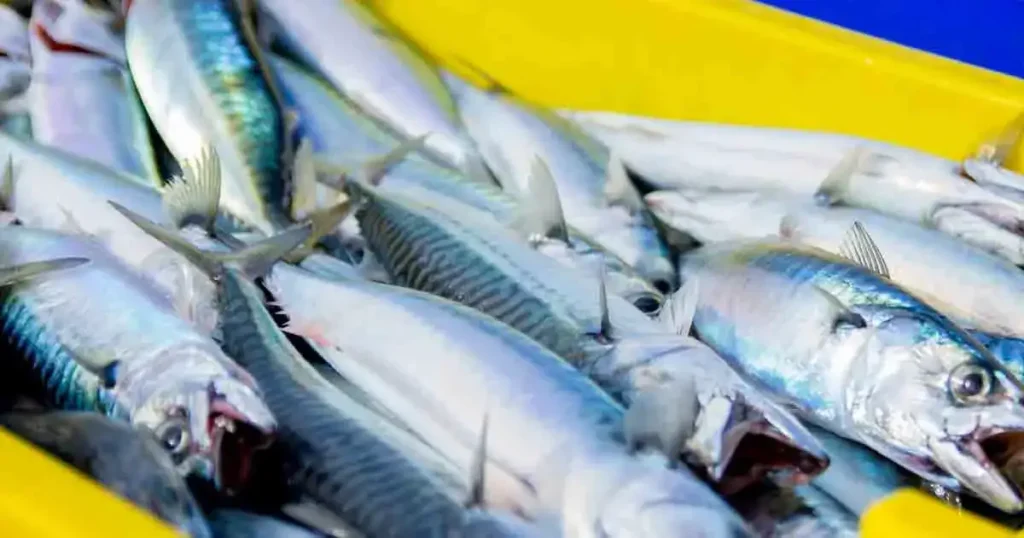 1. Indo-Pacific King Mackerel
Also known as spotted seer fish or surmai, this species is commonly found in the Indo-Pacific region, including the Indian Ocean and the western Pacific Ocean. It has distinctive spots on its sides and is prized for its delicious taste.
2. Narrow-barred Spanish Mackerel
This species is found in the Indian and western Pacific oceans. It is characterized by its narrow vertical bars along its sides.
3. Spotted Spanish Mackerel
This seer fish species is found in the Indo-West Pacific region, including the coasts of India, Southeast Asia, and Australia. It is known for its spotted appearance and is also called spotted seer fish.
4. Wahoo (Acanthocybium solandri)
While not a true mackerel, the wahoo is often called ono or seer fish in some regions. It is found in tropical and subtropical waters worldwide and is known for its fast swimming speed and excellent game fishing qualities.
It's important to note that regional names and local variations may lead to different species being called "seer fish." These are just some of the common species that fall under the general term "seer fish." The availability and specific types of seer fish are different based on the geographical location and the local fishing practices in other regions.
Cost of Seer fish
The cost of or Spanish mackerel can be widely different based on factors such as the region, availability, demand, fishing season, and the type of market (wholesale or retail). The fish's size and quality can also influence its price.
In India, the cost of Spanish mackerel can range from around INR 300 to INR 800 per kilogram (approximately USD 4 to USD 11) in retail markets. The price may be higher in upscale markets or restaurants. The cost of seer fish can vary significantly in different countries and regions.
It may be considered a premium seafood option in some places, while in others, it may be more affordable. In the United States, depending on the region and availability, Spanish mackerel (seer fish) can cost around USD 8 to USD 15 per pound (approximately USD 18 to USD 33 per kilogram) in retail markets or seafood speciality stores.
In countries like Australia, the cost of Spanish mackerel can range from AUD 20 to AUD 40 per kilogram (approximately USD 15 to USD 30).In the Middle East, the price can vary from AED 30 to AED 70 per kilogram (approximately USD 8 to USD 19) in retail markets.
It's crucial to note that the prices mentioned above are approximate and can be different depending on the factors mentioned earlier. Also, prices for seafood can fluctuate due to changes in fishing yields, weather conditions, and market demands. If you are interested in purchasing seer fish, it's best to check with local fish markets, supermarkets, or seafood vendors for the most up-to-date pricing in your area.
Seer or Spanish mackerel farming in India
Seer fish (Spanish mackerel) farming is less widespread in India than other commercially farmed fish species. Spanish mackerel is a marine species that requires specific conditions for successful aquaculture, and the technology and expertise for large-scale farming are still under development. However, there have been some efforts to explore the possibilities of seer fish farming in India due to its popularity and commercial value.
Some key points about seer fish farming in India include:
Research and Trials
Some research institutions and aquaculture centres in India have conducted trials and studies to assess the feasibility of seer fish farming. They have been working on understanding the fish's biology, dietary requirements, and environmental needs.
Challenges
Spanish mackerel farming faces various challenges, including the high infrastructure cost, complex breeding and larval rearing processes, and the need for specific environmental conditions that mimic the fish's natural habitat.
Limited Commercial Operations
While some pilot projects and small-scale operations have been attempted, large-scale commercial seer fish farming has yet to be a widespread practice in India.
Importance of Wild Fisheries
Seerfish remains primarily harvested from wild fisheries in India, where it is caught by traditional fishing methods and through commercial fishing fleets.
Availability of Seer fish
Seer fish or Spanish mackerel is commonly found in the Indian and western Pacific oceans. It is a tropical and subtropical species that thrives in warm waters. Spanish mackerel is widely available and highly popular in India. It is commonly found along the coasts of the Indian Peninsula and is a significant component of the country's seafood trade.
Countries in Southeast Asia, such as Malaysia, Indonesia, Thailand, and the Philippines, have substantial populations of seer fish in their coastal waters. Seer fish is found along the northern coast of Australia, especially in the waters of Western Australia and the Northern Territory. Seer fish is commonly available in the coastal regions
of the Arabian Peninsula, including countries like the United Arab Emirates, Oman, and Bahrain. Seer fish can be found in the waters around various islands in different parts of the world. They prefer coastal regions and are often spotted near coral reefs, rocky outcrops, and estuaries. Seer fish are known to migrate seasonally in search of suitable feeding grounds.
Commercial and artisanal fishermen often catch seer fish and are a popular target for recreational anglers as well. It is frequently sold fresh in local fish markets and seafood shops in the regions where it is abundant. However, it is essential to note that the availability of fish can be influenced by various reasons, such as seasonal migration patterns, weather conditions, and fishing regulations.
Seer fish recipes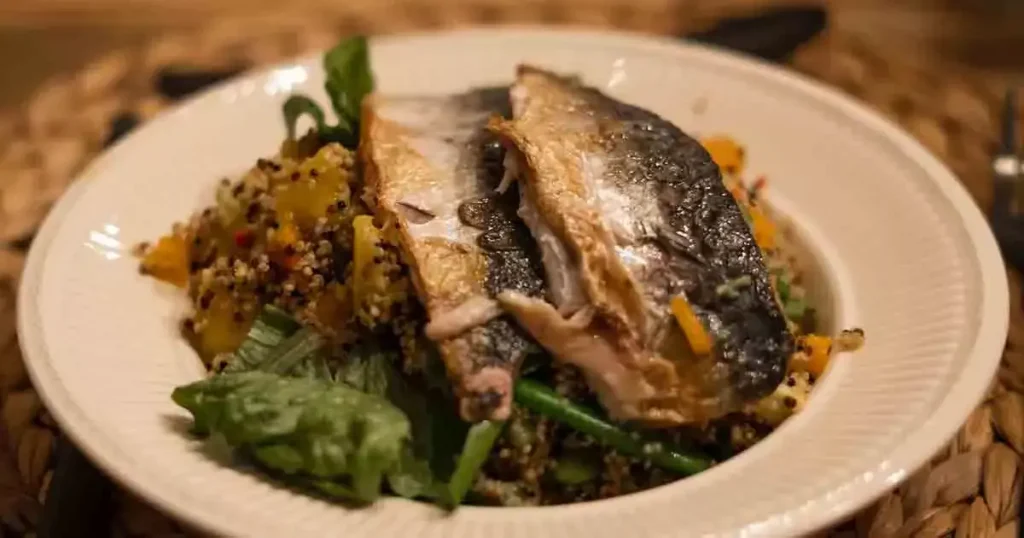 Grilled Seer Fish Recipe in English
Here's a simple and delicious seer fish recipe called "Grilled Seer Fish with Lemon and Herbs,"
For preparing the recipe, you will need the following ingredients:
• 500 grams of seer fish steaks (fresh or thawed if frozen)
• Two tablespoons of olive oil
• Two tablespoons of fresh lemon juice
• Two cloves garlic, minced
• One teaspoon of dried oregano
• One teaspoon of dried thyme
• One teaspoon of paprika
• Salt and black pepper, to taste
• Lemon wedges for serving
Step-by-step instructions about "Grilled Seer Fish with Lemon and Herbs":
1. Preheat your grill to medium-high heat. Use a charcoal grill, make sure the coals are hot and covered with white ash.
2. Prepare the marinade: Take a small bowl, mix the olive oil, lemon juice, minced garlic, dried oregano, dried thyme, paprika, salt, and black pepper.
3. Marinate the fish: Place the seer fish steaks in a shallow dish or a resealable plastic bag. Pour the marinade over the fish, making sure it's evenly coated. Cover the dish or seal the bag and let the fish marinate in the refrigerator for about 30 minutes to 1 hour.
4. Grill the seer fish: Remove the fish from the marinade to let any excess marinade drip off. Place the fish steaks on the preheated grill. Grill for about 4-5 minutes on each side or until the fish is cooked through and has beautiful grill marks. Your cooking time may vary depending on the thickness of the fish you have.
5. Serve: Once the seer fish is grilled to perfection, transfer it to a serving platter. The citrusy flavours and the aromatic herbs will complement the delicate taste of the seer fish.
Enjoy your Grilled Seer Fish with Lemon and Herbs as a delightful and healthy seafood meal. You can serve it with a side of salad, roasted vegetables, or your favourite dipping sauce.
Conclusion
In conclusion, seer fish, also known as Spanish mackerel, is a popular and prized saltwater fish species found in the Indian Ocean, western Pacific Ocean, and other tropical and subtropical regions. It is well-known for its delicious taste, firm texture, and versatility in culinary preparations.
Overall, seer fish is a culinary delight and a valuable seafood choice that can be enjoyed as part of a balanced diet. It's important to appreciate and support sustainable fishing practices to ensure the continued availability of this marine species for future generations to enjoy.
Frequently asked questions
How to identify fresh seer fish in the market?
To identify fresh seer fish (Spanish mackerel) in the market, always look for these characteristics based on appearance, skin and scales, colour, gills, smell, texture, vendor reputation, and seasonal availability.
How does the taste of seer fish compare to other commonly consumed fish in India?
The taste of seer fish (Spanish mackerel) is often described as distinct and delicious, making it a popular choice among seafood lovers in India. However, the taste can vary slightly depending on the cooking method and the spices used in different regional cuisines.
The taste preferences for fish can be subjective, and different people may have varying opinions about the flavours of different fish. While seer fish is known for its mild and versatile taste, other fish like rohu, pomfret, salmon, and hilsa have their characteristic flavours that appeal to diverse palates across India. The choice of fish and its preparation largely depends on personal preferences and regional culinary traditions.
What is the mercury content in seer fish, and how does it impact health?
The mercury content in seer fish (Spanish mackerel) can be different depending on factors such as the fish's size, age, and the location where it was caught. As a large predatory fish, seer fish can accumulate mercury in its tissues over time through the consumption of smaller fish that contain trace amounts of mercury. Therefore, larger and older seer fish may have higher mercury levels than smaller ones.
For most healthy adults, occasional consumption of seer fish with moderate mercury levels is generally considered safe. However, specific groups need to be more cautious, like pregnant women, nursing mothers, young children, and People with kidney disorders or compromised immune systems should also be mindful of their mercury exposure.
Are there any specific precautions to take while handling and cooking seer fish?
Yes, there are specific precautions to take while handling and cooking seer fish (Spanish mackerel) for food safety and preserve the quality of the fish. Here are some necessary precautions:
When purchasing seer fish, please buy it from a reputable source to ensure it is fresh and safe to consume. Always handle raw seer fish with clean hands and on clean surfaces to prevent cross-contamination with other foods.
After handling raw fish, wash your hands thoroughly with soap and water. If you are not cooking the seer fish immediately after purchase, store it in the refrigerator or a cooler with ice to keep it fresh.
To maintain its quality, consume the fish within a day or two of purchase. If using frozen seer fish, thaw it safely in the refrigerator or under cold running water. Before cooking, rinse the fish under cold running water to remove any surface impurities.
Remove scales (if not already removed) by scraping them off with a knife. Cook seer fish thoroughly to an internal temperature of at least 145°F (63°C) to ensure it is safe to eat. Don't overcook, as it can result in dry and tough fish. Use individual utensils and cutting boards for raw fish to prevent cross-contamination with other foods. 
By following these precautions, you can enjoy seer fish safely and ensure that it remains delicious and fresh for your culinary creations. If you have an issue with a seafood or fish-related diet, it's best to talk with a professional or a registered dietitian for personalized advice.
Is seer fish safe for individuals with seafood allergies?
Seer fish (Spanish mackerel) is a type of fish, and individuals with seafood allergies need to exercise caution when consuming any fish, including seer fish. Seafood allergies are relatively common and can cause mild to severe allergic reactions in susceptible individuals.
If you suspect a seafood allergy or have experienced adverse reactions after consuming fish in the past, it is important to seek medical advice. An allergist can perform diagnostic tests, such as skin prick tests or blood tests, to ensure the presence of a fish allergy.
For individuals with confirmed fish allergies, it is essential to:
1. Read Food Labels
Carefully read ingredient labels on packaged foods to avoid products containing fish or fish-derived ingredients.
2. Inform Restaurants
When dining out, inform restaurant staff about the allergy to ensure that the food is prepared without any cross-contamination with fish.
3. Carry Medication
If prescribed by a healthcare professional, carry an epinephrine auto-injector (e.g., EpiPen) to be used in case of a severe allergic reaction.
4. Educate Friends and Family
Educate those around you about the allergy and the importance of avoiding fish and seafood in your meals.
Always consult with a healthcare professional or allergist if you have concerns about potential food allergies, and follow their guidance for managing and avoiding allergic reactions to fish and other allergens.