Nutmeg, scientifically known as Myristica fragrans, is an aromatic spice that has captivated culinary enthusiasts worldwide. This tropical evergreen tree can reach heights of up to 20 meters and produces plum-sized fruits with an oval shape.
Within the ripe fruit, a vibrant red aril called mace partially covers the hard, brown nutmeg seed, which is the part used as a spice. With a history dating back centuries, nutmeg is believed to have originated in the Banda Islands of Indonesia, known as the "Spice Islands."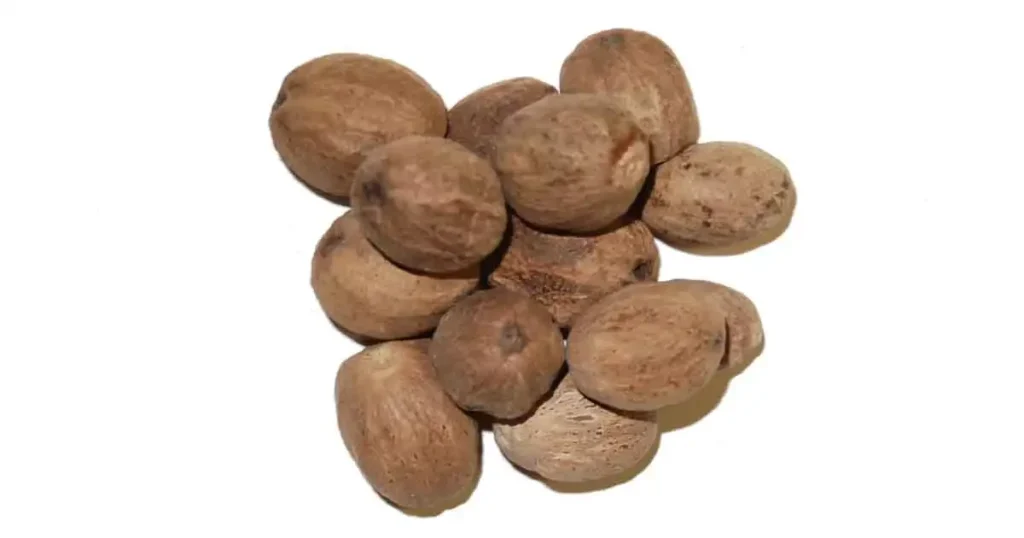 These islands were the sole source of nutmeg, making it highly valuable during the spice trade. Explorers, including Christopher Columbus, embarked on voyages in pursuit of this precious spice. Let's explore the captivating world of nutmeg, including its structure, appearance, history, and origin.
The article provides comprehensive information about Nutmeg in Telugu, including its name, price, nutritional value, health benefits, uses, popularity, local availability, and more. It aims to offer readers a detailed understanding of these seeds and their significance in Telugu-speaking areas.
| | |
| --- | --- |
| Telugu name | jaajikaya |
| Kingdom | Plantae |
| Clade | Tracheophytes |
| Clade | Angiosperms |
| Clade | Magnoliids |
| Order | Magnoliales |
| Family | Myristicaceae |
wiki
Nutmeg in Telugu name
Nutmeg, known as jaajikaya in Telugu, is a popular spice highly valued for its aromatic seeds. In Telugu-speaking regions of India, such as Andhra Pradesh and Telangana, jaajikaya is widely used in traditional recipes to enhance the , aroma, and health benefits of various dishes.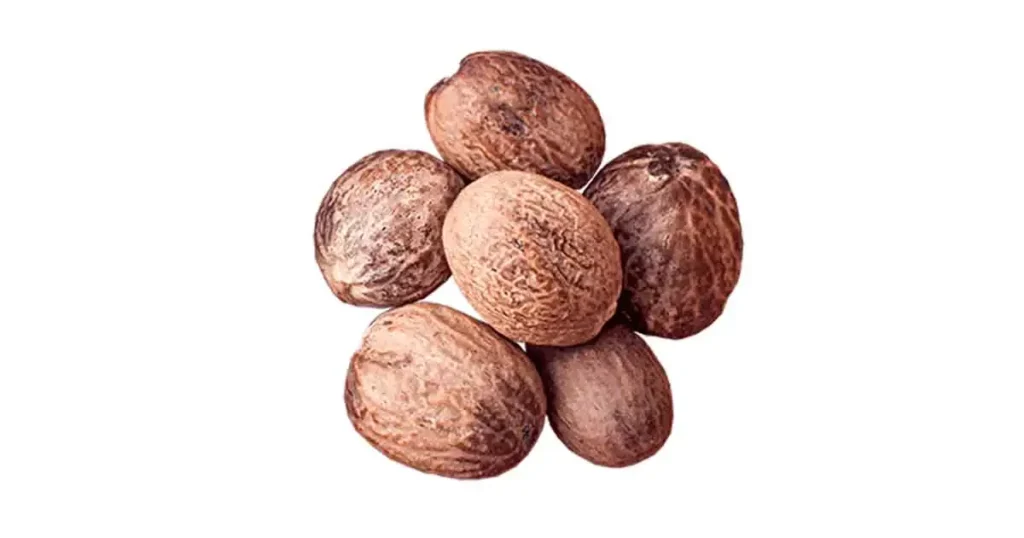 It adds a distinct taste and fragrance to Telugu cuisine, making it an essential ingredient in many culinary preparations, including curries, rice dishes, and sweets.
The presence of nutmeg in Telugu-speaking regions adds to the region's diverse culinary traditions, as it is highly valued for its distinct characteristics and its ability to elevate the overall culinary journey.
Nutritional value of Nutmeg
| Nutrient | Amount per 100 grams | % Daily value |
| --- | --- | --- |
| Total fat | 36 g | 55% |
| Saturated fat | 25 g | 130% |
| Cholesterol | 0 mg | 0% |
| Sodium | 16 mg | 0% |
| Potassium | 350 mg | 10% |
| Total carbohydrate | 49 g | 16% |
| Dietary fiber | 21 g | 84% |
| Sugar | 28 g | – |
| Protein | 6 g | 12% |
| Vitamin C | – | 5% |
| Iron | – | 16% |
| Vitamin B6 | – | 10% |
| Magnesium | – | 45% |
| Calcium | – | 18% |
| Vitamin D | – | 0% |
| Cobalamin | – | 0% |
Health benefits of Nutmeg
1. May help reduce cancer risk
Nutmeg has attracted scientific attention due to its potential health benefits for preventing cancer. Initial research indicates that nutmeg contains bioactive compounds like phenolic compounds and volatile oils, which are believed to possess anti-inflammatory and antioxidant properties.
These properties are associated with a decreased risk of chronic diseases, including specific types of cancer. In experimental settings, the bioactive compounds present in nutmeg have shown promise in impeding the proliferation of cancer cells and triggering their demise.
However, further research is required to fully comprehend the underlying mechanisms and establish conclusive evidence regarding nutmeg's effectiveness in preventing cancer in humans.
2. May Aid diabetes treatment
Nutmeg has gained attention for its potential benefits in managing diabetes. The benefits of nutmeg in diabetes management are being explored through ongoing research, and early studies suggest that certain compounds present in nutmeg may possess anti-diabetic properties.
The bioactive compounds, such as myristicin, found in nutmeg have shown promising effects in enhancing insulin sensitivity and regulating blood sugar levels, which could potentially aid in diabetes management and improve glycemic control.
Furthermore, the antioxidant and anti-inflammatory properties of nutmeg may contribute to reducing the risk of complications associated with diabetes. However, it is important to consume nutmeg in moderation as part of a well-balanced diet and under the guidance of healthcare professionals, as individual responses to nutmeg may vary. 
3. May help control high blood pressure
Nutmeg shows promise in helping to control high blood pressure. Although further research is needed, preliminary studies suggest that certain compounds present in nutmeg may have antihypertensive effects.
Nutmeg contains bioactive components, including myristicin, which have been found to promote relaxation of blood vessels, leading to improved blood flow and potentially lowering blood pressure levels.
Moreover, the antioxidative properties of nutmeg have the potential to diminish oxidative stress and inflammation, both of which are linked to elevated blood pressure. Managing high blood pressure requires a comprehensive approach that includes a healthy lifestyle, regular exercise, and appropriate medical interventions.
Nutmeg may be considered as a complementary addition to an overall hypertension management plan, but individual responses may vary, and professional guidance is essential for effective blood pressure control.
4. May relieve Arthritis pain and inflammation
Nutmeg has shown potential in providing relief from arthritis pain and inflammation. Although more research is needed, preliminary studies suggest that certain compounds present in nutmeg may have anti-inflammatory properties.
Nutmeg contains bioactive compounds like myristicin and eugenol, which have been found to exhibit analgesic and anti-inflammatory effects. These properties may help alleviate the symptoms associated with arthritis, such as joint pain, stiffness, and swelling.
Additionally, nutmeg's antioxidant properties may contribute to reducing oxidative stress and protecting against further damage to joints. It is important to note that nutmeg should be used in moderation as part of a well-rounded arthritis management plan, which may include other treatments prescribed by healthcare professionals.
Regular exercise, maintaining a healthy weight, and adopting an anti-inflammatory diet are also important components of managing arthritis pain and inflammation.
Side effect of Nutmeg
The side effects of nutmeg when applied to the skin should be taken into consideration. Nutmeg is renowned for its antibacterial and anti-inflammatory properties, which have led to its widespread use in traditional remedies for addressing skin issues such as acne, scars, and infections.Its natural compounds effectively reduce inflammation, combat bacteria, and promote healthier skin.
However, it is crucial to exercise caution when using nutmeg topically. Excessive application or prolonged use of nutmeg may result in skin irritation, redness, or allergic reactions in certain individuals. To mitigate these risks, it is advisable to perform a patch test before applying nutmeg, carefully monitoring for any negative reactions.
If any adverse effects occur, it is recommended to discontinue use and seek guidance from a dermatologist or healthcare professional for personalized advice and to ensure safety.
By taking these precautions, one can harness the potential benefits of nutmeg while minimizing the risk of experiencing side effects when using it on the skin.
Difference between Whole Nutmeg and Ground Nutmeg
Whole nutmeg and ground nutmeg are two commonly used forms of this versatile spice, offering distinct characteristics and applications in culinary practices.
In Telugu-speaking areas, the term jajikaya encompasses both whole nutmeg and ground nutmeg. Whole nutmeg, referred to as Jajikaya, is the unprocessed nutmeg seed found in its original state. It is a small, hard seed enclosed within a shell, resembling a wrinkled brownish ball.
To utilize whole nutmeg, it is grated or ground using a nutmeg grater or a mortar and pestle, which releases its intense aroma and . Jajikaya is highly valued for its freshness and potency, making it a preferred choice among chefs and home cooks. Moreover, whole nutmeg has a longer shelf life compared to ground nutmeg, retaining its  and aroma for an extended period when kept intact.
On the other hand, ground nutmeg, also known as Pudi Jajikaya in Telugu, is the pre-ground version of nutmeg, available as a fine powder. "Pudi Jajikaya" offers convenience and accessibility, eliminating the need for grating or grinding the whole nutmeg seed.
It is widely used in Telugu culinary practices, including baking, cooking, and spice blends. Adding a warm, sweet, and slightly spicy  to a variety of dishes, "Pudi Jajikaya" has become a popular ingredient in both sweet and savoury recipes.
Uses of Nutmeg powder
Nutmeg powder, also known as Jaiphal powder in Telugu, is a versatile ingredient widely used in Telugu cuisine for its distinct  and aroma. It is commonly incorporated into traditional dishes like pulao, biryani, and curries to enhance their taste profile, providing a unique and flavourful touch.
Additionally, nutmeg powder offers potential health benefits. It has been valued in traditional medicine for its digestive properties, helping with indigestion, bloating, and stomach discomfort. Furthermore, nutmeg powder is known for its calming and sleep-inducing effects, making it a natural remedy for insomnia and anxiety.
To make the most of nutmeg powder, it is advisable to use it in moderation, starting with a small quantity and adjusting according to personal taste preferences. For optimal flavour and potency, freshly grinding whole nutmeg seeds using a grater or spice grinder is recommended, ensuring the extraction of maximum aroma and flavour.
However, caution should be exercised, particularly if there are underlying health conditions. Nutmeg contains certain compounds that can have psychoactive effects or interact with certain medications when consumed excessively. Responsible usage, following culinary or medicinal guidelines, is essential for a safe and enjoyable experience.
Difference between Nutmeg and cinnamon
Cinnamon and nutmeg, commonly known as Dalchini and Jajikaya respectively in Telugu, are popular spices in Telugu-speaking areas, cherished for their unique flavours and aromas. When comparing these spices, there are notable differences and similarities to consider.
Cinnamon, or "Dalchini," is known for its sweet and warm flavour with subtle spicy undertones, while nutmeg, or "Jajikaya," offers a robust and earthy flavour with hints of sweetness and a slightly nutty undertone.
In terms of appearance, cinnamon is available as rolled sticks or ground powder, while nutmeg is predominantly found as whole seeds or ground powder. Despite their differences, both spices share similarities in being derived from plant bark or seeds and offering various health benefits, including potential digestive benefits and antioxidant properties.
In Telugu culinary practices, cinnamon and nutmeg can be used interchangeably or together to enhance the flavour profiles of dishes, particularly in Telugu cuisine's spiced cakes, cookies, and warm beverages, creating a delightful culinary experience for those who appreciate the rich and diverse flavours of Telugu food culture.
Availability of nutmeg in Telugu areas
The availability of nutmeg in India is primarily centered in the Thrissur, Ernakulam, and Kottayam districts of Kerala, as well as parts of Kanyakumari and Tirunelveli districts in Tamil Nadu. These regions offer the perfect combination of climate, temperature, humidity, and fertile soil for nutmeg trees to thrive.
The farmers in these areas have a long-standing tradition of cultivating nutmeg, using traditional methods passed down through generations. It is a meticulous process that requires patience and careful nurturing of the trees, as they take several years to mature and produce high-quality nuts.
The nutmeg seeds harvested from these regions are prized for their aromatic and flavourful qualities, making them highly sought after in the spice market both within India and internationally. They are widely used in culinary applications to season dishes, flavour beverages, and enhance desserts.
The cultivation of nutmeg in these specific districts not only highlights the agricultural diversity of the region but also establishes it as a significant hub for nutmeg production in India.
Cost of nutmeg in Telugu areas
The cost of nutmeg can vary depending on the region and market dynamics. In Tamil Nadu, where nutmeg is primarily cultivated, the price of this spice is approximately Rs 200 per kilogram.
The availability of nutmeg in Telugu areas, along with factors such as local demand and transportation costs, influences its pricing. On the other hand, in Telugu-speaking areas, the cost of nutmeg tends to be higher, with prices averaging around Rs 630 per kilogram.
This higher price may be due to factors such as limited availability, increased demand, or logistical challenges in sourcing nutmeg from other regions. It's important to note that these price variations are not fixed and can fluctuate over time based on various market factors.
The cost of nutmeg in Telugu speaking areas plays a significant role in determining its accessibility and affordability for consumers in different regions, and individuals may choose to adjust their usage based on the prevailing prices. It is always advisable to check the current market prices and make informed purchasing decisions accordingly.
Conclusion
In conclusion, this comprehensive article offers a wealth of information about Nutmeg, covering its translation as Nutmeg in Telugu language, nutritional facts, versatile uses, and a multitude of benefits. Whether you seek a nourishing snack alternative or aspire to elevate the flavours in your recipes, Nutmeg stands as an invaluable ingredient.
With its unique flavour profile, delightful texture, and extensive range of benefits, Nutmeg adds significant value to your culinary pursuits. Embark on a culinary exploration, unlock the endless possibilities, and savor the wholesome goodness that Nutmeg bestows upon your dishes.
Frequently asked questions
1. How should nutmeg be stored to maintain its freshness and flavour?
Ensuring appropriate storage is essential for preserving the freshness flavour of nutmeg. Keep it whole, store in an airtight container in a cool, dark place, and avoid moisture and strong odors. Grate or grind just before use for maximum aroma and taste. These storage tips ensure a delightful nutmeg experience in your recipes.
2. Where can I purchase high-quality nutmeg and what should I look for when buying it?
To purchase high-quality nutmeg, explore local grocery stores, spice shops, or reputable online retailers. Choose whole nutmeg seeds with a smooth appearance and a strong, sweet aroma. Check for airtight packaging to ensure freshness. By considering these factors and buying from trusted sources, you can enhance the flavours of your dishes with high-quality nutmeg.
3. What are some reputable online spice brands or retailers known for selling high-quality nutmeg?
1. There are reputable online spice brands and retailers that offer high-quality nutmeg.
2. The Spice House: Known for their extensive spice collection, The Spice House provides whole and ground nutmeg from trusted sources.
3. Penzeys Spices: A well-known spice retailer, Penzeys Spices offers top-notch nutmeg in various quantities.
4. Mountain Rose Herbs: Specializing in organic and sustainable herbs and spices, Mountain Rose Herbs provides organic whole and ground nutmeg.
5. Starwest Botanicals: With a range of organic spices, Starwest Botanicals is a trusted online supplier of whole and ground nutmeg.
Ensure to check customer reviews, certifications, and the brand's reputation when buying nutmeg online for quality assurance.
4. How long does it typically take to see results when using nutmeg for improving skin conditions?
The duration for observing improvements in skin conditions while using nutmeg can vary based on factors such as the condition's severity, individual skin type, and regularity of application. In general, it may take several weeks or even months of regular application to notice visible improvements in skin conditions. It's important to be patient and consistent with the application of nutmeg-based remedies, following a suitable skincare routine.