Moong dal, a beloved legume, holds a significant place in the culinary traditions of both the Indian subcontinent and beyond. With its origins dating back to ancient times, it has been a staple ingredient in various regional cuisines within India.
However, its popularity has transcended borders, captivating the taste buds of people worldwide. This versatile ingredient, derived from a native bean, is cherished for its small, oval shape and its ability to transform into a creamy texture when cooked.
Its adaptability shines as it effortlessly blends with an array of spices and ingredients, making it a versatile addition to dishes in diverse cultures. From comforting dals enjoyed in Indian households to hearty soups and flavorful curries relished across the globe, moong dal's versatility and distinctive flavor continue to make it a cherished ingredient worldwide.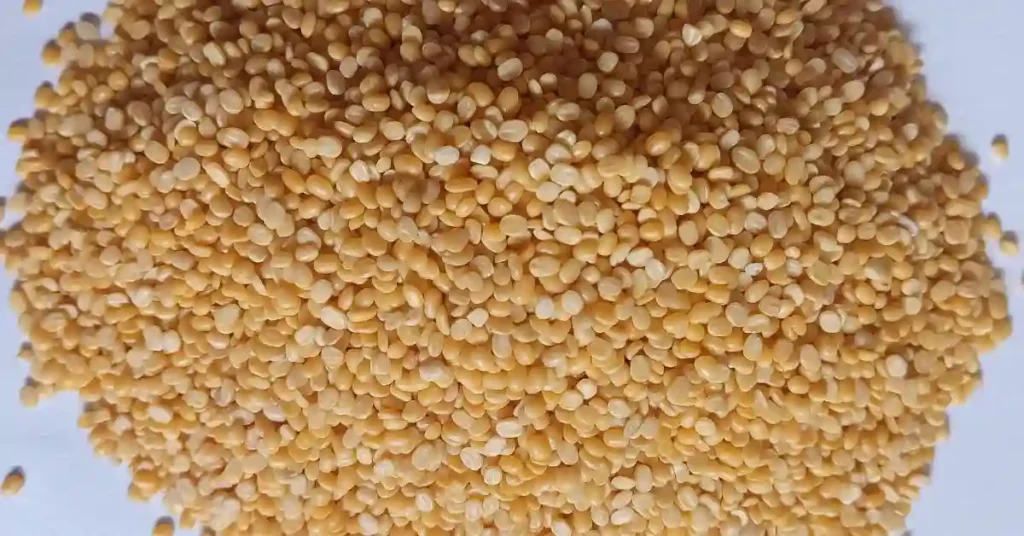 The forthcoming article presents a detailed exploration of moong dal, covering vital aspects including moong dal in Malayalam name, its pricing, health advantages, and nutritional value.
Furthermore, it delves into the examination of diverse moong dal varieties, well-liked recipes, availability, and other related subjects. The primary aim of this article is to provide readers with a comprehensive comprehension of moong dal and its importance in the realm of culinary delights.
| | |
| --- | --- |
| Malayalam name | cherupayar parippu |
| Kingdom | Plantae |
| Clade | Tracheophytes |
| Clade | Angiosperms |
| Clade | Eudicots |
| Clade | Rosids |
| Order | Fabales |
| Family | Fabaceae |
| Subfamily | Faboideae |
| Genus | Vigna |
| Species | V. radiate |
wiki
Moong Dal in Malayalam name
Moong dal, also known as "cherupayar parippu" in Malayalam, is a cherished legume deeply ingrained in the rich tapestry of Indian culinary traditions. For centuries, this versatile lentil has played an essential role in Indian cuisine, captivating taste buds and offering a plethora of nutritious benefits.
With its origin dating back to ancient times, moong dal has become an integral part of the southern region's gastronomic heritage, celebrated in a multitude of classic dishes such as sambar, rasam, and a variety of dal preparations.
Renowned for its high protein content, moong dal is a favoured choice for health-conscious individuals seeking a well-rounded diet. Its mild and earthy flavour, accompanied by its velvety texture, adds depth and richness to an extensive array of culinary creations.
Beyond its role in traditional recipes, moong dal has also found its way into contemporary culinary trends. From innovative fusion dishes to modern interpretations of Indian cuisine, chefs and home cooks alike have embraced the versatility of moong dal, incorporating it into soups, salads, desserts, and even plant-based protein alternatives.
Moong dal's cultural significance extends beyond its culinary prowess. It holds a symbolic presence in religious ceremonies and festivals, representing prosperity and auspiciousness.
Furthermore, its nutritional benefits, including aiding digestion, promoting weight management, and supporting overall well-being, have contributed to its popularity among health-conscious individuals.
Nutritional value of Moong Dal
The nutrition table serves as a valuable resource, providing detailed information about the calorie content, vitamins, minerals, and essential nutrients present in Moong dal. This comprehensive summary plays a crucial role in guiding individuals to make informed choices about their diet.
By referring to the nutrition table, individuals can gain a deeper understanding of the specific nutrients found in Moong dal and the associated health benefits. With this knowledge, individuals can confidently incorporate Moong dal into their diet, harnessing its nutritional value to support t
Nutritional value per 100 g (3.5 oz)
Energy1,452 kJ (347 kcal) their overall well-being.
| Nutrition | Amount |
| --- | --- |
| Carbohydrates | 62.62 g |
| Sugars | 6.6 g |
| Dietary fiber | 16.3 g |
| Fat | 1.15 g |
| Protein | 28.86 g |
| Vitamins | Quantity | %DV |
| --- | --- | --- |
| Thiamine (B1) | 0.621 mg | 54% |
| Riboflavin (B2) | 0.233 mg | 19% |
| Niacin (B3) | 2.251 mg | 15% |
| Pantothenic acid (B5) | 1.91 mg | 38% |
| Vitamin B6 | 0.382 mg | 29% |
| Folate (B9) | 625 μg | 156% |
| Vitamin C | 4.8 mg | 6% |
| Vitamin E | 0.51 mg | 3% |
| Vitamin K | 9 μg | 9% |
| Minerals | Quantity | %DV† |
| --- | --- | --- |
| Calcium | 132 mg | 13% |
| Iron | 6.74 mg | 52% |
| Magnesium | 189 mg | 53% |
| Manganese | 1.035 mg | 49% |
| Phosphorus | 367 mg | 52% |
| Potassium | 1246 mg | 27% |
| Zinc | 2.68 mg | 28% |
Health benefits of Moong Dal
1. Rich in nutrients
Moong dal, known for its abundance of nutrients, offers a multitude of benefits that make it a valuable addition to a well-balanced diet. The benefits of moong dal stem from its rich composition of essential vitamins, minerals, and antioxidants.
As a prime source of plant-based protein, moong dal provides the necessary components for muscle repair and growth, aids in weight management, and supports healthy digestion. It is a notable source of vitamins such as folate, vitamin B6, and vitamin C, which play crucial roles in cell growth, nervous system functioning, mood regulation, and immune support.
Moong dal also contains essential minerals like iron, potassium, magnesium, and zinc, contributing to red blood cell production, blood pressure regulation, bone health, muscle function, immune support, and wound healing.
By incorporating moong dal into their dietary choices, individuals can enjoy its nutrient-rich composition and access the numerous benefits it offers, ultimately promoting overall well-being.
2. Aids in weight loss
Including moong dal in a weight loss diet can offer significant advantages because of its abundant plant-based protein and dietary fiber content. The protein in moong dal promotes satiety and reduces hunger cravings, while also boosting metabolism through its higher thermic effect.
This aids in burning more calories and supporting weight loss efforts. The dietary fiber in moong dal adds bulk to the diet, promoting a feeling of fullness and reducing calorie intake. It also stabilizes blood sugar levels, preventing spikes and controlling cravings. Furthermore, moong dal is a low-fat and low-calorie food, providing essential nutrients without adding excessive calories or unhealthy fats.
Its combination of high protein, fiber, and low-calorie content makes it a satisfying and nourishing option for individuals aiming to shed excess pounds. Moong dal can be incorporated into meals in various ways, such as enjoying it as a protein-rich dal, adding it to salads for extra nutrition, or using it as a base for healthy snacks like sprouted moong dal chaat.
By including moong dal in a well-balanced diet and combining it with regular physical activity, individuals can harness its weight loss benefits and work towards achieving their fitness goals.
3. Improves heart health
Incorporating moong dal into your diet can have a positive impact on heart health. Being low in saturated fat and cholesterol, moong dal is a heart-healthy choice that helps maintain healthy blood cholesterol levels and reduces the risk of cardiovascular diseases.
Its high dietary fiber content contributes to heart health by binding to cholesterol in the digestive system and preventing its absorption into the bloodstream. By lowering cholesterol levels, moong dal supports a healthier cardiovascular system and reduces the risk of heart disease.
Furthermore, moong dal is rich in potassium, which helps regulate blood pressure and counteracts the effects of sodium, thereby promoting healthy blood pressure levels and reducing the risk of hypertension.
The presence of antioxidants in moong dal, such as flavonoids and phenolic compounds, provides additional cardiovascular benefits by reducing inflammation and oxidative stress, both of which are key factors in heart disease.
To enjoy these heart health benefits, incorporate moong dal into your meals in various ways, such as in soups, stews, curries, or salads, and combine it with other heart-healthy foods and lifestyle habits. By making moong dal a regular part of your diet, you can improve heart health and decrease the likelihood of cardiovascular diseases.
4. Improves digestive health
Including moong dal in your diet can significantly improve digestive health. Its rich content of dietary fiber promotes regular bowel movements, prevents constipation, and ensures smooth digestion.
Moong dal's soluble fiber absorbs water, forming a gel-like substance that softens the stool and aids its passage through the intestines, reducing bloating, gas, and discomfort. Additionally, the insoluble fiber adds bulk to the stool, facilitating efficient waste movement.
In addition, moong dal is rich in resistant starch, which acts as a prebiotic to provide nourishment to beneficial bacteria in the gut and promote a balanced and healthy gut microbiome. With lower levels of complex carbohydrates and oligosaccharides, moong dal is easily digestible, making it suitable for those with sensitive digestive systems.
Incorporate moong dal into your meals in various forms, such as dal, sprouted in salads, or as a base for soups, to enjoy its digestive health benefits and promote overall well-being.
5. Helps prevent diabetes
Incorporating moong dal into your diet can be beneficial in preventing diabetes. With its low glycemic index, moong dal causes a gradual increase in blood sugar levels, managing them effectively and reducing the risk of type 2 diabetes.
The soluble fiber in moong dal slows down carbohydrate digestion and absorption, preventing sudden spikes in blood sugar levels and promoting stable glucose release. It also aids in maintaining steady blood sugar levels and reducing the risk of insulin resistance.
Furthermore, moong dal is abundant in magnesium. Moreover, moong dal contains a mineral that assists in the breakdown and utilization of carbohydrates and the secretion of insulin, thus reducing the likelihood of developing diabetes. The antioxidants present in moong dal, such as phenolic compounds, contribute to its anti-diabetic effects by reducing oxidative stress and inflammation.
To incorporate moong dal into your diet for diabetes prevention, try adding it to protein-rich dals, salads, or healthy snacks. By including moong dal as part of a balanced diet that emphasizes whole foods, regular physical activity, and healthy lifestyle choices, you can effectively reduce the risk of diabetes and promote overall well-being.
6. Boosts blood circulation
Incorporating moong dal into your diet can have a positive impact on blood circulation. Moong dal is rich in iron, a crucial mineral, plays a important role in the production of red blood cells and transporting it.
By ensuring an adequate intake of iron from moong dal, you can prevent the occurrence of iron deficiency anemia, a condition associated with symptoms like fatigue, weakness, and compromised blood flow.
By including moong dal in your meals, you can support optimal blood circulation and promote overall well-being. Moreover, moong dal is a good source of folate, a vitamin that aids in the development and maturation of red blood cells, further contributing to improved blood circulation.
By incorporating moong dal into your meals, you can support healthy blood flow and overall cardiovascular well-being. Additionally, the potassium content in moong dal helps maintain fluid balance and healthy blood pressure levels, promoting proper blood circulation and reducing the risk of cardiovascular diseases.
The presence of flavonoids and antioxidants in moong dal contributes to improved cardiovascular health by reducing inflammation, preventing blood clot formation, and promoting blood vessel dilation.
To enjoy the blood circulation benefits of moong dal, incorporate it into your meals through soups, stir-fries, curries, or salads. By making moong dal a regular part of your diet, combined with other heart-healthy foods and lifestyle habits, you can enhance blood circulation and support overall cardiovascular health.
Side effects of Moong Dal
Although moong dal is generally safe to eat, it's vital to acknowledge the potential dangers and side effects that can arise from improper cleaning and handling. If moong dal isn't adequately cleansed before cooking, it can harbour harmful bacteria such as Salmonella or E. coli, resulting in foodborne illnesses with symptoms including itchiness, queasiness, vomiting, diarrhea, and stomach pain.
Apart from the risk of bacterial contamination, insufficiently cleaned moong dal can cause digestive discomfort and heighten the chance of bacterial infections. To minimize these risks, it is important to thoroughly wash the moong dal, ensuring the removal of any foreign particles or stones.
Additionally, sourcing moong dal from reliable suppliers and storing it in a clean, dry environment can help maintain its freshness and quality. Employing proper cooking methods, such as boiling or pressure cooking, is essential to eliminate bacteria and ensure the dal's safety.
Cooking the moong dal until it is soft and fully cooked further aids in destroying any potential pathogens that may be present. If any symptoms of foodborne illness or other side effects manifest after consuming moong dal.
Some photos of moong dal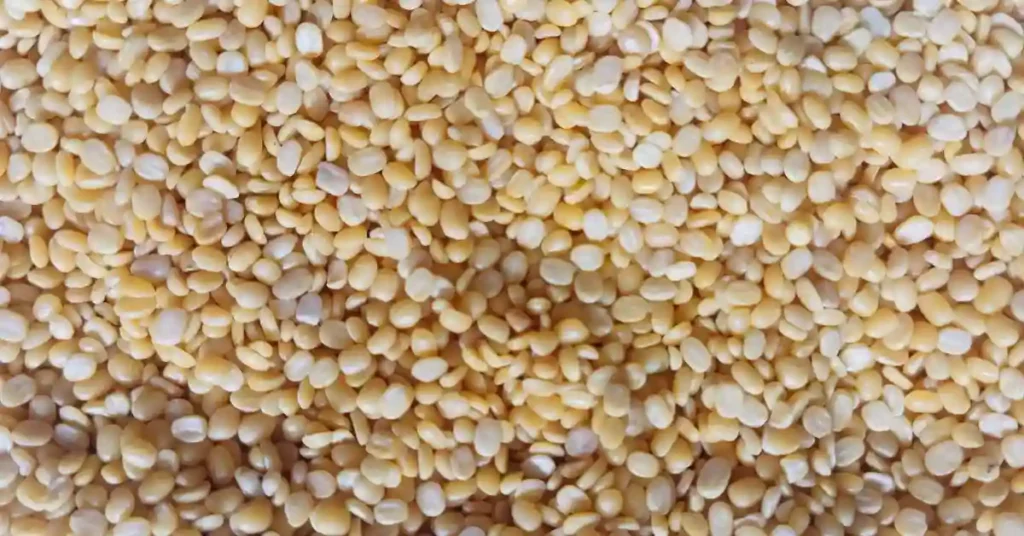 Recipe of Moong Dal in Malayalam speaking areas
1 can
MILKMAID
1 measuring cup
Everyday Shahi Ghee
3 measuring cups
a+ Toned Milk
1 measuring cup (150 grams)
Dhuli Moong Dal
3 tablespoons
Slivered Almonds
3 tablespoons
Raisins (Kishmish)
3 tablespoons
Chopped Pistachios
½ teaspoon
Powdered Green Cardamom
Moong Dal Halwa Recipe
Step 1
Clean and soak the moong dal for 30 minutes, then grind it into a coarse paste. Heat ghee in a pan and fry the dal paste over low heat until it turns golden brown.
Step 2
Add MILKMAID and cardamom powder to the pan, and stir continuously. Keep cooking over low heat until the milk reduces. Add MILKMAID and continue stirring until the desired consistency is achieved.
Step 3
Garnish with almonds, raisins, and pistachios before serving.
Conclusion
In conclusion, this comprehensive article provides a wealth of information about Moong dal, encompassing its advantages, disadvantages, and diverse benefits. We delve into its Malayalam name, Moong dal in Malayalam language, and explore its nutritional facts, classification, and more. Our intention is that this article has successfully quenched your thirst for knowledge and inspired you to embrace Moong dal.
Frequently asked questions
1. What is the Malayalam name for split moong dal?
The Malayalam name for split moong dal is "Cherupayar parippu" or "Payar parippu." In Kerala, it is commonly referred to as "Parippu." Split moong dal is a popular ingredient in many traditional Malayalam recipes, such as Parippu Curry and Parippu Vada. Its distinctive taste and nutritional benefits make it a versatile and essential ingredient in Malayalam cuisine.
2. What are some popular moong dal recipes in Indian cuisine?
Some popular moong dal recipes in Indian cuisine include Moong Dal Khichdi, Moong Dal Tadka, Moong Dal Curry, and Moong Dal Halwa. One particularly beloved recipe is "Moong dal payasam," which is a delicious and creamy dessert.
In the Malayalam-speaking regions, this delightful dessert is known as "മലയാളത്തിൽ മൂങ്ങ് ദാൽ പായസം" (Moong dal payasam in Malayalam). It involves cooking soaked moong dal with jaggery or sugar, coconut milk, and cardamom, and it is garnished with roasted nuts.
3. What is the cooking time and method for preparing moong dal?
The cooking time for preparing moong dal is typically around 20-30 minutes. To cook moong dal, start by rinsing it thoroughly. Then, add the dal to a pot with water and bring it to a boil. Reduce the heat and let it simmer until the dal becomes soft and tender. You can check the doneness by pressing a few dal grains between your fingers. Once cooked, you can use the moong dal in various recipes or enjoy it as a side dish.
4. How can I incorporate moong dal into my daily meals?
Incorporate moong dal into your meals with options like soup, salad, curry, khichdi, and parathas. It's a versatile ingredient that offers nutrition and can be customized to suit your taste preferences. Get creative and enjoy the benefits of moong dal in your daily cooking.