Kodo Millet, scientifically known as Paspalum scrobiculatum, is an ancient grain with a rich history of cultivation in India that spans centuries. This small-grained cereal has been a staple in traditional diets across diverse regions, reflecting its cultural significance and versatility.
Not only is Kodo Millet prized for its culinary adaptability, but it also offers several nutritional benefits. It is known to be rich in dietary mineral, fiber, protein, and minerals, making it a wholesome addition to a balanced diet.
With its distinct taste and consistency, Kodo Millet presents a delightful alternative to wheat-based grains in a diverse range of recipes, including satisfying porridges, flavorful pilafs, revitalizing salads, and delicious baked goods.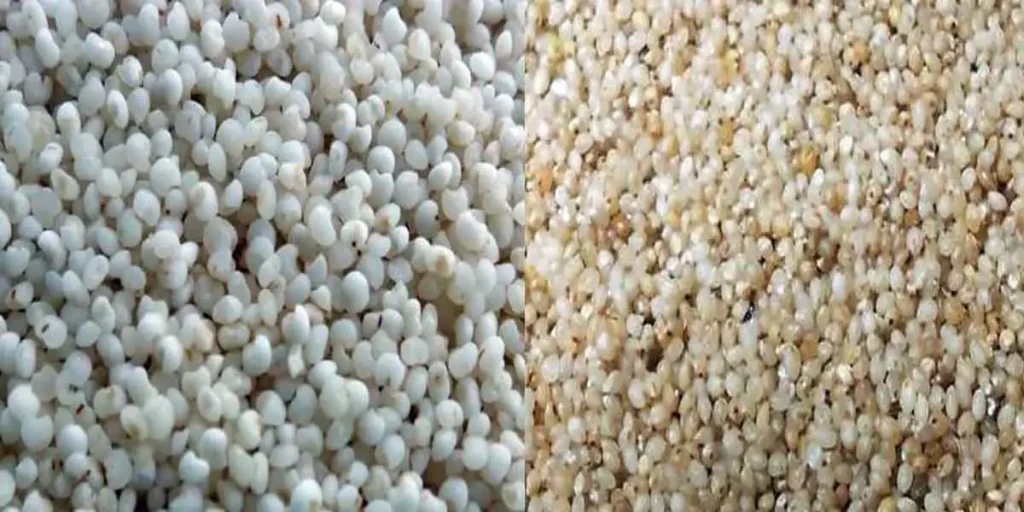 The enduring cultivation practices and widespread use of Kodo Millet demonstrate its enduring popularity and its important role as a versatile ingredient in traditional and modern culinary traditions.
This article offers a thorough examination and analysis of kodo millet in Tamil, covering details about kodo millet in the Tamil language, its price variations, health benefits, nutritional value of kodo millet, different types of kodo millet, a wide range of recipes, its popularity among different cuisines, availability in various markets, and much more.
| | |
| --- | --- |
| Tamil name | வரகு அரிசி (Varagu) |
| Kingdom | Plantae |
| Clade | Tracheophytes |
| Clade | Angiosperms |
| Clade | Monocots |
| Clade | Commelinids |
| Order | Poales |
| Family | Poaceae |
| Genus | Paspalum |
| species | P. scrobiculatum |
wiki
Kodo millet in Tamil name
Kodo Millet, known as வரகு அரிசி (Varagu) in Tamil, is a traditional grain that has been cultivated in India for centuries, occupying a prominent place in Tamil cuisine. It is highly esteemed for its nutritional benefits and its adaptability in preparing a variety of dishes such as Varagu Upma, Varagu Pongal, and Varagu Puliyodarai, which truly reflect the local recognition and preference for this millet.
The long-standing prevalence of Kodo Millet in India, coupled with its remarkable resilience in dry and semi-dry areas, has been instrumental in supporting local communities and safeguarding food stability.
Additionally, this millet offers numerous health benefits as it serves as an excellent source of dietary fiber, essential minerals, and vitamins, aiding digestion, promoting satiety, and maintaining stable blood sugar levels.
Notably, Kodo Millet is also gluten-free, making it an ideal choice for individuals with gluten sensitivities or those following a gluten-free diet. In recent years, there has been a resurgence of interest in Kodo Millet due to its exceptional nutritional value, versatility in various cuisines, and potential as a sustainable food source.
Its popularity extends beyond the borders of Tamil Nadu, with a growing availability in local markets and an increasing awareness of its benefits. Kodo Millet, referred to as வரகு (Varagu), continues to be treasured and embraced for its cultural significance, nutritional value, and suitability for diverse dietary preferences, offering a wholesome and sustainable food choice.
Nutritional value of kodo millet
The nutrition facts of kodo millet provide significant details about its energy content, essential nutrient composition, presence of vitamins, minerals, and other crucial elements. These comprehensive details are showcased in the nutritional table, offering valuable information about the nutritional profile of kodo millet.
| Nutritional component | Value per 100 g |
| --- | --- |
| Carbohydrate | 59.2 g |
| Protein | 10.6 g |
| Fibre | 10.2 g |
| Fats | 4.2 g |
| Phosphorus | 188 mg |
| Potassium | 107.8 mg |
| Calcium | 27.0 mg |
| Sodium | 3.48 mg |
| Vitamin B3 | 2.0 mg |
| Zinc | 1.58 mg |
| Iron | 0.5 mg |
| Vitamin B5 | 0.28 mg |
| Vitamin B1 | 0.18 mg |
| Vitamin B2 | 0.09 mg |
| Folate | 33.06 mcg |
| Vitamin K | 0.5 mcg |
Health benefits of Kodo millet
1. Anti-diabetic & Anti-obesity
Kodo millet offers incredible health benefits when it comes to managing diabetes and obesity. Its low glycemic index and slow-release carbohydrates help maintain stable blood sugar levels and improve insulin sensitivity, making it an excellent choice for individuals with diabetes.
The high dietary fiber content, especially soluble fiber, promotes feelings of fullness, controls appetite, and supports healthy digestion, which can aid in weight management and prevent overeating.
Moreover, kodo millet is packed with essential nutrients and antioxidants that contribute to overall well-being and support metabolic processes. Including kodo millet in a balanced diet, combined with regular physical activity and professional guidance, can be highly advantageous for those looking to manage diabetes and tackle obesity.
2. Antioxidant & Anti-microbial activity
Kodo millet possesses notable antioxidant and anti-microbial properties due to its unique composition, offering significant health benefits. Its rich array of antioxidants, including phenolic compounds, flavonoids, and vitamins, combat harmful free radicals, reducing oxidative stress and protecting against chronic diseases.
Additionally, kodo millet exhibits anti-microbial activity against bacteria, fungi, and viruses, contributing to food safety and preservation. Studies also suggest its potential in supporting oral health by combating bacteria associated with dental plaque and cavities.
However, it's important to remember that while kodo millet provides these benefits, it should not replace proper medical treatment or precautions. Incorporating kodo millet into a balanced diet can contribute to overall well-being, but consulting healthcare professionals and following recommended guidelines remain crucial for managing specific health condition.
3. Helps in weight loss
The benefits of kodo millet in weight loss are manifold. With its low-calorie and high fiber content, kodo millet serves as an ideal addition to any weight loss journey. This nutritious grain provides a satisfying and filling option while keeping calorie intake in check.
Its high fiber content helps regulate hunger, control appetite, and promote portion control, crucial aspects of successful weight management. Kodo millet's slow digestion and ability to maintain stable blood sugar levels also aid in curbing overeating and reducing cravings.
Moreover, its nutrient-dense profile, packed with essential vitamins, minerals, and antioxidants, not only supports overall health but also provides sustained energy throughout the day. The versatility of kodo millet in various recipes allows for creative and healthy meal options, ensuring a diverse and enjoyable weight loss diet.
However, it's important to remember that incorporating kodo millet into a weight loss plan should be accompanied by regular physical activity, portion control, and balanced nutrition to achieve sustainable results.
4. Anti-cholesterol & Anti hypertension
Kodo millet plays a significant role in promoting heart health by addressing high cholesterol levels and hypertension. Its rich content of dietary fibers, particularly soluble fiber, helps bind cholesterol in the digestive system, leading to reduced absorption and elimination from the body.
This, in turn, supports cardiovascular well-being and lowers the risk of heart diseases. Furthermore, kodo millet is a nutritious grain that naturally contains low levels of saturated fats and cholesterol, making it a healthier choice for maintaining optimal cholesterol levels.
In managing hypertension, the potassium present in kodo millet helps regulate blood pressure by counteracting the effects of sodium and promoting vasodilation, which relaxes blood vessels and reduces strain on the cardiovascular system.
The high fiber content of kodo millet also contributes to heart health, as it has been associated with lower blood pressure levels.
However, it's important to note that the benefits of kodo millet should be integrated into a comprehensive approach to heart health, including a well-balanced diet, regular physical activity, weight management, and adherence to medical advice.
Seeking guidance from healthcare professionals or registered dietitians can provide personalized recommendations for incorporating kodo millet into a heart-healthy lifestyle.
5. Cholesterol reduction
Maintaining optimal cholesterol levels is vital for a healthy heart, and kodo millet can play a significant role in achieving this goal. This grain is abundant in dietary fiber, particularly soluble fiber, which acts by binding to cholesterol in the digestive system.
By doing so, it hinders cholesterol absorption into the bloodstream and facilitates its elimination from the body. Additionally, kodo millet contains plant sterols that compete with cholesterol during absorption, further contributing to reduced cholesterol levels.
Furthermore, kodo millet's low saturated fat content and antioxidant properties aid in cholesterol reduction and provide protection against oxidative stress and inflammation.
However, it's crucial to note that incorporating kodo millet into a heart-healthy lifestyle, which encompasses regular exercise, weight management, and limiting unhealthy fat intake, is key.
Seeking guidance from healthcare professionals or registered dietitians can offer personalized advice on integrating kodo millet into a cholesterol-lowering plan.
Side effects of kodo millet
While kodo millet offers numerous health benefits, it is important to be aware of the potential side effects associated with its consumption. Side effects of kodo millet can include allergic reactions, digestive issues, antinutrient content, gluten concerns, and medication interactions.
Some individuals may experience allergic reactions to millets, including kodo millet, ranging from mild symptoms like itching and skin rashes to severe reactions like difficulty breathing or anaphylaxis.
Kodo millet, like other grains, contains antinutrients that can interfere with nutrient absorption, particularly minerals like iron and zinc. Cross-contamination during processing or storage may occur, potentially leading to unintentional gluten exposure for individuals with gluten-related disorders.
Some photo of kodo millet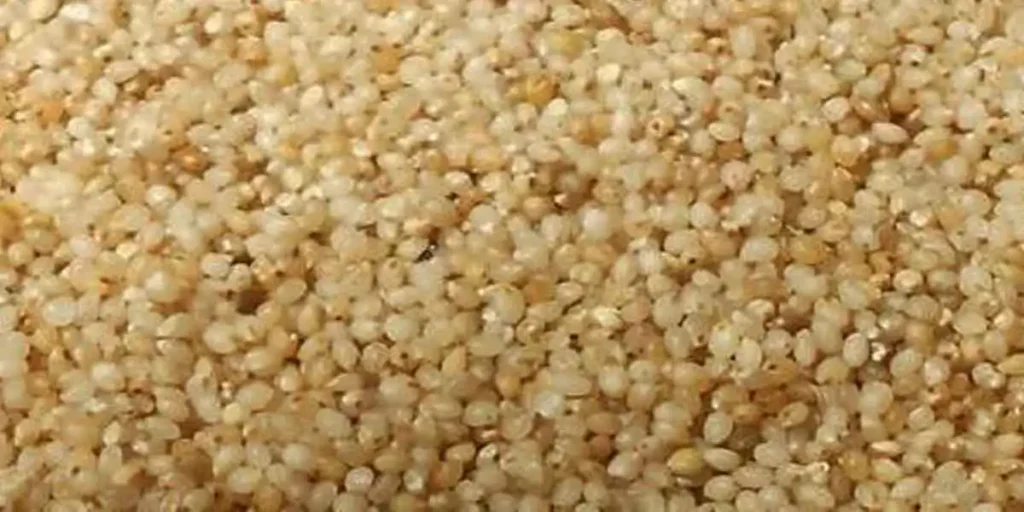 Recipes of kodo millet in Tamil areas
Kodo millet Dosa recipe
Kodo millet dosa, also known as Varagu Arisi Dosai in Tamil, is a delightful and nutritious dish that pairs perfectly with chutney, sambar, or chutney powder.
Here's how you can prepare this delicious dosa:
INGREDIENTS:
1 cup of kodo millet or any variety of millet
1/4 cup of split black gram or urad dal
1/2 tsp of fenugreek seeds or methi
Begin by combining the kodo millet, urad dal, and fenugreek seeds in a bowl. Thoroughly rinse them and soak them for approximately 4 hours. Just 30 minutes before grinding, rinse and soak the poha along with the other ingredients.
Using a mixer or grinder, grind all the soaked ingredients with a minimal amount of water. If you plan to use the batter for both idli and dosa, aim for a medium-smooth consistency. Transfer the mixture to a container, add salt, and mix well. Set it aside overnight or allow it to ferment for 6-10 hours.
In the morning, give the fermented batter a good stir before pouring it into greased idli moulds or making dosas.
To prepare dosas, heat a flat griddle (tawa) and apply oil to prevent sticking. Using a spoon, take a portion of the batter and evenly spread it in a circular motion on the griddle. Drizzle a small amount of oil or ghee around the dosa. Cook it covered over medium heat for around 1-2 minutes. There is no need to flip the dosa; it will effortlessly come off the griddle once it is thoroughly cooked.
Enjoy the crispy and flavorful kodo millet dosa, Varagu Arisi Dosai, along with your favourite accompaniments.
Cost of kodo millet in Tamil areas
The cost of Kodo Millet is a significant consideration for consumers looking to include this nutritious grain in their diet. In India, the price of Kodo Millet can vary across different states and regions.
In Tamil Nadu, it is priced at approximately Rs 27.69 per kilogram, making it an affordable and accessible option. Similarly, in Karnataka, the price is around Rs 25.80 per kilogram, offering competitive pricing. On average, in India, Kodo Millet is priced at approximately Rs 195 per kilogram.
However, prices may fluctuate based on factors like location, market demand, and seasonal variations. Despite these fluctuations, Kodo Millet remains an economical choice, providing a wholesome and nutritious grain option. Various factors, including production costs, transportation expenses, and market dynamics, influence the cost of Kodo Millet.
Availability of kodo millet in Tamil areas
The availability of Kodo Millet in Tamil market is influenced by factors such as production, distribution channels, and regional cultivation. This nutritious grain is predominantly cultivated in various states across India, with notable production in Chhattisgarh, Maharashtra, and Tamil Nadu.
Chhattisgarh stands out as one of the highest producers of Kodo Millet, benefiting from favourable climatic conditions and agricultural practices. Maharashtra's diverse agro-climatic zones also contribute to significant Kodo Millet production, while Tamil Nadu's agricultural landscape supports its cultivation.
Farmers in these states play a crucial role in meeting the local and regional demand for Kodo Millet. The availability of Kodo Millet is further ensured by distribution networks, retail outlets, online platforms, and specialty stores that efficiently connect the grain to consumers.
Exploring local markets, grocery stores, and online platforms provides access to a range of grains and organic products, including Kodo Millet. This availability not only supports the health and well-being of consumers but also promotes sustainable farming practices and boosts the agricultural economy of the respective regions.
Conclusion
In conclusion, this comprehensive article provides abundant information about Kodo millet, known as "Varagu" in the Tamil language. We delve into its translation and explore its nutritional facts, various uses, and diverse benefits.
Whether you are in search of a nutritious choice for snacking or looking to incorporate it into your recipes, Kodo millet offers a versatile and nourishing addition to your culinary repertoire. With its unique texture, rich taste, and wide range of benefits, Kodo millet is a valuable ingredient that can enhance both the flavor and nutritional value of your meals.
Frequently asked questions
1.What is the Tamil term for pearled kodo millet?
Pearled kodo millet, known as "வெள்ளையாக்கப்பட்ட வரகு அரிசி" (Vellaiyakkappatta Varagu Arisi) in Tamil, refers to a variety of kodo millet that has undergone a processing method called pearling. During pearling, the outer husk or bran layer of the millet is removed, resulting in a polished appearance.
This process enhances the texture and reduces the cooking time of the millet. Despite the removal of the outer layer, pearled kodo millet retains its nutritional value and can be used in various dishes, offering a wholesome and nutritious addition to Tamil cuisine.
2. Where can I buy kodo millet in Tamil Nadu?
Kodo millet is widely available in Tamil Nadu, and you can purchase it from various sources. Local grocery stores, supermarkets, organic food stores, and agricultural markets are common places to find kodo millet.
Additionally, you can explore online platforms and e-commerce websites that offer a wide range of grains, including kodo millet. It is recommended to check with local retailers and online sellers for availability and pricing.
3. How can I incorporate kodo millet into my daily diet?
Incorporating kodo millet into your daily diet is simple and versatile. You can use kodo millet as a substitute for rice or other grains in a variety of dishes. It can be cooked and enjoyed as a side dish, used in salads, soups, or stews, and even made into porridge or desserts.
Kodo millet can also be ground into flour and used for making rotis, dosas, or pancakes. Adding kodo millet to your diet can provide a nutritious and flavorful option that adds diversity to your meals.
4. Can kodo millet be used as a substitute for rice in recipes?
Yes, kodo millet can be used as a substitute for rice in recipes. It has a similar texture and can be cooked in a similar way to rice. Kodo millet is a healthier alternative to rice as it is lower in carbohydrates and higher in fiber. You can use cooked kodo millet in dishes like biryani, pulao, fried rice, or as a base for curries and stir-fries. It adds a unique nutty flavor and enhances the nutritional value of your meals.