Fennel seeds, derived from the fennel plant, are small, oval-shaped seeds with a sweet, licorice-like flavor. They have a distinct aromatic flavor with sweet and slightly licorice-like notes.
These seeds are used as a spice in Indian, Mediterranean, and Middle Eastern cuisines, adding depth to dishes like curries, bread, and soups. In Malayalam cuisine, known as "Perum Jeerakam," they are treasured for their taste and aroma and used in diverse dishes.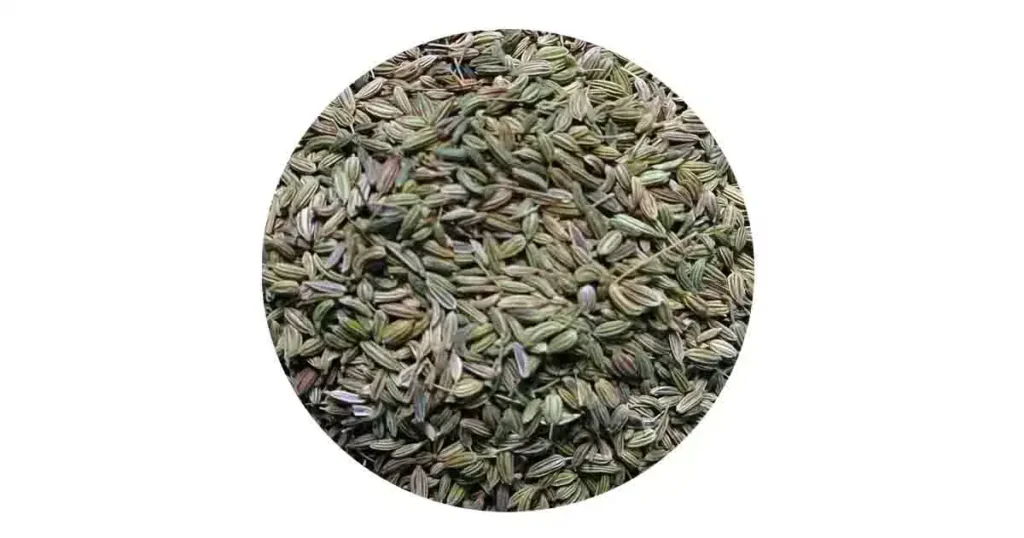 Fennel seeds are small, elongated, and slightly curved in shape, resembling tiny ridged grains. They have a greenish-brown color and a hard outer shell. When crushed or ground, they release their strong aroma and flavor.
Apart from their culinary value, fennel seeds also offer potential health benefits. They aid digestion, reduce bloating, and provide antioxidants. In addition to their culinary contributions, fennel seeds are recognized for their medicinal properties.
They have a history of traditional use in Malayalam cuisine for various remedies, particularly in alleviating digestive issues and respiratory problems. The versatile nature of fennel seeds makes them both a flavorful spice in cooking and a natural remedy in traditional medicine.
Culturally, fennel seeds hold significance in Malayalam traditions, where they are used as offerings in religious ceremonies and rituals. They are considered auspicious and are associated with symbolizing good luck, purity, and positive energies.
You can gather many informative points about fennel seeds from the article below. Like – fennel seeds in Malayalam name, their cost , nutritional value, health benefits, uses, popularity, availability in the local area, and many more.
| | |
| --- | --- |
| English name | Fennel seeds |
| Malayalam name | (പെരും ജീരകം) "Perum Jeerakam" |
| Kingdom | Plantae |
| Clade | Tracheophytes |
| Clade | Angiosperms |
| Clade | Eudicots |
| Clade | Asterids |
| Order | Apilaes |
| Family | Apiaceae |
| Genus | Foeniculum |
| Species | F. vulgare |
wiki
Fennel seeds in Malayalam name
In Malayalam-speaking areas, fennel seeds are commonly known as (പെരും ജീരകം) "Perum Jeerakam". Similarly, in Tamil, they are referred to as (பெருஞ்சீரகம் விதைகள்) "Perunjeeragam".
Fennel seeds, or "Perunjeeragam," are derived from the fennel plant (Foeniculum vulgare) and hold significant culinary and medicinal value. The fennel plant, native to the Mediterranean region, is cultivated in various parts of the world, including India.
In Malayalam-speaking areas, "Perumjeerakam" (പെരുംജീരകം) is readily available in local markets and is highly valued for its culinary uses as well as its health benefits.
The history of fennel seeds in Malayalam-speaking areas dates back centuries. These small seeds have been an integral part of the region's culinary and traditional practices.
Fennel seeds were introduced to the area through ancient trade routes and cultural exchanges, and they found a particularly favorable environment in the fertile lands of the Idukki district. Located in the state of Kerala, Idukki is renowned for its cultivation of fennel seeds, earning it a reputation as the hub of fennel production in Malayalam-speaking areas.
The fertile soil and favorable climate of Idukki contribute to the high-quality fennel seeds that are widely used in local cuisine. Over time, fennel seeds from Idukki have become highly sought after for their distinct flavor and aroma, making them an essential ingredient in traditional dishes of the region.
Product of Fennel seed
Click here to see product of fennel seed on Amazon
Health benefits of fennel seeds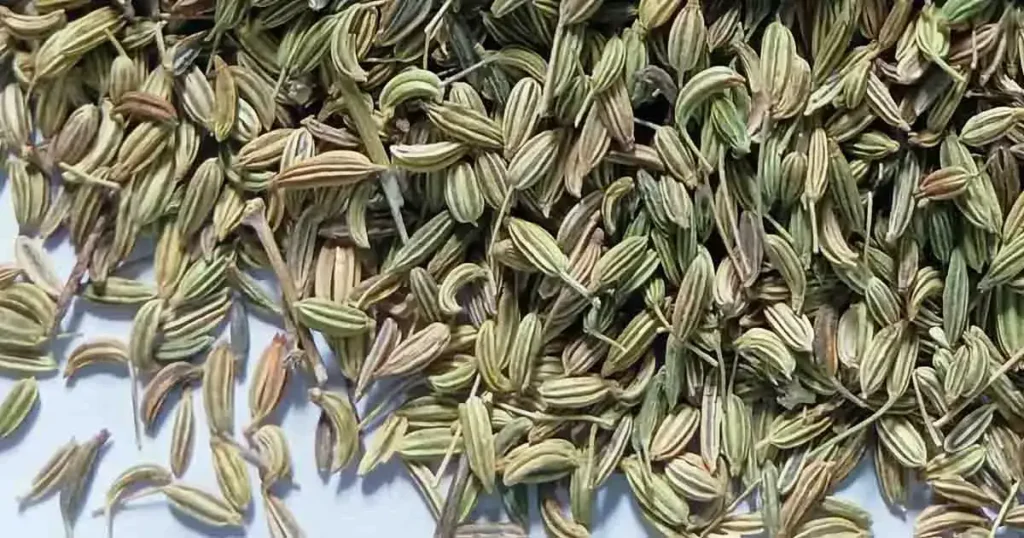 Fennel seeds, commonly known as "Perumjeerakam" in the Malayalam language, offer a wide range of health benefits.
1. Digestive Health
Fennel seeds have a rich history of being used for their digestive benefits, as they contain essential oils, including anethole, which possess remarkable properties for alleviating various digestive issues.
These seeds have been found to be effective in providing relief from indigestion, bloating, and gas. Chewing a few fennel seeds after meals can stimulate the secretion of digestive enzymes, facilitating the breakdown of food and promoting better digestion.
The active compounds in fennel seeds help relax the muscles of the gastrointestinal tract, easing the passage of food and reducing discomfort.
Additionally, fennel seeds have carminative properties, which means they can help prevent the formation of gas and promote its expulsion from the digestive system. Incorporating fennel seeds into the diet, whether consumed directly or brewed as a tea, can be a natural and soothing approach to support digestive health.
2. Respiratory Health
Fennel seeds are known for their beneficial effects on respiratory health, thanks to their expectorant properties. These seeds can help in the loosening and expulsion of mucus and phlegm from the respiratory tract, providing relief from respiratory conditions such as cough, congestion, and asthma.
Whether consumed as fennel tea or inhaled through fennel steam, these methods can help alleviate respiratory discomfort and promote easier breathing. The expectorant properties of fennel seeds support the body's natural processes of clearing the airways, making it easier to expel mucus and phlegm.
Incorporating fennel seeds into the diet or using them for steam inhalation can be a natural and soothing approach to supporting respiratory health.
3. Anti-inflammatory Properties
Fennel seeds possess remarkable anti-inflammatory properties, making them a valuable natural remedy for reducing inflammation in the body. These seeds contain a variety of beneficial compounds, such as flavonoids and phenolic acids, which have been shown to have anti-inflammatory effects.
By consuming fennel seeds regularly, individuals may experience relief from conditions characterized by inflammation, including arthritis, joint pain, and inflammation of the digestive tract.
The anti-inflammatory properties of fennel seeds can help alleviate discomfort, swelling, and redness associated with these conditions, promoting overall well-being. Whether incorporated into meals, brewed as a soothing tea, or consumed as a digestive aid, fennel seeds can be a beneficial addition to a holistic approach to managing inflammation.
4. Rich in Antioxidants
Fennel seeds are a powerhouse of antioxidants, making them a valuable addition to a healthy diet. These seeds contain a diverse range of antioxidants, including flavonoids, phenolic compounds, and vitamin C, which play a vital role in protecting the body against oxidative stress and promoting overall well-being.
Antioxidants are essential for healthy aging, as they help neutralize harmful free radicals and reduce the risk of chronic diseases such as heart disease, cancer, and neurodegenerative disorders.
The presence of antioxidants in fennel seeds also supports a robust immune system, as they can strengthen the body's natural defense mechanisms and enhance its ability to fight off infections and diseases.
Regular consumption of fennel seeds, whether as a spice, in teas, or as a snack, can provide a significant boost of antioxidants and contribute to long-term health and vitality.
5. Menstrual Health
Fennel seeds have long been recognized for their potential benefits in supporting menstrual health. These tiny seeds contain anethole, a compound known for its estrogenic properties that promote hormonal balance and regulate menstrual flow.
Additionally, their antispasmodic properties help relax the uterine muscles, providing relief from menstrual cramps. Incorporating fennel seeds into the diet can offer a natural solution for managing menstrual discomfort and promoting a smoother menstrual experience.
6. Eye Health
Fennel seeds are packed with nutrients and antioxidants that support optimal eye health. They provide vitamins C and A, as well as lutein and zeaxanthin, which protect vision and promote eye function.
These antioxidants help prevent age-related macular degeneration, enhance low-light and color vision, filter harmful blue light, and defend against eye infections, cataracts, and age-related vision decline.
Including fennel seeds in your diet through seasoning, salads, or baked goods can benefit eye health. However, regular eye exams, proper eye care, and a balanced diet are essential for overall eye health. Consultation with an eye care professional is recommended for personalized advice.
7. Weight Management
Fennel seeds are a valuable addition to a weight management plan. With low calories and high fiber, they promote feelings of fullness, aid portion control, and help control cravings. Incorporating fennel seeds into your diet provides a practical and enjoyable way to manage appetite and promote mindful eating.
Their mild, sweet flavor enhances dishes without adding excess calories or sugar. Whether enjoyed as a snack or used as a seasoning, fennel seeds support healthy eating and weight management goals.
8. Heart Health
Fennel seeds offer notable cardiovascular benefits. Their high fiber content helps reduce cholesterol levels, lowering the risk of heart disease. They are rich in antioxidants that protect the cardiovascular system by reducing oxidative stress and inflammation.
Fennel seeds also have vasodilatory properties that promote better blood flow and lower blood pressure. Incorporating fennel seeds into your diet can be as simple as adding them to meals. However, it's important to consult a healthcare professional for personalized advice based on individual health needs..
9. Oral Health
Fennel seeds are highly regarded for their exceptional ability to promote oral health and contribute to excellent oral hygiene. Beyond their pleasant taste, chewing fennel seeds after meals offers numerous advantages for maintaining fresh breath and a healthy mouth.
These tiny seeds possess potent antimicrobial properties that effectively combat bad breath and prevent oral infections. By inhibiting the growth of bacteria responsible for oral odor, fennel seeds help ensure that your breath remains fresh and pleasant.
Understanding the Risks or Side effects of Fennel seeds
Moderation is key when consuming fennel seeds to avoid potential harm. Individuals with specific health conditions or allergies should consult their healthcare provider beforehand.
Fennel seeds can trigger allergic reactions and may interfere with hormonal conditions or medications due to their estrogen-like effects. Those with kidney disorders or on diuretic medications should seek medical advice.
Excessive consumption can cause digestive discomfort. It's essential to consume fennel seeds in moderation and be aware of any adverse reactions. Consulting a healthcare provider is recommended.
Nutritional facts of fennel seeds
Calories: 19.8
Fiber: 2.3 grams
Carbohydrates: 3 grams
Protein: 0.9 grams
Fat: 0.6 grams
Cholesterol: 0 grams
Price of fennel seeds in Malayalam areas
The price of fennel seeds, also known as "perumjeerakam" or "sombu" in Malayalam-speaking areas, can vary depending on various factors such as location, brand, and quality. On average, fennel seeds are priced between Rs. 65 to Rs. 80 per kilogram.
Factors like market demand, seasonal variations, and availability can influence the actual cost of fennel seeds. For the most accurate and up-to-date pricing information, it is recommended to check with local suppliers or markets that specialize in Malayalam spices and ingredients.
When purchasing fennel seeds in Malayalam-speaking areas, it's important to consider both price and quality. While price can be a factor, prioritizing the freshness and quality of the seeds is crucial.
Look for fennel seeds that are aromatic, plump, and free from any signs of moisture or damage to ensure optimal flavor and nutritional benefits. Comparing prices from different suppliers and assessing the reputation of the brand or seller can help make an informed purchase.
Local markets, grocery stores, or online platforms specializing in Malayalam spices and ingredients can provide competitive prices while ensuring the quality and authenticity of the fennel seeds.
Supply of fennel seeds in Malayalam areas
Fennel seeds, widely used in Malayalam-speaking areas including Kerala, have a rich history and are native to the Mediterranean region. Kerala's diverse climate has made it an ideal place for fennel cultivation. Local markets in cities like Kochi, Thiruvananthapuram, and Kozhikode play a vital role in offering a diverse range of fennel seed options.
These bustling markets bring together traders, farmers, and buyers, facilitating the trade of various agricultural products, including fennel seeds. Fennel seeds are consistently available in local markets, grocery stores, and online platforms throughout Kerala, where they are highly sought-after.
They are extensively used as a spice in traditional Malayalam dishes like sambar, avial, and puliyinji, enhancing their flavor and aroma. The versatility of fennel seeds in cooking, combined with their health benefits, has made them an essential ingredient in Malayalam households.
Whether through physical markets or online shopping, individuals in Malayalam-speaking areas can easily access fresh fennel seeds, ensuring their presence in the beloved cuisine of Kerala.
Famous dishes of fennel seeds in Malayalam areas
Kerala cuisine offers a variety of delicious dishes that incorporate fennel seeds. Here are some famous dishes made with fennel seeds in Kerala style:
1. Kerala Fish Curry
Fennel seeds are a key ingredient in the traditional Kerala-style fish curry. The aromatic flavor of fennel seeds enhances the tangy and spicy notes of the curry, creating a delightful combination.
2. Avial
Avial is a popular mixed vegetable dish in Kerala, and fennel seeds are often included in the spice blend used to season the dish. Fennel seeds contribute a unique flavor and aroma, enhancing the overall taste of this traditional delicacy.
3. Chicken Roast
Fennel seeds are commonly used in Kerala-style chicken roast preparations. The seeds add a distinct flavor to the marinade, resulting in a flavorful and aromatic chicken dish.
4. Ghee Rice
Fennel seeds are often added to ghee rice, a fragrant and flavorful rice dish prepared with clarified butter (ghee). The fennel seeds contribute a subtle, yet noticeable, flavor to the rice, making it a delicious accompaniment to curries or biryanis.
5. Kerala Style Prawn Curry
Fennel seeds are a prominent ingredient in Kerala-style prawn curry, enhancing the rich and spicy flavors of the dish. The seeds add depth and complexity to the curry, making it a favorite among seafood lovers.
Conclusion
In conclusion, fennel seeds offer numerous health benefits in Malayalam-speaking areas. They possess antioxidant properties that protect against oxidative stress and are a rich source of essential nutrients like vitamins A and C, potassium, and fiber, promoting overall well-being.
Fennel seeds have been traditionally used in Malayalam medicine to relieve digestive issues, menstrual discomfort, and aid lactation in breastfeeding mothers.
To incorporate fennel seeds into your diet, you can add them to soups, stews, salads, or grind them into a powder for use in spice blends. Fennel seed tea is a popular choice for its soothing effects and can be enjoyed as a warm beverage.
However, it is important to note that individual reactions to fennel seeds may vary, and it is advisable to start with small amounts to assess any potential allergies or sensitivities.
Frequently asked questions
1. Can fennel seeds be used as a natural remedy for cough and sore throat?
Fennel seeds are a natural remedy for cough and sore throat. They have soothing properties that provide relief from discomfort. The expectorant nature of fennel seeds helps loosen mucus and ease congestion, while their antimicrobial properties fight off bacteria and reduce throat inflammation.
2. Are there any specific precautions to be taken when using fennel seeds as a supplement?
1. Caution for allergies to celery, carrot, or mugwort.
2. Limit intake during pregnancy and breastfeeding.
3. Consult a healthcare provider if you have blood clotting disorders or take blood-thinning medications.
4. Potential interactions with certain medications.
5. Monitor response in individuals with gastrointestinal disorders.
3. How should fennel seeds to be stored and maintain their freshness ?
To maintain the freshness of fennel seeds, store them in an airtight container in a cool, dark place. Avoid grinding them until needed to preserve their flavor.
Check for signs of spoilage regularly and discard if necessary. These storage practices will help keep your fennel seeds fresh and flavorful for longer.
4. Can consuming fennel seeds lead to increased gas or bloating?
Consuming fennel seeds can potentially lead to increased gas or bloating. Fennel seeds have carminative properties, which means they can help relieve gas.
but in some individuals, they may cause or exacerbate gas and bloating. It can vary from person to person, so monitoring your individual response to fennel seeds is important.
5. Are there any local festivals or events in malayalam-speaking areas that celebrate or highlight fennel seeds?
In Malayalam-speaking areas, there are no specific festivals or events that celebrate or highlight fennel seeds exclusively. However, fennel seeds, known as "perumjeerakam" in Malayalam, are commonly used in various culinary preparations and dishes across the region.
They are an integral part of Malayalam cuisine and are used in traditional recipes like Appam, Aviyal, and Meen Curry (fish curry). While fennel seeds may not have dedicated festivals, they are cherished as a flavorful ingredient in everyday cook