The drumstick, scientifically known as "Moringa oleifera," is a remarkable and versatile plant that holds a special place in both culinary traditions and herbal medicine. Also referred to as the "moringa" plant, it is renowned for its slender, elongated pods that are a staple in many cuisines around the world, as well as for its potential health benefits.
You can gather many informative points about drumsticks from the article below. Like – Drumstick in Kannada name, its cost, nutritional value, health benefits, uses, popularity, availability in the local area, and many more.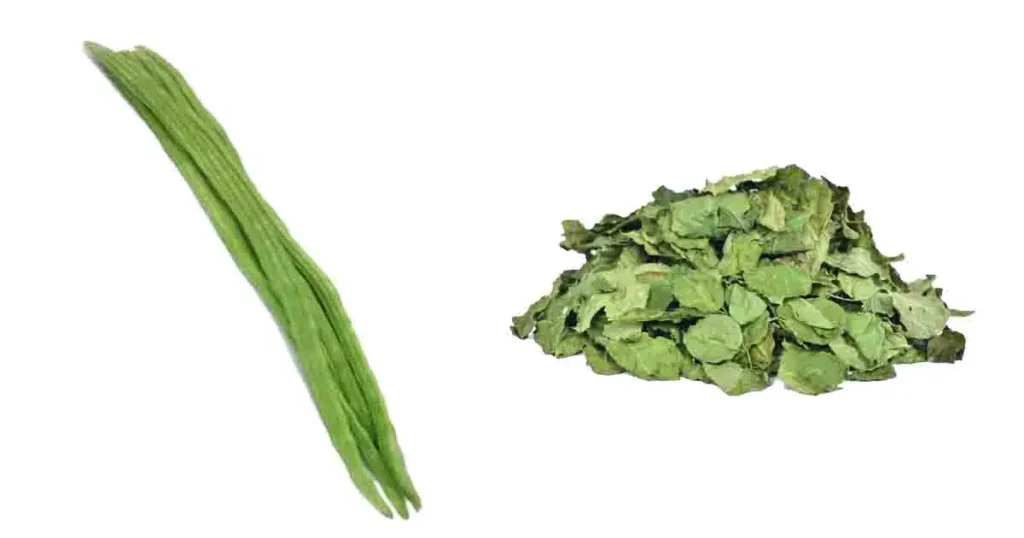 Drumstick in Kannada name
| | |
| --- | --- |
| English name | Drumstick |
| Kannada name | Nugge Kaayi |
| Kingdom | Plantae |
| Division | Angiosperms |
| Class | Eudicots |
| Order | Brassicales |
| Family | Moringaceae |
| Genus | Moringa |
| Species | Moringa oleifera |
wiki
Nugge Kaayi is the Kannada name for drumstick. In Karnataka and other parts of India, the drumstick tree (Moringa oleifera) and its various parts are used for a wide range of purposes due to its nutritional and medicinal properties.
The Drumstick pods are a common ingredient in South Indian cuisine. They are used in dishes like sambar (a lentil-based vegetable stew), avial (a mixed vegetable curry), and various types of curries. Tender leaves are also used in cooking to boost dishes' nutritional benefits. Drumsticks are also used in various traditional recipes, chutneys, and pickles.
Health Benefits of Drumstick
Drumsticks, derived from the Moringa oleifera tree, offer a wide range of prospective health benefits due to their rich nutritional content and bioactive compounds. Here are some of the health benefits associated with drumsticks:
Nutrient-Rich
Antioxidant Properties
Anti-Inflammatory
Immune Support
Bone Health
Digestive Health
Blood Sugar Regulation
Cardiovascular Health
Eye Health
Pregnancy Nutrition
Weight Management
Side Effects of Drumstick
Drumsticks (Moringa oleifera) are generally considered safe and are consumed as a food source in many cultures. However, excessive consumption or certain preparations of drumsticks may have some potential side effects.
It's important to be aware of these potential side effects, most importantly if you have underlying health conditions or are taking medications. Here are some side effects of drumstick for considerations:
Digestive Issues
Blood Sugar Interaction
Blood-Thinning Properties
Hypotension (Low Blood Pressure)
Allergic Reactions
Medication Interactions
Pregnancy and Breastfeeding
Different Varieties of Drumstick
The term "drumstick" can refer to different varieties of plants or plant parts, but it's commonly associated with the Moringa oleifera tree. While Moringa oleifera is the most well-known variety, a few related species and varieties within the Moringa genus are also used for various purposes. Here are some different varieties of drumstick:
Moringa oleifera
Moringa stenopetala
Moringa drouhardii
Moringa Concanensis
Moringa hildebrandtii
Moringa peregrine
It's important to note that while these species are related and share some similarities, Moringa oleifera is the most widely cultivated and studied for its nutritional and medicinal properties.
People commonly refer to "drumsticks" usually refer to the pods of Moringa oleifera. Different species or varieties may have variations in taste, appearance, and nutritional content.
Nutritional Value of Drumstick
Drumsticks, also known as the pods of the Moringa oleifera tree, are highly nutritious and offer a variety of vitamins, minerals, and other advantageous compounds. Here is an overview of the nutritional value of drumsticks per 100 grams of edible portion:
| Nutritions | Values |
| --- | --- |
| Calories | 37 calories |
| Carbohydrates | 8.53 grams |
| Dietary Fiber | 2.0 grams |
| Sugars | 3.7 grams |
| Protein | 2.10 grams |
| Fat | 0.20 grams |
| Vitamins | Quantity |
| --- | --- |
| Vitamin A | 3784 IU |
| Vitamin C | 120 mg |
| Vitamin E | 2.32 mg |
| Vitamin K | 0.09 mg |
| Minerals | Values |
| --- | --- |
| Calcium | 30 mg |
| Iron | 0.36 mg |
| Magnesium | 45 mg |
| Phosphorous | 50 mg |
| Potassium | 461 mg |
Cost of Drumstick in kannada areas
To provide you with a general idea, here are some approximate price ranges for drumsticks in Indian markets:
Per Kilogram (kg) Price Range
The prices of drumsticks per Kilogram can vary widely based on region and season. On average, drumsticks could range from ₹40 to ₹80 per Kilogram.
Per Dozen Price Range
In some places, drumsticks are sold per dozen. The price per dozen can range from ₹20 to ₹60, depending on the factors mentioned earlier.
Local Variations
Prices can be higher in urban areas and major cities compared to rural or producing regions. Additionally, prices can fluctuate based on seasonal availability and demand.
It's important to note that these are general price ranges and can vary significantly based on the factors mentioned earlier. I recommend checking with local markets, vegetable vendors, or online platforms that provide real-time pricing information for the most accurate and current prices.
Availability of Drumstick in Kannada areas
In India, drumsticks are often available year-round, but their peak season tends to be during the warmer months. They are commonly found in local markets, vegetable shops, and grocery stores. Here are some key points regarding the availability of drumsticks: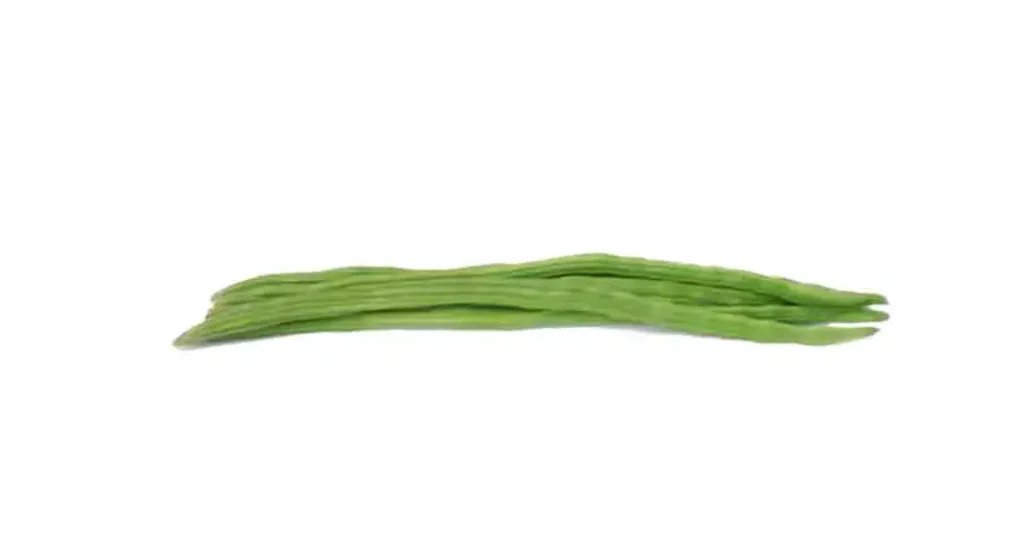 Season
Local Markets
Grocery Stores
Online Retailers
Home Gardens
Processed Products
Remember that the availability of drumsticks can vary from region to region, and it's always best to check with local sources for the most accurate and up-to-date information on where and when you can find fresh drumsticks in your area.
Recipes of Drumstick in Kannada areas
There are lots of recipes of drumsticks like drumstick mustard rai, drumstick alu fry, drumstick tomato khatta, drumstick sambar and etc.
Conclusion
In conclusion, drumstick also known as nugge kaayi in Kannada is a versatile and nutritious plant that offers numerous benefits to both human health and various other applications.
Native to India and widely farmed in tropical and subtropical regions, drumsticks have been used for generations as a valuable source of food, medicine, and other useful products.
Frequently Asked Questions
1. What are the medicinal properties of drumstick?
Drumsticks are believed to have anti-inflammatory, antioxidant, and potentially anti-diabetic properties. They have been used in traditional medicine systems for various health concerns.
2. Can drumsticks be grown in home gardens?
Yes, drumstick trees can be grown in suitable climates and are often cultivated in home gardens. They are known for their rapid growth and hardiness.
3. How do drumsticks contribute to sustainable agriculture?
Drumstick trees are known for their ability to thrive in challenging growing conditions, which makes them a valuable resource for enhancing soil fertility and providing food security in various regions.
4. What are the different parts of the drumstick tree used for?
Different parts of the drumstick tree are used for various purposes. Leaves, pods, and flowers are used as food, while seeds are used for oil extraction. The tree's bark and roots may also have traditional medicinal uses.