The cucumber, scientifically known as "Cucumis sativus," is a widely cultivated vegetable appreciated for its refreshing taste, high water content, and versatility in various culinary creations. This cylindrical or elongated fruit, commonly mistaken for a vegetable due to its culinary use, belongs to the gourd family and is characterized by its crisp texture and mild flavor.
You can gather many informative points about cucumber from the article below. Like – cucumber in Marathi, its cost, nutritional value, health benefits, uses, popularity, availability in the local area, and many more.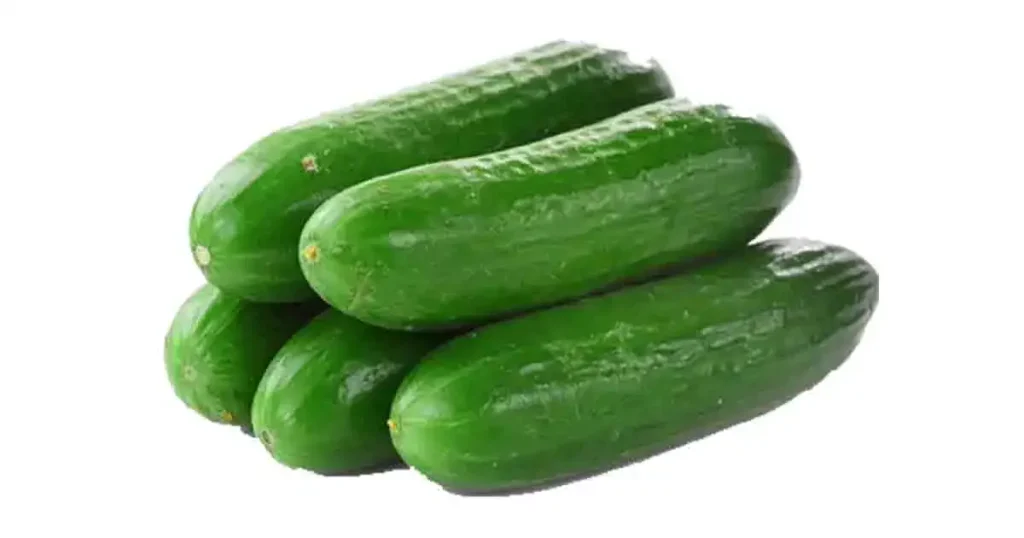 Cucumber in Marathi name
| | |
| --- | --- |
| English name | Cucumber |
| Marathi name | Kakadi or Tarakakadi |
| Kingdom | Plantae |
| Phylum | Magnoliophyta |
| Class | Magnoliopsida |
| Order | Cucurbitales |
| Family | Cucurbitaceae |
| Genus | Cucumis |
| Species | Cucumis sativus |
wiki
Kakadi or Tarakakadi is the Marathi name for cucumber. They are widely used in various culinary preparations across Marathi-speaking people in Maharashtra, such as dishes like salads, Raita, Pickle, Sabzi (Curry), Snacks, Juices and Coolers, Sandwich and Rolls, also for Beauty and Health, Traditional Preparations and in preserve forms.
A popular Maharashtrian salad is "Kakdi Koshimbir," which is made with cucumbers, peanuts, and spices. In some traditional Maharashtrian recipes, cucumbers might be used as an ingredient in dishes like "Kakdi chi Bhaji" (cucumber curry) or "Kakdi che Lonche" (cucumber chutney).
Health Benefits of Cucumber
Cucumbers offer several health benefits due to their nutritional content and unique properties. Here are some prospective health benefits of consuming cucumbers:
Hydration
Nutrient-Rich
Weight Management
Digestive Health
Skin Health
Antioxidant Properties
Heart Health
Bone Health
Anti-Inflammatory Benefits
Potential Cancer Protection
Diabetes Management
Detoxification
Side Effects of Cucumber
Cucumbers are generally safe and well-tolerated by most people when consumed in moderation. However, cucumbers can have potential side effects or considerations like any food, especially in certain situations. Here are some side effects of cucumber to point out:
Allergic Reactions
Cucumber Peel and Digestive Issues
Difficult to Digest Cucumber Seeds
Avoid Cucumber Overconsumption
Avoid Cucumber During Pregnancy
Cucumber Interactions with Medications
Pesticide Residues
Kidney Problems
Blood Clotting
Gastroesophageal Reflux Disease (GERD)
Different Varieties of Cucumber
Numerous cucumbers are available, each with its own characteristics, flavours, and uses. Cucumber varieties can be broadly classified into two main types: slicing cucumbers and pickling cucumbers. Here are some popular varieties of cucumber within each category:
Slicing Cucumbers
English Cucumber (also known as European or Seedless Cucumber)
Burpless Cucumber
Lemon Cucumber
Japanese Cucumber (Kyuri)
Long English Cucumber (Snake Cucumber)
Pickling Cucumbers
Kirby Cucumber
National Pickling Cucumber
Boston Pickling Cucumber
Armenian Cucumber
Gherkin
It's important to note that there are many other regional and heirloom cucumber varieties, each with its own unique qualities. When choosing cucumber varieties, consider factors such as intended use (slicing, pickling, snacking), flavour preferences, and availability.
Some photos of Cucumber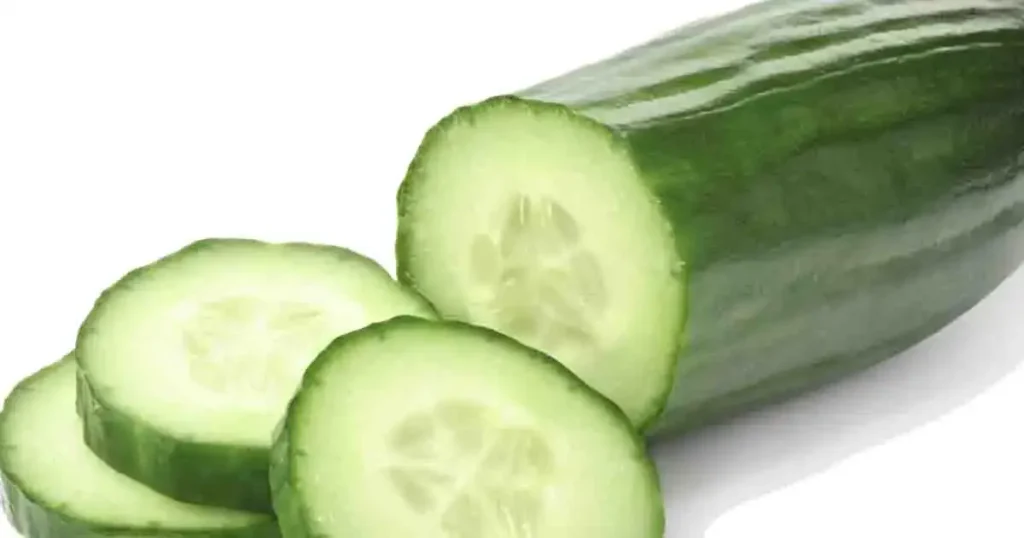 Nutritional Value of Cucumber
Cucumbers (Cucumis sativus) are low-calorie vegetables that are often appreciated for their high water content and refreshing crunch. Here's an overview of the nutritional value of cucumbers per 100 grams of raw cucumber:
| Nutritions | Values |
| --- | --- |
| Calories | 15 calories |
| Carbohydates | 3.63 grams |
| Dietary Fiber | 0.5 grams |
| Sugars | 1.67 grams |
| Protein | 0.65 grams |
| Fat | 0.11 grams |
| Vitamins | Quantity |
| --- | --- |
| Vitamin K | 16.4 micrograms |
| Vitamin C | 2.8 miiligrams |
| Vitamin A | 105 IU |
| B Vitamins | B1 (Thiamine), B5 (Pantothenic Acid) |
| Minerals | Values |
| --- | --- |
| Potassium | 147 milligrams |
| Magnesium | 13 milligrams |
| Manganese | 0.079 milligrams |
| Phosphorus | 24 milligrams |
| Other Nutrients | Calcium, iron, zinc, and other trace minerals. |
Cost of Cucumber in Marathi areas
The approximate price range for cucumbers in different parts of India was as follows:
Metro Cities (e.g., Mumbai, Delhi, Bangalore, Chennai)
The price could range from around ₹20 to ₹40 per kilogram or even higher, depending on factors such as quality and location.
Tier 2 and Tier 3 Cities
Prices might be slightly lower, ranging from around ₹15 to ₹30 per kilogram.
Rural Areas and Wholesale Markets
Prices could be lower in these areas, often ranging from ₹10 to ₹25 per kilogram.
Please note that these are rough calculations, and prices can differ significantly within each category. Also, prices can fluctuate due to seasonal variations, weather conditions, supply and demand, transportation costs, and more.
Availability of Cucumber in Marathi areas
Cucumbers (Cucumis sativus) are widely available in various parts of the world, especially during their peak growing season. They are commonly found in grocery stores, markets, and even through online grocery delivery services.
The availability of cucumbers can vary based on factors such as geographic location, climate, and seasonality. Here are some general points of availability of cucumber to consider:
Seasonality
Summer
Greenhouses
Local and Imported
In forms of different varieties
Storage and Shelf Life
Organic and Specialty Markets
Global Distribution
It's important to note that while cucumbers are often available year-round, there might be occasional fluctuations in supply and prices due to factors like weather events, transportation disruptions, and other market dynamics.
If you're looking for cucumbers, it's a good idea to check with local markets, grocery stores, or online platforms to determine their availability in your region.
Conclusion
In conclusion, cucumbers known as Kakadi or Tarakakadi in Marathi are a resourceful and nutritious addition to our diets. Their high water content, low-calorie nature, and an array of vitamins and minerals contribute to our overall health and well-being.
Cucumbers provide hydration, a refreshing crunch, and a mild flavour that enhances various dishes, from salads to sandwiches. Their potential to aid digestion, promote skin health, and support weight management further highlights their value.
Frequently Asked Questions
Q: Are cucumbers good for hydration?
Cucumbers are excellent for hydration due to their high water content, making them a refreshing choice to help maintain fluid balance.
Q: Can cucumbers aid in weight loss?
Cucumbers are low in calories and high in water and fibre, which can contribute to feelings of fullness and aid with weight management.
Q: How can I use cucumbers in cooking?
Cucumbers can be sliced for salads, added to sandwiches and wraps, used in soups, pickled for relishes, and even blended into smoothies or cold soups.
Q: Can cucumbers be grown at home?
Yes, cucumbers can be grown in gardens or containers with proper care and attention to sunlight, water, and soil conditions.
Q: How should I store cucumbers to keep them fresh?
Store cucumbers in the refrigerator's crisper drawer. If they are not individually wrapped, place them in a plastic bag to maintain moisture and freshness.