Cinnamon, used in many houses across india, has been an integral part of Indian cuisine, culture, and traditional medicine for centuries. Its unique flavour, warmth, and health benefits have made it a staple in Indian kitchens and holistic practices.
You can gather many informative points about cinnamon from the article below. Like – cinnamon in Telugu, its cost, nutritional value, health benefits, uses, popularity, availability in the local area, and many more.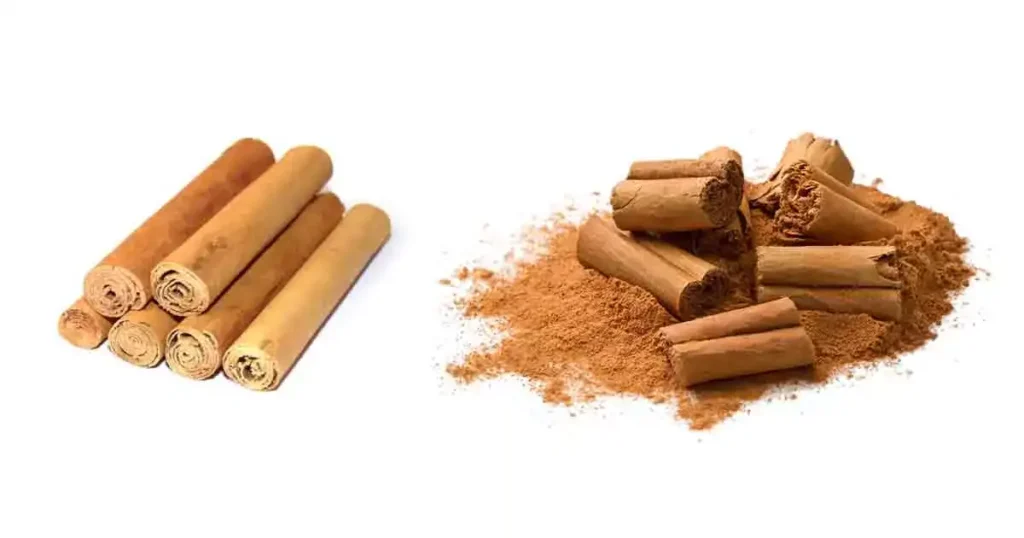 | | |
| --- | --- |
| English name | Ceylon cinnamon |
| Telugu name | Dalchina chekka |
| Kingdom | Plantae |
| Phylum | Angiosperms |
| Class | Eudicots |
| Order | Laurales |
| Family | Lauraceae |
| Genus | Cinnamomum |
wiki
Cinnamon in Telugu name
Dalchina chekka is the Telugu name of cinnamon. It is often included in spice blends like "garam masala," which is used to season many Telugu dishes. It adds a warm and mildly sweet flavor to these blends.
It is also used to flavour beverages like masala chai (spiced tea) in Telugu households. It imparts a unique warmth and depth to the flavour of the tea. It is often used to flavour traditional Telugu sweets like "pulihora" (tamarind rice) or "bellam pootharekulu" (rice paper sweets).
Cinnamon's presence in Telugu cuisine and culture has made it a familiar and cherished spice. Its use in daily cooking and special occasions reinforces its role as a staple ingredient, connecting
generations through shared culinary experiences. It might be passed down through family recipes and traditions, creating a sense of continuity and heritage. Its use in specific dishes can evoke memories of family gatherings and celebrations.
Its unique flavour and fragrance are often associated with comfort and warmth. Its presence in Telugu dishes and homes can create a feeling of familiarity and nostalgia.
Types of cinnamon
There are many types of cinnamon, each with its own distinct characteristics and origins. Here's a brief overview of the two main types and a few other lesser-known varieties:
1. Ceylon Cinnamon (Cinnamomum verum)
Also known as "true cinnamon" or "Cinnamomum zeylanicum."
Originates from Sri Lanka (Ceylon) and some other parts of South Asia.
Delicate, sweet, and subtle flavour with a light, golden-brown colour.
Preferred for culinary use in desserts, beverages, and dishes where a milder cinnamon flavour is desired.
Contains lower levels of coumarin, a naturally occurring compound that can be injurious in large amounts.
2. Cassia Cinnamon (Cinnamomum cassia):
Also named as "Chinese cinnamon" or simply "cassia."
Primarily cultivated in China, Indonesia, and other Asian countries.
Stronger, more intense flavour compared to Ceylon cinnamon, with a darker reddish-brown colour.
Commonly used in commercial ground cinnamon and various culinary applications.
Contains higher levels of coumarin, which may be of concern if consumed in large quantities.
3. Saigon Cinnamon (Cinnamomum loureiroi):
Also known as "Vietnamese cinnamon."
Grown primarily in Southeast Asian countries like Vietnam and Indonesia.
Has a strong, spicy flavour with a high essential oil content.
Often considered one of the most flavorful types of cinnamon.
4. Indonesian Cinnamon (Cinnamomum burmannii):
Also known as "Padang cassia."
Farmed in Indonesia and other parts of Southeast Asia.
Similar to Cassia cinnamon in flavour and appearance but generally milder.
5. Malabar Cinnamon (Cinnamomum citriodorum or Cinnamomum malabatrum):
Belongs to Western Ghats of India.
Known for its lemony, citrusy aroma and flavour.
Less commonly used than Ceylon and Cassia cinnamon varieties.
Chinese Cinnamon (Cinnamomum aromaticum):
A variety of cassia cinnamon.
Available in China and Asia's other parts.
Particularly has a strong, sweet, and spicy flavor .
6. Korintje Cinnamon:
A type of cassia cinnamon.
Originates from Indonesia.
Frequently used in commercial ground cinnamon and popular in baking.
These are just a few examples of the many varieties of cinnamon available. The choice of cinnamon type can impact the flavour of your dishes, so it's worth experimenting with different types to find the one that best suits your culinary preferences.
Health Benefits of Cinnamon
Cinnamon is a popular spice that has been used for many years not only for its flavour but also for its prospective health benefits. It contains various bioactive compounds that contribute to its medicinal properties.
However, it's important to note that while cinnamon can be a vital addition to a healthy diet, it is not an alternative for medical treatment. Here are some prospective health benefits of cinnamon:
1. Antioxidant Properties
Cinnamon is wealthy in antioxidants, which help protect the body's cells from damage caused by free radicals. Antioxidants play a role in lessening oxidative stress and may contribute to overall health.
2. Anti-Inflammatory Effects
Some compounds in cinnamon have been shown to have anti-inflammatory effects. It could be beneficial for inflammation-related conditions, such as certain types of arthritis.
3. Blood Sugar Regulation
Cinnamon may help enhance insulin sensitivity and reduce blood sugar levels. It has been studied for its potential to assist in managing diabetes by improving insulin action and glucose metabolism.
4. Heart Health
Cinnamon may positively impact heart health by lessening risk factors like high blood pressure and high cholesterol levels. Some studies suggest that cinnamon could help improve markers of cardiovascular health.
5. Brain Health
Research indicates that cinnamon may have neuroprotective properties and could play a role in improving cognitive function and protecting against neurological disorders.
6. Antimicrobial Properties
Cinnamon has natural antimicrobial properties that can aid in inhibiting the growth of bacteria, fungi, and other microorganisms. It makes it helpful in preserving food and supporting oral health.
7. Digestive Health
Cinnamon may aid digestion by reducing gas, bloating, and indigestion. It can also have a soothing effect on the gastrointestinal tract.
8. Weight Management
Some studies suggest that cinnamon might help with weight management by influencing metabolism and appetite regulation. However, more research is needed to understand this potential advantage fully.
9. Anti-Cancer Potential
Certain compounds found in cinnamon have shown promise in laboratory studies for their potential to restrain the development of cancer cells and induce apoptosis (programmed cell death). However, clinical studies are limited, and more research is required.
Using cinnamon in moderation is essential as part of a balanced diet. If you're considering using cinnamon for its potential health benefits, consult a healthcare professional, especially if you have any underlying health conditions or are taking medications, as cinnamon can interact with certain drugs or affect blood sugar levels.
Additionally, the type of cinnamon you use (Ceylon or Cassia) can impact the potential health benefits and safety. Cassia cinnamon carries higher levels of coumarin, which may have negative effects if consumed excessively.
Side Effects of Cinnamon
While cinnamon offers potential health benefits, consuming it in excessive amounts or using certain types of cinnamon (particularly Cassia cinnamon) can lead to some side effects. It's essential to use cinnamon in moderation and be aware of potential adverse reactions. Here are some side effects of cinnamon to be mindful of:
1. Coumarin Toxicity
Cassia cinnamon, commonly found in grocery stores, contains higher levels of coumarin than Ceylon cinnamon. Coumarin can lead to liver damage and other diseases when consumed in large amounts. Excessive consumption of Cassia cinnamon, especially over a prolonged period, should be avoided. Ceylon cinnamon is lower in coumarin and is considered a safer option.
2. Allergic Reactions
While rare, some individuals may be allergic to cinnamon. Allergic reactions can include skin rash, itching, or difficulty breathing. If you experience any adverse reactions after consuming cinnamon, discontinue use and seek medical attention.
3. Gastrointestinal Discomfort
Consuming large quantities of cinnamon or taking cinnamon supplements may lead to gastrointestinal discomfort, such as stomach upset, nausea, or diarrhea.
4. Blood Sugar Interactions
Cinnamon has the potential to lower blood sugar levels. If you are already taking medications or supplements to control blood sugar, consuming excessive amounts of cinnamon could lead to hypoglycemia (low blood sugar). Observing your blood sugar levels keenly and consulting a healthcare professional before making any critical changes to your diet is essential.
5. Interactions with Medications
Cinnamon, particularly in the form of supplements or concentrated extracts, may interact with certain medications, like anticoagulants (blood thinners) or medications for diabetes. It's essential to tal with your healthcare professional before using cinnamon supplements, especially if you're taking prescription medications.
6. Mucous Membrane Irritation
Cinnamon, especially in its concentrated oil form, can cause irritation to mucous membranes, such as the mouth and lips, when applied directly. This can lead to discomfort and allergic reactions in some individuals.
7. Liver Health
While the compounds in cinnamon can have potential benefits for liver health, excessive consumption of coumarin-rich Cassia cinnamon could lead to liver toxicity.
It's important to emphasize that moderate consumption of cinnamon as a culinary spice is generally considered safe for most people. Suppose you're considering using cinnamon supplements or significantly increasing your cinnamon intake for potential health benefits.
In that case, it's advisable to consult a healthcare professional, especially if you have preexisting medical conditions, are taking medications, or are at risk of specific health issues.
Some photos of Cinnamon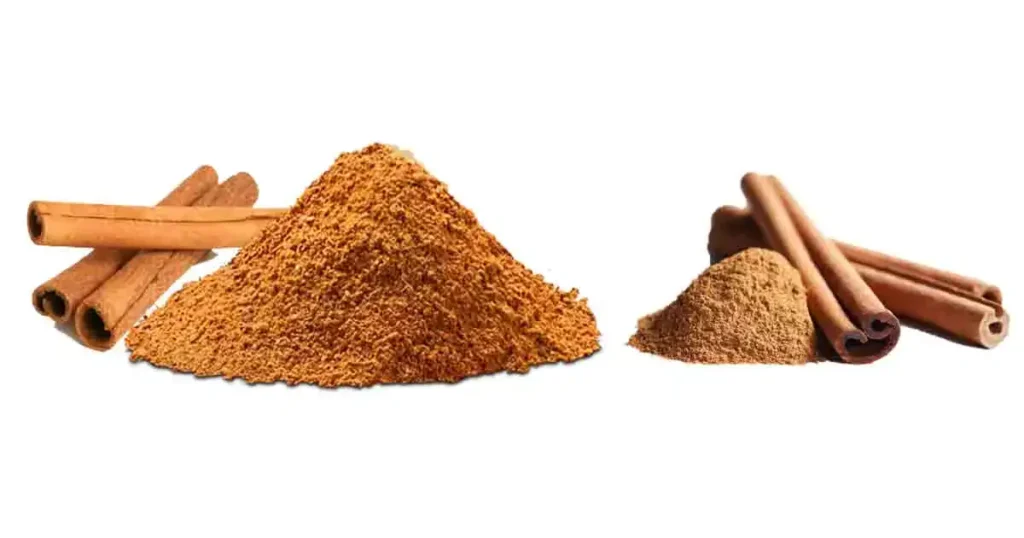 Nutritional Value of Cinnamon
Cinnamon is a flavorful spice that adds warmth and aroma to a variety of dishes. While it is primarily used in small amounts as a seasoning, it still contributes some nutritional components to your diet. Here's a general overview of the nutritional value of cinnamon per 1 teaspoon (2.6 grams) of ground cinnamon:
Calories: Approximately six calories
Carbohydrates: About 2 grams
Dietary Fiber: Around 1.4 grams
Sugars: Negligible
Vitamin K: Approximately 0.5 micrograms (mcg)
Manganese: About 0.3 milligrams (mg)
While cinnamon isn't a major source of nutrients, it can still be a flavorful addition to your meals and a part of a varied and balanced diet. Remember that its health benefits are often attributed to its bioactive compounds and antioxidants rather than its nutrient content.
Cost of Cinnamon in Telugu areas
The cost of cinnamon in India can differ based on factors such as the type of cinnamon (Ceylon or Cassia), the quality, the form (whole sticks or ground), and the region where it is purchased. Additionally, market fluctuations and demand can also influence the price. Here's the general idea of the cost of cinnamon in India:
Ceylon Cinnamon
Ceylon cinnamon (also known as "true cinnamon") is typically priced higher than Cassia cinnamon due to its milder flavor and potential health benefits. The cost can range from around ₹800 to ₹1500 per kilogram for Ceylon cinnamon sticks and around ₹300 to ₹600 per kilogram for Ceylon cinnamon powder.
Cassia Cinnamon
Cassia cinnamon is more commonly available and is usually more affordable than Ceylon cinnamon. Generally, the cost can range from around ₹150 to ₹500 per kilogram for Cassia cinnamon sticks and around ₹100 to ₹300 per kilogram for Cassia cinnamon powder.
Please note that these general price ranges are approximate and can differ based on factors such as the brand, quality, and purchase location.
It recommends checking with local spice markets, grocery stores, or online retailers for the most accurate and up-to-date information on cinnamon prices in India.
Popularity and availability of cinnamon in Telugu-telling areas ( Tamil Nadu, Andhra Pradesh, Telangana, Odisha )
Cinnamon is quite popular and widely available in the Telugu-speaking areas of Tamil Nadu, Andhra Pradesh, Telangana, and Odisha. It is commonly used in culinary preparations, traditional dishes, and cultural practices. Here's an overview of the popularity and availability of cinnamon in these regions:
Tamil Nadu:
Cinnamon is a common spice used in Tamil Nadu cuisine. It is used in both sweet and savory dishes, adding its distinctive flavor and aroma. Traditional Tamil Nadu recipes like "paal payasam" (milk pudding), "chakkara pongal" (sweet rice), and "vadai" (fried lentil snack) may include cinnamon. It's readily available in local markets, grocery stores, and spice shops across the state.
Andhra Pradesh and Telangana:
Cinnamon is widely used in Andhra Pradesh and Telangana to enhance the flavor of various dishes. It is often added to "gutti vankaya" (stuffed eggplant curry), "pulihora" (tamarind rice), and "perugu annam" (curd rice) for its aromatic and warm taste. Cinnamon sticks and powder are commonly found in local markets and grocery stores.
Odisha:
In Odisha, cinnamon is used to prepare both traditional and modern dishes. It's an essential ingredient in various sweets like "chhena poda" (cottage cheese dessert) and "kheer" (rice pudding).
Cinnamon is also used in spice blends and savory preparations like "dalma" (mixed lentil stew). We can also use this spice in chicken, mutton, fish and other nonveg dishes for extra taste or aroma. It can be easily found in local markets and grocery stores.
Cinnamon is a well-loved spice in Telugu-speaking areas, and its availability is widespread. It plays a important role in enhancing the flavors of traditional and modern dishes, reflecting the rich culinary heritage of these regions.
Whether used in everyday cooking or special occasions, cinnamon is an integral part of the culinary culture in Tamil Nadu, Andhra Pradesh, Telangana, and Odisha.
Conclusion
In conclusion, cinnamon also known as dalchina chekka in telugu is a versatile and aromatic spice that has been cherished for its culinary, medicinal, and cultural significance across various regions and cultures. Its distinct flavour profile, warm aroma, and prospective health benefits make it a favoured choice in a wide range of dishes and applications.
Whether used in traditional recipes, modern cuisine, or even for its aromatic qualities, cinnamon plays a multifaceted role in enhancing sensory experiences and promoting well-being.
Frequently Asked Questions
1. Is all cinnamon the same?
No, there are different types of cinnamon with varying flavours and properties. Ceylon cinnamon is milder and safer in large amounts due to lower coumarin levels, while Cassia cinnamon is stronger but should be consumed in moderation.
2. Can cinnamon interact with medications?
Yes, cinnamon supplements or large amounts of cinnamon could interact with certain medications, especially those for diabetes or blood thinning. Talk with a healthcare professional before using cinnamon supplements.
3. How should I store cinnamon?
Always remember, Cinnamon should be stored in an airtight container and also in a cool, dark place to preserve its flavour and aroma. Ground cinnamon may lose its potency faster than cinnamon sticks.
4. Can I use cinnamon if I'm allergic to it?
Some individuals may be allergic to cinnamon, leading to skin reactions or other symptoms. If you suspect an allergy, avoid consumption and consult a healthcare professional.
5. What are some popular dishes that use cinnamon?
Popular dishes include cinnamon rolls, chai tea, biryanis, curries, apple pie, and various Middle Eastern and South Asian desserts.