Bhetki fish in English is known as Barramundi; it is a popular fish in many parts of India, as people crave the Fish for its mild flavor and bone-less flesh. bhetki fish have earned many names in many parts of the world since they are found almost everywhere.
When you look at the amount of bhetki fish in the world, you will figure out why so many people are looking for bhetki fish in the local and online markets.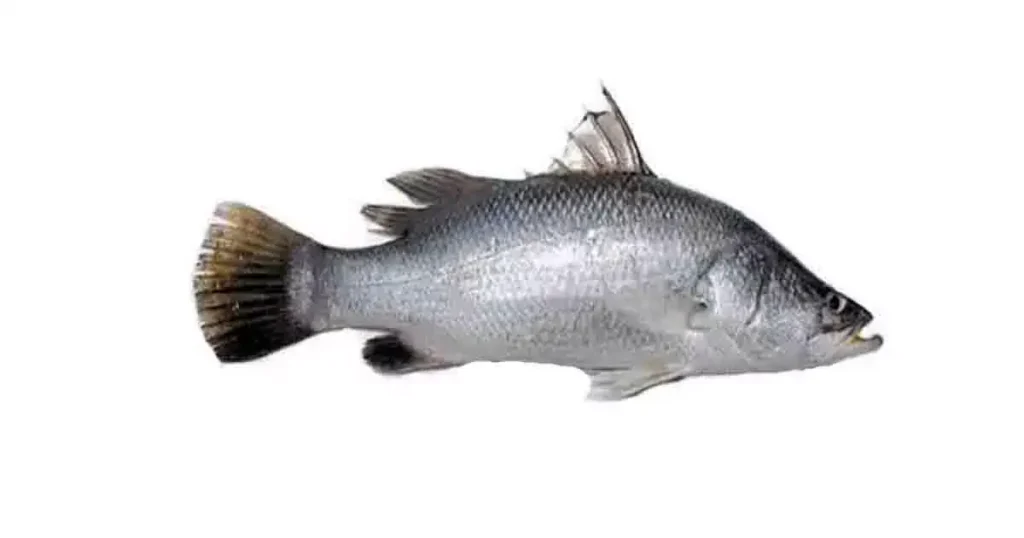 Large populations of bhetki Fish can be found in many parts of the Indo-West Pacific region, southeast asia, northern australia, and Papua new guinea. The commercial value behind bhetki fish resides in Malaysia, India, Vietnam, Thailand, Australia, and finally, the United States. The availability of the bhetki fish is very high compared to other Fish.
So you will have no trouble finding Fish almost anywhere in the world; the availability is not a problem you will have to deal with when you are eying out for bhetki fish in the market. Finding the right store might get difficult, but as long as you do some research in the area, you will easily find the perfect store to purchase the Fish.
| | |
| --- | --- |
| English name | Barramundi |
| Binomial Name | Lates calcarifer |
| Kingdom | Animalia |
| Species | L. calcarifer |
| Class | Actinopterygii |
| Order | Perciformes |
| Genus | Lates |
| Family | Latidae |
wiki
Bhetki fish in English
The name behind Bhetki fish is different in English compared to many parts of the world. But that goes on to show you how popular the Fish is worldwide. Bhetki fish are also called Khajura, Bekkut, Bekti, Asian Sea Bass, Dadhara, Koliji, Chonok, Gariyu, Keduwa, Narimeen, and Pandu-kipah.
The naming can get confusing for anyone who has never heard of the Fish before. The popularity of Fish is touching at its highest, thanks to the internet, more people are finding out about the dishes that include bhetki Fish as a main or side ingredient.
In the local market, you will have to use the native name to get the Fish; online, things will be a bit different as it all comes down to the site's location. Most of the local markets will refer to the food by their native name, so if you are in a different part of the country, you will have to use the native name for Barramundi rather than using a native name from another side of the country or the world.
Since the food is wildly popular amongst people, they will be referring to the food as their native instead of relying on the global name.
Some Products of bhetki fish
Click here to Check Some products of Bhetki fish on amazon.
Bhetki fish Nutrients list
Another aspect of bhetki fish is its nutrient list and the benefits it provides to the body. A healthy diet plan is an idea everybody has in their mind, but few follow it. If you are one of the people who want to make healthy changes to your diet, then adding bhetki fish to the mix will not hurt at all.
It will provide you with a wide variety of nutrients and protein that will be enough for a day. We will also take in all the aspects of bhetki fish to give you a proper insight into the Fish and what you can get out of it.
Nutrition Facts
| | |
| --- | --- |
| Calories | 108 |
| Fat Calories | 8 |
| Total Fat | 0.9 g |
| Saturated Fat | 0.4 g |
| Cholesterol | 45 mg |
| Sodium | N/A |
| Protein | 20.1 g |
| Omega 3 | 0.6 g |
As you can see, bhetki fish does come with a fair share of nutritious lists that will give you more than enough vitamins to carry your daily protein needs. In a rushed life, we all have to think about our bodies more than anything; sticking to fast food may seem appealing, but it doesn't last long. Here you have to make healthy choices to get a better food system planned out for your body.
Benefits of Bhetki fish
While the popularity of the Fish comes from their mild and firm texture with butter flavor, they are also very environmentally friendly and come with a lot of nutrients which makes them better for serving.
When you deal with Fish that gets consumed by people, you will have to deal with plenty of problems that don't show up in the forest. Things like lakeside effects, dosage amount, and compatibility are some of the things that show up when you decide to have Fish as food on a normal day or on a special occasion.
1. Fat
bhetki fish comes with 140 calories, and only 13 percent of the amount contains 18 calories, or 2 grams comes from fat. They have no saturated fat and come with 70 milligrams of cholesterol. A healthy adult should consume 23% of it each day. In short, bhetki Fish makes for an excellent choice for a balanced diet.
2. Protein
The average adult needs around 46 to 56 protein every single day; bhetki fish comes with 35 grams of protein in a 6-ounce filet. That rounds up to 62 to 76 percent of a person's daily protein needs. Adding protein-based products to your diet will keep many diseases at bay.
Seafood is a fantastic choice for protein sources rather than relying on red or processed meats, which might not get you the amount of protein you need to boost your body to tackle the symptoms of many diseases.
Many doctors out there do recommend adding Fish to the average diet, as it offers plenty and a cheaper or affordable solution to many of the problems that cloud over people nowadays.
3. Omega 3 fatty acid cells
A serving of farmed bhetki fish contains around 1 gram of omega-3 fatty acids; when you take a look at the other Fish in the market, you will find 1.5 grams of omega-3 fatty acids in every serving, like salmon, mackerel, or herring.
Eating two servings of bhetki Fish per week will supply a solid amount of omega-3 to the body. This is enough for an adult; any diet that comes with a high amount of omega-3 fatty acids might lower your cholesterol and risk of heart disease, cancer, and other brain disorders.
4. Source for vitamins and minerals
bhetki fish comes with a long list of vitamins and minerals that help boost your immune system, cardiovascular and nervous systems. The list includes zinc, selenium, magnesium, vitamin A, and calcium. Having a strong lineup of vitamins and minerals will add major benefits to the body.
Vitamin A will help you with your eye health, magnesium will promote restful sleep and raise muscle strength, zinc will enhance your immune system, selenium will stop any tissue damage caused by free radicals, and lastly, omega-three fatty acid will enhance your immune system and help you with your brain health.
5. It can help with weight loss
The low-fat content makes the bhetki fish an excellent option for people who are watching their weight and making Fish a perfect ideal protein for staying healthy without raising the cholesterol bar to a new high.
The bhetki Fish has fewer calories than salmon, almost half of the fat of chicken or pork. It has more selenium and less sodium than beef, pork, lamb, and chicken, and many more benefits.
Make sure to look for the bhetki fish by your local farmers to get fresh Fish for your diet.
These are some of the many benefits associated with bhetki fish in the market. It doesn't matter where you are buying the bhetki fish; as long as it's fresh and comes from the right shop, you can expect to receive all the benefits listed above.
It is not difficult to find benefits lists about any fish online; make sure to check for reference links for their claims. It is very easy to throw in a claim online without any support link backed up by a study or research paper.
All the benefits and other data you will read in the article are backed up by articles published on the bhetki fish or Barramundi available throughout the internet.
Some Facts of Bhetki fish
The popularity of bhetki Fish has led many to look for interesting facts about the Fish; like many other names, bhetki Fish has a list of interesting facts that makes them very unique in the market. If you are looking for some interesting facts about bhetki fish, then this section will give you all the highlights behind bhetki fish.
bhetki fish prefers the native waters of northern australia, southeast asia, and the coastal waters of Sri Lanka and India.
The Fish has earned quite a few names in the world, while the name Barramundi will ring in the ears of people who live in English-speaking countries, but the rest of the world will have their own names for Barramundi. The names include Khajura, Bekkut, Bekti, Asian Sea Bass, Dadhara, Koliji, Chonok, Gariyu, Keduwa, Narimeen, and Pandu-kipah.
Barramundi stands for large-scaled silverfish.
Most bhetki Fish are born male, but they turn into females around 2 to 4 years after their birth.
bhetki fish prefers fresh water, salt water, and estuaries which is a point where fresh and saltwater meet.
bhetki fish are born in the ocean, but they live in freshwater. They can live in the salt water.
The age of bhetki Fish comes from the growth rings on their scales.
Large female bhetki Fish can lay upwards of 32 million eggs in a single season.
Some bhetki fish are over 4 feet long and weigh over 90 lbs.
They can travel great distances.
These are some of the interesting facts about bhetki fish. The tastiest Fish in the market has plenty of interesting facts about them. The above-mentioned facts are some of the highlights that make the bhetki fish more popular or an interesting piece in the market.
Bhetki fish lifespan
The life of any fish depends on the care that goes onto them ever since the day they come out in the world. Most breeders do play a major role in the longevity of the Fish. In the wild, the fish resort to survival techniques to live for a long time.
Barramundi or bhetki fish can live up to 20 years of age or even more. Twenty years is average; some bhetki fish have lived to the age of 30.
The reason behind their longevity comes from their well-developed immune system, which helps them to resist a wide variety of diseases and fend off predators. They can also take on a wide range of environmental conditions that include brackish estuaries to fast-flowing rivers.
Their survival rate of dealing with harsh conditions of water and everything else pushes their age to 20 to 30 years.
Variety of Bhetki fish cuisine in India
Bhetki fish has seen a wide variety of cuisine lining up to use it as a main ingredient. The delicious treat is an absolute must for any fish lover who never got their hands on the Fish. The wide variety of dishes adds their own flair to the dish, all the while keeping it tastier for people to come back to.
This section will be all about the recipes behind bhetki fish that is blowing up in India. Kolkata's bhetki fish is wildly popular as it offers mild flavor with few bones, which makes it more than acceptable Fish to add to all types of recipes. That includes fry, curry, and grilled, and the people have done it all to the Fish.
If you look at the cultural market, you will find bhetki Fish surrounded by banana leaves with mustard paste, served as fish fingers paired with zingy kasundi sauce, and more. Suffice it to assume; you will get a handful of Bhetki fish dishes in the market without ever getting the feeling of seeing the same thing over and over again.
Adding the bhetki fish to your weekend diet will be more fun, as creative dishes allow you to experiment and come up with recipes to meet your taste buds' needs.
Recipes of Bhetki fish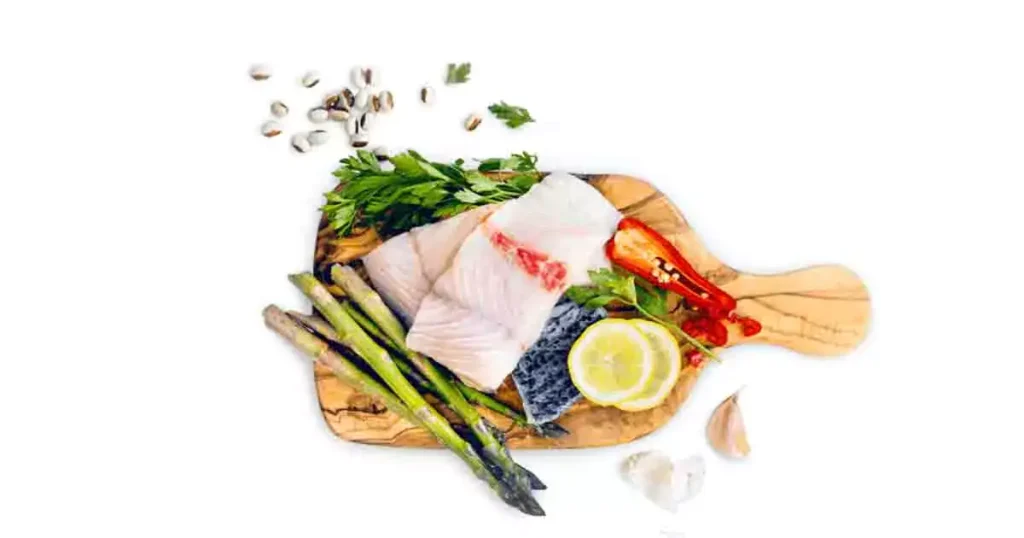 Here we are going to take a look at some of the recipes for bhetki Fish and how they are prepared.
1. Bhetki Fish Fry
First, you will need to marinate the filet with salt and lemon. Then you will have to let it rest for 30 min.
Now it is time to go for the second marination, where we dip the filet in a smooth paste of onion, ginger, green chilies, garlic, and coriander leaves.
The process of marination here lasts for 2 hours in the fridge. After that, you will have to add the marinated filets to a separate mixture consisting of egg, salt, and black pepper.
Now we will dip each filet in all-purpose flour to create a masala coating for a fish fry. You will have to add some salt to the mix; if you don't have any flour, you can choose to add bread crumbs.
Take the filets, and put them in a refrigerator for a while. Which will help prevent cracks from showing up on our fry.
Take a pan, and heat it for a couple of minutes. Then it is time to fry the filet deep until they turn golden brown.
Finally, Serve hot with kasundi dip. And voila, you have made bhetki Fish fried.
2. Grilled Bhetki Fish
Now let's move on to another dish on the line, where we create grilled bhetki fish. The process here is fairly simple and easiest to do compared to others. Make sure to follow the rules for proper directions.
First, you will have to marinate the fish slices in yogurt, tandoori masala, and butter. This should go on for 30-45 min.
Now take a pan out, pour some butter on it, and then cook the Fish for 10 mins covering both sides of it.
Now we will have to get the color on the Fish, which will take an additional 2-3 mins of cooking.
When it's done, serve it with sliced tomato, onion rounds.
3. Bhetki Fish Curry
Now we move onto the curry aspect of recipes, which is fairly common in many parts of India. So you will have no time to learn the grips of this cooking action. The recipe here follows the same model without making any drastic changes to it.
Take turmeric, red chili powder, and salt, and rub them into a mix into the filets. Then you will have to marinate them for around 30 mins.
Take out the pan, and fry the Fish. Now add some cloves, cardamom pods, bay leaves, and ginger-garlic paste. The cooking here should last for ten minutes.
When it's time to add the species, you will have to add turmeric, cumin powder, red chili, coriander, black pepper, and garam masala into the pan and cook it for a full 3 min. You will have to add water so it can boil.
Take some yogurt and salt and let it simmer for ten minutes. Once that is done, take the fried Fish and cook for another 5 mins. Now the curry is ready, you can serve it with rice for the guests.
These are some of the best bhetki fish recipes available in India. Different states have added their take on the bhetki fish dish, so if you move around the country, you will find countless varieties of bhetki fish dishes with different names.
The popularity of bhetki fish goes a long way here. Thanks to the internet, many people are finding out more about food that they never tried before, even if they exist right where they live. bhetki fish is one of the popular mainland items on the menu.
Bhetki price in India and global
The price here is certainly a bit expensive compared to others, and the price point is not known to be consistent; in the current market, you will have to deal with a wide variety of Bhetki fish prices. The Bhetki fish usually comes between 700 to 1500 rupees, but you can also gain access to premium types of Bhetki fish for a cost upwards of 2000.
Take a look at any online fish website. You will be able to find bhetki Fish listed under the price tag of 1000 rupees. The local market might soften the price blow by giving you an affordable outlook on the cost.
The cost of Bhetki here will change from one state to another; the differences between the cost can be a long savings. The cost of Bhetki fish will come from where you are making the purchase and the quality of the Fish you are planning to buy.
The amount for Bhetki fish will differ from one city to another, so make sure to do some research or ask around for better deals. The fluctuation of the price can be troublesome if you are planning to throw a feast.
The premium quality will ask for more, as you will go through a hard time finding it in the local market. If you want a quality version of Bhetki fish, then you need to hit the online field; mind you, the pricing will also reflect the quality aspect.
The international price for Bhetki fish
The global ecommerce market has Bhetki fish or Barramundi in the affordable zone. In the international websites or markets, the cost of the Bhetki fish will remain under $35, which translates to 3000 rupees.
Barramundi is widely popular for various reasons; shopping online from the internal market will allow you to access a wide variety of Barramundi. The international market will have its own asking price, as it will be different from other countries as well. Most of the average Bhetki fish available in the world will easily come under $8 to $9.
The local market here will have a common variety of Bhetki fish or Barramundi. The demand for Fish has never slowed down in India; the supply in the market has always been consistent.
You can easily eat any Bhetki fish without much difficulty. You don't have to break any budget; most of the exquisite Fish in the market falls below the 1000 rupees radar.
The online option gives you a wide variety of selection that is not available in the local market. Interrail market price for the bhetki Fish might sound unreasonable compared to the local market, but quality alone will be worth the price.
Most of the costs dealing in the online world are transportation costs. Yes, when you choose online, you will have a wide variety of Fish to choose from, but at the same time, you will also come across expenses that weren't part of your regular fish purchase.
The cost of transportation is one of the many deal breakers associated with the online transaction. There are plenty of online websites asking for the Fish to be lowered. Different markets will have their asking price, but most of the cost for Bhetki fish will be around $10 to $20.
Where should I buy the Bhetki fish?
It is not difficult to get your hands on popular items in any market, as they will have a long list of supply chains in the market, with more products meeting the market's needs. All the fish products that include Barramundi will have non-consistent prices attached to them.
The price of common Fish generally stays the same whether you are buying it online or from your local market. Quality is the most effective factor in the asking cost. Bhetki fish is one of the many demanding Fish in the native local market. Bhetki holds high popularity in the household, as people are happy to pay the price for them.
The high demand for Bhetki fish will have a major effect on the supply and cost. Most people will get it from the local market, as the Fish is widely popular in the local vicinity, so it wouldn't be difficult for them to go back to the quality shop.
The local market delivers on the quality of the Fish without pushing the overall budget. Unlike the online market, when you switch to a local field, you will have the option to haggle the price to get a better product for your purchase. Online, you will have to stick to the non-changing fixed price for the Fish.
You are not going to find the bhetki fish under 500 rupees. The price here tends to fluctuate, but it will go down the 500 radar; you will always have to choose over 700 or above 1000. While the cost of the Bhetki fish does show nonconsistency in its pricing, it is difficult to predict the future of the cost.
Here you can choose between the online and offline fields; it is better if you decide to go with the local field to get better handling on the price and the quality of the Fish. Most of the time, online may have better quality fish, but without any physical inspection, you are losing a factor that is available.
Conclusion
Bhetki fish is a very demanding fish in India; when you look at the reasons, you will understand what is the case with the people. The demand for Fish is always going to remain; it doesn't matter what market you visit in the country.
The popularity of the Fish is what made it earn different names in the local market. Common varieties of Fish are always going to be much cheaper; the second you take a peek at the curtain of premium ones, then prepare to break the bank for it.
FAQ
The popularity of the Bhetki fish has made plenty of people ask about its price to its health benefits for the health.
Where can I find Bhetki fish in India?
They are easily available in the local market; you will not have to go to any extreme lengths to find the Fish. Fish is widely popular in India, so you will have no trouble finding it. Hit any local stores, and ask for the bhetki fish; you will get one easily without paying big bucks.
Most of the Fish here will easily be available for purchase for under 1000 rupees. The price can go higher if you take a look at the other varieties of bhetki Fish.
Are bhetki Fish expensive?
Yes, it is a bit expensive compared to the regular Fish in the market. But you are getting a list of nutrients that is enough to make decent changes in your life. But many in India see Fish as a celebratory food to have for special occasions rather than making it regular.
The rule follows for most people who have added seafood to their regular diet. Most of the time, seafood is consumed on a weekly basis rather than daily. There are plenty of side effects that you should read about before you make it a regular part of your life. That statement especially rings true when it comes to food.
Is Bhetki fish easy to cook for first-timers?
When you are dealing with any fish that is expensive, you need to take your time and practice with a decent common fish. It is very easy to cook a fish; you don't hit yourself with a thick manual of information to wrap your head around most of the stuff that comes with cooking.
When you follow Indian recipes, you can make the dish taste better with the simplest steps that don't make things complicated.
You can find hundreds of recipes that cover simplistic methods to cook a fish without going overboard. 
Do bhetki fish have any health benefits?
Yes, the list of benefits is what pushes Bhetki Fish to the next frontier. The list of nutrients will have an impact on your health, the number of benefits is backed up by facts and studies, and most of the studies lack subregional research. You will have to take everything here with a bit of salt; most of the benefits are backed up by research papers.
You can add the bhetki fish to your regular diet, but make sure to consult a doctor if you never had any seafood ever in your life. Most seafood might not bode well with people; allergic reactions here are far too common. So make sure to take proper steps and limit the consumption of bhetki fish.