It is one of the most nutritious food. You can get healthy vitamins, fat, minerals, and fiber from walnuts. But that is not all; there are a lot more nutrients present in walnut. In the past 50 years, the popularity of the walnut craze increased.
The edible seed walnut comes under the Juglans genus and Juglandaceae family. People generally confuse in between walnut and stone fruit or drupes. But it is not drupes; it is a drop-like nut. The outer cover of the walnut is very hard. The country which produces half of the walnuts in the world total is China.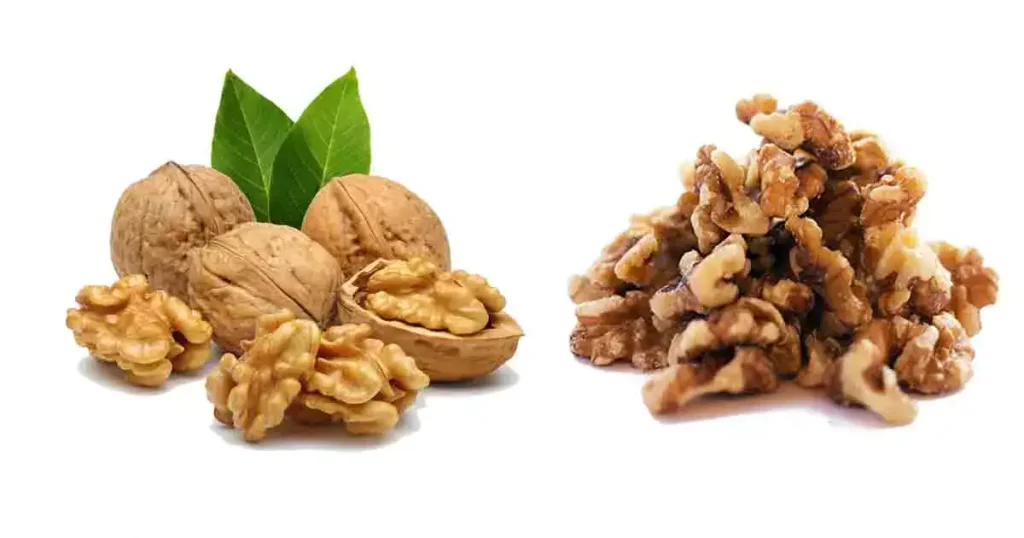 Although walnut is not a true botanical nut, it is considered and used as a nut culinarily. You can discard the outer shell of the walnut after it is fully ripened. You can eat the kernel part.
You can collect all the information about walnut from the below article, like – walnuts in Telugu, their cost, nutritional value, health benefits of walnut, types, availability, and popularity in the local area, and many more.
| | |
| --- | --- |
| English name | Walnut or royal nut |
| Telugu name | Aakrot |
| Scientific name | Juglans regia |
| Kingdom | Plantae |
| Family | Juglandaceae |
| Subfamily | Juglandoideae |
| Genus | Juglans |
| Order | Fagales |
| Tribe | Juglandeae |
wikipedia
Walnuts in Telugu Name
Aakrot is the Telugu name of walnut, which is the most used word among Telugu people for walnut. Walnut is a familiar name for all the Indian people. But if you ask for walnut in rural areas, people can't understand.
You have to use the name Aakrot for better communication. Suppose you are in a typical restaurant in a Telugu -telling area ( Andhra Pradesh, Puducherry, Telangana, some parts of Odisha, Tamil Nadu, and Maharashtra ). In that case, you can see a huge variety of walnut recipes on their menu.
Health benefits of walnut
1. Walnut is rich in antioxidants
As compared to other common nuts, walnut has high antioxidant content. The presence of antioxidant content in walnut is due to plant compounds ( polyphenols ), melatonin, and vitamin E. these elements are found in the walnut's papery skin.
In the case of eating a refined-fat meal, it can't control the oxidized LDL level. But according to some studies, if you consume a walnut-rich meal regularly, it can help to reduce the bad cholesterol level. If your body ( arteries ) has a high LDL level, it can cause atherosclerosis.
2. Walnut is an excellent plant source of omega – 3 fatty acids
Compared to other nuts, walnut is significantly high in good fats like omega – 3 fatty acids. A 28-gram of walnut serving can provide around 2.5 grams of omega-3. The omega – 3 fatty acids present in walnut and other plants are known as ALA, which is alpha-linolenic acid. ALA is essential for the human body, and you can get it from the diet.
A sufficient amount of ALA intake is necessary for both men and women. The respective ALA quantities for men and women are – 1.6 and 1.1 grams. You have to consult with your dietician before adding walnut to your diet. You can decrease 10% the risk of heart disease with the help of ALA.
3. Walnut helps to reduce inflammation
The root cause of so many diseases like oxidative stress, type-2 diabetes, heart diseases, cancer, and Alzheimer's may be inflammation. Walnut contains polyphenols, it helps to fight against inflammation and oxidative stress. Ellagitannins are known as a subgroup of polyphenols. It is also involved in so many health-beneficial elements.
Urolithins is a converted compound from ellagitannins by the beneficial bacteria present in the human gut. Urolithins also fight against inflammation and protect the human body from many diseases. To decrease inflammation, amino acid arginine, magnesium, and ALA are present in walnut help.
4. Walnut helps boost gut health
The sign of good gut health is the presence of health-promoting microbes and bacteria. If the components are missing in your gut, it is unhealthy. If your body has unhealthy microbiota composition, it leads to many diseases like obesity, inflammation, cancer, and heart disease.
Your food intake can influence the maintenance of microbiota in your body. Regular Walnut intake can support the microbiota health. Walnut intake can increase the useful bacteria in your gut and nourish it.
5. Walnut helps to control weight
Walnut is known for its denseness of calories. According to some studies, there is 21% less energy absorption than the expected amount, which you can observe in the case of walnut. Intake of walnut can help in appetite control by decreasing the hunger rate.
Types of walnut
The walnut tree has the capacity to self-pollinate because it contains both female and male flowers. So monoecious is the proper word for walnut trees. If you want the best nut production, you should plant different cultivars of walnut trees in groups. There are so many varieties of walnut you can find worldwide. But some of them are –
1. Black walnut ( scientific name – Juglans nigra )
This walnut species is very famous for its desirable and distinctive taste. You can grow black walnut trees for their attractive and hardwood. Many cultivars of black walnut trees are developed for their improved wood and quality of nuts. It has black-gray bark and a sharp ridge. These factors make it diamond-shaped. Before reach to the first branches, its trunks may be long.
The crowns of black walnut trees are round and dense. These trees have huge leaves that can grow up to 23 inches long. The color of these leaves is bland yellow in Autumn. The other famous names of black walnut trees are – eastern black walnut and American walnut. These trees can grow up to 50 to 150 feet.
2. English walnut ( scientific name – Juglans regia )
This tree comes from Asia and is known as the world walnut tree. The history of the english walnut tree links with the story of Alexander the Great. He introduced this walnut species as an origin of Persia. Most of the country's stores sell english walnut trees as edible nuts. The bark of young english walnut trees is olive-brown, but they turn silver-gray as the trees grow older. 10 to 16 inches is the average length of these leaves.
The falling season of the fruits of these trees is Autumn. The shells of these fruits are comparatively thin and full of rich-flavored seeds inside. Asia and Europe are its natives. Some other common names of this species are – Persian walnut and common walnut. The average height of these trees is 40 to 60 feet.
3. Butternut ( scientific name – Juglans cinerea)
The average height of this deciduous tree is about 40 to 60 feet. It can live over 75 years, and its growth is very slow. It looks like a black walnut tree. Its native is Eastern North America.
The butternut tree is comparatively small, with smaller nuts, fewer leaflets, and less fissured bark. The nuts of this tree are oval rather than round. Due to the spreading of cancer disease, the availability of this species is less. Butternut is also known as long walnut, white walnut, or oilnut.
4. Andean walnut ( scientific name – Juglans Neotropica )
The native areas of Andean walnut are Peru, Ecuador, and Colombia. This slow-growing tree has brown-red and grooved bark, an oval-shaped canopy, large and pointed leaves, and serrated leaflets, which are arranged in pairs. Regionally, andean walnut tree is also known as Peruvian walnut, Ecuador walnut, or Columbian walnut.
Generally, this walnut tree is grown for its highly prized wood and nuts. This endangered species is rarely grown in the United States. This tree can grow up to 130 feet, but its average height is around 50 to 65 feet.
5. Arizona black walnut ( scientific name – Juglans major )
This tree features a stout and single trunk in the moist condition. You can usually identify more than one trunk in drier conditions. 7 to 14 inches is the length of its leaves. The central steam is surrounded by grouped leaflets.
Arizona black walnut can grow up to 50 feet. Its natives are Southwest US ( New Mexico, Utah, Oklahoma, Arizona, and Texas ) and Mexico. This tree is also popular as mountain walnut, New Mexico walnut, and river walnut. Dry territory and moist soil are perfect for Arizona black walnut.
6. Brazilian walnut ( Juglans Australis )
This spreading deciduous tree can grow up to 75 feet. It produces lumbers of first quality, and it has a straight trunk. You can consume both the mature and immature fruits of Brazilian walnut trees.
Its natives are Bolivia and Argentina. Sometimes, it is grown in North America. It is also famous for tropical walnut and Nogal Criolla.
7. Japanese walnut ( scientific name – Juglans Ailantifolia )
This tree is deciduous and has a light gray bark. There is an appearance of new foliage in spring, and at this time, male flowers of this tree are produced, which are yellow-green catkins. The color of female flowers is reddish pistils or attractive pink. The average height of a Japanese walnut tree is around 40 to 65 feet.
This tree has large leaves, which can grow up to 25 inches with 11 to 17 leaflets. The color of the leaflets is light green. The leaves of this walnut species are pinnately compound. Siebold walnut and heartnut walnut are other common names for Japanese walnut.
8. California black walnut ( Juglans Californica )
There are two types of California black walnut you can find. One is a big shrub with one to six main stems, and the other is a small tree with a single trunk. The trunk is close to the ground level.
This walnut tree has thick bark with deeply channeled which is furrows with maturity. The tree can grow up to 50 to 75 feet approximately. It is also popular as Southern California black walnut because of its native, which is Southern California.
Nutritional value of walnut
The nutritional value you can get from 100 grams of walnut is –
| | |
| --- | --- |
| Energy | 654 kcal |
| Protein | 15.23 grams |
| Fat Monounsaturated fat Saturated fat Polyunsaturated fat Omega – 6 fatty acids Omega – 3 fatty acids | 65.21 grams 8.933 grams 6.126 grams 47.174 grams 38 grams 9 grams |
| Carbohydrates dietary fibers Sugars Starch | 13.71 grams 6.7 grams 2.61 grams 0.06 grams |
| Water | 4.07 grams |
| Vitamins | Quantity | % of the daily value |
| --- | --- | --- |
| Vitamin A equivalent | 1 microgram | 0% |
| Lutein zeaxanthin | 9 microgram | – |
| Beta-carotene | 12 microgram | 0% |
| Vitamin A | 20 IU | – |
| Vitamin B1 ( thiamine ) | 0.341 mg | 30% |
| Vitamin B2 ( riboflavin ) | 0.15 mg | 13% |
| Vitamin B3 ( niacin ) | 1.125 mg | 8% |
| Vitamin B5 ( pantothenic acid) | 0.570 mg | 11% |
| Vitamin B9 ( folate ) | 98 microgram | 25% |
| Vitamin B6 | 0.537 mg | 41% |
| Vitamin B12 | 0 microgram | – |
| Vitamin C | 1.3 mg | 2% |
| Vitamin E | 0.7 mg | 5% |
| Vitamin K | 2.7 microgram | 3% |
| Minerals | Quantity | % of the daily value |
| --- | --- | --- |
| Zinc | 3.09 mg | 33% |
| Sodium | 2 mg | 0% |
| Potassium | 441 mg | 9% |
| Phosphorus | 346 mg | 49% |
| Manganese | 3.414 mg | 163% |
| Magnesium | 158 mg | 45% |
| Iron | 2.91 mg | 22% |
| Calcium | 98 mg | 10% |
The percentage of water, protein, fat, carbohydrate, and fiber present in walnut without shells are – 4%, 15%, 65%, 14%, and 7%, respectively. You can get an eye-catching amount of energy, dietary minerals, vitamins, and manganese from walnut. As discussed above that, typically, there are 2 types of walnuts present all over the world. The nutrient profile and nutrient density of both black walnut and English walnuts are the same. But the consumption of English walnuts is more common than the other one.
Some walnut photos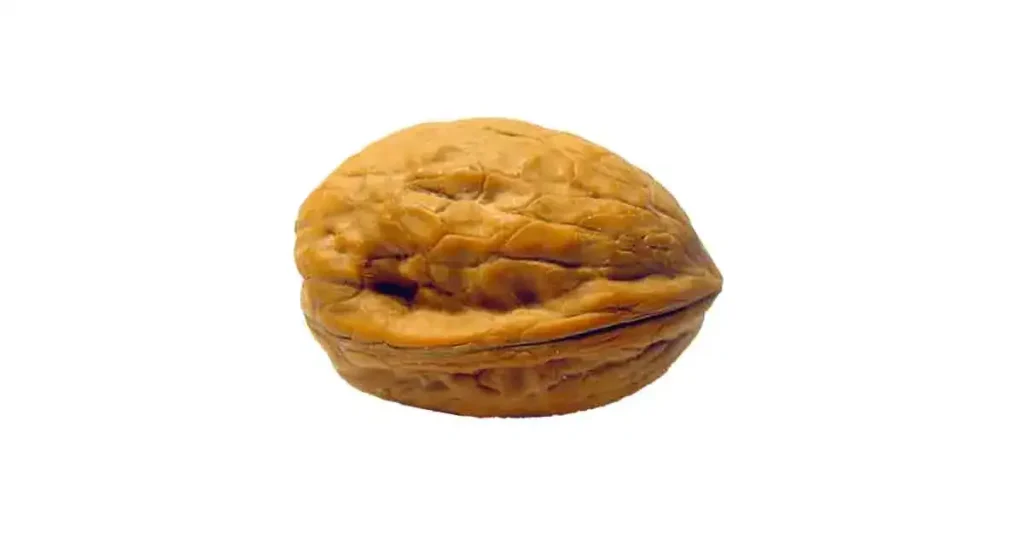 Cost of Walnuts in Telugu areas
In India, you can buy 1 kg walnut without a shell by spending around Rs 1000 to Rs 2000 approximately. But the shelled walnut cost is approximately Rs 500 to Rs 1200 per kg. You can also prefer online stores to buy walnut. They offer some discounts always. Because of its one-time production in a year and low yields, the walnut cost is a little expensive.
Popularity and availability of walnuts in Telugu areas (Andhra Pradesh, Puducherry, Telangana, some parts of Odisha, Tamil Nadu, and Maharashtra )
You can see a good production of walnut in Indian states. The walnut production states of India are – Himachal Pradesh, Jammu and Kashmir, Arunachal Pradesh, and Uttaranchal. Jammu and Kashmir is known as the largest walnut producer in India. So there is no deficiency of walnut in Indian states, including the Telugu-telling states. Because of its health benefits and nutty flavor, it is also popular among Indian people.
Popular Recipes of Walnuts in Telugu areas
Walnut burfi, celeriac and walnut tacos, banana-walnut granola, walnut spice cake, candied walnuts, chocolate walnut fudge, Persian pomegranate and walnut chicken, walnut bars, honey and walnut tart, walnut – cranberry – feta salad, carrot – walnut cake, walnut bread, are some popular walnut recipes you can see in the menu of many restaurants.
Conclusion
The natives of walnuts are America and southern Asia. They gain popularity for their flavorful kernels. It is best to eat the raw kernel because of its good flavor and health benefits. But in so many, walnuts are used in so many Indian delicacies. India is placed in the 7th rank for walnut production worldwide.
This nutritious nut is high in omega – 3 fatty acids and antioxidants and provides many beneficial functions in the human body. You can incorporate walnut into your diet in so many ways. It smoothly pairs with so many dishes.
Hope you got all the information about walnut from the above article, like – walnuts in Telugu, their cost, health benefits, nutritional value of walnut, recipes, popularity and availability, and many more.
Frequently asked questions
1. What is walnut?
Walnut or akhrot is a super nutritious and flavorful nut that adds nutritional value, flavor, and crunch to your regular and boring meal. It is a great source of omega – 3 fatty acids and magnesium, which are beneficial for health. Its shell is very hard and brown colored. Its kernels are settled in a round shape and close to each other. You can eat walnut after it is fully ripened in September to November.
2. What is the storage procedure for walnut?
You must store tree nuts like a walnut in a proper manner. If you don't store walnut properly or in poor storage, they may be susceptible to fungal mold infections and insects. Later, walnut produces aflatoxin or a potent carcinogen. Then you have to discard the whole batch of mold-infested walnuts. The seeds have a brown coat that contains high antioxidants.
3. What are the non-food applications of walnut?
Besides the consumption of walnut, there are so many other ways you can use walnut. Some are folk medicine, inks and dyes, woodworking, and cleaning. You can use Boiled walnut as an antifungal agent.
4. What are the types of walnut?
There is a huge variety of walnut you can find worldwide. Some important species are – The andean walnut, Arizona black walnut, Black walnut, Butternut, Brazilian walnut, California black walnut, English walnut, Northern California Black walnut, Japanese walnut, Manchurian walnut, and Little walnut.
Some popular Indian walnut species are – the Wilson walnut, Kashmir Budded walnut, Placentia walnut, Eureka walnut, Franquetfe walnut, Lake English walnut, Opex Caulchry walnut, Chakrata Selections walnut, Gobind walnut, CITH walnut-1, 2, 3, 4, and 5.