Katla (Catla catla) is a freshwater fish species that holds significant importance in South Asia's culinary and cultural landscape, particularly in countries such as India, Bangladesh, Nepal, and Pakistan. It is one of the significant indigenous fish species in these regions and is often referred to as the "Indian carp." Known for its large size, Catla is a popular choice among fish enthusiasts and is widely consumed due to its delicious taste and nutritional value.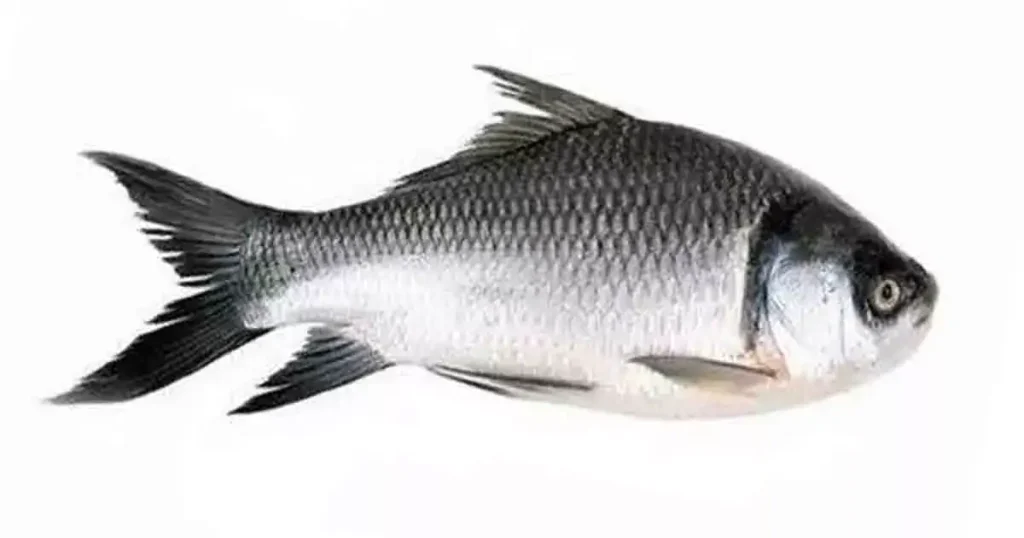 The upcoming article provides a comprehensive overview of Katla Fish, including vital information such as the distinct name used for catla Fish in English, its price, health benefits, and nutritional value.
Additionally, the article delves into exploring various Katla fish varieties, popular recipes featuring Katla fish, availability in the market, and more. The primary objective of this article is to provide readers with a comprehensive understanding of catla fish and its significance in the culinary world.
| | |
| --- | --- |
| Kingdom | Animalia |
| Phylum | Chordata |
| Class | Actinopterygii |
| Order | Cypriniformes |
| Family | Cyprinidae |
| Genus | Catla |
| Species | Catla catla |
wiki
Katla Fish in English name
The English name for the fish species "Katla" is "Katla." In the context of fisheries and aquaculture, it's often referred to as the "Katla Carp" or "Indian Carp." The term "Katla" itself is commonly used in English to describe this particular fish species, especially when discussing its biology, habitat, culinary uses, and cultural significance.
They are omnivorous, feeding on a variety of aquatic plants, insects, crustaceans, and smaller fish. They are known to exhibit schooling behaviour, often found in groups. catla fish plays a vital role in the subsistence and commercial fishing industries of South Asian countries. It contributes to the livelihoods and food security of local communities.
Notably, common names of fish species can vary by region and language. So, while "Katla" is this fish's widely accepted English name, local names and variations might exist in different areas or communities.
Nutritional Value of Katla Fish
The nutritional values of Katla fish (Catla catla) per 100 grams of raw, edible portion are approximate and can dif based on factors such as the fish's age, habitat, and diet. Here's an estimated breakdown of the nutritional components found in 100 grams of raw catla fish:
| Nutritions | Values |
| --- | --- |
| Calories | Around 97 calories |
| Protein | Approximately 20.5 grams |
| Total Fat | Approximately 2 grams |
| Saturated Fat | Less than 1 gram |
| Unsaturated Fat | Approximately 1.5 grams |
| Omega-3 Fatty Acids | About 150-200 milligrams |
| Minerals | Values |
| --- | --- |
| Cholesterol | Approximately 75 milligrams |
| Sodium | Around 40 milligrams |
| Potassium | Approximately 350 milligrams |
| Phosphorus | About 200 milligrams |
| Selenium | Around 36 micrograms |
| Vitamin | Quantity |
| --- | --- |
| Vitamin B12 | About 2.5 micrograms |
| Niacin (Vitamin B3) | Approximately 5 milligrams |
Please note that these values are general estimates and can differ on factors such as cooking methods (grilled, fried, boiled, etc.) and specific fish characteristics. Additionally, these values do not account for any added ingredients, seasonings, or cooking oils used during preparation.
Health Benefits of Katla Fish
catla fish (Catla catla) offers several potential health benefits due to its nutritional profile. While individual health outcomes can vary based on factors like overall diet, lifestyle, and health conditions, here are some of the prospective health benefits associated with consuming Katla fish:
1. High-Quality Protein Source
Katla fish is a good source of high-quality protein essential for muscle growth, tissue repair, and overall body maintenance. Adequate protein intake supports the body's metabolic functions and helps maintain lean muscle mass.
2. Omega-3 Fatty Acids
While catla fish contains moderate amounts of omega-3 fatty acids, these healthy fats are known for their potential benefits in reducing inflammation, supporting heart health, and promoting brain function. Omega-3s have been related to a reduced risk of cardiovascular diseases.
3. Heart Health
The omega-3 fatty acids and low saturated fat content in Katla fish contribute to heart health by helping to reduce bad cholesterol (LDL cholesterol) levels and promoting healthy blood vessels. It can curtail the risk of heart disease.
4. Brain Health
Omega-3 fatty acids, particularly docosahexaenoic acid (DHA), play an important role in brain development and mental function. Including omega-3-rich foods like catla fish in the diet may contribute to maintaining brain health and cognitive performance.
5. Nutrient Density
Katla fish provides essential nutrients such as vitamin B12, which supports nerve function and red blood cell production, and selenium, which acts as an antioxidant and supports immune function.
6. Weight Management
The protein content in Katla fish can contribute to satiety and help control appetite, potentially aiding in weight management efforts.
7. Bone Health
The presence of phosphorus in catla fish contributes to bone health by assisting in forming and maintaining strong bones and teeth.
8. Antioxidant Properties
Selenium, an antioxidant mineral found in Katla fish, assists in protecting cells from oxidative stress and keeps up the body's defence against free radicals.
9. Blood Sugar Regulation
The protein content and balanced nutrient profile of catla fish may help stabilize blood sugar levels when consumed as part of a well-balanced diet.
10. Nutrient Diversity
Including Katla fish in the diet adds variety to the sources of protein and nutrients, contributing to a diverse and well-rounded nutritional intake.
11. Important Considerations
While Katla fish offers potential health benefits, it's crucial to consider the overall quality of your diet and lifestyle factors such as exercise, stress management, and sleep.
Balance and moderation are key; consuming a variety of nutrient-rich foods is recommended for optimal health.
As with any dietary component, making informed choices based on your health goals and needs is essential.
Side Effects of Katla Fish
Most people consider consuming catla fish (Catla catla) safe and nutritious. However, like any food, there may be some considerations to keep in mind, especially for individuals with specific health conditions or allergies. Here are a few potential side effects or concerns related to consuming Katla fish:
1. Allergic Reactions
Some individuals may be allergic to fish, including catla. Fish allergies can range from mild to severe and may result in symptoms such as hives, swelling, difficulty breathing, or digestive discomfort. If you suspect a fish allergy, seeking medical attention is important.
2. Mercury Contamination
Like many other fish, Katla fish may contain trace amounts of mercury, a naturally occurring heavy metal that can accumulate in fish over time. While Katla is generally considered to have lower mercury levels compared to larger predatory fish, it's still a good practice to consume fish in moderation, especially for pregnant women, nursing mothers, and young children.
3. Bone Hazards
Some types of fish, including Katla, may have fine bones that can pose a choking hazard, especially if not properly prepared or cooked. Care should be taken to remove bones before consuming.
4. High Cholesterol Content
Katla fish contains cholesterol, which might be a consideration for individuals with certain health conditions, such as high blood cholesterol levels. However, current dietary guidelines have shifted towards focusing on the overall quality of fats and the diet as a whole rather than singling out cholesterol-containing foods.
5. Digestive Sensitivity
As with any food, some individuals may experience digestive discomfort after consuming Katla fish. It could be due to factors like individual tolerance, preparation methods, or accompanying ingredients.
6. Cooking Methods
The health benefits of Katla fish can be influenced by how it's cooked. Deep frying or using excessive amounts of oil can add unhealthy saturated fats and calories. Opting for healthier cooking methods like grilling, baking, or steaming can help retain the nutritional value of the fish.
7. Environmental Considerations
In some regions, water bodies where Katla fish are found might be affected by pollution or environmental contaminants. It's important to be aware of the source and quality of the fish you consume.
It's worth noting that the possible side effects or considerations listed above are not exhaustive, and individual responses can vary. If your body requires specific health concerns, dietary restrictions, or allergies, it's a good idea to talk with a healthcare professional or registered dietitian before making significant changes to your diet.
Different Varieties of Katla Fish
If you're looking for a wider variety of freshwater fish species, there are several other types of fish that are distinct from catla and are found in South Asian waters. Some of these fish include: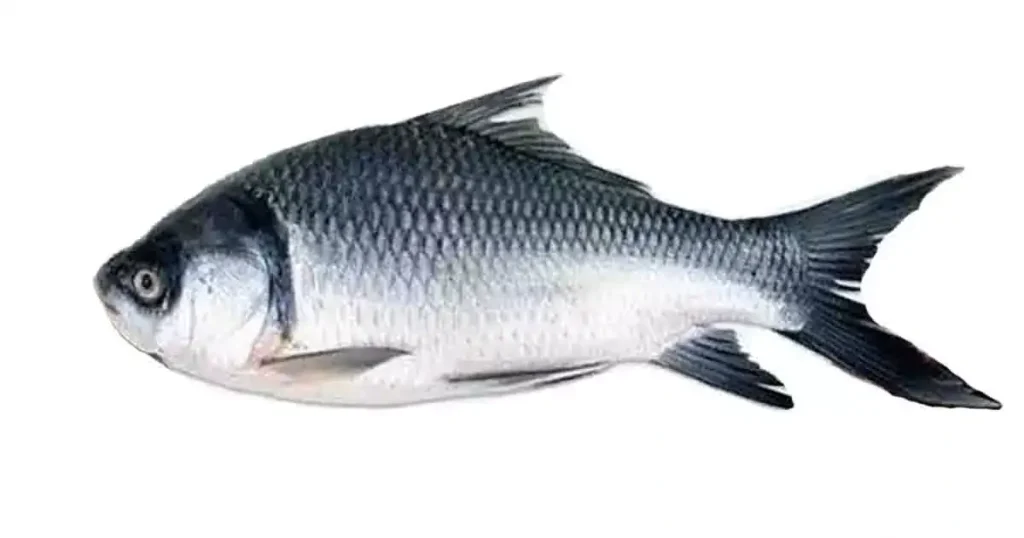 1. Rohu (Labeo rohita)
Another popular carp species, often found alongside Katla, known for its taste and culinary uses.
2. Mrigal (Cirrhinus mrigala)
A carp species that is commonly cultivated in aquaculture and consumed in South Asia.
3. Common Carp (Cyprinus carpio)
This is a well-known carp species with different variants, often found in various parts of the world, including South Asia.
4. Grass Carp (Ctenopharyngodon idella)
A herbivorous carp species often used in aquaculture for controlling aquatic plants.
5. Silver Carp (Hypophthalmichthys molitrix)
Another carp species known for its silver colouration and distinct jumping behaviour.
6. Bighead Carp (Hypophthalmichthys nobilis)
A carp species known for its large size and culinary uses.
7. Tilapia
A widely cultivated and consumed fish species with a mild flavour and adaptability to various cooking methods.
8. Hilsa (Tenualosa ilisha)
A popular and culturally significant fish found in South Asian waters, especially in river deltas.
9. Pangasius (Pangasianodon hypophthalmus)
A catfish species often farmed for its mild-tasting fillets.
10. Murrel (Snakehead Fish)
A group of predatory freshwater fish known for their distinct appearance and taste.
Remember that the naming and categorization of fish can vary by region and language so local names may differ. It's always a good idea to consult with local experts or fisheries authorities for accurate information on the different varieties of fish in a specific area.
Cost of Katla Fish
The cost of Katla fish (Catla catla) can indeed vary significantly in different parts of the world due to various factors, including local supply and demand, import/export regulations, transportation costs, and cultural preferences. Here's a general overview of how catla fish prices might differ in various regions:
South Asia (India, Bangladesh, Nepal, Pakistan)
catla fish is native to this region and is commonly consumed. As such, it is likely to be more affordable in these countries compared to other parts of the world. Prices may still vary within these countries based on factors such as location, season, and market demand.
International Markets
In countries where Katla fish is not native and needs to be imported, prices may be higher due to transportation costs, import tariffs, and other logistical factors. It could apply to countries outside of South Asia where there is demand for South Asian cuisine.
Ethnic Grocery Stores
In regions with a significant South Asian population, such as in some parts of Europe, North America, and Australia, catla fish might be available at specialized ethnic grocery stores. Factors like local demand and availability could influence prices.
Local Production
Katla fish might be cultivated through aquaculture in some places. Prices may vary Depending on the production cost and local market conditions.
Seasonal Variations
Prices of fish can often be influenced by seasonal factors, with variations in supply affecting the market.
It's important to note that information available up to September 2021 and fish prices can change over time due to various economic and market factors. For accurate and current pricing information, the best will be reaching out to local seafood markets, fishmongers, or online retailers in the specific region you are interested in.
Katla Fish Farming in India
Katla fish farming, also known as aquaculture or pisciculture, is a significant industry in India. catla fish (Catla catla) is a major carp species commonly farmed in the country because of its saleability as a food fish and its adaptability to aquaculture practices. Here's an overview of Katla fish farming in India:
Importance of Katla Fish Farming:
catla fish is one of the traditional and economically important fish species farmed in India, particularly in states like West Bengal, Andhra Pradesh, Odisha, and Bihar. It plays a crucial role in providing protein-rich food, generating employment opportunities, and contributing to the economy.
Aquaculture Systems:
Katla fish farming is practised in various aquaculture systems, including ponds, tanks, and reservoirs. Traditional pond-based farming is common, where fish are cultured in freshwater ponds and provided with natural feeds and fertilizers.
Life Cycle and Culture:
The life cycle of catla fish includes spawning, hatching, fry rearing, fingerling production, and grow-out. Fish farmers often source fingerlings from hatcheries or produce them on-site through induced breeding.
Feeding and Nutrition:
Katla fish are omnivorous and can be fed a combination of natural, supplementary, and commercial fish feeds. Nutritional management is important to ensure healthy growth and development.
Water Quality Management:
Maintaining proper water quality parameters is essential for successful fish farming. This includes monitoring factors such as dissolved oxygen, temperature, pH, and ammonia levels.
Disease Management:
Disease outbreaks can affect fish health and production. Regular health checks, preventive measures, and biosecurity protocols are essential to minimize disease risks.
Market and Economic Considerations:
The demand for Katla fish remains consistent due to its popularity in South Asian cuisine. Fish farmers often sell their produce to local markets, fish markets, and wholesalers.
Government Initiatives and Support:
The Indian government, through agencies like the National Fisheries Development Board (NFDB) and state fisheries departments, provides support and assistance to fish farmers through various schemes and programs.
Sustainability and Environmental Concerns:
Sustainable farming practices, responsible water use, and proper waste management are essential to minimize environmental impacts.
Research and Extension:
Research institutions and universities in India conduct studies and provide technical guidance to improve Katla fish farming practices.
It's important to note that the aquaculture industry is dynamic and can vary from region to region within India. Regulations, technologies, and practices may change over time. For individuals interested in starting or expanding catla fish farming operations, it's advisable to seek guidance from local fisheries authorities, agricultural extension services, and experts in aquaculture.
Availability of Katla Fish
katla fish (catla) is commonly available in South Asia, especially in countries like India, Bangladesh, Nepal, and Pakistan. It is one of the major freshwater fish species in the region and is widely consumed due to its culinary appeal and cultural significance. Here's more information about the availability of Katla fish:
Local Markets
In South Asian countries, Katla fish is commonly found in local fish markets, grocery stores, and fishmonger shops. It is a popular choice among consumers and is often available fresh.
Seasonal Availability
The availability of Katla fish can be influenced by seasonal factors. It is important to note that fish availability may vary throughout the year due to breeding cycles, monsoon seasons, and other ecological factors.
Aquaculture Production
Katla fish is also farmed through aquaculture practices, which helps to ensure a more consistent supply of fish to the market. Fish farmers cultivate Katla fish in freshwater ponds, tanks, and other aquatic systems.
Online Retailers
In some regions, including urban areas with good internet access, Katla fish might also be available for purchase through online seafood retailers.
Regional Variations
Availability might vary from one region to another within South Asian countries based on factors such as local demand, fishing or aquaculture practices, and transportation networks.
It's worth noting that the availability of Katla fish outside of South Asian countries might be more limited. In regions with South Asian communities, specialized grocery stores catering to those communities may carry Katla fish.
If you're looking for Katla fish, the best approach is to check with local fish markets, seafood vendors, or speciality stores in your area. They can provide you with the most accurate and up-to-date information about the availability of Katla fish in your specific location.
Katla Fish Recipes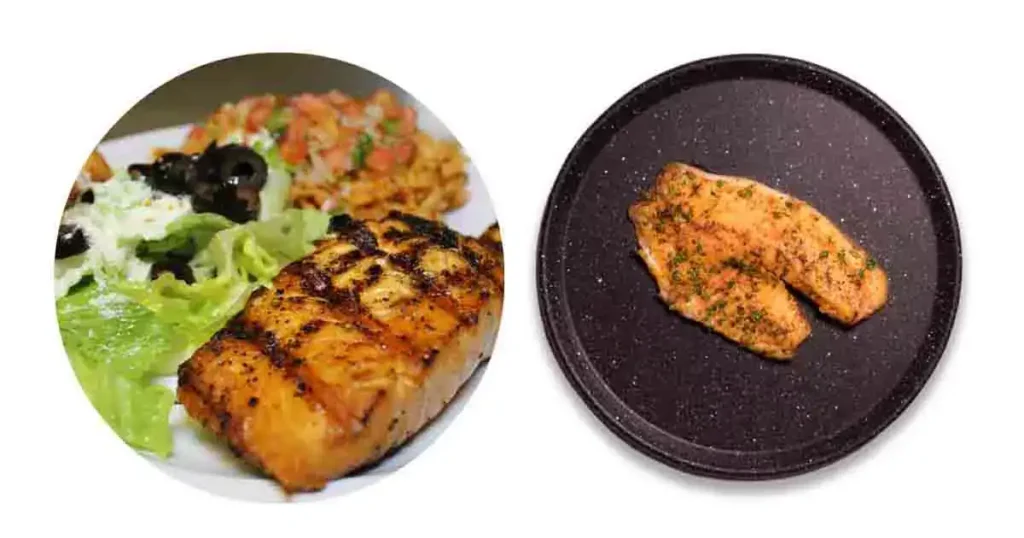 Katla Fish Fry Recipe
Here's a simple recipe called "Katla Fish Fry". To make the recipe follow the procedure below:
Ingredients:
Katla fish pieces
Turmeric powder
Red chilli powder
Lemon juice
Salt to taste
Oil for frying (Mustard or Sunflower)
Instructions:
First, Add Turmeric powder, red chilli powder, lemon juice, and salt and marinate with the fish. Let it sit for about 15-20 minutes.
Then heat oil in a pan for frying. You can take mustard oil or sunflower oil.
Then fry the marinated fish pieces until they are crispy and golden brown on both sides.
Now You can drain excess oil on paper towels and serve hot with lemon wedges.
Other Katla Fish Recipes
Katla fish besar or Bhakura machha besara (using dry mango or Ambula), Bhakura Machha tawa fry or Katla fish tawa Fry, Katla fish tandoori, Katla fish pakode, Katla fish tel jhal recipe or Bhakur Machha tel jhal, Bhakura machha patra poda recipe, Katla fish fillet chilli recipe, Katla fish Checheda or Bhakura machha checheda recipe and etc. For more recipes you can check youtube.
Conclusion
In conclusion, Katla fish in English holds a significant place in South Asian cuisine, culture, and aquaculture. This freshwater fish species is widely appreciated for its culinary appeal, nutritional value, and cultural importance.
Its silver-coloured body, distinctive appearance, and adaptable nature make it a versatile ingredient in a variety of traditional dishes. Proper management and sustainable practices are essential to ensure the continued availability of Katla fish for both present and future generations.
Frequently Asked Questions
1. What is the taste of Katla fish?
Katla fish has a mild flavour and firm flesh, making it suitable for various cooking methods. It absorbs the flavours of spices and herbs used in traditional South Asian dishes.
2. How is Katla fish prepared and cooked?
Katla fish can be prepared in various ways, including curries, fries, stews, and biryanis. It is often marinated with spices and herbs before cooking.
3. Is Katla fish available year-round?
The availability of Katla fish can vary based on factors like breeding cycles and seasonal variations. It is important to check local markets for current availability.
4. Is Katla fish suitable for people with allergies?
Some individuals may be allergic to fish, including Katla fish. It's important to be cautious if you have known fish allergies.
5. How should Katla fish be stored and handled?
Katla fish should be stored in a cool environment, ideally refrigerated, and consumed within a short time for optimal freshness.