Colocasia, commonly known as taro, is a versatile and ancient plant that holds significance in various cultures around the world. Belonging to the Araceae family, colocasia is primarily grown for its starchy, underground corms, which serve as a staple food in many regions.
The plant's large, heart-shaped leaves and unique growth habit also make it a popular ornamental plant in gardens and landscapes.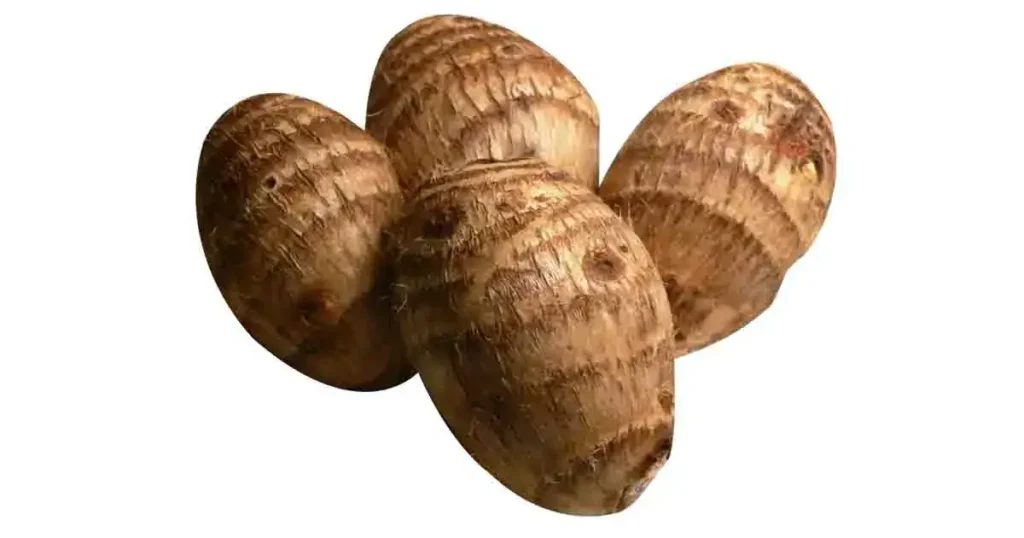 You can gather many informative points about colocasia from the article below. Like – Colocasia in Kannada, its cost, nutritional value, health benefits, uses, popularity, availability in the local area, and many more.
Colocasia in Kannada name
| | |
| --- | --- |
| English name | Taro |
| Kannada name | Kesavedantu, or Keshavanagadde |
| Kingdom | Plantae |
| Clade | Tracheophytes |
| Clade | Angiosperms |
| Clade | Monocots |
| Order | Alismatales |
| Family | Araceae |
| Subfamily | Aroideae |
| Tribe | Colocasieae |
| Genus | Colocasia |
wiki
Kesavedantu, or Keshavanagadde, is the Kannada name for colocasia. It has various culinary uses in Karnataka, India, as it does in many other parts of the world.
There are some different uses of colocasia in Karnataka cuisine, such as Pathrode, Kesuvina Gadde Palya, Kesuvina Gantu, Kesu Bajji, Kesu Upkari, Kesu Tambli, Kesu Sasive, Kesu Halwa, Kesu Tovve.
These are just a few examples of how colocasia is used in Karnataka cuisine. The plant is versatile, and its different parts—leaves, tubers, and stems—are utilized in various dishes, contributing to the region's rich and diverse culinary tradition.
Keep in mind that regional variations and local recipes may exist, so the uses of colocasia can vary within Karnataka and other parts of India.
Health Benefits of Colocasia
Colocasia, also known as taro, is a nutritious root vegetable that offers several potential health benefits to consume in various foods as part of a balanced diet. Here are some of the health benefits associated with colocasia:
Rich in Nutrients
Digestive Health
Heart Health
Energy Source
Low in Fat and Calories
Gluten-Free
Anti-Inflammatory Properties
Antioxidant Benefits
Bone Health
Blood Sugar Management
Side Effects of Colocasia
While colocasia, also known as taro, offers several potential health benefits, there are some important considerations and possible side effects of colocasia to be aware of:
Oxalates
Allergic Reactions
Gastrointestinal Upset
Throat Irritation
Cyanide Compounds
High Carbohydrate Content
Moderation
Different Varieties of Colocasia
Colocasia, commonly known as taro, is a diverse group of plants that includes various species and cultivars. Different colocasia varieties can vary in appearance, flavour, and culinary uses. Here are a few different varieties of colocasia:
Colocasia esculenta
Eddoe (Colocasia esculenta var. antiquorum)
Dasheen (Colocasia esculenta var. antiquorum)
Coco Yam (Colocasia esculenta var. antiquorum)
Colocasia gigantea
Colocasia affinis
Colocasia fallax
Colocasia fontanesii
Colocasia antiquorum
Colocasia esculenta var. aquatilis
It's important to note that while many varieties of colocasia are grown for their edible tubers, leaves, and stems, some are primarily cultivated for ornamental purposes due to their attractive foliage. When using colocasia for culinary purposes, it's essential to properly cook the tubers to eliminate any potentially harmful compounds and to enhance their flavour and texture.
Nutritional Value of Colocasia
Colocasia, also known as taro, is a starchy root vegetable consumed in various cuisines worldwide. Its nutritional value can vary slightly depending on factors such as the specific variety, preparation method, and serving size. Here's a general overview of the nutritional value of colocasia per 100 grams of cooked taro:
| Nutritions | Values |
| --- | --- |
| Calories | 112 kcal |
| Carbohydrates | 26 grams |
| Dietary Fibre | 4 grams |
| Sugars | 1 gram |
| Protein | 1.5 grams |
| Fat | 0.2 grams |
Vitamins and Minerals
Vitamin E
Vitamin B6
Folate
Potassium
Magnesium
Phosphorus
Iron
Calcium
Zinc
Copper
Manganese
Market Value of Colocasia in Kannada areas
The market value of colocasia in India, like any other agricultural product, can be influenced by factors such as:
Location
Prices can vary between different states, regions, and cities within India based on local demand, availability, and transportation costs.
Season
Availability of colocasia can fluctuate depending on the growing season, which can impact prices.
Supply and Demand
Higher demand or limited supply can lead to higher prices, while oversupply can lead to lower prices.
Quality and Size
Larger, higher-quality colocasia may command higher prices in the market.
Market Trends
Economic conditions, consumption patterns, and trends in cuisine can influence market value.
Processing and Distribution Costs
Transportation, packaging, and handling costs can affect the final market price.
Availability of Colocasia in Kannada areas
Colocasia, commonly known as taro, is widely cultivated in various parts of the world, including India. Its availability can vary based on factors such as region, climate, and local culinary preferences. In India, colocasia is commonly grown and used in different cuisines. Here's a general overview of availability of colocasia in Kannada areas:
Specific Seasons
Different Regions
Local Vegetable Markets
Culinary Uses
Traditional Dishes
Processed Forms
It's important to note that factors like weather conditions, market demand, and local agricultural practices can influence availability. If you're looking to purchase colocasia, check with local vegetable markets or grocery stores in your specific region in India. They can provide you with more accurate and up-to-date information on the availability of colocasia.
Conclusion
In conclusion, colocasia also known as kesavedantu in Kannada is a versatile and culturally significant root vegetable that can provide a valuable source of nutrients and energy.
However, it's important to be aware of potential health considerations and to consume it in moderation, especially for individuals with specific dietary needs or conditions.
As with any food, incorporating colocasia into your diet should be based on your individual preferences, nutritional requirements, and overall health considerations.
Frequently Asked Questions
1. What does colocasia taste like?
Colocasia has a mild, nutty, and slightly sweet flavour when cooked. Its taste can vary depending on the variety and how it is prepared.
2. How is colocasia prepared for cooking?
Colocasia tubers should be peeled to remove the outer skin and then cooked before consumption. The leaves can also be cooked after being properly cleaned.
3. Can I eat colocasia leaves?
Yes, colocasia leaves are edible after being properly cooked. They are often used to make dishes like "Patra" in Indian cuisine.
4. Where can I buy colocasia?
Colocasia can be found in local vegetable markets, grocery stores, and speciality stores, particularly in regions where it is commonly consumed.
5. Is colocasia gluten-free?
Colocasia is naturally gluten-free, making it a worthy option for some of people with celiac disease or gluten sensitivity.