The article offers a wealth of information about these remarkable seeds, encompassing Chia seeds in Gujarati name, market price, nutritional composition, health benefits, culinary uses, growing popularity, and regional accessibility.
Chia seeds, characterized by their oval shape and grey colour with distinctive black and white markings, are obtained from the Salvia hispanica plant primarily situated in the regions of Mexico's center and south. They can also be derived from the Salvia columbariae plant, which grows in the southwestern parts of the United States and Mexico.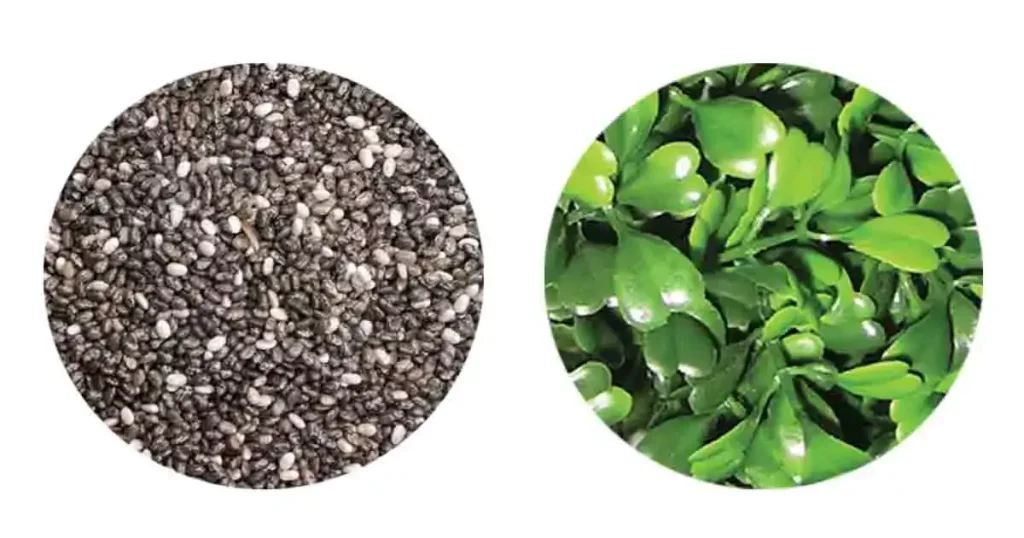 When these seeds come into contact with moisture, they have the remarkable ability to absorb liquid multiple times their own weight, resulting in the formation of a gel-like coating that lends a unique texture to foods and beverages made with them.
Having a long-standing history of several millennia in Central and South America, particularly in Mexico, these seeds have been highly prized by civilizations such as the Mayans and Aztecs. Recognized for their energy-boosting properties and their ability to enhance endurance, especially among warriors, chia seeds held significant cultural importance.
They were not only used as a form of currency in Aztec society but also played a symbolic role in religious ceremonies, representing a connection between the spiritual and physical realms.
Chia seeds, known for their small and oval-shaped structure, possess a smooth and shiny outer shell. When exposed to moisture, they undergo a fascinating transformation, developing a gel-like coating that contributes to their distinct texture.
Today, these seeds are widely acclaimed for their exceptional nutritional composition, rich in essential nutrients such as fiber, protein, antioxidants, and various vitamins and minerals. As a result of their exceptional qualities, chia seeds have gained popularity as versatile ingredient in the culinary world.
They are commonly incorporated into a wide range of dishes, including smoothies, baked goods, puddings, and breakfast cereals.
| | |
| --- | --- |
| English name | chia seed |
| Gujarati name | "ચિયા બીજ" (Ciyā bīja) |
| Kingdom | Plantae |
| Clade | Tracheophytes |
| Clade | Angiosperms |
| Clade | Eudicots |
| Clade | Asterids |
| Order | Lamilales |
| Family | Lamiaceae |
| Genus | Salvia |
| Species | S.hispanica |
wiki
Chia seeds in Gujarati name
Chia seeds known as "ચિયા બીજ" (Ciyā bīja) in Gujarati have a captivating history and have gained popularity in Gujarat, India. Originally from Central and South America, particularly Mexico, these seeds have become integral to Gujarati cuisine over the centuries.
Adding a distinct texture and nutritional value, these tiny seeds are incorporated into a variety of dishes, including traditional recipes, desserts, beverages, and breakfast items. They offer a delightful combination of taste and health benefits, making them an essential ingredient in Gujarati culinary traditions.
The term "black chia" refers to a darker variety of these seeds, while both black and white variants provide similar nutritional benefits. Referred to as "चिया बीज" (Chiya bij) in Hindi and "chia seeds" in English, they are abundant in fiber, protein, omega-3 fatty acids, antioxidants, vitamins, and minerals.
These seeds promote digestion, support heart health, and assist in weight management. In Maharashtra, India, they are known as "चिया बियाणे" (Chiya biyāṇe) and are highly regarded for their nutritional content, flavor-enhancing versatility, and health advantages. Recognized globally, chia seeds have become an integral part of diverse culinary traditions worldwide.
In Gujarat, these seeds continue to hold cultural significance and are cherished for their nutritional value and culinary versatility. Whether used in traditional Gujarati recipes or as a healthy addition to contemporary cuisine, these seeds blend tradition, flavor, and wellness benefits.
Their widespread usage reflects the appreciation for these seeds in Gujarat and their ability to enhance the flavors and nutritional profiles of a wide range of dishes.
Products of chia seed
Click here to check products of chia seed on amazon.
Health benefits of chia seeds
1. High in fiber
Chia seeds are packed with high fiber content, benefiting digestion, weight management, blood sugar regulation, and heart health. Their soluble and insoluble fiber prevents constipation and promotes regular bowel movements. They provide a feeling of fullness, aiding in weight control. Chia seeds' soluble fiber helps regulate blood sugar levels and lowers LDL cholesterol.
Incorporate them into smoothies, oatmeal, yogurt, or baking. Gradually increase intake and stay hydrated. Chia seeds are a valuable ingredient for digestive health, weight management, blood sugar control, and heart well-being.
2. Beneficial to bones and teeth
In addition to their fiber content, chia seeds provide benefits for bone and dental health. These small seeds contain essential minerals like calcium, phosphorus, and magnesium, which are important for maintaining strong bones and teeth.
Calcium promotes bone development and prevents conditions such as osteoporosis, while phosphorus works together with calcium to strengthen bone structure. Magnesium plays a crucial role in facilitating the absorption and utilization of calcium. supporting bone density and proper teeth formation.
Incorporating these seeds into your meals, smoothies, or baking can be a valuable way to improve bone and dental health. However, remember that they should not be relied upon as the sole source of calcium, and a balanced diet is essential for overall well-being.
3. Blood sugar regulation
Adding chia seeds to your balanced diet can help regulate blood sugar levels. These seeds contain a combination of soluble and insoluble fiber, which slows down digestion and releases carbohydrates gradually into the bloodstream.
This prevents sudden spikes in blood sugar after meals, making them beneficial for diabetes management. With a low glycemic index, chia seeds have minimal impact on blood sugar levels. Including them in meals like smoothies, yogurt, or oatmeal is an easy way to harness their blood sugar-regulating properties.
Remember to maintain a well-rounded diet, consult healthcare professionals for personalized advice, and regularly monitor blood sugar levels to adjust dietary factors accordingly.
4. Flights belly fats
These versatile seeds have been recognized for their potential in weight management and the reduction of abdominal fat. They are widely embraced as a popular choice for incorporating into a healthy lifestyle.
Although they cannot specifically target belly fat, integrating these seeds into a balanced diet and active lifestyle may contribute to overall weight management. With their high fiber content, they promote feelings of fullness, help control appetite, and assist in reducing calorie intake.
Additionally, their healthy fat composition aids in reducing inflammation and improving insulin sensitivity, which supports better blood sugar control and weight management. Consider adding them to salads, blending them into smoothies, or mixing them into yogurt or oatmeal.
It is important to remember that these seeds should be part of a well-rounded diet that includes other nutrient-rich foods and regular physical activity. For personalized guidance, it is advisable to consult healthcare professionals or registered dietitians.
5. High-in-quality protein
Chia seeds are a rich source of dietary fiber, healthy fats, and high-quality protein, making them advantageous for various bodily functions. With their complete profile of essential amino acids, they offer particular benefits for individuals on plant-based or vegetarian diets.
The protein in chia seeds supports muscle health, aids in weight management, and promotes satiety. It also plays a crucial role in tissue repair, including muscles, hair, and nails, as well as the synthesis of enzymes, hormones, and antibodies for overall health and immune function.
Including chia seeds in meals and snacks is an effective way to boost protein intake, but it's important to maintain a well-rounded diet with diverse protein sources. Seeking guidance from a healthcare professional or registered dietitian is recommended for personalized advice.
6. Vegetarian and gluten-free
Chia seeds are highly popular among individuals following a vegetarian diet due to their plant-based nature and rich nutrient profile. They offer a variety of essential nutrients, including protein, fiber, healthy fats, vitamins, and minerals, making them an excellent choice for vegetarian as well as vegan meal plans.
Moreover, chia seeds are naturally gluten-free, which makes them suitable for individuals with gluten sensitivity or those requiring a gluten-free diet, such as individuals with celiac disease.
These versatile seeds can be incorporated into vegetarian and gluten-free recipes in numerous ways, such as sprinkling them on salads, blending them into smoothies, adding them to yogurt or oatmeal, using them as a gelatinizing agent in soups and sauces, or including them in gluten-free baking recipes.
However, it's essential to ensure that other ingredients used alongside chia seeds are also gluten-free, particularly for individuals with gluten intolerance. It is always recommended to carefully read product labels and verify the gluten-free status of all ingredients.
For personalized advice and guidance on vegetarian and gluten-free nutrition, consulting a healthcare professional or registered dietitian is advisable.
Some photo of Chia seed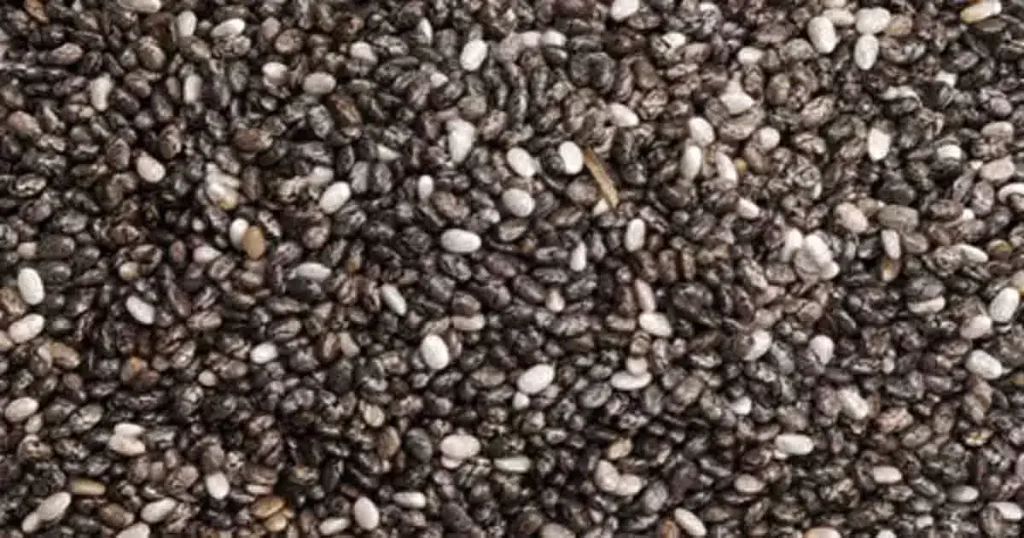 Nutritional facts of chia seeds
A serving size of chia seeds, which is equivalent to 1 ounce (28 grams or two tablespoons), contains the following nutrients
| Nutrient | Amount |
| --- | --- |
| Protein | 4.7grams |
| Fat | 8.7grams |
| Alpha-linolenic acid (ALA) | 5 grams |
| Carbs | 11.9 grams |
| fiber | 9.8 grams |
| Calcium | 14% |
| Iron | 12% |
| Magnesium | 23% |
| phosphorous | 20% |
| zinc | 12% |
| Vitamin B1 (thiamine ): | 15% |
| Vitamin B3 (niacin): | 16% |
Chia seed's other side or some side effects
Consumption of these seeds may result in digestive discomfort such as bloating, gas, and constipation. The presence of phytic acid in these seeds can impede mineral absorption. Individuals with allergies to nuts or seeds may experience allergic reactions.
It is important to be cautious with these seeds if taking certain medications, as they may interact with them. Those on blood-thinning medications should be mindful, as these seeds may lower blood pressure and increase the risk of bleeding.
Overconsumption of these seeds can lead to weight gain, considering their high caloric and fat content. It is advised to consume them in moderation and take into account individual health conditions and potential medication interactions.
Recipe of Chia seeds in Gujarati areas
Chocolate Chia Pudding
Ingredients:
Chia seeds – 1/4 cup
Cocoa powder – 2 tablespoons
Maple syrup – 2 tablespoons
Vanilla extract – 1 teaspoon
Almond milk – 1 cup
Toppings (optional): fresh berries, chopped nuts, coconut flakes
Method :
In a bowl, combine chia seeds, cocoa powder, maple syrup, and vanilla extract. Blend thoroughly to ensure proper incorporation of all ingredients. combined. Gradually pour in almond milk while stirring continuously to prevent clumps.
Let the mixture sit, that a good stir again. Place a cover over the bowl and transfer it to the refrigerator. Once the mixture has thickened to a pudding-like consistency, give it a final stir. Spoon the chocolate chia pudding into serving bowls or jars. Add your favourite toppings, such as fresh berries, chopped nuts, or coconut flakes. Enjoy chilled!
Various Ways to Incorporate Chia Seeds into Your Diet
1. Dressing of salads
Combining chia seeds with olive oil, vinegar, honey, and lemon juice creates a delicious salad dressing. Typically, salad dressing recipes call for approximately one tablespoon of chia seeds. If you add additional seeds, the dressing will become thicker.
3. Chia drinks
Prepare a delightful homemade beverage by combining a suitable amount of chia seeds, along with 2 cups of water or coconut water and 1 cup of juice or pureed fruit. Adjust the number of chia seeds according to your preference. Allow the mixture to thicken before gently stirring it.
4. Breading and crumbs
Chia seeds are a nutritious alternative to traditional breadcrumbs for breading or crumb coatings. Ground into a powder, they add fiber, protein, providing a healthy twist. With a crispy texture and nutty flavour, chia seed breading is a versatile option to enhance nutrition and cater to dietary needs.
5. Pastries or oven-baked treat
If you're not fond of the gelatinous texture of chia seeds, you can incorporate them into your baked goods in different ways. Chia gel, which has moisturizing properties, can be added as an egg substitute or thickener. Additionally, you can sprinkle chia seeds on top of muffins and quick pieces of bread before baking for added texture and visual appeal.
Cost of Chia seeds in Gujarati areas
In Gujarati-speaking areas, chia seeds cost approximately Rs 160 per kilogram. Chia seeds, known as "tukmaria" in Gujarati. The rising popularity of chia seeds can be attributed to their wide range of health benefits and their ability to be used in various culinary applications.and versatility in cooking and baking.
These tiny seeds contain nutrients like fiber, protein, healthy fats, and antioxidants. They are often used in various Gujarati dishes, including desserts like falooda and beverages like sharbat.
Popularity and availability of Chia seeds in Gujarati areas
Chia seeds have surged in popularity in Gujarati-speaking areas due to their health benefits and culinary versatility. These nutrient-rich seeds are now widely used in traditional Gujarati cuisine, from beverages to desserts and savoury dishes.
Their high fiber and omega-3 content contribute to their appeal. Chia seeds are readily available in local grocery stores, health food shops, and online platforms, enabling easy incorporation into daily diets.
However, it is important to prioritize quality and authenticity by sourcing them from reputable suppliers. The growing popularity of these seeds in Gujarati-speaking areas reflects their recognized health benefits and the willingness of individuals to embrace them as a valuable dietary addition.
Conclusion
In summary, this article has offered a thorough and extensive overview of the topic, covering a wide range of information on their advantages, disadvantages, and important elements. It has highlighted the Chia seeds in Gujarati name, nutritional benefits of chia seeds, including their high fiber, healthy fats, and protein content, which contribute to overall health and well-being.
The article has discussed potential side effects, such as digestive issues and allergic reactions, as well as the inhibition of mineral absorption due to the presence of phytic acid. It has also mentioned the possible interactions with certain medications and the risk of choking if consumed improperly.
Furthermore, the article has emphasized the importance of moderation in consumption, considering individual health conditions. Overall, this article has provided a comprehensive and informative guide on chia seeds, equipping readers with valuable knowledge to make informed decisions about incorporating them into their diets.
Frequently asked question regarding chia seeds
What to avoid with chia seeds?
To safely consume chia seeds, avoid eating them dry to prevent choking and ensure proper digestion by consuming them with enough liquid. Moderation is key to avoiding excessive calorie and fat intake, and those with nut or seed allergies should avoid the seeds.
Remember that these seeds should be part of a well-balanced diet and not relied upon as the sole source of nutrition. Consult healthcare professionals for personalized advice.
Can chia seeds help with weight loss?
Chia seeds can potentially aid in weight loss by increasing satiety and reducing appetite due to their high fiber and protein content. They expand when soaked, creating a sense of satiety.
However, weight loss requires a balanced diet, exercise, and personalized advice from healthcare professionals or registered dietitians.
Are chia seeds considered a super food?
Yes, chia seeds are often considered a super food due to their impressive nutritional profile. Chia seeds are a nutrient-dense food, packed with fiber, protein, healthy fats, vitamins, minerals, and antioxidants, which contribute to their potential health benefits.
Are chia seeds can be included in raw food?
Yes, chia seeds can be included in a raw food diet. They are commonly used in raw food recipes such as smoothies, puddings, energy bars, and salads.
Chia seeds offer a versatile and nutritious addition to raw food dishes, enhancing both texture and nutritional value when consumed in their raw form.
Can chia seeds be included in a raw food diet?
Yes, chia seeds can be included in a raw food diet. Due to their versatility and nutritional advantages, chia seeds are commonly incorporated into raw food recipes.
By soaking seeds in liquid, they develop a gel-like texture that lends itself well to a variety of raw desserts, puddings, smoothies, and raw energy bars. Their high fiber, protein, and omega-3 fatty acid content make them a nutritious addition to a raw food diet.