Consuming at least two times fish per week makes your diet healthy. This theory is according to the American Heart Association. Edible fish are loaded with vitamins, nutrients, and protein, including salmon fish. You can count fish as a very healthy food, and it provides you with many health benefits.
Salmon is a commercial fish species. It comes under the Salmonidae family. Salmon fish is full of protein and low in carbs. Its flesh is delicate and oily. You can cook it in so many ways because of its versatility. The native of this beloved fish is the North Pacific basin and North Atlantic. Farming of this commercial fish is done in all most regions of the world.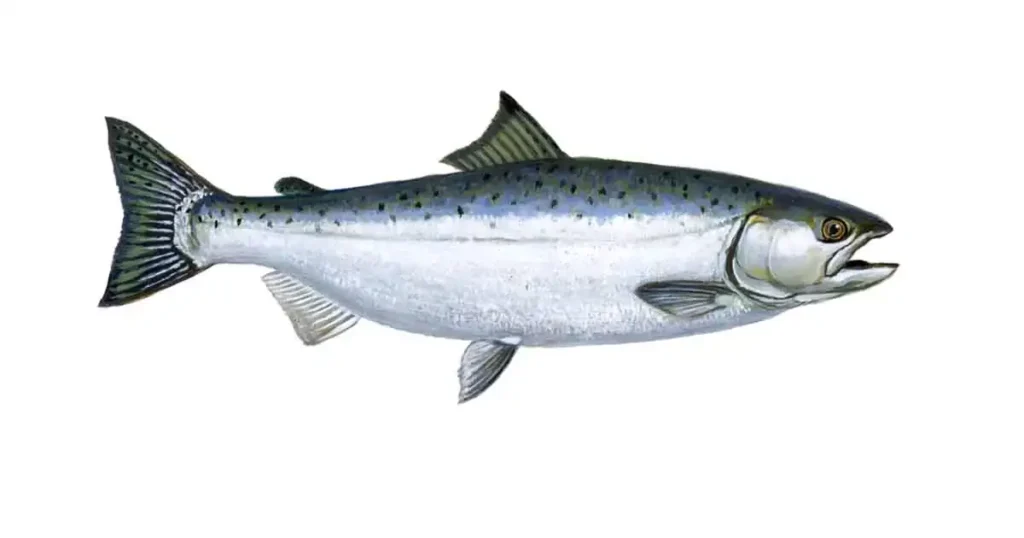 You can collect so much information about salmon fish from this article. Like – salmon fish in Marathi, its cost, nutritional value, types, health benefits of salmon fish, availability, and many more.
| | |
| --- | --- |
| English name | Salmon fish |
| Marathi name | Rawas |
| Kingdom | Animalia |
| Family | Salmonidae |
| Class | Actinopterygii |
| Subfamily | Salmoninae |
| Order | Salmoniformes |
| Phylum | Chordata |
| Genus | Salmo |
Salmon fish in Marathi name
Rawas is the Marathi name for salmon fish. You have to use the name rawas to the typical Marathi people or in the local Marathi fish market. Salmon fish is famous because of its texture, great taste, tender meat, and softness. Rawas is the Marathi name for those salmons which are originated from India but not for Atlantic salmons.
Health benefits of salmon fish
Salmon is counted as a food which promotes good health. It is full of protein, nutrients, minerals, and good fat. It has so many health benefits. Some of them are –
1. Healthy for pregnant women
salmon fish contains omega – 3 fatty acids. For the nervous system and brain development, DHA is very helpful. You can notice the slow brain growth of the baby when the intake of omega – 3 fatty acids is insufficient during the mother's pregnancy or breastfeeding.
As per a study, compared to other large fishes like – swordfish or tuna fish, the mercury level of salmon fish is significantly less or negligible.
2. Keeps heart healthy
if you want to keep your heart healthy, you should consume salmon fish atleast two times a week. You can avoid cardiovascular-related diseases by eating fish regularly. Due to blood clots, there is a chance of heart stroke.
But omega – 3 fatty acid in salmon fish helps prevent this problem and decreases inflammation. Inflammation problem leads to many heart diseases. Potassium helps To control high blood pressure, which is a good content of salmon.
3. Controls Osteoporosis's high risk
calcium and vitamin D are two excellent nutritious contents which are helpful in building bones. These two sources are present in canned salmon fish, which are wild.
The amount of vitamin D provided by wild and farmed salmon varies according to the type and quality of feed used for them. There is a high protein content present in salmon fish which supports bone health and muscle strength.
4. Promotes good mood
with the help of all amino acids, the protein in salmon fish is made up of. It stimulates mood-regulating hormones in the neurotransmitters. When you eat fish, including salmon, it helps to decrease the high depression risks. To improve mood and brain health, omega – 3 fatty acids play a fantastic role.
5. Helpful for Alzheimer's patients
Alzheimer's disease is a cognitive decline. Omega – 3 fatty acids, present in salmon fish, can protect from this disease. The orange hue of wild salmon works as an antioxidant astaxanthin. Astaxanthin has neuroprotective properties, which help to slow down the brain ageing process.
Some Products of Salmon fish
Click here to Check Some products of salmon fish on amazon.
Types of salmon fish
You can generally categorize salmons into two parts – Pacific salmon and Atlantic salmon. Pacific salmons usually are divided into five categories – Sockey salmon, King salmon, Chum salmon, Coho salmon, and Pink salmon. Pacific salmons come under wild salmon means they are caught naturally. But mostly Atlantic salmons are mostly raised on farms.
1. Chinook salmon or king salmon
this species is famous for its name king salmon because of its vast size. You can consider it the best salmon which you can consume. It is large in size and rich in fat and protein. It has a massive quantity of omega – 3 fatty acids.
Five feet is the approximate size of a king salmon, and it can weigh up to 45 to 50 kg. You can find salmon fish from Northern Alaska's freezing rivers to Southern California's Pacific waters.
2. Sockey salmon
you can call it red salmon, also. It is because of its strong scent and red-orange flesh it has struck. Many people narrate it as fishier because it has a rich fish flavour.
As compared to king salmons, red salmons are leaner and more petite. You can get it by spending less money than buying king salmon. Most people love to eat sockeye salmon in its smoked form. Both eaters and chefs across the world love this fish. With their red flesh, their skin also turns dark red while they move upstream for spawning. Mostly you can find them in the waters of Alaska.
3. Coho salmon
It is also famous as silver salmon due to its skin colour, which is bright silver. Silver salmon has a subtle flavour and medium content of fat. Coho is not as popular as sockeye salmon or king salmon.
People love to cook it in its whole form because of its small size. The flesh of coho salmon is very delicate, but you can compare its flavour with king salmon. You can find coho or silver salmon in the Northern Pacific ocean or the waters of Alaska.
4. Pink salmon
The other famous names of pink salmon are humpies or humpback salmon. The back of pink salmon has distinctive humps. At the time of their spawn, these humps are developed. The flesh of humpback salmon is light in colour, and its flavour is mild. It has a low-fat content. Its approximate weight is 1 kg to 2.7 kg.
You can get pink salmon frozen or fresh. Generally, it is sold in pouches or cans. You can find humpies from the coasts of Oregon and Washington. In the fisheries of Alaska, these are harvested mostly.
5. Chum salmon
The other names of chum salmon are Keta salmon, Dog salmon, or Silverbrite salmon. The colour of this fish is light to medium. It is small in size and low in fat content. You can get its flesh frozen or canned form.
When the ovary of a female chum fish contains eggs, it is counted as delicious food. As compared to other salmon eggs, Its eggs are more significant. In the water of Alaska, chum is harvested.
6. Atlantic salmon
Atlantic salmon is the only salmon which you can't find in the Pacific ocean. All Atlantic salmons are farmed, which is available for commercial purposes. You can find significantly less or negligible quantities of wild Atlantic salmon. Atlantic salmon's flavour is very mild compared to the salmons found in the Pacific Ocean, but due to a specialized diet, the size of Atlantic salmons is larger.
References- healthifyme.com
Nutritional value of salmon fish
One hundred grams serving of salmon fish can provide –
Farmed salmon fish
| Nutrients | Amount | % of daily value |
| --- | --- | --- |
| Calories | 208cal | – |
| Saturated fat | 3.1 grams | 15% |
| Total fat | 13 grams | 20% |
| Sodium | 59 mg | 2% |
| Protein | 20 grams | 40% |
| Cholesterol | 55 mg | 18% |
| potassium | 363 mg | 10% |
| Dietary fiber | 0 gram | 0% |
| Total carbohydrate | 0 gram | 0% |
| Cobalamin | – | 53% |
| Vitamin C | – | 6% |
| Vitamin B6 | – | 30% |
| Iron | – | 1% |
| Selenium | – | 74% |
| Magnesium | – | 6% |
Wild salmon fish
| | |
| --- | --- |
| Calories | 182 |
| Fat | 9 grams |
| Protein | 25 to 30 grams |
| Niacin | 64% of the DV |
| Selenium | 855 of the DV |
| Phosphorus | 22% of the DV |
| Vitamin B6 | 55% of the DV |
| Vitamin B12 | 129% of the DV |
| Pantothenic acid | 39% of the DV |
In DNA synthesis, reproductive health, and thyroid hormone metabolism, selenium plays a vital role. Salmon fish contains a high amount of selenium. This fish is rich in omega – 3 fatty acids. This good fat is beneficial for heart health and brain health.
Vitamin B12 is an essential content of salmon fish which is helpful for the central nervous system health and produces red blood cells.
references- healthline.com
The cost of salmon fish in Marathi areas ( Maharastra, Madhya Pradesh, Karnataka, etc.)
Rarity is the central region of the expense of salmon fish. It is hard to catch wild salmon fish. You have to spend a lot of money to harvest and raise salmons. The cost varies depending on the place, variety, quality, state (fresh or frozen), and size.
In India, you can buy salmon fish or Rawas by spending around Rs 500 to Rs 1300 per kg approximately. Kingfish is more costly. Rs 600 to Rs 1000 is the average cost of rawas in Mumbai. You can also choose frozen salmon instead of fresh ones. They are less expensive.
Availability and popularity of salmon fish in Marathi areas
It is a truth that, salmon fish is not a native Indian fish. But in Gujarat and Maharastra, you can see salmon fish on the coasts of the West. Harvesting salmon in India is not that easy. Because India's water usually is warm. But salmon needs cold water between 3 to 20 degrees Celcius to grow.
Most Mumbai people know salmon as rawas. They say every type of salmon is rawas which is incorrect. You can find Atlantic salmons in every fish market in Maharashtra and Mumbai.
Marathi people love to buy and prepare rawas because of their delicacy, taste, and nutritional value.
Famous dishes of salmon fish in Marathi areas
Rawas che Kalawan ( salmon fish curry ), rawas chilli, rawas pan fry, Talla rawas, coconut rawas curry, and rawas garlic tawa fry are some famous salmon fish recipes that Marathi people love to prepare and eat.
These recipes are made in local households and also in restaurants. They love to add special Maharashtrian spices to add extra taste. It also enhances the flavour of salmon fish flesh.
Some photos of salmon fish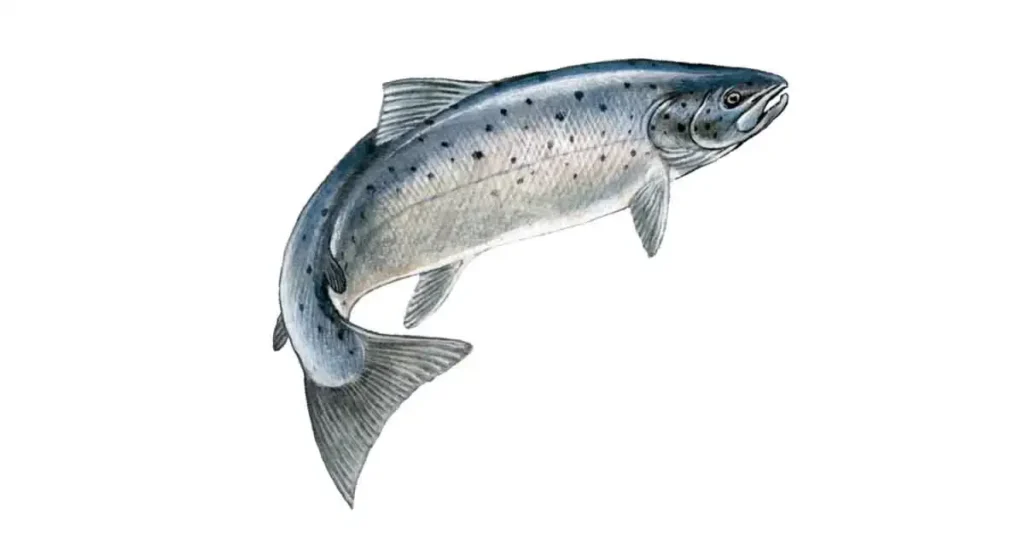 Conclusion
You can consider salmon fish a powerhouse of nutrients that provides enormous benefits. It is a satisfying, versatile, and tasty fish. You can change your lifestyle and quality of food by consuming twice salmon fish in a week. It is an expensive little fish worthy due to its benefits.
Hope you will get all pieces of information about rawas fish from the above article. Like – salmon fish in Marathi, its cost, availability, popularity, health benefits of salmon fish, types, and nutritional value.
Frequently asked questions
What are the health benefits of salmon fish?
There are so many health benefits of salmon fish. Some of them are –
1. Full of omega – 3 fatty acids
2. Rich in protein
3. Helps to sleep in peace or promotes calmness
4. Improves eyesight with the help of vitamin A
5. Boosts immunity system
6. Contains essential nutrients, vitamin B12
7. Has niacin, vitamin B3
8. Regulates thyroid hormones
9. Contains zinc
10. Contains Glutamine and helps in lost muscle recovery
11. Helpful in the process of cellular function
12. Works as antioxidan
How to add salmon fish to your diet?
It is straightforward to add salmon and fish to your diet to replace less healthy foods. You can use salmon fish by preparing some curry or fry with less oil, add into rice or pasta, add on top of salads, make burgers or patties with a salmon slice. Some healthy salmon recipes are – salmon pasta salad, smoked salmon, salmon veggie bake, and vegetable egg casserole.
What are the types of salmon fish?
There are one type of Atlantic salmon and five types of Pacific salmons.
Pacific salmon –
1. King salmon or Chinook salmon
2. Silver salmon or Coho salmon
3. Humpies or Pink Salmon or Humpback Salmon
4. Sockeye salmon or Red Salmon
5. Chum salmon or Silverbrite salmon, Dog Salmon keta Salmo
What are the differences between wild salmon and farmed salmon?
| Wild salmon | Farmed salmon |
| --- | --- |
| You can find it from natural water sources like lakes, rivers, and oceans. | You can cultivate this salmons through aquaculture process. |
| Contains more minerals. | Contain more calories, saturated fat, and vitamin C. |
| Less concentrations of contaninants | Higher concentrations of contaminations |
| Little expensive | Less expensive |