From the below post, you will learn about the Rohu fish in Tamil name, its nutritional value, benefits, some local Rohu fish recipes, price and many more.
A fish diet can be counted as the healthiest food, full of nutrients like vitamin D and protein. Fish is loaded with omega-3 fatty acids, which are essential for your brain and body. Rohu is one of the best fish of all. It is less in fats and full of protein. It consists of vitamins such as vitamin D and vitamin-A and lots of minerals like Iron, Zinc, and Calcium.
Rohu fish in Tamil is known as Kannadi Kendai or Kendai Meen. Its other names are Rohita, Rohu, or Rui in different regions. This fish is mainly seen in South Asian rivers and is primarily used in aquaculture.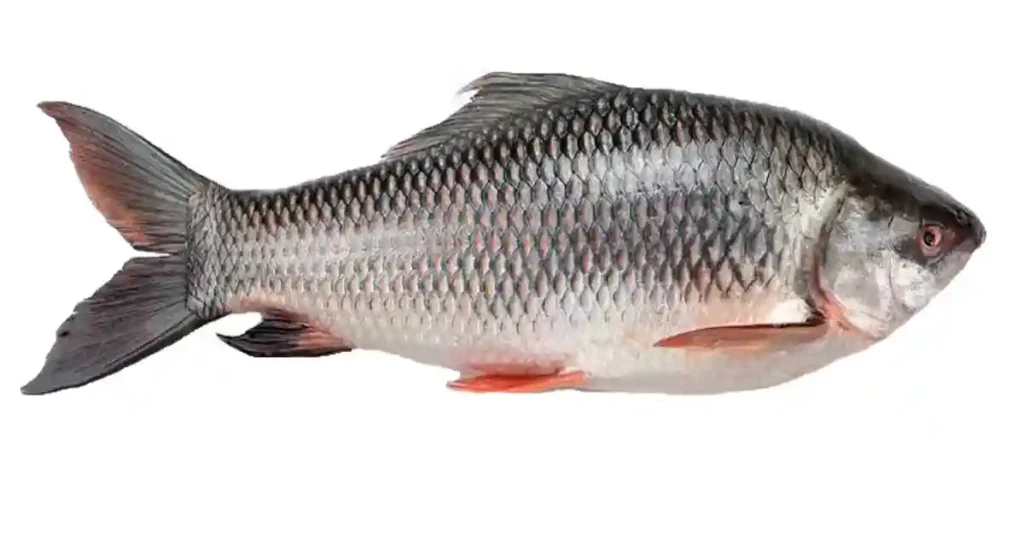 Classification of Rohu fish
| | |
| --- | --- |
| Tamil name | Kannadi Kendai |
| English name or scientific name | Labeo rohita |
| Genus | Labeo |
| Species | Rohita |
| Class | Osteichthyes |
| Group | Craniata |
| Phylum | Chordata |
| Order | Cypriniformes |
| Kingdom | Animalia |
wiki
Rohu fish in Tamil name
Rohu fish Tamil and Malayali name is Kendai meen. The local Tamil people can also recognize the fish by its real name, 'rohu,' but if you are in the Tamil area and want to buy Rohu fish, you have to ask them for Kendai Meen in the local area.
It is the famous freshwater seafood in the local regions of Tamilnadu. You can buy Rohu from many shops, local fish markets, and online also in Tamilnadu, Kerala, and other Tamil areas.
Rohu fish is found in rivers, canals, ditches, and South Asian lakes. It is famous in the Malayali areas in the name of Rohitam. The demand for rohu fish in Tamilnadu and Kerala is high. It's selling in the local Tamil area is crazy for its taste and health benefits.
Products of Rohu fish
Click here to see products of rohu fish on amazon.
Health benefits and uses of Rohu fish
There are so many Rohu fish benefits that can be seen. But we are going to discuss some essential points.
1. Vitamin C and vitamin D
The flesh of Rohu fish is tasty and non-oily. It is very healthy for the heart and brain. Omega 3 fatty acids and high-quality protein are excellent sources of Rohu fish, essential for human health. It is also a good source of vitamin D, vitamin C, and niacin.
2. Good for heart health
Fatty fish like Rohu protect the heart from many diseases. It reduces triglyceride levels and inflammation with the help of its sources – primarily DHA, EPA, and high-level omega-3 fatty acids. Adding Rohu to your regular diet can save you from a heart attack.
3. Clean the blood vessels
You can control the risk of thrombosis and improve blood circulation by eating fish. Many kinds of seafood, including Rohu, contain fatty acids, DHA, and EPA, and they control the production of the eicosanoid hormone, which promotes inflammation and blood clots. Omega -3 fatty acids prevent blood pressure.
4. Controls blood sugar
Rohu fish is a blessing for diabetic people. This kind of person commonly has low vitamin D levels. It is a good idea to include Rohu fish in their diet so that vitamin D intake increases automatically. According to research, you can control the development of type 2 diabetes by consuming Rohu fish.
5. Relief from joint pain
The swollen joint is the cause of joint pain, and it occurs due to rheumatoid arthritis. A balanced diet can ease the swollen joint. You can eat fish regularly to maintain a good diet habit. Eating seafood can provide omega-3 fatty acids to your body, reducing osteoarthritis.
6. Improve vision
To keep your eyes healthy and brighten your eyesight, you can eat fish rich in oil. The omega-3 fatty acid in Rohu fish helps people suffering from macular degeneration due to aging from poor eyesight. This disease can cause blurred eyesight and retinal degeneration. Vitamin A improves night vision in Rohu fish and its shell.
7. Provide necessary nutrients
Our body needs so many nutrients, including selenium, iodine, potassium, and zink, for a smooth lifestyle. Rohu fish and some other kinds of seafood can provide nutrients. Selenium can protect us from cancer, and iodine is necessary for the thyroid gland.
8. Good for respiratory health
Shellfish and fish can protect our lungs. Many kinds of seafood, including Rohu, can provide relief of asthma symptoms in children and prevent the disease. The people who eat fish are healthier and more robust than those who don't eat seafood or fish.
9. Prevent depression
Doctors recommend consuming seafood for people suffering from depression. Omega-3 fatty acids can reduce the high risk of depression which is present highly in Rohu. The food helps you to overcome post-natal depression and seasonal affective disorder.
10. Promotes healthy skin
By providing various minerals and vitamins to our body, we can find a result of youthful and healthy skin. Rohu fish contains protein, high omega-3 fatty acids, vitamin A, and vitamin D. by adding fish to your diet, you can gain all the benefits. It
can help stop premature aging and maintain the skin's elasticity. The properties present in Rohu protect the skin from psoriasis and eczema.
11. Controls blood insulin level in the body
You can easily control your blood sugar level and decrease diabetes risk by eating fish regularly. Diabetic patients are also suggested intaking fish daily by doctors. To balance out the blood sugar level, it helps – decreases insulin secretion in case of lower sugar levels and boosts insulin secretion in case of higher sugar levels.
12. Good antioxidant
Rohu has an excellent antioxidant source in it. It helps to fight against the cancerous cells in the body and decreases the chance of cancer. It also opposes other causes of cancer, like malicious cells. It helps to gain shiny and healthy skin pigment and skin nourishment.
13. Prevents night blindness
Vitamin A is essential in maintaining good vision. Rohu fish has a noticeable quantity of vitamin A., which helps prevent human night blindness and develop eyesight.
14. Cures insomnia
Insomnia affects adversely and psychological health. Protein, vitamin D, manganese, magnesium, and other nutrients lead to a peaceful sleep. Chronic insomnia is the main cause of insufficient nutrients. By eating fresh Rohu, you can avoid such problems.
15. Helps to boost brain power
Fish in diet plays a significant role in human brain development. It controls the high health risk of Alzheimer, brain deterioration, and shrinkage. It would be best if you were careful about the quantity of what you consume because increased consumption of seafood leads to memory loss and other senior diseases.
Size of Rohu fish and its body structure
Freshwater is the home of Rohu fish. It has a sharp face and a small head. Its lower lip is similar to a frill structure. Its body has a lot of scales that are arranged uniformly except on its fins and head. The scales are overlapping and large. The body of Rohu is coated with a red cane and covered with grey and brown. Black color is seen on the dorsal side of the body.
The adult Rohu can be grown approximately about 0.3 to 0.6 meters. The maximum length can be 1 meter. The minimum weight of a Rohu can be 4kg, and the maximum can be 46kg.
Some side effects of Rohu fish
Consuming any food within limitations is good for health. But overeating can be harmful. Overeating Rohu deposits too much fish oil in your body, which is dangerous for your health. It can be the cause of some diseases such as –
Stroke, insomnia, acid reflux, high blood pressure, vitamin A toxicity, diarrhea, bleeding, and low blood pressure.
Nutritional value of Rohu fish
Rohu includes essential nutritional values like moisture, energy, fat, protein, fiber, carbohydrates, iron, calcium, and phosphorus.
One hundred grams of Rohu includes –
Minerals
| | |
| --- | --- |
| Iron | 1 mg |
| Energy | 97 Ecals |
| Protein | 17 gm |
| Moisture | 77 gm |
| Mineral | 1 gm |
| Phosphorous | 175 mg |
| Fat | 1 gm |
| Calcium | 650 mg |
| carbohydrate | 4 gm |
| Selenium | 0.68 mg |
| Zinc | 2 mg |
| Potassium | 260 mg |
Vitamins
| | |
| --- | --- |
| Vitamin A | 4.3 IU |
| Vitamin D | 36.09 I |
| Vitamin K | 0.5 mcg |
| Vitamin E | 0.55 IU |
Calorie information
| | |
| --- | --- |
| Calories | 88.49 kcal |
| From protein | 63.92 kcal |
| From carbohydrate | 0.0 kcal |
| From fat | 24.57 kcal |
Price of Rohu fish in Tamil Nadu
The price of the fish varies according to different areas. Fresh fish is more expensive than frozen Rohu. You can purchase frozen Rohu from Rs200 to Rs300 per kg. Rs300 to Rs500 per kg is the approximate value of Fresh Rohu in Tamil nadu and Kerala. If you search for it in different local areas, you can also get it at a minimum of Rs130, which is very reasonable.
For commercial purposes, Rohu fish is artificially cultured. It is a readily available fish. The price range of Rohu is cheaper than other variants of fish. Malayali people are crazy about Rohu fish. Because of the extensive farming of Rohu in artificial rivers and ponds, it is very inexpensive.
Supply of Rohu fish in Tamil Nadu
Many Rohu fish manufacturers and suppliers are in the Tamil Nadu, Kerala, and Andhra Pradesh regions. There are so many fish farms also established in those areas. People do fish farming in ponds and artificial rivers.
You can farm rohu fish easily in Indian weather. So export of Rohu fish from other countries to India is not mandatory. It is a relatively easy job to get Rohu fish from any local market or super, market or online store in India.
Famous recipes of Rohu fish in Tamil Nadu
Spicy Rohu fry, Kerala Rohu fish curry, Rohu fish pulusu, chepala pulusu, and masala kendai meen are some famous Rohu fish recipes in the Tamil region. Tamil people love to eat Rohu in different forms. It can steam, bake, grill, and fry it. You can go to any restaurant or local people's house in the local area and ask them for local Rohu fish recipes.
You find the different tastes of Rohu Recipes in other areas and restaurants. The same dish may taste differently according to different places. So you need to explain the taste of a particular recipe. This freshwater fish has white flesh with lots of vitamins and minerals and is tasteful.
Some rohu fish Photos
Final verdict
Rohu is a readily available fish and comparatively cheaper with a delicious taste. Very little fat is present in it, which is not that harmful. Rohu flesh has no fishy smell to it. Rohu belongs to the Labeoninae subfamily and crap family. It is cheap, healthy, and as well as tasty also.
It is one of the highest consumed kinds of seafood in the countries like Vietnam, India, Nepal, and Pakistan. It consists of many vital minerals, vitamins, omega-three fatty acids, essential nutrients for brain development, a healthy heart, good blood pressure, clear vision, and boosts immunity.
Hope you got all detail about the fish, like the Rohu fish in Tamil name, benefits, nutritional value, its supply, and many more from the above article.
QnA
What are the identifying characteristics of Rohu fish?

Ans:
1. Cycloid and moderate scales.
2. The color of its back is blue to brownish. Its belly and sides are silverish.
3. Lips and mouth are thick. The mouth area has a distinct inner fold. Elongated body structure.
4. Rohu fish has conspicuously arched head with cyprinid body shape.

Can pregnent women eat Rohu fish?

Rohu comes under the category of kinds of seafood. During pregnancy, women should avoid eating a massive quantity of seafood. So if you can, you should avoid eating Rohu during pregnancy and breastfeeding. But a moderate amount of Rohu is not that harmful. You should consult your doctor before you add this to your diet.

Is consuming Rohu fish good?

Rohu has a good amount of protein, minerals, omega three fatty acids, and vitamins A, D, E, K, and C. a healthy person can eat a certain amount of Rohu fish once a week.

How do Rohu fish helps in weight loss?

In the fat loss process, the primary requirement is healthy protein and low carbs. Rohu is low in carbohydrates and high in protein content. It consists of other essential integrands for the process of weight loss.
The meat of Rohu fish is also known as lean meat. It is in demand for weight loss purposes. It helps to reduce fat and build muscles in the body.

Why is Rohu so popular among Tamil people?

Ans:
1. It is easily available.
2. Because of its inexpensiveness.
3. Non-fisty taste.
4. Low fat and low carbohydrate,
5. So many health benefits.

What is the maximum length and weight of rohu fish?

Rohu can be grown approximately about 0.3 to 0.6 meters. The maximum length can be 1 meter. The minimum weight of a Rohu can be 1kg, and the maximum can be 46kg. It's depending upon its age and diet.